Oma's German Potato Pancake Recipe ❤️
➤ by Oma Gerhild Fulson
FTC Disclosure: As an Amazon Associate I earn from qualifying purchases.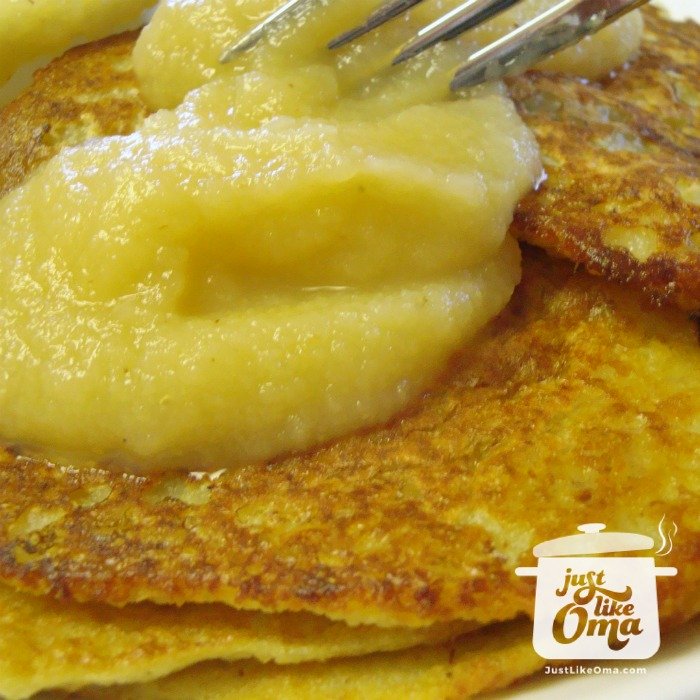 This German Potato Pancake Recipe, aka Kartoffelpuffer, originated in my kitchen after I had scraped my knuckles grating potatoes. Everyone loved the pancakes, but I had to find easier (and safer) potato pancake recipes. Out came the blender ... the following recipe developed. Best of all, no more scraped knuckles using a blender! No blender? Check Mutti's recipe below.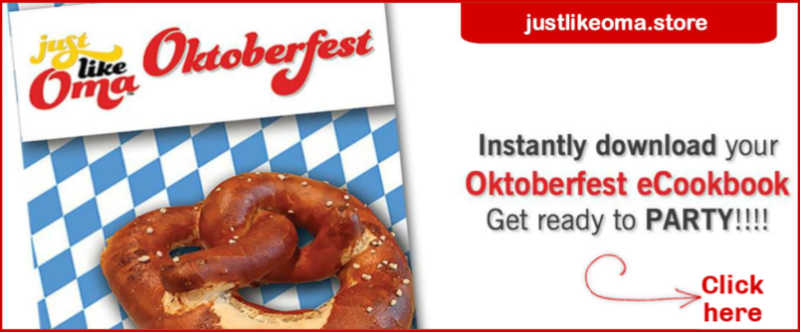 Mutti's original pancakes have 'shreds' of potatoes. To duplicate this with the blender, do not take potato pancake batter to a 'smoothie' consistency.

In Germany, these pancakes are readily available at outdoor markets and festivals. One of the reasons is that it's easier and doesn't smell up the kitchen with the "frying smells". Never-the-less, fresh, made-at-home potato pancakes are a treat!
Helpful Hints on making these ...
Please use butter. Oil will work, but you can't beat the butter flavor!
The quantities for this recipe need not be exact and can be changed according to your tastes. Onions are optional. Amount of flour is dependent on how moist the potatoes are.  Add just enough until the consistency of the batter is not too runny.
If the potatoes are too dry, you may need to add an extra egg so that the blender will mix properly.
You may need to practice this a few times to decide at what point to stop blending. The practice is worth it, though. These pancakes taste that good!
Mutti's traditional German recipe calls for peeling the potatoes. Keeping the skin on, though, is healthier. 
Do whichever you like. I opt for keeping the skin on, especially if they are new potatoes -- not only healthier, but easier too!
Do You Want TRADITIONAL Potato Pancakes?
Make these traditionally hand-grated potato pancakes ... easier ... like I do now, since I've purchased an electric slicer and grater. It makes this so much easier and safer!

Oma's Fun Fact
Did you know that during Hanukkah, the Jews have a potato latke recipe that is very similar to the German potato pancake recipe.
Theirs, however, are fried in oil because the oil is in keeping with the story of the flame that miraculously stayed lit.

Ready to make my easy German Potato Pancakes? Choose #1 or #2 and have a delicious day!

1. Oma's German Potato Pancake Recipe ❤️
Ingredients:
4 or 5 potatoes, (unpeeled, washed)

1 egg
about ¼ cup chopped onion

½ tsp salt

about 2 tbsp flour

butter or oil

Instructions:
Cut up potatoes (about 4 cups) and put in blender.

Add egg, onion, salt, and flour.

Blend, stopping frequently to scrape down sides.

Heat enough butter, oil, or mixture of butter and oil to coat bottom of fry pan. Keep on high heat.

Drop spoonfuls of batter into pan, pressing down lightly with back of spoon to flatten pancake.

Fry until brown (about 3-4 minutes), flip over, and continue frying until cooked through and crispy brown.(about 3-4 minutes).

Remove and keep warm in oven. Continue frying till all batter is used, adding more butter (or oil) as needed.

Serve with applesauce, sprinkle with sugar, or serve plain.
2. Mutti's Original Potato Pancakes
The same ingredients as above ... with the following differences in preparation. 
Peel the potatoes.
Grate the potatoes and the onion using a box grater or the large hole grating attachment of your food processor.
Squeeze out the liquid from the grated mixture.
Mix in the remaining ingredients and continue as above.

Leave a comment about this recipe or ask a question?
Pop right over to my private Facebook group, the Kaffeeklatschers. You'll find thousands of German foodies, all eager to help and to talk about all things German, especially these yummy foods. 
I pop in all the time as well, to chat and to answer questions. 
Meet with us around Oma's table, pull up a chair, grab a coffee and a piece of Apfelstrudel, and enjoy the visit.
*  *  *  *  *
Want nutritional information for a recipe?
Copy and paste the ingredient list and the number of servings into Calorie Count. 
It will give you an approximate calculation.

Need help doing conversions
between cups and grams or any such thing?
Use this site to give you all the different conversions for the different types of ingredients. 
---
PIN this ...

---
Schwenkbraten recipe that has been a delish hit an alle familien & freunde... Total Approx. Time: Prep: 15 min. + Marinating 8 hrs min. + Grill: 15 min.

My Oma made this cake every Christmas. She iced it with a white frosting that ran down the sides. She decorated it with little silver balls (candy). It
---
Words to the Wise
"Those who follow the right path fear the Lord; those who take the wrong path despise him."
Proverbs 14:2 (NLT)
---
Oma's German Potato Pancake Recipe ❤️


By
Oma Gerhild Fulson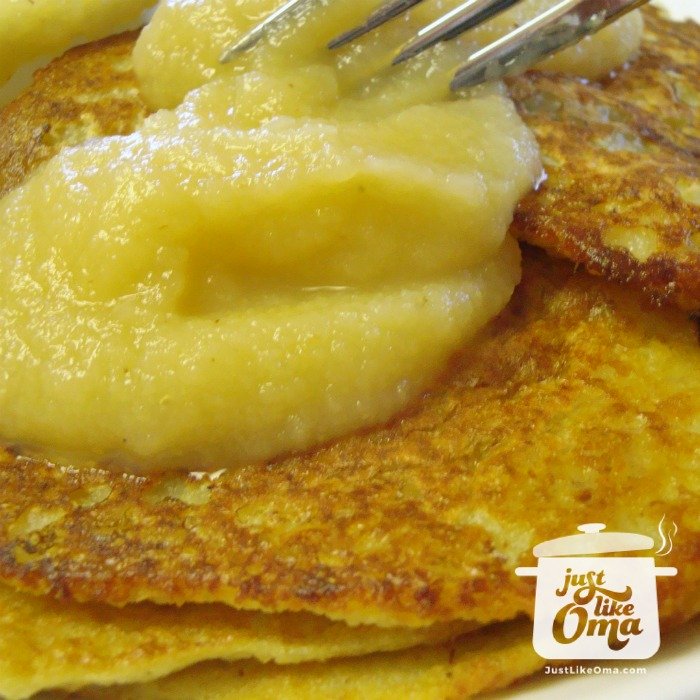 Oma's German Potato Pancake Recipe is really easy, using a blender instead of hand grating! Delicious for a traditional breakfast, lunch, or supper! Serve with applesauce or sour cream.

Yield:
2 - 4 servings

Ingredients:
4 or 5 potatoes,
1 egg,
¼ cup onion,
2 Tbsp flour,
For the full recipe, scroll up ...