Heidi's Marinated Roast Potato Recipe

➤ by Oma Gerhild Fulson
FTC Disclosure: Making a purchase via a link on the page? I may earn a small commission on the transaction - at no added cost to you. Thanks!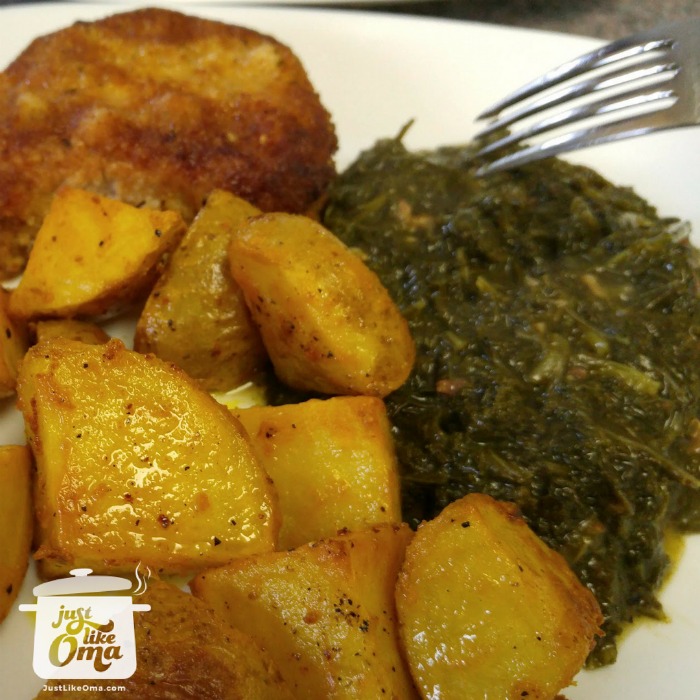 Yum
Heidi's roast potato recipe uses an interesting mustard marinade to give these roasted potatoes an extra special kick! Dumping everything into a plastic baggie to mix and marinade the potatoes is quick and easy. If she has time, the longer she marinades the potatoes the better.
She usually gets them ready the night before for best results, but has also done them with about a 5-minute marinade time and they still tasted great.

Heidi's Marinated Roast Potato Recipe
Ingredients:
4 large potatoes, cut into cubes, etc.

½ cup olive oil

4 Tbsp mustard

salt, pepper

Instructions:
Preheat oven to 400° F.

Put the potatoes, olive oil, and mustard into a ziploc plastic baggie. Mix well. Let sit as long as possible - ½ hour to overnight (in fridge).

Empty bag of potatoes into a large enough baking dish, so that potatoes cover bottom in a single layer. Sprinkle with salt and pepper. Stir.

Bake, uncovered for about 45 minutes to 1 hour. Stir gently after about 35 minutes and then stir occasionally. Once nicely browned and tender, remove from oven and serve.

Serves 4.

Hints:
Sprinkle with a Seasoning Salt, a Steak Spice, or your favorite seasoning.
One of my favorites is to use Montreal Steak Spice.

This is a favorite to serve when I'm making Dijon Salmon, since the oven is at the same temperatures for both. A great combination.

And, this is what makes this recipe so quick. Especially, if you use new potatoes, you don't even need to peel them. I usually use about 1 to 1 1/2 potatoes per person. Serve these hot out of the oven. They are crispy and delicious!
German Recipe?
This recipe for oven roasted potatoes comes from my German friend, Heidi. You'll find her recipes sprinkled throughout this website. She's an amazing cook as well as an amazing friend.
For this recipe, she has a "cutter", almost like a "french fry cutter". Her potatoes are therefore smaller and the roasting time quicker. I just cut mine in nice sized chunks.
---
More Potato Recipes
*  *  *  *  *
Want nutritional information for a recipe?
Copy and paste the ingredient list and the number of servings into Calorie Count. 
It will give you an approximate calculation.

*  *  *  *  *
Need help doing conversions between cups and grams or any such thing?
Use this site to give you all the different conversions for the different types of ingredients. 
*  *  *  *  *
---
PIN this ...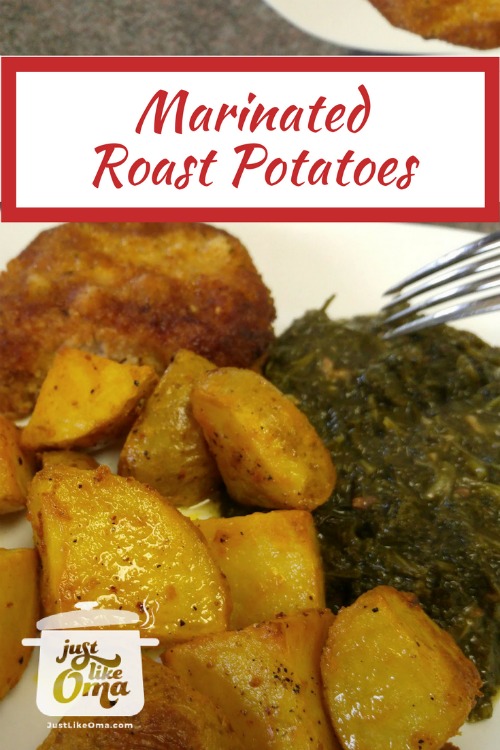 ---
Words to the Wise
"The godly walk with integrity; blessed are their children who follow them."
Proverbs 20:7 (NLT)