Sylvie's Homemade Easy Hummus Recipe – Kichererbsenpaste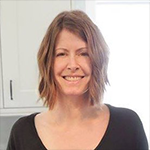 by: Sylvie Fulson  /  Copy Editor, Copywriter, Plant-Based Cook, Wife, Mom
As an Amazon Associate, I earn from qualifying purchases.
This easy hummus recipe, aka Kichererbsenpaste, is so good and so quick to make. However, you may be asking yourself, "Why is there a hummus recipe on a German recipe site?"
Well, hummus is so versatile, it goes great with just about anything, including German food!
Oma says:
Although hummus may not be in my German upbringing, after Sylvie introduced it to me, I now like to use it, particularly as a delicious dip for fresh veggies like red peppers, cucumbers, and carrot sticks.
Hummus makes a great substitute for crème fraîche or Greek yogurt in the traditional Flammkuchen (Tarte Flambée).
Delicious, and, now it's a vegan Flammkuchen when topped with caramelized onions.
If you're feeling adventuresome, when you're having a schnitzel in a crusty Brötchen (German roll), add a dollop of hummus and some lettuce. Lecker!
Next time you're in Germany, why not attend the annual Hummus Festival in Berlin and discover new ways to use hummus in your kitchen!
What is hummus and what does it taste like?

Hummus, which is an Arabic word for chickpeas, originated in the Middle East. It can be used as a dip or spread, and in savory dishes. I often use it as a side dish. A basic hummus recipe consists of chickpeas blended with tahini paste (made from sesame seeds), fresh garlic, fresh lemon juice, and salt. 
Hummus can potentially be too tangy, or garlicky, or even bitter (you don't want too much tahini). The trick is to balance out the ingredients so that the overall taste is subtle, without one ingredient standing out more than another.

My creamy hummus recipe is wonderfully delicious, and tastes slightly tangy with just a hint of garlic. I love it so much I will often eat it with a spoon straight out of the bowl!
But everyone's tastes are different and it's so great that hummus is such a forgiving recipe. You can play around with the amount of each ingredient and keep tweaking until you get it to taste just the way you like it. 
Is hummus good or bad for you?

Hummus is very good for you. Chickpeas (also known as garbanzo beans) are very high in dietary fiber, a great source of protein, and packed with vitamins and minerals. Although tahini is high in fat, it is also a great source of fiber and protein and is high in calcium and iron.
A lot, if not most, of hummus recipes call for extra virgin olive oil. It's a commonly held belief that olive oil promotes health. But more information is coming out that the opposite might be true.
I don't know if it's safe to say one way or the other, but as for my family, we decided to cut oil out of our cooking and baking a few years ago, which is why my recipe does not call for it.

Healthy or not, olive oil is high in fat and calories. By omitting the oil and keeping the tahini to a minimal amount, hummus is a delicious and healthy low-fat treat!
BUT, if you enjoy olive oil and think you might like it in this delicious homemade hummus, by all means add in a couple of tablespoons and/or drizzle a little olive oil on top to serve.
What is the best way to make hummus from scratch?

Of course you can always buy hummus from the grocery store, but why when you can make your very own homemade hummus with simple ingredients that tastes so much better than any store-bought kind?
There are three ways to make hummus from scratch: you can use a food processor, a blender, or mash the chickpeas and mix the ingredients by hand. My preferred method is using the food processor.

Admittedly, I haven't tried using my blender, and mixing it by hand is out of the question when I have perfectly functioning equipment to do it for me! ;)

Hummus can be as smooth or as textured as you like. Depending on the quality of your kitchen equipment, a blender would likely yield a smoother hummus, especially if you have a high-speed blender like a Vitamix. Doing it by hand would result in a more textured hummus. 
Actually, now that I think about it, a chunkier version would be amazing as a spread on toast or sandwiches. I just might have to try making it by hand one of these days!
To make my easy homemade hummus recipe, start by adding the chickpeas and a little bit of aquafaba (the liquid from canned chickpeas) to the bowl of a food processor.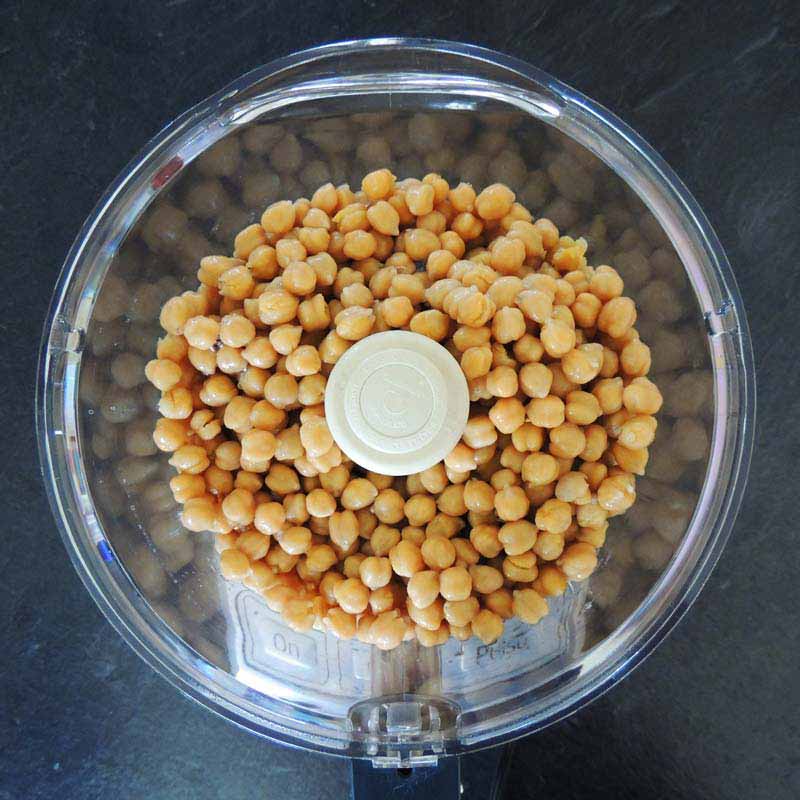 Then add tahini, salt, and a small clove of garlic. (Or more, to taste!)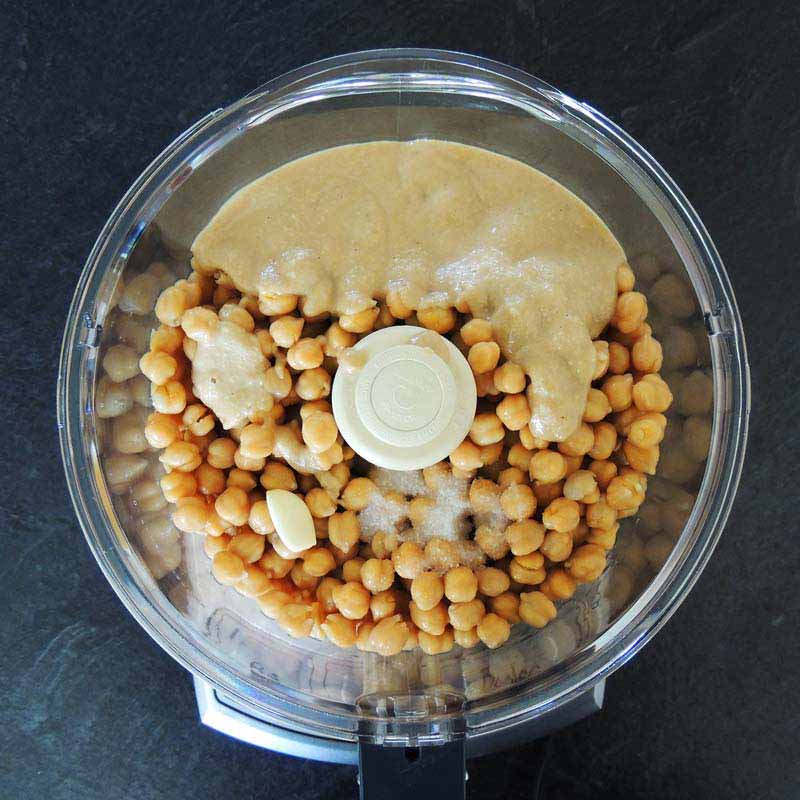 Add in some nutritional yeast, if desired, and fresh lemon juice. (I juice a whole bunch of lemons at once and freeze the juice in ice cube trays. That way I always have lemon juice on hand whenever a recipe calls for it. In this case, no need to thaw!)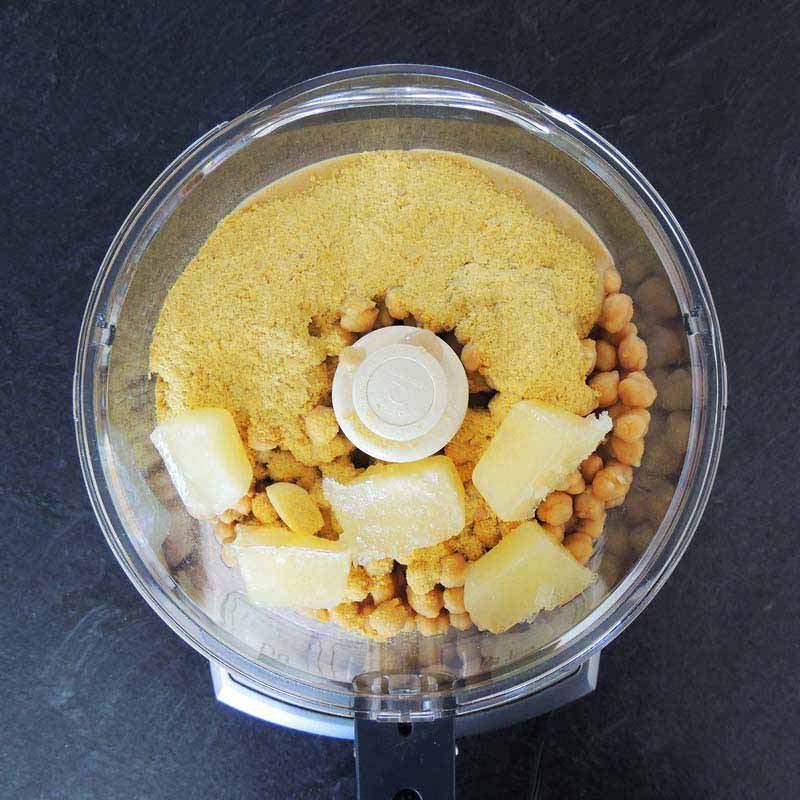 Process, adding more aquafaba or a little water if necessary, for a nice creamy texture.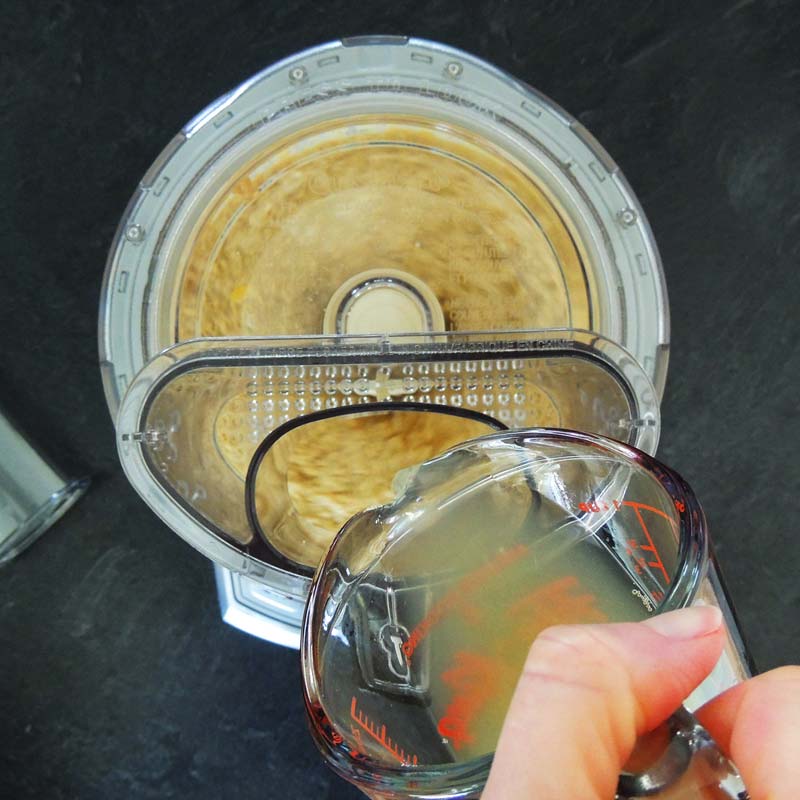 Stop to scrape down sides when necessary and continue processing until the hummus is as smooth as you like. The longer you let the food processor run, the smoother your hummus will be.
Pour the hummus into a serving bowl and enjoy! As you can see, I like my hummus nice and thick. It makes a wonderful sandwich spread!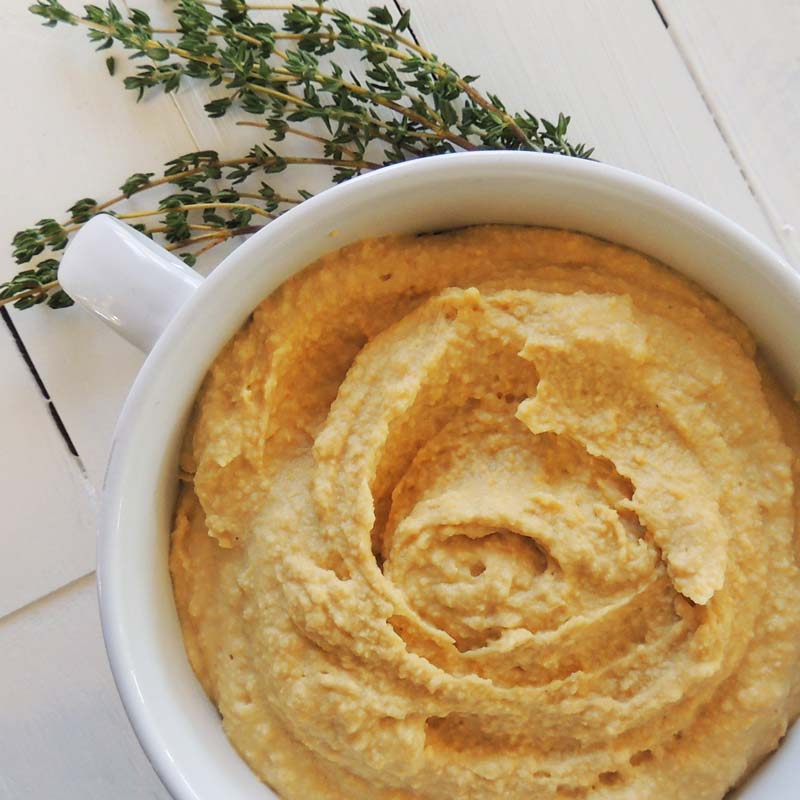 What can you add to plain hummus?

This is my favorite hummus recipe, and the wonderful thing about it is it's so easy to add different flavors to it. You can add a wide variety of herbs, spices, and vegetables, which not only add to the deliciousness but make it even more nutritious.
Not only do herbs and spices add a lot of flavor, they are nutritional powerhouses rich in antioxidants. What's not to love?!
To make it seem more like a German recipe, try adding some of the herbs and spices typically used in German cooking, such as parsley, thyme, celery seeds, dill, paprika, or chives, to name a few.
Or try adding roasted asparagus, carrots, squash, turnips, or leeks; I bet adding roasted carrots and parsley would be absolutely delicious!
How do you eat hummus?

Let me count the ways! Seriously, there are so many ways to eat hummus. Here are a few ideas to get you started using this easy hummus recipe:
Spread it on your favorite bread. It would taste amazing on Oma's Artisan Bread!
Make a hummus sandwich with your favorite toppings. Mine would be lettuce, tomatoes, and avocado. Or make it German with mustard and sauerkraut!
Make a hummus wrap. I love a roasted-sweet-potato-and-hummus wrap with avocado and spinach. Instead of sweet potatoes and avocado, try roasted carrots and sauerkraut to give it a German twist.
Use it as a condiment on your sandwiches or burgers.
Use it as a dip for raw veggies, crackers, and tortilla chips.
If you love sweet and savory combinations, it also makes a great dip for apple slices.
Eat it with fresh, warm pita wedges.
Add water to your hummus, and adjust seasonings to taste, to make a delicious salad dressing.
Use it as a creamy sauce over your favorite vegetables.
Use it as a pasta sauce instead of a cream sauce.
Make a hummus soup. Yep, it's a thing!
Add hummus to your mashed potatoes for extra flavor.
Spread it on a pizza dough, tortilla, or pita bread instead of pizza sauce and add your favorite toppings for a delicious hummus pizza.
Create a German Buddha bowl! It might look something like this: a big dollop of hummus at the center of a bowl or high-rimmed plate, surrounded by rice and/or roasted potatoes, roasted Brussels sprouts, shredded carrots, sliced cucumbers or cucumber salad, your favorite greens, sauerkraut, cooked lentils, and drizzled with German mustard sauce. It's essentially a mix-and-match of your favorite foods. The possibilities are endless!
Hummus is also delicious paired with many of Oma Gerhild's German recipes.

And of course, you can always eat it by the spoonful!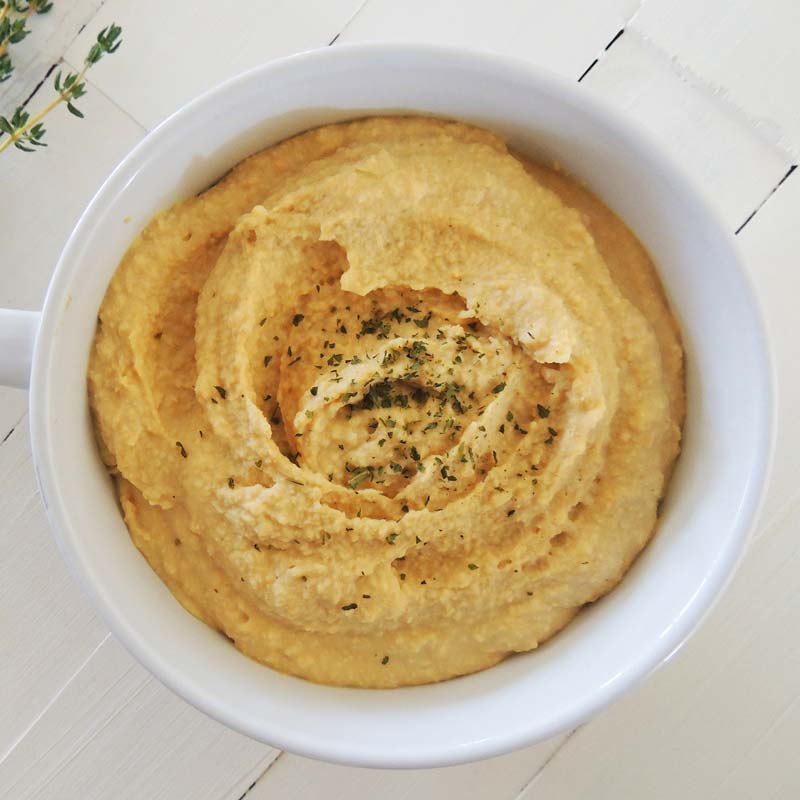 Ready to make my best hummus recipe?

Is the recipe below locked? Here's why. 
As an Amazon Associate, I earn from qualifying purchases.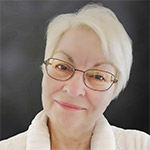 For more German-inspired items that make life easier and yummier, especially in the kitchen and for entertaining, follow my Amazon Storefront.
➙ For groceries,
Try Amazon Fresh
.
Sylvie's Homemade Easy Hummus Recipe – Kichererbsenpaste

This easy hummus recipe, aka Kichererbsenpaste, is so good and so quick to make. However, you may be asking yourself, "Why is there a hummus recipe on a German recipe site?"
Well, hummus is so versatile, it goes great with just about anything, including German food!

Prep Time


15 minutes


Cook Time


none


Total Time

15 minutes

Servings:

Makes about 4 - 5 cups

Ingredients:
1 14-ounce or 15-ounce can of chickpeas, with liquid (known as aquafaba)
2 14-ounce or 15-ounce cans of chickpeas, drained
¼ cup tahini
1 teaspoon salt
1 small garlic clove
¼ cup nutritional yeast (optional)
5 tablespoons fresh lemon juice
extra aquafaba or cold water, if needed
Instructions:
FOOD PROCESSOR
Start by adding the chickpeas and the aquafaba from one can.
Add remaining ingredients, except for extra aquafaba.
Process, stopping to scrape down sides when necessary, until smooth. The longer you process, the smoother the hummus.
Use more or less aquafaba, or water, to achieve desired consistency.
Adjust seasonings to taste.
BLENDER
Start by adding the aquafaba from one can of chickpeas and the lemon juice.
Add drained chickpeas and remaining ingredients and blend. (Depending on your blender, you may need to add more liquid to get things moving.)
Scrape down sides if necessary and blend again.
Use more or less aquafaba, or water, to achieve desired consistency.
Adjust seasonings to taste.
BY HAND
Add chickpeas and aquafaba to a large bowl and mash - you can leave some chickpeas whole or mash every single one.
Mince garlic and add to bowl.
Add remaining ingredients and mix well.
Add more aquafaba, or water, if mixture is too dry.
Adjust seasonings to taste.
Notes/Hints:

I love nutritional yeast in my hummus. It adds a really nice subtle cheesy flavor that I think you'll enjoy, but it tastes just as awesome without it.
I use a lot of lemon juice in my cooking, and so to save time I like to buy a whole bunch of lemons and juice them all at once. (I have an electric citrus juicer, which I highly recommend! I have this one and love it!) And then I pour the juice into ice cube trays and freeze it. One lemon cube is approximately 1 tablespoon. So for this recipe, I pop five cubes out of the tray and put them right in the food processor. No need to thaw!
Throw in an extra clove of garlic or two if you love your hummus extra garlicky.
Store hummus in an airtight container in the fridge for up to one week (if it lasts that long!).
Make an extra batch of hummus or two and freeze for later use.
*  *  *  *  *

Unless otherwise noted recipe, images and content © Just like Oma | www.quick-german-recipes.com

Need that "all's good with the world" feeling? Comfort food will do that. Get your copy of Oma's German favorites in her Comfort Foods e-Cookbook.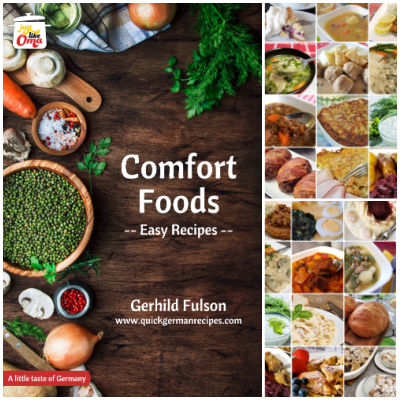 Take a peek at all Oma's eCookbooks. They make sharing your German heritage a delicious adventure!
Leave a comment about this recipe or ask a question?

Pop right over to my private Facebook group, the Kaffeeklatschers. You'll find thousands of German foodies, all eager to help and to talk about all things German, especially these yummy foods. 
Meet with us around Oma's table, pull up a chair, grab a coffee and a piece of Apfelstrudel, and enjoy the visit.

Choose from Oma's cookbooks that are immediately downloadable & start cooking easy classic German foods tonight. Or get her newest paperback cookbook. LECKER!

Kaiserschmarrn are among those homemade pancake recipes that will remind you of Oma's kitchen. A traditional Austrian & German light and fluffy shredded pancake.

Discover the ultimate German schnitzel recipe with Oma's quick, easy, and delicious pork version - perfect for any occasion! Taste the authentic flavors of Germany today.
*  *  *  *  *
PIN to SAVE this recipe to your Pinterest board!
And let's be friends on Pinterest!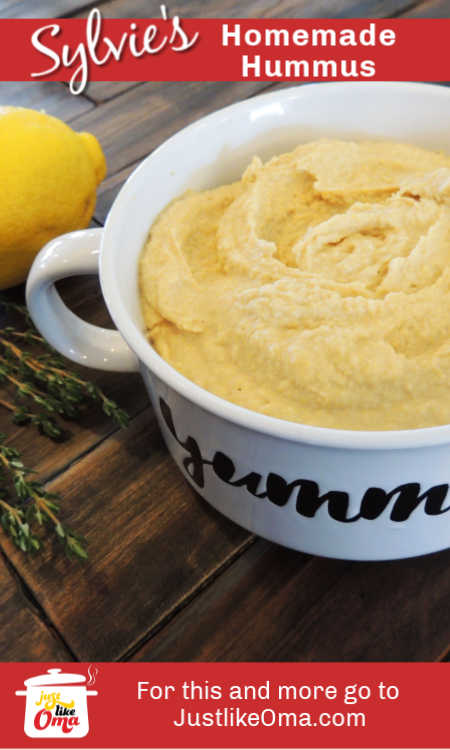 ---
Sylvie's Homemade Easy Hummus Recipe ~ Simply the BEST!


By
Sylvie Fulson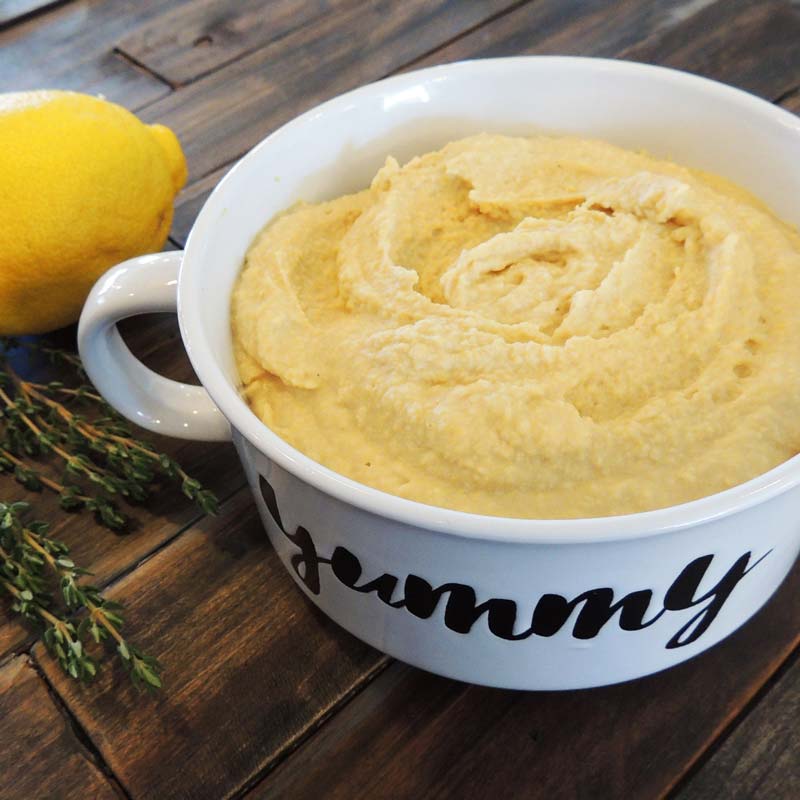 Sylvie's homemade easy hummus recipe is so very versatile, it goes great with just about anything, including German food! Lots of tips, hints, tricks for the perfect dish.

Ingredients:
canned chickpeas,
tahini,
garlic,
lemon juice,
salt,
nutritional yeast,
For the full recipe, scroll up ...
"For the Kingdom of God is not a matter of what we eat or drink, but of living a life of goodness and peace and joy in the Holy Spirit."
Romans 14:17 (NLT)