Oma's Vegan Chili Recipe ❤️
➤ by Oma Gerhild Fulson
FTC Disclosure: As an Amazon Associate, I earn from qualifying purchases.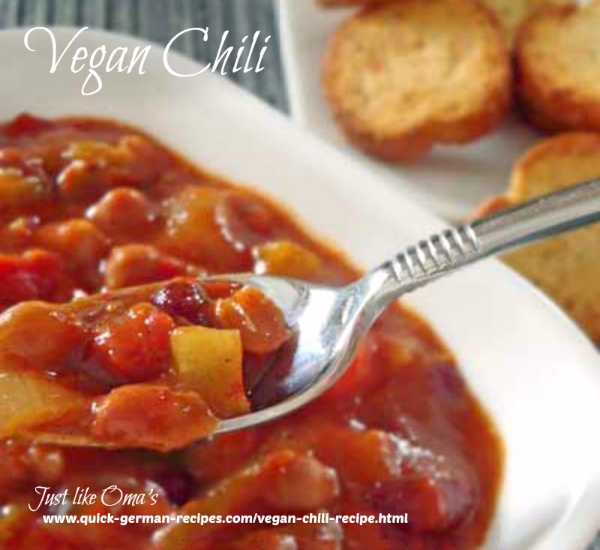 A vegan chili recipe sounds impossible! It needs meat, right? Nope, it doesn't! Really. This one tastes that good. Even my hubby likes this one! (And he's the original German meat-and-potato fan!) The recipe below is a combination of several recipes I found online. I combined the best of each to create this chili so that fits into my vegan soup recipes.
 Not only does it taste fabulous, it's so easy to make because it's a crockpot chili! Just throw it all the ingredients for this vegan chili in the crockpot and walk away till dinner. Now, that's my kind of cooking!
I love using my new Cuisinart Slow Cooker!    (I gave away my old one!)
Not only is it a slow cooker, but it's a Multicooker!
That means it can be used to quickly brown or sauté the meat  (up to 400 °F) before setting it to slow cook (at various temps) ... and there's a 'steam' option as well!
With a 24-hour timer and an automatic Keep Warm feature, I LOVE this! You'll love using this, just like I do!

A bit of this and a bit of that ...
If you don't have chipolte chili powder or smoked paprika, just add a bit extra chili powder. Use regular paprika.
You choose how 'beany' you want your chili. Add only 1 can or 3 or 4. One way I often extend the leftovers is to add an extra can of tomatoes and beans. New taste. New meal.
Change up the types of veggies added. Omit the carrots. Omit the celery. Add mushrooms. You choose.
---
Here's my granddaughter, Lydia, helping me make this for our family supper. Everyone thought it was great!
BTW, you can't call this a Chili Con Carne, because that translates as "Chili with meat" ... this is just "Chili" ... but a really gooood bowl of chili, it is!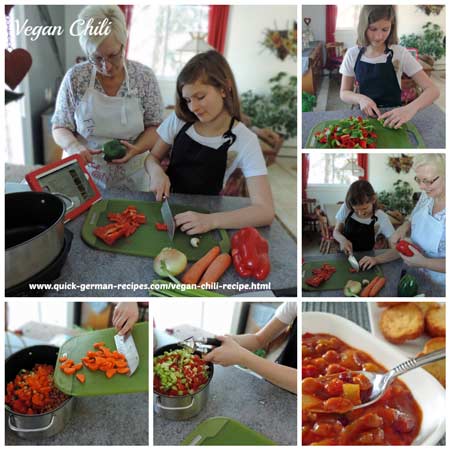 Oma says,
 Even though my hubby is a 'German meat-and-potatoes' man, through and through, I throw in these vegan and vegetarian soup recipes every now and then. 
I'm often pleasantly surprised when he reaches for seconds! This time, he had thirds as well!
Oma's Vegan Chili Recipe
Ingredients:
1 large sweet potato, peeled
1 onion
2 carrots, peeled
2 stalks celery
2 - 3 peppers, any colors
1 garlic clove, crushed
3 (19 oz) cans beans, drained, kidney or mixed
1 (28 oz) can diced tomatoes
1 tbsp chili powder
1 tsp smoked paprika powder
1 tsp chipotle chili powder
1 tsp cocoa
2 - 3 cups water
1 vegetarian bouillon cube (optional)
1 tsp salt
(salt, pepper to season at end)
Instructions:
Cut veggies into bit-sized pieces.

Put everything into the crockpot (slow cooker) 

Cook on low for 6 - 8 hours or until veggies are soft. Season with additional salt and pepper as needed.

Makes about 8 servings

Leave a comment about this recipe or ask a question?
Pop right over to my private Facebook group, the Kaffeeklatschers. You'll find thousands of German foodies, all eager to help and to talk about all things German, especially these yummy foods. 
I pop in all the time as well, to chat and to answer questions. 
Meet with us around Oma's table, pull up a chair, grab a coffee and a piece of Apfelstrudel, and enjoy the visit.
*  *  *  *  *
Want nutritional information for a recipe?
Copy and paste the ingredient list and the number of servings into Calorie Count. 
It will give you an approximate calculation.

Need help doing conversions
between cups and grams or any such thing?
Use this site to give you all the different conversions for the different types of ingredients. 
---
---
These German gingerbread cookies, or Lebkuchen, are such a traditional cookie to have for Christmas. They're very easy to make, there's no reason to buy them.

Oma's German schnitzel recipe (Jägerschnitzel) is great if you need something delicious that's quick to make as well. So traditionally German and so WUNDERBAR!
---
Make every Day a Kingdom Day!
"For the Kingdom of God is not a matter of what we eat or drink, but of living a life of goodness and peace and joy in the Holy Spirit."
Romans 14:17 (NLT)