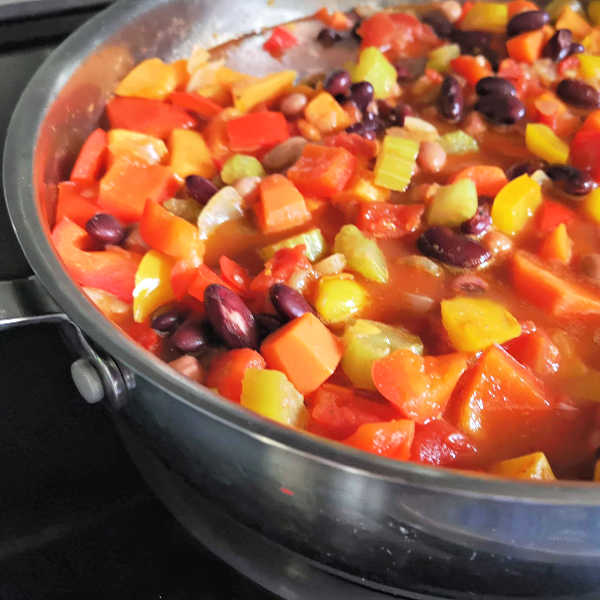 Oma's Vegan Chili Recipe (Crockpot Recipe) 

A vegan chili recipe, aka veganes Chili, sounds impossible! It needs meat, right? Nope, it doesn't! Really. This one tastes that good.
Even my hubby likes this one! (And he's the original German meat-and-potato fan!) The recipe below is a combination of several recipes. I combined the best of each to create this chili so that fits into my vegan soup recipes.
Prep Time


15 minutes


Slow Cook Time


6 - 8 hours


Total Time

6 - 8 hours

Servings:

Makes 8 servings
Ingredients:
1 large sweet potato, peeled
1 onion
2 carrots, peeled
2 stalks celery
2 - 3 peppers, any colors
1 garlic clove, crushed
3 (19-ounce) cans beans, drained, kidney or mixed
1 (28-ounce) can diced tomatoes
1 tablespoon chili powder
1 teaspoon smoked paprika powder
1 teaspoon chipotle chili powder
1 teaspoon cocoa
2 - 3 cups water
1 vegetarian bouillon cube (optional)
1 teaspoon salt
(salt, pepper to season at end)
Instructions:
Cut veggies into bit-sized pieces.
Put everything into the crockpot (slow cooker) 
Cook on low for 6 to 8 hours or until veggies are soft. Season with additional salt and pepper as needed.
Notes/Hints:

With many 'meat substitutes' available, there's a plant-based 'ground beef'  that would work well in this recipe. Just make sure that you follow the cooking time that the package says. The one I've seen says not to overcook and their cooking time is only 2 minutes. So, you would add it just at the end to pretty well just heat it up.
*  *  *  *  *

Unless otherwise noted recipe, images and content © Just like Oma | www.quick-german-recipes.com