Vegan German Mustard Sauce Recipe – Sylvie's vegane Senfsosse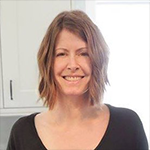 by: Sylvie Fulson  /  Copy Editor, Copywriter, Plant-Based Cook, Wife, Mom
As an Amazon Associate, I earn from qualifying purchases.
Oma Gerhild asked if I would create a vegan version of her German mustard sauce recipe that is traditionally served with hard-boiled eggs and boiled potatoes.
I love mustard and I love sauces, and so I was excited to come up with an easy recipe that would make everyone's taste buds jump for joy. And I think I've succeeded!
Vegan German mustard sauce recipe - 3 ways

Before I share my recipe, I want to share two other quick and easy ways to make a yummy German mustard sauce vegan-style.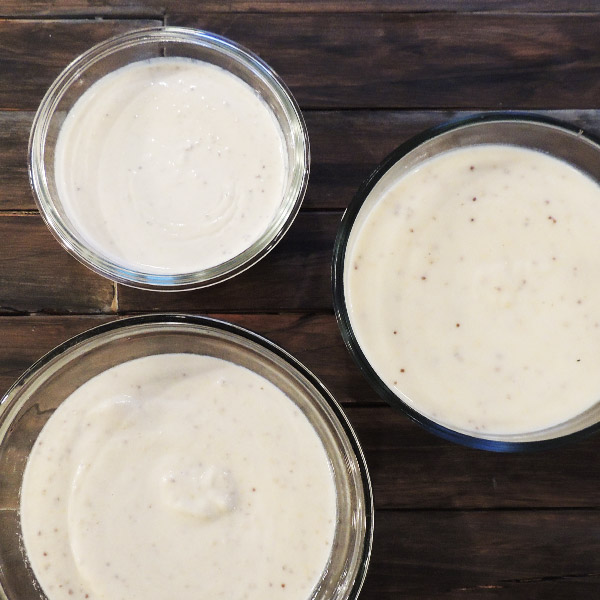 First, if you love traditional German mustard sauce with your eggs, but would like to try a dairy-free version, this one might be for you!
Simply use Oma's recipe and substitute vegan ingredients for the animal products.
For example, use vegan butter or margarine instead of regular butter, and soy or almond milk instead of dairy milk or cream (which can be found at just about any grocery store), then follow the rest of the recipe as directed. Easy-peasy AND delicious!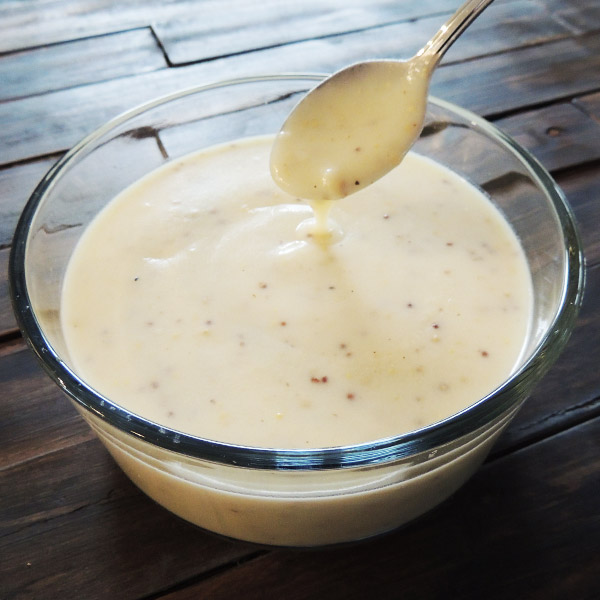 If you happen to have cashew cream on hand, here's another way to make mustard sauce: simply add some cashew cream to a saucepan with a little bit of water or vegetable broth. 
Now add your favorite mustard, to taste, and season with a pinch of salt and pepper. Whisk it all together as you heat it on the stove top, and voilà! You've got yourself a delicious mustard sauce in a matter of minutes.

(You can also just whisk it all together in a small bowl for an easy way to make a lovely creamy dressing with a tangy flavor. So good drizzled over fresh greens and veggie bowls!)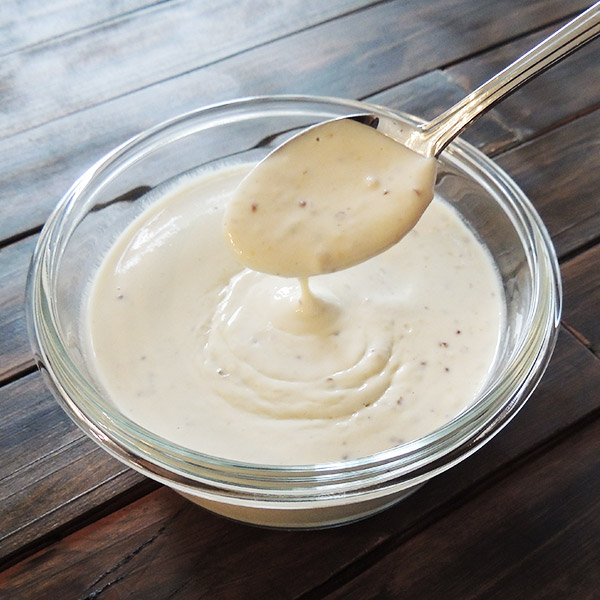 What's great about this method is you can easily make a single serving or enough to serve the whole family. Wunderbar!
Whole-food vegan mustard sauce

From my research, I found that traditional German mustard sauce typically consists of the following ingredients in various amounts: butter, flour, broth or water, milk or cream, and mustard, with lemon juice, salt and pepper, sugar, and/or various herbs or spices as options.
Since I'm all about a whole food plant-based diet, I knew I wanted to use cashews (instead of vegan butter or olive oil) to make the sauce thick, rich, and creamy. So in my recipe, water and cashews replace the flour, butter, and milk to create a nice rich base for the sauce.

And since I love organic Dijon mustard, that is what I decided to use, along with lemon juice, salt, and pepper, for a deliciously simple and tasty sauce. Optionally, I think adding nutmeg or dill would be yummy as well.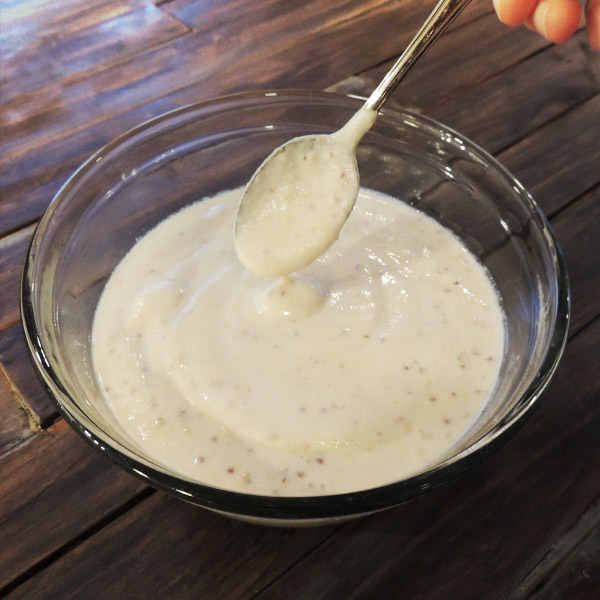 So this recipe is super easy with simple steps to follow. I added all of the ingredients, except the mustard, in a high-powered blender and blended until completely smooth. I then transferred the mixture to a saucepan and whisked in the mustard.
The reason for this is that I used a grainy mustard and I wanted to retain the texture of the mustard in the sauce. If this does not matter to you or you are using a smooth mustard, then go ahead and add it to the blender as well.

Then I brought the mixture to a simmer until it thickened into a nice creamy sauce.
For a plant-based alternative, I served the sauce with avocado halves instead of eggs. Avocados are delicious and the texture of a perfectly ripe avocado often reminds me of the yolk of a hard-boiled egg. And of course, I also served it with boiled potatoes, which is deliciously German and vegan!
Both my husband and I found it absolutely delicious, especially when we combined the avocado, potato, and mustard sauce in one yummy mouthful. So good!!!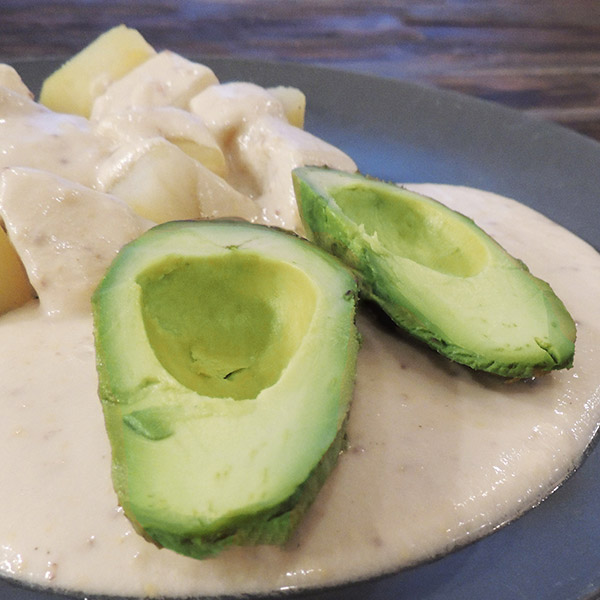 This mustard sauce recipe is so versatile!

What is also awesome about this mustard sauce recipe, besides being quick, easy, and yummy, is that it makes enough to pretty much guarantee leftovers. We discovered that this sauce tastes amazing hot or cold and that it goes well with just about anything; it even makes a delicious dressing or dipping sauce.
The next day for lunch, I combined leftover boiled potatoes, chopped avocado, and mustard sauce along with a generous sprinkling of dill weed and some cooked edamame that we had in the fridge. It was a delicious impromptu potato salad that tasted amazing and so satisfying.

The day after that, we discovered the mustard sauce also makes a delicious salad dressing. Since we still had leftover sauce, I decided to add it to a big bowl of romaine lettuce, apple slices, and sunflower seeds. So amazingly good and refreshing!! It's now one of my favorite homemade dressings.
Another favorite way to eat this sauce is mixed with rice, edamame, veggies like broccoli and/or cauliflower, and sauerkraut, which tastes delicious hot or cold.
Next time, I would love to try it with roasted sweet potatoes for that perfect balance of sweet and savory.

Bottom line, this mustard sauce is just wonderful for turning plain leftovers into wonderfully delicious meals and would be amazing with a wide range of vegan recipes.

Whether you eat a vegan diet or not, I hope you enjoy it as much as I do!
Ready to make this Vegan German Mustard Sauce?
Is the recipe below locked? Here's why. 
As an Amazon Associate, I earn from qualifying purchases.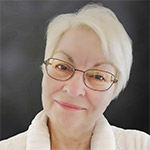 For more German-inspired items that make life easier and yummier, especially in the kitchen and for entertaining, follow my Amazon Storefront.
➙ For groceries,
Try Amazon Fresh
.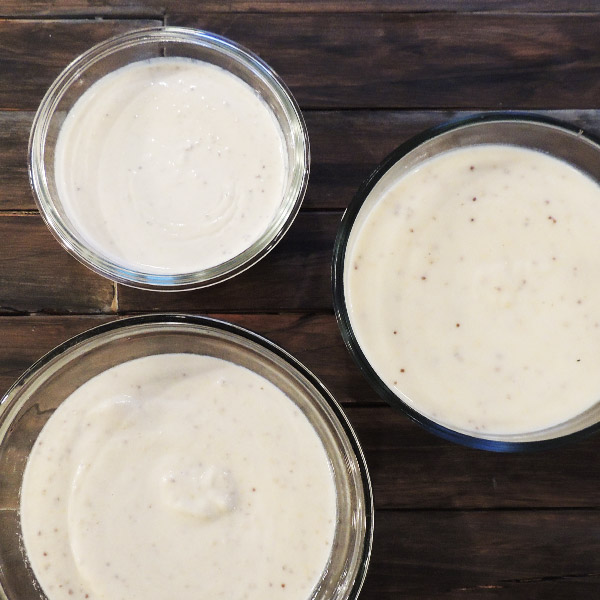 Vegan German Mustard Sauce Recipe – Sylvie's vegane Senfsosse

This vegan version of Oma's German mustard sauce is made with simple ingredients that will make everyone's taste buds jump for joy! This sauce has so many uses that you'll make a double batch just to have leftovers!

Prep Time


5 minutes


Cook Time


15 minutes


Total Time

20 minutes

Servings:

Makes 3 - 4 servings
Ingredients:
2 cups water or vegetable broth
½ cup raw cashews 
1 teaspoon lemon juice
1 teaspoon salt, or to taste
⅛ teaspoon black pepper
2 tablespoons mustard
Instructions:
Add all ingredients to a blender and blend until completely smooth
Pour the blended sauce into a saucepan and bring to a simmer over medium heat, stirring often so that the sauce does not stick to the bottom of the pot and burn.
Once it starts to simmer, keep stirring until it reaches desired thickness.
Remove from heat and serve.
Notes/Hints:

If you do not have a high-powered blender, be sure to soak the cashews in water ahead of time for 5 to 8 hours. Alternatively, you can boil them in a pot for 10 to 15 minutes. Simply drain and rinse the softened cashews and add them to the recipe.
Use any mustard you like: Dijon mustard, stone ground mustard, regular yellow mustard, spicy brown mustard, etc.
If you are using a grainy mustard and you want to keep the grainy texture, add it to the blended ingredients in the saucepan instead of adding it to the blender.
Consider adding a favorite herb or spice, such as dill, nutmeg, garlic powder, or even some cayenne pepper for a little heat.
Store leftovers in an airtight container in the fridge.
*  *  *  *  *

Unless otherwise noted recipe, images and content © Just like Oma | www.quick-german-recipes.com

Need that "all's good with the world" feeling? Comfort food will do that. Get your copy of Oma's German favorites in her Comfort Foods e-Cookbook.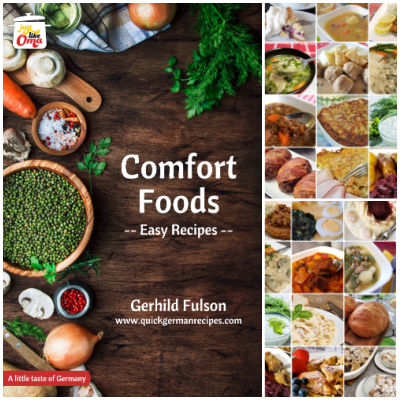 Take a peek at all Oma's eCookbooks. They make sharing your German heritage a delicious adventure!
Leave a comment about this recipe or ask a question?

Pop right over to my private Facebook group, the Kaffeeklatschers. You'll find thousands of German foodies, all eager to help and to talk about all things German, especially these yummy foods. 
Meet with us around Oma's table, pull up a chair, grab a coffee and a piece of Apfelstrudel, and enjoy the visit.

This easy German Apple Strudel recipe is one of those German desserts that brings the traditional strudel taste to your table without all the work. Wunderbar!!

Make the perfect German Spaetzle with Oma's easy recipe! This traditional German egg noodle pairs perfectly with caramelized onions for a delicious meal.

Choose from Oma's cookbooks that are immediately downloadable & start cooking easy classic German foods tonight. Or get her newest paperback cookbook. LECKER!
*  *  *  *  *
PIN to SAVE this recipe to your Pinterest board!
And let's be friends on Pinterest!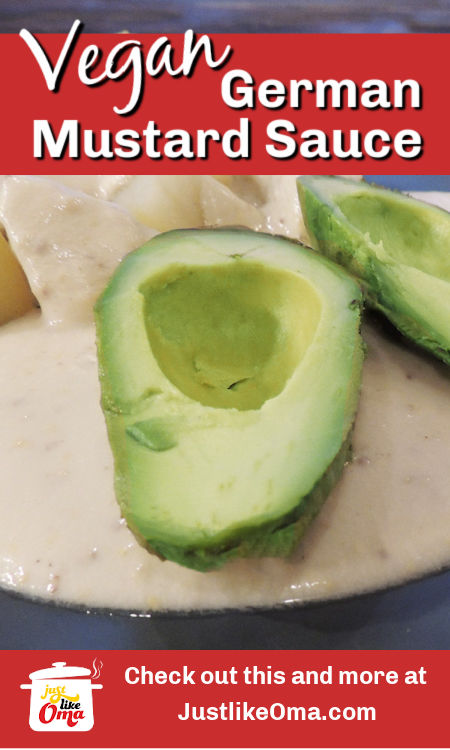 ---
Vegan German Mustard Sauce Recipe
By
Sylvie Fulson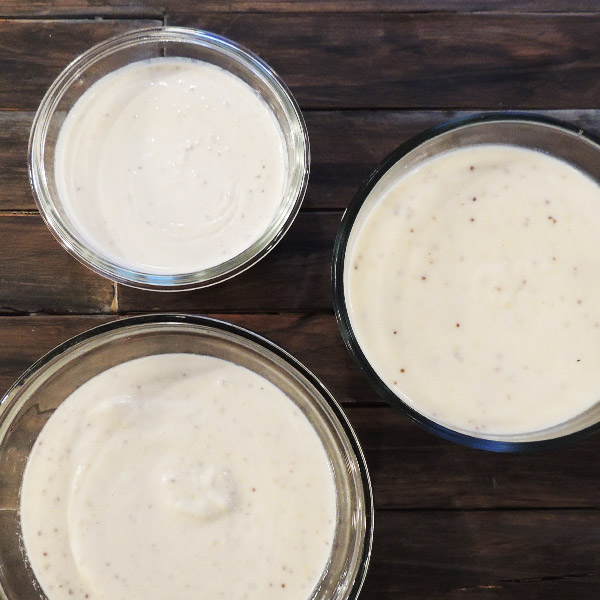 My vegan version of Oma's German mustard sauce will make everyone's taste buds jump for joy! In fact, I made 3 slightly different versions!
Ingredients:
vegetable broth,
raw cashews,
lemon juice,
mustard,
seasonings,
For the full recipe, scroll up ...
"Gaurd your heart above all else, for it determines the course of your life."
Proverbs 4:23 (NLT)