How to Make Vegan Cashew Cream Sauce – vegane Cashew-Sahnesauce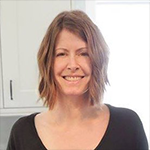 by: Sylvie Fulson  /  Copy Editor, Copywriter, Plant-Based Cook, Wife, Mom

This post may contain affiliate links, which means I'll receive a commission if you purchase through my links, at no extra cost to you. Please read full disclosure for more information.
Cashew cream sauce is popular among vegan recipes and is really quite easy to make. This creamy sauce is a combination of simple healthy ingredients: cashews, water, and salt. Lemon juice is optional, but we love its tangy flavor so we always add it in.
Cashew cream is one of the many delicious dairy-free recipes made with cashews.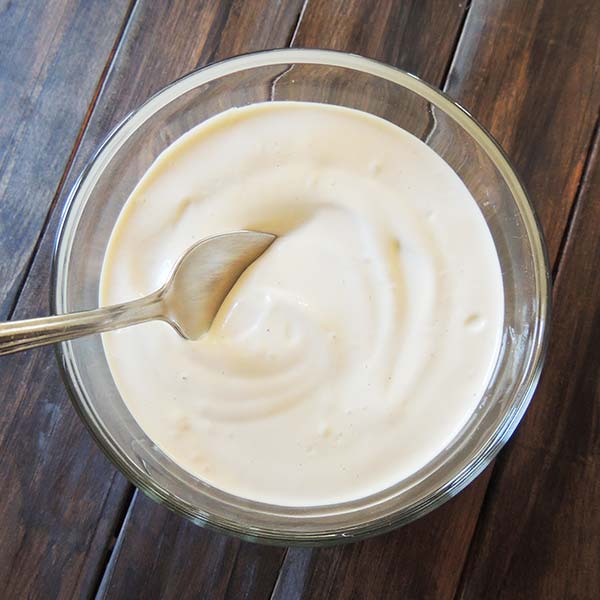 What is cashew cream sauce a substitute for?

A lot of German recipes call for heavy cream, sour cream, and mayonnaise, and if you're looking to cut down on dairy, learning how to make cashew cream will come in handy when you need a delicious dairy-free alternative.
In our house, we make cashew cream on a weekly basis and use it in all sorts of ways:
we like to smother our boiled potatoes with it
we use it as a spread on bread or toast
we spread it on toast topped with tomato slices and sprinkled with salt and pepper for delicious toasted tomato sandwiches
we add apple cider vinegar and dill weed to it and then mix it with mashed chickpeas as a sandwich spread reminiscent of tuna salad, or with leftover boiled potatoes for a quick and easy potato salad
we like to mix it with diced tomatoes for a deliciously creamy pasta sauce
we add a nice big dollop to a bowl of hot soup, such as lentil or beet soup, and swirl it in
it is delicious in tacos and on veggie burgers
I like to mix it with some Dijon mustard for a yummy dipping sauce for baked potato wedges (also yummy with steamed or roasted broccoli or cauliflower!)
and my son loves to eat it as a side dish! :)
As you can see, it makes a great dairy-free replacement and would be perfect paired with many of your favorite German meals.
Turn basic cashew cream sauce into delicious concoctions

This smooth cashew cream recipe is so versatile and makes a great base recipe for amazing sauces, dressings, and dips. As mentioned above, it's as simple as adding a little apple cider vinegar and dill weed, or some Dijon mustard. But you can get super creative and take it to a whole new level!
You can blend it with some nutritional yeast, garlic, and maybe a little bit of onion powder for a cheesy version, served warm or room temperature. Maybe add some hot sauce for some extra kick! Perfect for dipping your favorite tortilla chips or drizzled over nachos.
You can experiment by adding some of your favorite fresh herbs and spices. Maybe add some fresh or frozen spinach for a creamy green sauce with a little extra nutritional oomph.

This simple recipe can also be transformed into a delectably sweet delight by adding in a few dates or some maple syrup, a tsp vanilla extract, and perhaps some cinnamon. Perfect for dipping fruit or as a delicious garnish for fresh apple strudel! 

My favorite way to eat it lately is to mix two to three tablespoons of cashew cream with a little bit of water, about a tablespoon of Dijon mustard, and a little bit of salt and black pepper for a delicious salad dressing. This combo is amazing mixed with greens, but it also tastes so good mixed with leftover rice, sweet potatoes, edamame, and sauerkraut for a quick and easy lunch!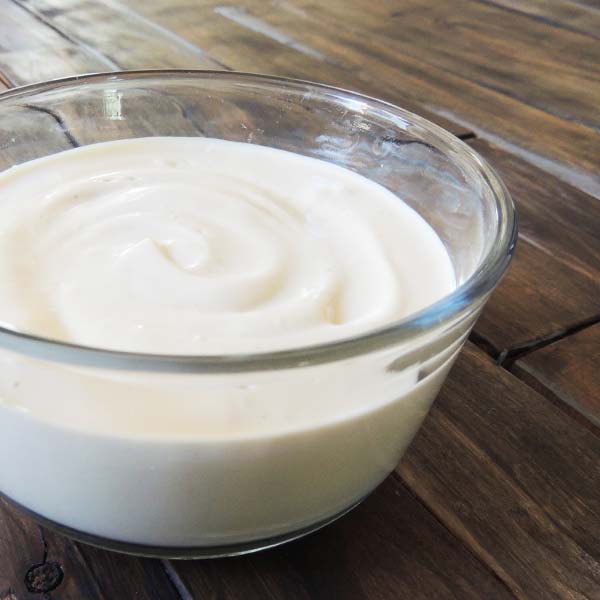 To soak or not to soak

A lot of cashew cream recipes call for soaked cashews. If you're pressed for time, there is no need to soak the cashews if you have a high-speed blender. You'll still get a deliciously creamy sauce.
However, soaked cashews do tend to yield the best results. And if you're using a regular blender or food processor, soaking the cashews ahead of time is a must to get that creamy texture. 

To save on time, make sure you always have soaked cashews on hand so that you can make cashew cream whenever the mood strikes. Simply buy raw unsalted cashews in bulk, soak them in water for 5 to 8 hours, then drain and rinse. Divide them into 1 cup portions and store them in the freezer until ready to use.

When you're ready to make cashew cream, simply add them directly to your blender or food processor and you're ready to go. No need to thaw! If you have lemon juice in the freezer also, even better! You can have delicious and creamy cashew cream ready to use in a matter of minutes.
Enjoy!

If this is your first time making this vegan cream sauce, you'll find it's a game changer. It will take your meals to a whole new level. Use this recipe as a guideline. Start with the amounts suggested, then play around with the ingredients to get it tasting just right for you. Enjoy it just the way it is, or have fun adding in different ingredients and make it your very own. Enjoy!!
Ready to make this cashew cream sauce recipe?

Is the recipe below locked? Here's why.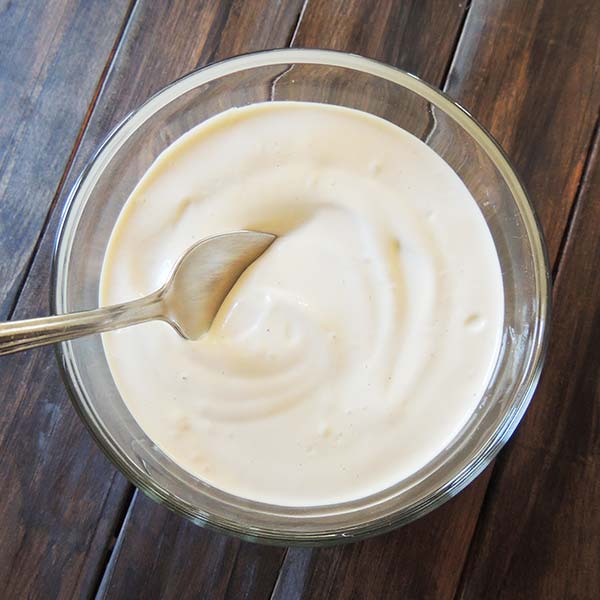 How to Make Vegan Cashew Cream Sauce – vegane Cashew-Sahnesauce

Cashew cream sauce is popular among vegan recipes and is really quite easy to make. This creamy sauce is a combination of simple healthy ingredients: cashews, water, and salt. Lemon juice is optional, but we love its tangy flavor so we always add it in. 
Prep Time


5 minutes


Cook Time


none


Total Time

5 minutes

Servings:

Makes 1.5 cups
Ingredients:
½ cup + 2 tablespoons water 
1 cup raw cashews
2½ tablespoons lemon juice
¼ teaspoon salt
Instructions:
Add all ingredients to a blender or food processor. Blend or process until completely smooth, scraping down the sides of the blender or processor.
Adjust ingredients, to taste, if necessary.
Notes/Hints:

If you do not have a powerful blender, be sure to soak cashews in water ahead of time for 5 to 8 hours. Alternately, you can boil them in a pot for 10 to 15 minutes. Simply drain and rinse the softened cashews and add them to the recipe. 
Add a little less or a little more water to get your cashew cream to the desired consistency.
Store in an airtight container for up to one week.
It will thicken in the refrigerator. If you find it too thick, simply add a little bit of water and stir.
Save time by juicing a bunch of lemons ahead of time and freezing the juice in ice cube trays. Each cube is approximately 1 tablespoon.
Cashews are expensive, but one cup of cashews will give you one week's worth of cashew cream.
*  *  *  *  *

Unless otherwise noted recipe, images and content © Just like Oma | www.quick-german-recipes.com

10.20.2021 revision update
Need that "all's good with the world" feeling? Comfort food will do that. Get your copy of Oma's German favorites in her Comfort Foods e-Cookbook.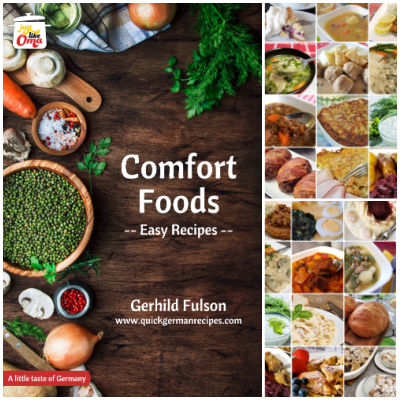 Take a peek at all Oma's eCookbooks. They make sharing your German heritage a delicious adventure!
Leave a comment about this recipe or ask a question?

Pop right over to my private Facebook group, the Kaffeeklatschers. You'll find thousands of German foodies, all eager to help and to talk about all things German, especially these yummy foods. 
Meet with us around Oma's table, pull up a chair, grab a coffee and a piece of Apfelstrudel, and enjoy the visit.

Cooking just like Oma, making those German meals, is actually quite easy. Let me, Oma Gerhild, help you with my step-by-step methods to re-create those yummy meals you remember from your Oma.

If you're looking for tasty, traditional, and easy German cake recipes (in English) to try, then you've come to the right place! Check out these lecker treats!

Discover the ultimate German schnitzel recipe with Oma's quick and easy method - perfect for any occasion! Taste the authentic flavors of Germany today.
*  *  *  *  *
PIN to SAVE this recipe to your Pinterest board!
And let's be friends on Pinterest!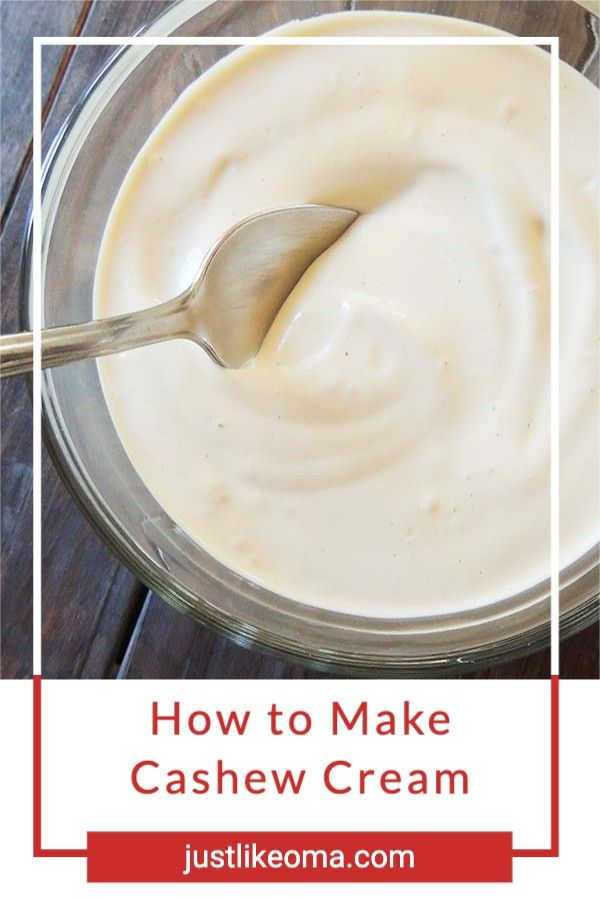 ---
How to Make Vegan Cashew Cream Sauce
By
Sylvie Fulson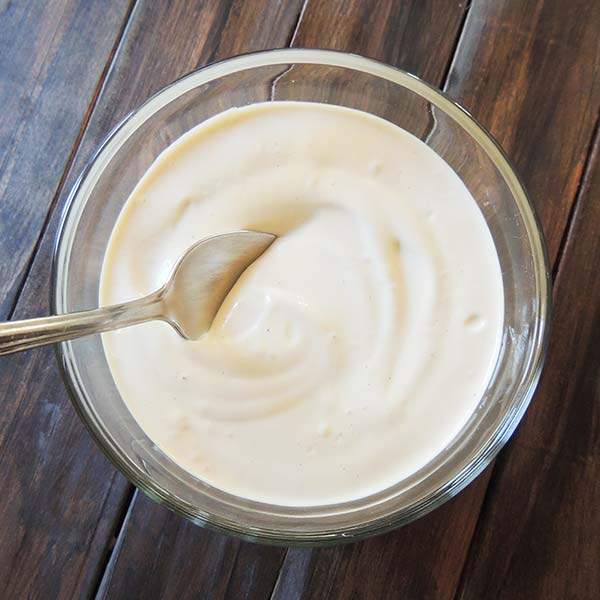 How to make cashew cream is really simple. At its most basic, it's a combination of cashews, water & salt. Cashew cream sauce is one of the many delicious dairy-free recipes.
Ingredients:
cashews,
lemon juice,
salt
For the full recipe, scroll up ...
Make every day a SUCCESSFUL day!
"For I can do everything through Christ, who gives me strength."
Philippians 4:13 (NLT)