Oma's Easy Vegan Recipes❤️
➤ by Oma Gerhild Fulson
FTC Disclosure: As an Amazon Associate, I earn from qualifying purchases.
My easy vegan recipes are just a tad different from others you'll find online. These need to be German and taste like it, or else something that sort of fits with our German taste buds! This was a challenge. And, who doesn't love a challenge!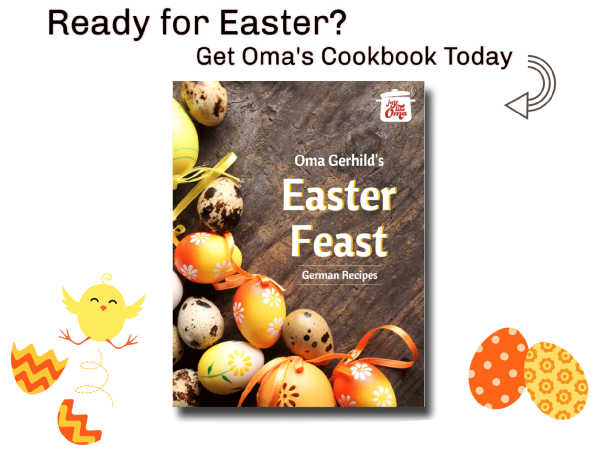 The challenge? I'm not vegan! I'm German and German food and vegan food seem to be mutually exclusive.  But, I have family and friends who are both German and vegan!
I set down my basic guidelines:

Everyone will enjoy it 
Use normal ingredients 
Would be nice if it tasted German
 Make it nourishing 
Should be quick and easy 
Following is what I've come up with so far!
---
Vegan Bread Recipes
Vegan Salad Dishes and such
Vegan Veggie Recipes
Vegan Soup Recipes
Vegan Dessert Recipes
---
More Ideas for Easy Vegan Recipes ...
I needed to find things like a vegan cake recipe that everyone could enjoy. Sometimes I could just make simple vegetarian recipes, but that doesn't always work. I'd try for meatless meals, but again, that doesn't always mean vegan.

Much of my regular traditional German cooking has meat, butter, cream, LOTS OF CREAM, and meat. Did I already say meat? Yes, lots of meat and gravy and cream and butter. I think I'm repeating myself, but you get the picture.
What about my vegan family/friends? I wanted to give them something delicious that wouldn't go against their conscience. BUT, I didn't want to have to go shopping for strange stuff that I wouldn't use again. What I needed to do was some research. I discovered the following:
To keep a vegan happy, do NOT use any animal products in your cooking/baking. That includes, of course, eggs, milk, butter, cream, meat, and even things like honey!

Those are, of course, the major items in German cooking.
So THIS was my challenge: to experiment, create, find, and make German vegan food! 
This section of my website is just starting out, so keep coming back as I add more and more. Do send in recipes that you've altered and created that match with these "guidelines." 
Leave a comment about this recipe or ask a question?
Pop right over to my private Facebook group, the Kaffeeklatschers. You'll find thousands of German foodies, all eager to help and to talk about all things German, especially these yummy foods. 
I pop in all the time as well, to chat and to answer questions. 
Meet with us around Oma's table, pull up a chair, grab a coffee and a piece of Apfelstrudel, and enjoy the visit.
*  *  *  *  *
Want nutritional information for a recipe?
Copy and paste the ingredient list and the number of servings into Calorie Count. 
It will give you an approximate calculation.

Need help doing conversions
between cups and grams or any such thing?
Use this site to give you all the different conversions for the different types of ingredients. 
---
PIN this ...

---
Dyeing Easter eggs naturally using common foods such as coffee, cabbage, onions, and tea will transform the eggs into a rainbow of colors. Either hang or hide them

Cheese Spätzle is a traditional German noodle dish. A sort of Germanized version of 'Mac & Cheese', only better!
---
Make every day a Kingdom day!
"For the Kingdom of God is not a matter of what we eat or drink, but of living a life of goodness and peace and joy in the Holy Spirit." Romans 14:17 (NLT)