Vegetarian Potato Soup Recipe
Easy Vegetarian Potato Soup (Vegan Recipe) – vegane Kartoffelsuppe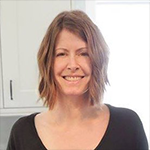 by: Sylvie Fulson  /  Copy Editor, Copywriter, Plant-Based Cook, Wife, Mom
As an Amazon Associate, I earn from qualifying purchases.
It's that time of year again. There's nothing quite like a warm bowl of soup on a cold winter night, and this creamy vegan potato soup, aka vegane Kartoffelsuppe, fits the bill perfectly. It has a rich and creamy base with nourishing vegetables and potato chunks that are sure to warm the cockles of your heart.
This vegan version of a German chunky potato soup is loaded with potatoes and healthy veggies with a blended cashew base (a perfect substitute for heavy cream!) for added richness and deliciousness.

Not only is this homemade potato soup absolutely yummy, it's also quick and easy to make. Serve it with some crusty bread, like Oma's Easy Artisan Bread, spread with vegan butter or cashew cream, and you've got yourself a fabulous meal. Wunderbar!
I do hope you give it a try. This wonderfully chunky, yet creamy potato soup could easily become your favorite soup!
Did you know?

Potatoes are a nutrient-dense vegetable. They are an excellent source of vitamin C and contain more potassium than bananas. They're also a source of vitamin B6, iron, and calcium.
With complex carbohydrates, fiber, and protein, the humble potato is a nutritional powerhouse that'll help fuel your body and brain throughout the day.
---
Oma says:
I am so happy that Sylvie wrote this recipe for her creamy potato soup to include here on the site. Why? Because it's SO good! I'm always happy when I'm over at her house for lunch and she's serving this or a variation of it. 
I recall the time that we were having it and there was an unusual flavor that I just couldn't place. It was good, but I just couldn't identify it. It turned out to be radishes (one of Sylvie's variations). NEVER had I EVER eaten cooked radishes! For me, they were salad fare. But, thanks to Sylvie, I learned differently that day. Yum.
---
How to make easy vegan potato soup

Start by sautéing some onion, lots of fresh garlic, celery, and carrots in a large soup pot until the vegetables have softened.
Add diced potatoes, water or veggie broth, and season with salt. Cook over medium-high heat until the potatoes are tender.
Meanwhile, blend together some water, raw cashews, nutritional yeast, salt, and freshly ground black pepper until perfectly smooth.
Once the potatoes are cooked, ladle about 4 to 5 cups of the potato/vegetable mixture into the blender with the cashew mixture and blend until smooth.
Pour the contents of the blender back into the pot and stir until well combined.
As an alternative to blending some of the potato mixture with the cashew mixture, simply pour the cashew mixture into the pot and use an immersion blender or a potato masher to reach your desired level of texture and creaminess.
Adjust seasonings to taste, and serve.

Variations

I think the best part about this deliciously simple soup is that it is so versatile. It's the perfect recipe for using whatever vegetables you have on hand, whether fresh or frozen. You can easily sub out the carrots and celery for 1½ cups of pretty much any vegetable or combination of vegetables. Here's a list of the many variations I have tried with great success:
green beans
mushrooms
red, yellow, and orange bell peppers, seasoned with curry powder
radishes and radish greens (for this version, I puréed the entire soup for a completely creamy soup)
just celery, no carrots
broccoli and/or cauliflower
Brussels sprouts
corn
celeriac
kale
You can use your favorite potato, or whatever you have on hand: red potatoes, Yukon gold potatoes, russet potatoes, new potatoes, etc. Or try a mix of white potatoes and sweet potatoes.
Other variations
Make it a loaded potato soup by adding a dollop of vegan sour cream, sprinkled with vegan cheese shreds, vegan bacon bits, and sliced green onions.
Or keep this German Kartoffelsuppe traditional with the addition of Suppengrün (soup greens) and vegan German sausage.
Ready to make this easy potato soup recipe?

Is the recipe below locked? Here's why. 
As an Amazon Associate, I earn from qualifying purchases.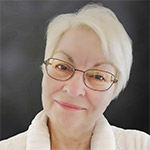 For more German-inspired items that make life easier and yummier, especially in the kitchen and for entertaining, follow my Amazon Storefront.
➙ For groceries,
Try Amazon Fresh
.
Easy Vegetarian Potato Soup (Vegan Recipe) – vegane Kartoffelsuppe

This German vegan potato soup recipe is made with simple ingredients that will leave you feeling warm and satisfied. There's nothing like a big bowl of soup (comfort food at its finest!) especially over the cold winter months.
Prep Time


15 minutes


Cook Time


25 minutes


Total Time

40 minutes

Servings:

Makes 6 servings
Ingredients:
1 large onion, diced
8-10 cloves garlic, minced
1 cup sliced celery stalks
½ cup sliced carrots
6 large potatoes, diced (peeling optional)
7½ cups water or vegetable broth
3 teaspoons salt, or to taste
1½ cups water
½ - 1 cup raw cashews, pre-soaked (see NOTES below)
½ - ¾ cup nutritional yeast
1 teaspoon salt
½ teaspoon pepper
Instructions:
Cover the bottom of a large pot or dutch oven with water. Add onion, garlic, celery, and carrot, and cook over medium heat until veggies are softened. Add a splash of water, when needed, to keep veggies from sticking to the pot.
Add potatoes, 7½ cups water or vegetable broth, and 3 teaspoons salt. Bring to a boil over medium high heat. Cook until potatoes are tender, about 12 to 15 minutes.
While potatoes are cooking, add remaining 1½ cups water, cashews, nutritional yeast, 1 teaspoon salt, and pepper to a blender. Blend until completely smooth.
When potatoes are done, ladle 4 to 5 cups of the potato mixture into your blender with the cashew mixture and blend until completely smooth.
Pour the blended soup and cashew mixture back into the soup pot and stir until fully combined.
Adjust seasonings to taste, and serve.
Notes/Hints:

Sauté veggies in olive oil, if desired.
If soup is too thick, add extra water.
Be sure to soak the cashews in water ahead of time for 5 to 8 hours. Or, you can boil them in a pot for 10 to 15 minutes. Simply drain and rinse the softened cashews and add them to the recipe. If you have a high-powered blender, no need to soak if time doesn't allow.
You can also make this soup without the cashews. While still delicious, it just won't taste as rich.
8-10 garlic cloves may seem like overkill, but it really isn't! Unless you really dislike garlic, I urge you to give it a try.
Use freshly ground black pepper, if possible.
Garnish with fresh parsley, if desired.
Add in some of your favorite fresh herbs or spices: thyme, oregano, marjoram, bay leaf, cumin, curry powder, etc.
If you like a little heat, blend some red pepper flakes with the cashew mixture.
Leftover potato soup can be stored in an airtight container for several days in the fridge. It tastes even better the next day!
*  *  *  *  *

Unless otherwise noted recipe, images and content © Just like Oma | www.quick-german-recipes.com

Need that "all's good with the world" feeling? Comfort food will do that. Get your copy of Oma's German favorites in her Comfort Foods e-Cookbook.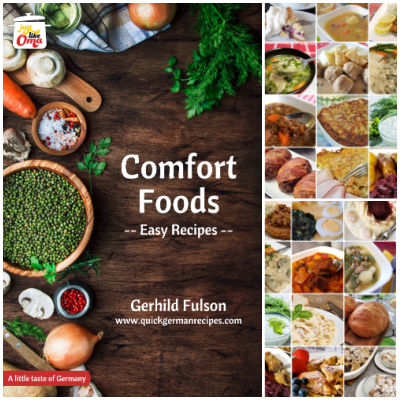 Take a peek at all Oma's eCookbooks. They make sharing your German heritage a delicious adventure!
Leave a comment about this recipe or ask a question?

Pop right over to my private Facebook group, the Kaffeeklatschers. You'll find thousands of German foodies, all eager to help and to talk about all things German, especially these yummy foods. 
Meet with us around Oma's table, pull up a chair, grab a coffee and a piece of Apfelstrudel, and enjoy the visit.

This easy German Apple Strudel recipe is one of those German desserts that brings the traditional strudel taste to your table without all the work. Wunderbar!!

Make the perfect German Spaetzle with Oma's easy recipe! This traditional German egg noodle pairs perfectly with caramelized onions for a delicious meal.

Choose from Oma's cookbooks that are immediately downloadable & start cooking easy classic German foods tonight. Or get her newest paperback cookbook. LECKER!
*  *  *  *  *
PIN to SAVE this recipe to your Pinterest board!
---
Easy Vegetarian Potato Soup (Vegan Recipe)
By
Sylvie Fulson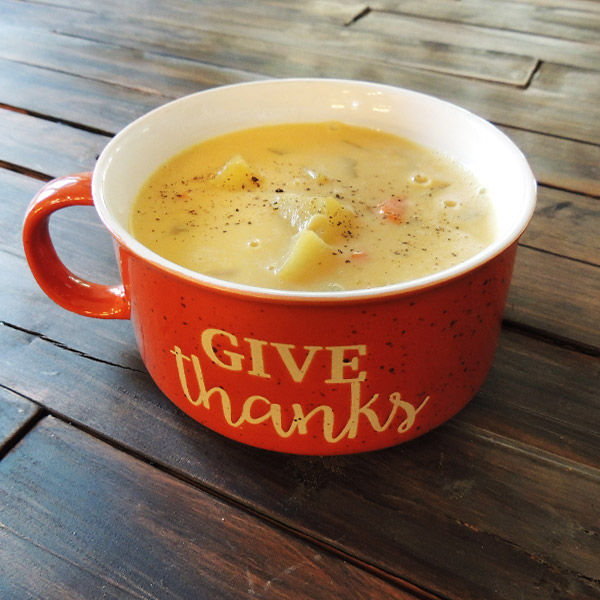 There's nothing like a warm bowl of soup on a cold winter night and this creamy vegan potato soup (vegane Kartoffelsuppe) has a rich and creamy base with nourishing vegetables and potato chunks.
Ingredients:
onion,
garlic cloves,
celery,
carrots,
potatoes,
seasonings,
raw cashers,
nutritional yeast,
cashews,
water or vegetable broth,
For the full recipe, scroll up ...
"As a face is reflected in water, so the heart reflects the real person."
Proverbs 27:19 (NLT)