Healthy Cream of Mushroom Soup
Healthy Cream of Mushroom Soup Recipe (Dairy-free!) – Pilzcremesuppe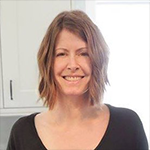 by: Sylvie Fulson  /  Copy Editor, Copywriter, Plant-Based Cook, Wife, Mom
As an Amazon Associate, I earn from qualifying purchases.
I love, love, love creamy mushroom soup! Growing up, my absolute favorite soup was Campbell's Cream of Mushroom.
I haven't had that soup in a very long time, and I didn't even know I missed it until I decided to create my own healthy mushroom soup recipe. It's a vegan version of Oma Gerhild's cream of mushroom soup, and it's SO good.
Just like Oma, I used button mushrooms and chopped onions, with the addition of fresh garlic. I blended raw cashews with water to replace the milk and/or heavy cream, and to give it that wonderfully rich and creamy texture. Then I topped it off with some freshly grated nutmeg for a bit of German flair.
The first time I made this comforting soup, I used water instead of vegetable broth, and it had such a wonderful mushroomy earthy flavor. The next time I made it, I decided to use vegetable broth instead, thinking it would enhance the flavors even more. 

But the vegetable stock I used had a very strong flavor and seemed to overpower the mushrooms. It was still good, but it didn't have the classic mushroom soup flavor I was going for. Perhaps a different brand would work better, but for now I'm gonna stick to water.
I ended up using the veggie broth version as a pasta sauce, and oh my goodness, was it ever good! For some reason, when mixed with the pasta, the mushroom flavor really stood out and the broth played more of a supportive role. The way it should be!
This plant-based creamy soup, made with wholesome simple ingredients, tastes so good and so creamy and so full of mushroom flavor. It brings me right back to my childhood and the wonderful memories of eating this classic comfort food.
It is absolutely one of my favorite soup recipes and will always hold a special place in my heart. And the best part is this healthy soup is so much better than the canned stuff.
Ways to use cream of mushroom soup

Just like the canned version, there are so many uses for homemade mushroom soup. Its strong earthy mushroomy taste brings so much flavor to many different dishes. Like the example above, it makes a wonderful pasta sauce.
You can also use it as a sauce or gravy with your favorite German meatballs, Schnitzel, or served over brown rice. You can incorporate it in casserole dishes like Shepherd's Pie or scalloped potatoes. You may have to adjust the thickness of the soup depending on how you plan to use it.
And of course, it is absolutely wonderful to have just as a comforting bowl of mushroom soup with some crackers or a slice or two of Oma Gerhild's Artisan Bread. Delicious!
What is the difference between cremini and white button mushrooms?

My creamy vegan mushroom soup calls for fresh mushrooms, either white button or cremini (baby bella) mushrooms. But what is the difference between the two?
Well, cremini mushrooms are white button mushrooms that have aged and turned brown. They have a firmer texture and are more flavorful than their white counterpart.
And, interestingly enough, portobello mushrooms are just overgrown white mushrooms! They have been left to grow for longer until they develop a large dark brown cap with a rich flavor and meaty texture.

Regardless of the variety you choose, they're delicious, fat-free, low in calories, and packed with fibre, vitamins, and minerals. How can you go wrong?
Oma says:
I chuckled when Sylvie told me her absolute favorite soup was Campbell's Cream of Mushroom Soup when she was growing up. It was mine as well. Actually, it's what my Mutti used to make her super quick "homemade" mushroom soup.
By garnishing this soup with grated nutmeg, Sylvie's adding that extra hint of Germany that so pleases our German tastebuds.
How do you make homemade cream of mushroom soup?

Start by prepping and chopping the mushrooms, onion, and garlic. I like to use red onions, but you can use whatever you have on hand.
Cook onions in a little bit of water. (You can also chop your onions first and while they're cooking, chop the rest of the veggies.)
Once onions are translucent, add the mushrooms and garlic, and continue to cook until onions are completely soft and mushrooms have browned. Smells so good when they're cooking!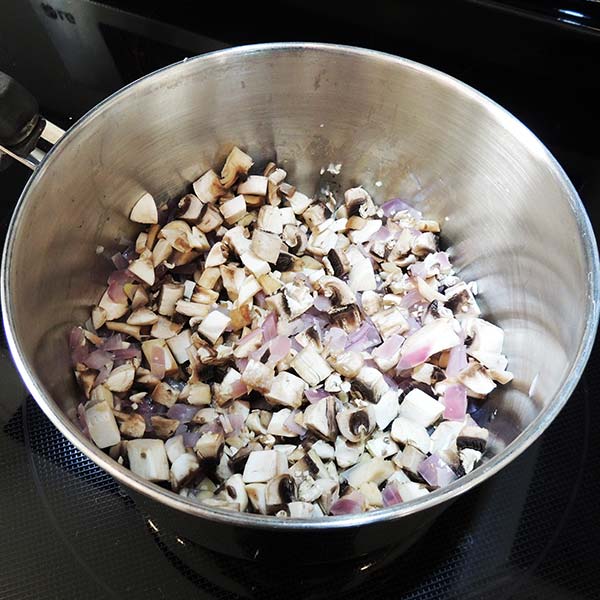 Add the seasonings; in this case, thyme, salt, and pepper.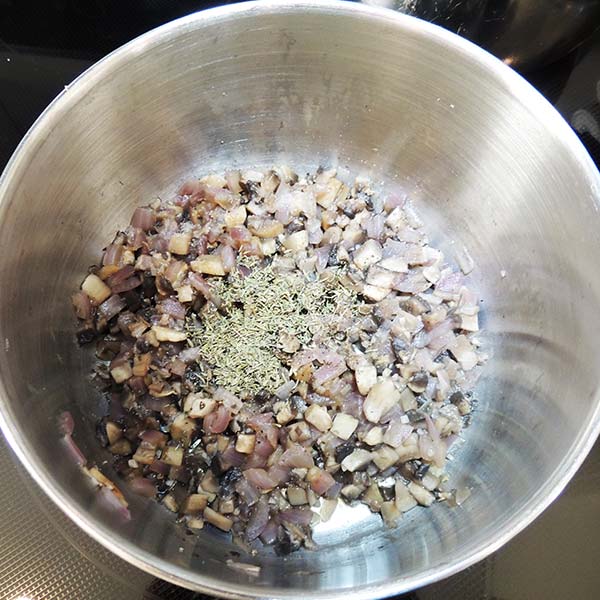 In a blender, add water or veggie broth, cashews, salt, and half of the mushroom mixture. (You can use less cashews for a thinner consistency.)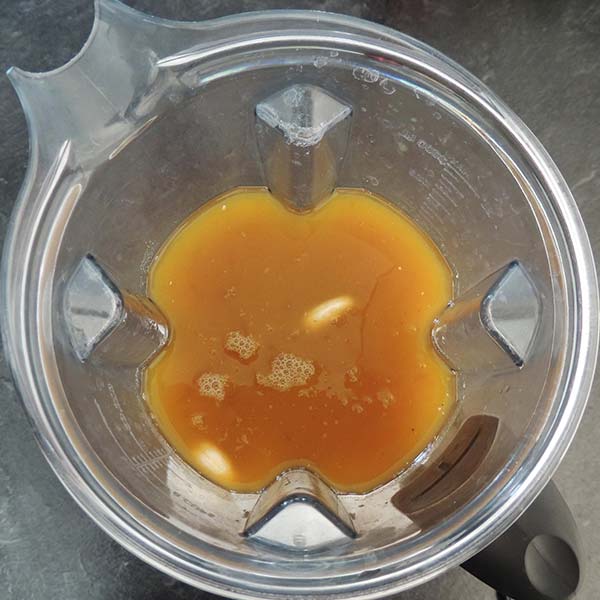 Blend until completely smooth. Blending half of the mushroom mixture with the cashews makes for a very yummy, creamy mushroom broth. So good!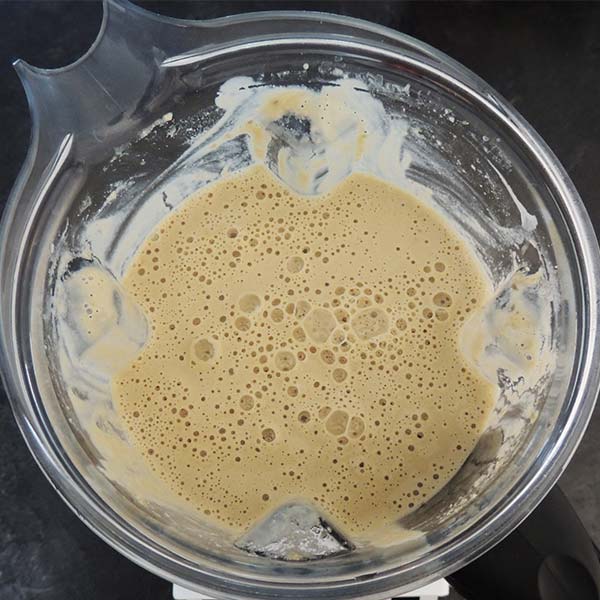 Pour the delicious contents of the blender back into the pot with the rest of the mushrooms.
Stir, and heat through.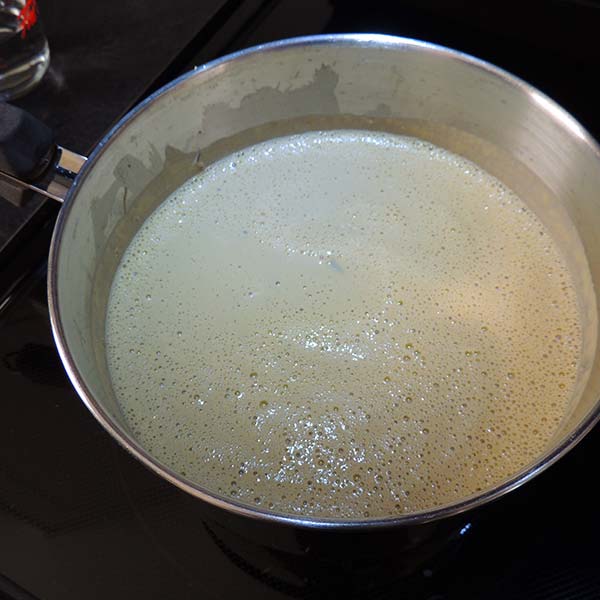 Garnish with freshly grated nutmeg, and voilà! A deliciously satisfying creamy vegan mushroom soup. Enjoy!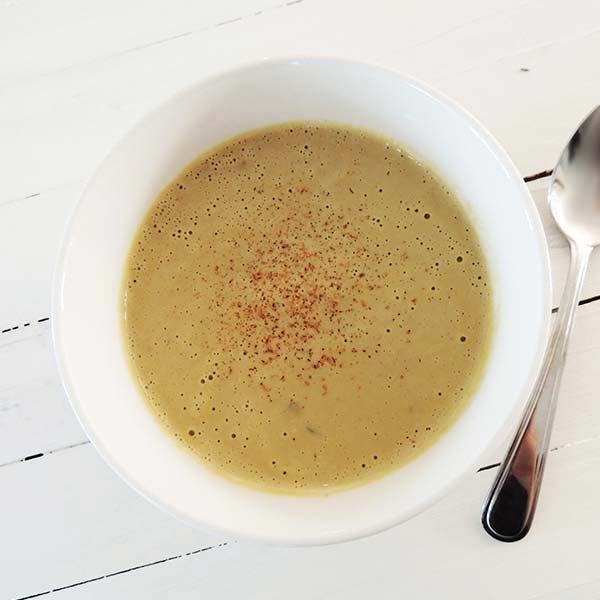 Ready to make this delicious cream of mushroom soup?

Is the recipe below locked? Here's why. 
As an Amazon Associate, I earn from qualifying purchases.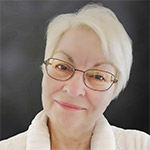 For more German-inspired items that make life easier and yummier, especially in the kitchen and for entertaining, follow my Amazon Storefront.
➙ For groceries,
Try Amazon Fresh
.
Healthy Cream of Mushroom Soup Recipe (Dairy-free!) – Pilzcremesuppe

This recipe for vegan cream of mushroom soup, aka vegane Pilzcremesuppe, is inspired in part by Oma Gerhild's German recipe for cream of mushroom soup. It brings me back to my childhood and the wonderful memories of eating this classic comfort food.
Prep Time


15 minutes


Cook Time


20 minutes


Total Time

35 minutes

Servings:

Makes 4 - 6 servings
Ingredients:
8 ounces (227 grams) white button or cremini mushrooms, chopped
1 onion, chopped
1 clove garlic, minced
salt & pepper, to taste
1 teaspoon dried or fresh thyme
4 cups water or veggie broth
1 - 1.5 cups raw cashews
1.5 teaspoons salt, or to taste
freshly grated nutmeg
Instructions:
Add chopped onion to a medium-size pot with enough water to cover the bottom. Cook over medium-high heat until onions are softened and translucent. Add a splash of water, when necessary, to keep veggies from sticking to the bottom.
Add garlic and mushrooms. Cook until onions are completely soft and mushrooms are browned.
Add seasonings and cook a minute or two longer. 
In a blender, add the water or veggie broth, cashews, salt, and half of the mushroom mixture. Blend until completely smooth.
Transfer back to the pot with remaining mushroom mixture, stir and heat through. Adjust seasonings, if necessary.
Garnish with freshly grated nutmeg to serve.
Notes/Hints:

You can use olive oil to sauté your veggies instead of cooking them in water.
I prefer making this recipe with water instead of broth because it really lets the flavor of the mushrooms shine through.
If you choose to use vegetable broth, you might want to start with less salt than the recipe calls for and adjust at the end, if necessary.
If you're a mushroom lover, try it with other kinds of mushrooms, such as oyster or shitake mushrooms.
If you do not have a high-powered blender, be sure to soak the cashews in water ahead of time for 5 to 8 hours. Alternately, you can boil them in a pot for 10 to 15 minutes. Simply drain and rinse the softened cashews and add them to the recipe.
If you have Cashew Cream on hand, you can substitute for raw cashews. Add as little or as much as you like to reach desired consistency and taste.
*  *  *  *  *

Unless otherwise noted recipe, images and content © Just like Oma | www.quick-german-recipes.com

Need that "all's good with the world" feeling? Comfort food will do that. Get your copy of Oma's German favorites in her Comfort Foods e-Cookbook.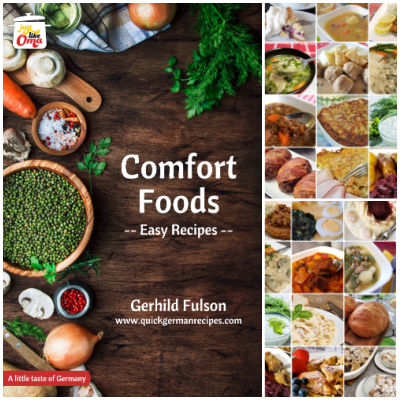 Take a peek at all Oma's eCookbooks. They make sharing your German heritage a delicious adventure!
Leave a comment about this recipe or ask a question?

Pop right over to my private Facebook group, the Kaffeeklatschers. You'll find thousands of German foodies, all eager to help and to talk about all things German, especially these yummy foods. 
Meet with us around Oma's table, pull up a chair, grab a coffee and a piece of Apfelstrudel, and enjoy the visit.

Choose from Oma's cookbooks that are immediately downloadable & start cooking easy classic German foods tonight. Or get her newest paperback cookbook. LECKER!

Kaiserschmarrn are among those homemade pancake recipes that will remind you of Oma's kitchen. A traditional Austrian & German light and fluffy shredded pancake.

Discover the ultimate German schnitzel recipe with Oma's quick, easy, and delicious pork version - perfect for any occasion! Taste the authentic flavors of Germany today.
*  *  *  *  *
PIN to SAVE this recipe to your Pinterest board!
And let's be friends on Pinterest!
---
Sylvie's Healthy Cream of Mushroom Soup Recipe (Dairy-free!)
By
Sylvie Fulson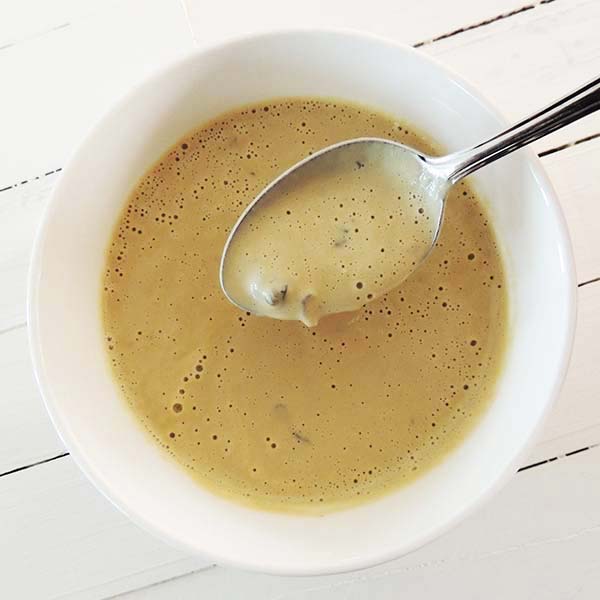 This creamy vegan mushroom soup, aka cremige vegane Pilzsuppe, is my version of Oma Gerhild's traditional German mushroom soup recipe: creamy, rich, and luscious.
Ingredients:
mushrooms,
onion,
garlic,
seasonings,
broth,
cashews,
For the full recipe, scroll up ...
"The heartfelt counsel of a friend is as sweet and perfume and incense."
Proverbs 27:9 (NLT)