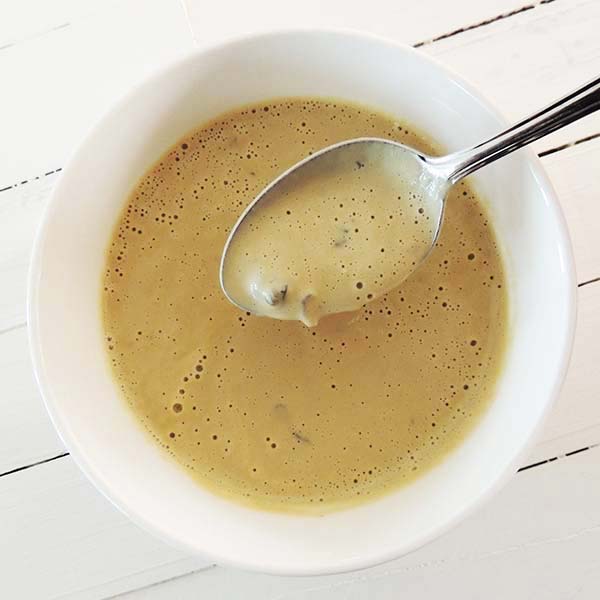 Sylvie's Creamy Vegan Mushroom Soup

This recipe for creamy vegan mushroom soup, aka cremige vegane Pilzsuppe, inspired in part by Oma Gerhild's German recipe for cream of mushroom soup. It brings me back to my childhood and the wonderful memories of eating this classic comfort food.
Prep Time


15 minutes


Cook Time


20 minutes


Total Time

35 minutes

Servings:

Makes 4 - 6 servings
Ingredients:
227g white button or cremini mushrooms, chopped
1 onion, chopped
1 clove garlic, minced
salt & pepper, to taste
1 tsp dried thyme
4 cups water or veggie broth
1.5 cups raw cashews
1.5 tsp salt, or to taste
freshly grated nutmeg
Instructions:
Add chopped onion to a medium-size pot with enough water to cover the bottom. Cook over medium-high heat until onions are softened and translucent. Add a splash of water, when necessary, to keep veggies from sticking to the bottom.
Add garlic and mushrooms. Cook until onions are completely soft and mushrooms are browned.
Add seasonings and cook a minute or two longer. 
In a blender, add the water or veggie broth, cashews, salt, and half of the mushroom mixture. Blend until completely smooth.
Transfer back to the pot with remaining mushroom mixture, stir and heat through. Adjust seasonings, if necessary.
Garnish with freshly grated nutmeg to serve.
Notes/Hints:

You can use olive oil to sauté your veggies instead of cooking them in water.
I prefer making this recipe with water instead of broth because it really lets the flavor of the mushrooms shine through. Maybe it was just the brand of veggie broth I used, and while still delicious, I found that it overpowered the taste of the mushrooms a little. 
If you choose to use vegetable broth, you might want to start with less salt than the recipe calls for and adjust at the end, if necessary.
If you do not have a high-powered blender, be sure to soak the cashews in water ahead of time for 5 to 8 hours. Alternately, you can boil them in a pot for 10-15 minutes. Simply drain and rinse the softened cashews and add them to the recipe.
*  *  *  *  *

Unless otherwise noted recipe, images and content © Just like Oma | www.quick-german-recipes.com