What Are Cashews Good for
What Are Cashews Good For? (Cashewnüsse)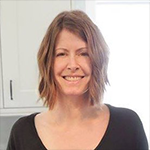 by: Sylvie Fulson  /  Copy Editor, Copywriter, Plant-Based Cook, Wife, Mom
Cashews are simply amazing. Commonly known as a nut, it is actually a seed found at the bottom end of the cashew apple. The cashew tree (anacardium occidentale for you botanists out there!) is a tropical evergreen tree native to South America, particularly Brazil and Venezuela, and can now be found in India, Southeast Asia, and Africa.
So what are these cashew seeds good for?
First, let's talk briefly about the nutritional profile of these popular nuts and how they might affect heart health, then we'll get into all the wonderful things you can do with cashews and how you can incorporate them in German cuisine.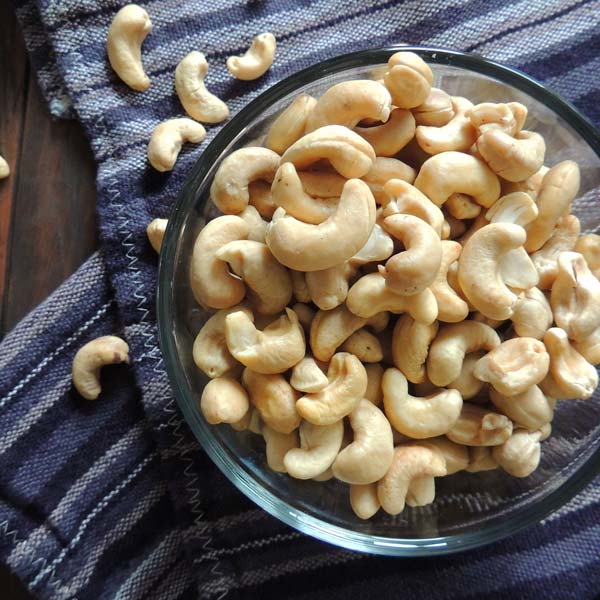 Health benefits of cashews

Cashews are high in healthy fats, such as heart-healthy monounsaturated fats and polyunsaturated fats, which can help reduce your risk of heart disease and other cardiovascular diseases. They also appear to have a positive effect on LDL cholesterol and high blood pressure while having no negative impact on blood sugar levels.
They are full of vitamins (such as B vitamins, vitamin E, and vitamin K), essential minerals (including potassium, iron, and zinc), powerful antioxidants (that help fight free radicals and ward off illness), and dietary fiber.
They are especially a rich source of copper, an essential trace mineral, which plays an important role in the health of the immune system, as well as the cardiovascular system. Copper also helps with energy production.

Cashews are a good source of magnesium and manganese, which are important for bone health, and they may even help with weight loss.
While cashews can be a beneficial part of a healthy diet, it is recommended to keep cashew consumption (actually, all nut consumption) to no more than a one-ounce serving per day as they are calorically dense and even healthy fats should be kept to a minimum.

One ounce of cashews is about 16 to 18 nuts, 157 calories, and contains 12.43 grams of fat, 8.56 grams of carbohydrates, and 5.17 grams of protein.

Why are cashews so amazing?

There are so many ways to get your daily serving of cashews. Besides the fact that they make a healthy snack all on their own, in trail mixes, or as a nut butter, you can add cashews to all sorts of stir-fries, salads, and pasta or noodle dishes for that delicious crunch factor.
BUT you can also blend them into all sorts of delicious creams, cheeses, salad dressings, sauces, soups, and more!
Cashews are versatile nuts. You would be amazed at all the different types of foods you can make with raw cashews. In fact, it is a key ingredient in "veganizing" many of the German recipes that call for cream or cheese.
Here's a list of what you can make with cashews as a healthy alternative to dairy:

salad dressings (such as a creamy ranch or caesar dressing)
cashew cream (make it savory or sweet)
hard sliceable cheese
cashew cheese (similar to cream cheese)
sour cream
mayonnaise (perfect for a vegan version of Oma Gerhild's easy potato salad recipe
cheesecake
cake frosting
ice cream
cashew milk
smoothies (just add a small handful of raw cashews to your smoothie for delicious creaminess)
That's a pretty incredible list, wouldn't you say?
Cashew cream is the primary way my family and I incorporate cashews into our diet. We make it on a weekly basis and enjoy it in a variety of ways: on top of boiled potatoes or as a dip for steamed veggies, mixed with Dijon mustard for a yummy salad dressing, or spread on toast topped with sliced tomatoes. So good!

Next on the list of ways we consume this delicious nut would be in creamy soups, especially during soup season. Raw cashews are perfect for transforming creamy traditional German soup recipes into deliciously satisfying vegan creations. Check out my version of Oma Gerhild's traditional German cauliflower soup as an example.
Whenever I've made a creamy soup for others, I've often been asked how I get my soup so creamy and delicious without using cream. They're always surprised to hear that the creaminess comes from raw cashews. Wunderbar!
So if you're looking to cut back on dairy, cashews are a fantastic alternative to making delicious and creamy recipes without compromising that rich flavor.
Why are cashews so creamy?

Well, for one, they are high in fat, so they add wonderful creamy richness to any recipe.
Cashews also contain quite a bit of starch, more than any other tree nut, and so they are a perfect alternative to thickening agents, such as flour or cornstarch.
And since flour and cornstarch have very little to offer, nutritionally speaking, I would dare say, since we now know all the potential health benefits of cashew nuts, they are a much better alternative.

And even though a potato is often used as a thickening agent in certain recipes and is also a whole food high in starch, the fat content in cashews makes for creamier, richer food. Not to mention, they're also a great source of protein for all you protein lovers out there!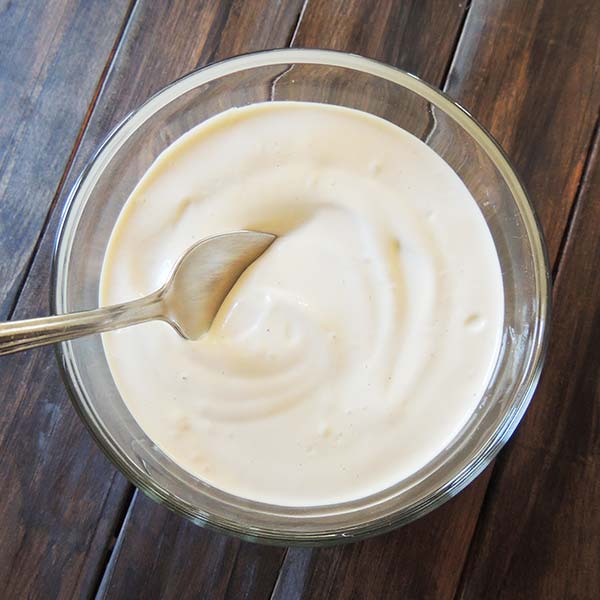 Make this cashew cream ... the start of many delicious ideas.
What do cashews taste like?

If you're not familiar with raw cashews, they have a lovely mild, buttery flavor. Which is another reason why they are the perfect dairy substitute. Because they have such a mild flavor, they can be used virtually undetected in any kind of dish, whether savory or sweet. And the buttery flavor adds creamy richness to any recipe.
Cashews are truly amazing!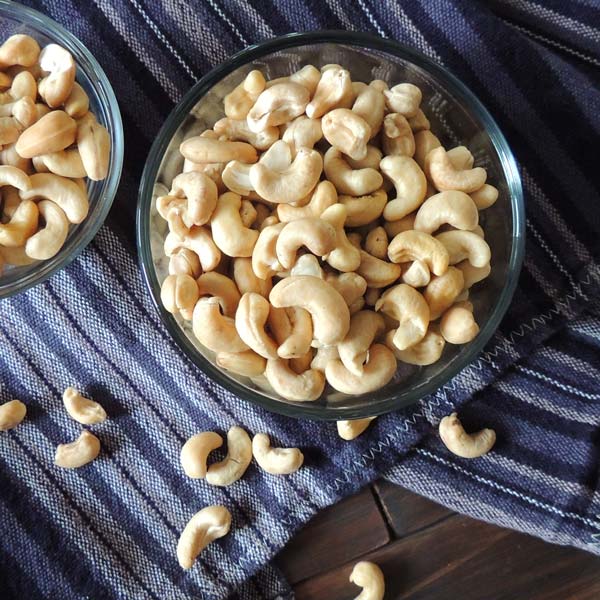 Why do you soak cashews?

Many recipes that call for blending cashews recommend that they be soaked first, usually for at least 2 to 4 hours, and sometimes overnight, regardless of the type of blender you have.
Personally, I do not think that soaking the nuts first is necessary if you have a high-powered blender. It is very very rare that I will soak my cashews first, and my recipes always turn out perfectly creamy and perfectly smooth. 

However, if you are using a regular blender or a food processor, then soaking them is highly recommended. Soaking the cashews softens them and will help achieve the smooth creamy texture you're looking for.

Tip: You can purchase cashews in bulk and soak them all at once for several hours (the longer you soak them, the softer they become). Drain and rinse, and then divide them into ½ cup or 1 cup portions and store them in the freezer. When a recipe calls for soaked cashews, you've got them all ready to go. No need to thaw!
You can also throw your soaked cashews into a food processor or blender and make your very own homemade cashew butter. Perfect for spreading on toast or using in recipes.
Oma says:
I LOVE all the ideas Sylvie has posted for using cashews. I always have them in my cupboard because hubby loves to add them to his morning muesli. I use raw cashews, but often roast them briefly to amp up the flavor. Oh, and they usually find their way into my banana bread. That's one vegan recipe I make all the time because it's so easy and so good.
I'm one of those who's asked Sylvie how she gets her soups so creamy without that 'real' cream. I was totally surprised that these crunchy nuts could make a dish creamy. It shows that one is never too old to learn something new.
So! What are cashews good for? Just about everything. ;)

Need that "all's good with the world" feeling? Comfort food will do that. Get your copy of Oma's German favorites in her Comfort Foods e-Cookbook.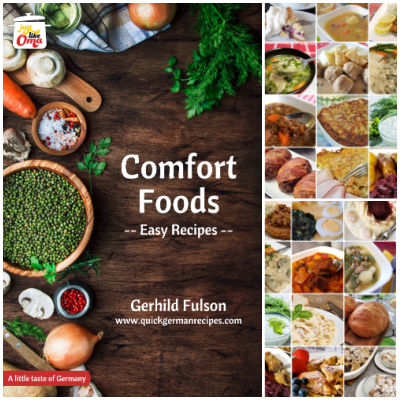 Take a peek at all Oma's eCookbooks. They make sharing your German heritage a delicious adventure!
Leave a comment about this recipe or ask a question?

Pop right over to my private Facebook group, the Kaffeeklatschers. You'll find thousands of German foodies, all eager to help and to talk about all things German, especially these yummy foods. 
Meet with us around Oma's table, pull up a chair, grab a coffee and a piece of Apfelstrudel, and enjoy the visit.

Cooking just like Oma, making those German meals, is actually quite easy. Let me, Oma Gerhild, help you with my step-by-step methods to re-create those yummy meals you remember from your Oma.

If you're looking for tasty, traditional, and easy German cake recipes (in English) to try, then you've come to the right place! Check out these lecker treats!

Discover the ultimate German schnitzel recipe with Oma's quick and easy method - perfect for any occasion! Taste the authentic flavors of Germany today.
*  *  *  *  *
PIN this ...
Make every day a CHEERFUL day!
"A cheerful heart is good medicine, but a broken spirit saps a person's strength."  
Proverbs 17:22 (NLT)