What Are Cashews Good For?

➤ by Sylvie Fulson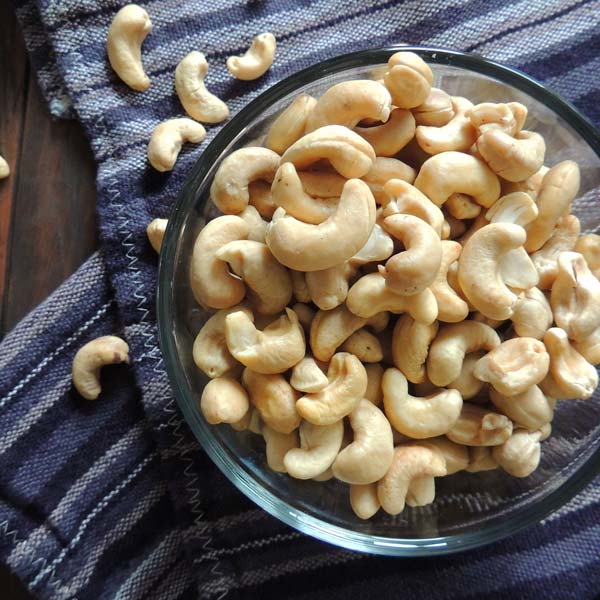 Cashews are simply amazing. What are cashews good for? Well, let me tell you!
Besides adding them to all sorts of stir-fries, salads, and pasta or noodle dishes for a delicious crunch factor, you can also blend them into all sorts of delicious creams, cheeses, salad dressings, sauces, soups, and more!
What can you make with cashews?

You would be amazed at all the different types of foods you can make with raw cashews. In fact, it is a key ingredient in "veganizing" many of the German recipes that call for cream. Here's a list of what you can make with cashews without using any dairy whatsoever:
salad dressings
soft cheese
hard sliceable cheese
cream cheese
sour cream
mayonnaise, perfect for a vegan version of Oma Gerhild's easy potato salad recipe
cheesecake
cake frosting
ice cream
cashew milk
smoothies - just add a handful of raw cashews to your smoothie for delicious creaminess
That's a pretty incredible list!
A lot of German recipes call for butter, cream or milk. But if you're looking to cut back on dairy, cashews are a fantastic alternative to making delicious and creamy recipes without compromising flavor or richness. Check out my version of Oma Gerhild's traditional German cauliflower soup as an example.
Why are cashews so creamy?

Well, for one, they are high in fat, so they add wonderful creamy richness to any recipe.
Cashews also contain quite a bit of starch, more than any other tree nut, and so they are a perfect alternative to thickening agents, such as flour or cornstarch. And since flour and cornstarch have very little to offer, nutritionally speaking, I would dare say cashews are a better alternative because you get the added benefits of a whole food with vitamins, minerals, and fibre. Can't go wrong with that!
And even though a potato is often used as a thickening agent in certain recipes and is also a whole food high in starch, the fat content in cashews makes for creamier, richer food. Not to mention, they're also a great source of protein for all you protein lovers out there!
So while butter and cream are traditional ingredients in creamy German soup and sauce recipes, cashews make a great heart-healthy alternative.
Whenever I've made a creamy soup for others, I've often been asked how I get my soup so creamy and delicious without using cream. They're always surprised to hear that the creaminess comes from cashews. Wunderbar!
What do cashews taste like?

If you're not familiar with raw cashews, they have a lovely mild, buttery flavor. Which is another reason why they are the perfect dairy substitute. Because they have such a mild flavor, they can be used virtually undetected in any kind of dish, whether savory or sweet. And the buttery flavor adds creamy richness to any recipe.
Cashews are truly amazing!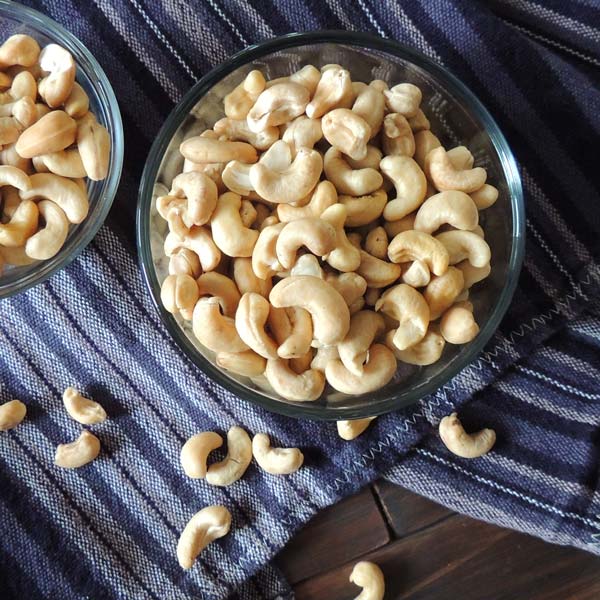 Why do you soak cashews?

Many recipes that call for blending cashews recommend that they be soaked first, usually for at least 2 to 4 hours, and sometimes overnight, regardless of the type of blender you have.
Personally, if you have a high-powered blender, I do not think that soaking the nuts first is necessary. It is very very rare that I will soak my cashews first, and my recipes always turn out perfectly creamy and perfectly smooth. 
However, if you will be using a regular blender or a food processor, then soaking them is highly recommended. Soaking the cashews softens them and will help achieve the smooth creamy texture you're looking for.
Tip: You can purchase cashews in bulk and soak them all at once for several hours (the longer you soak them, the softer they become). Drain and rinse, and then divide them into 1/2 cup or 1 cup portions and store them in the freezer. When a recipe calls for soaked cashews, you've got them all ready to go. No need to thaw!
So! What are cashews good for? Just about everything. ;)
If you would like to learn more about cashews, check out: www.aboutnuts.com/en/encyclopedia/cashews/.

Oma says:
I LOVE all the ideas Sylvie has posted for using cashews. I always have them in my cupboard because hubby loves to add them to his morning muesli. I use raw cashews, but often roast them briefly to amp up the flavor. Oh, and they usually find their way into my banana bread. That's one vegan recipe I make all the time because it's so easy and so good.
I'm one of those who's asked Sylvie how she gets her soups so creamy without that 'real' cream. I was totally surprised that these crunchy nuts could make a dish creamy. It shows that one is never too old to learn something new.
Need that "all's good with the world" feeling? Comfort food will do that. Get your copy of Oma's German favorites in her Comfort Foods e-Cookbook.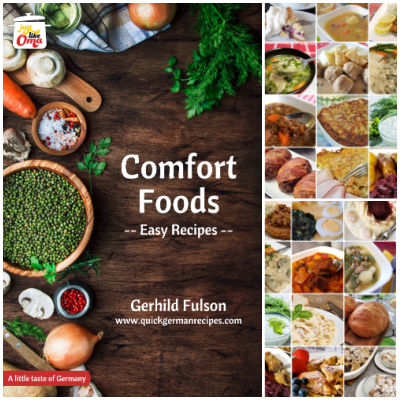 Take a peek at all Oma's eCookbooks. They make sharing your German heritage a delicious adventure!
Leave a comment about this recipe or ask a question?

Pop right over to my private Facebook group, the Kaffeeklatschers. You'll find thousands of German foodies, all eager to help and to talk about all things German, especially these yummy foods. 
Meet with us around Oma's table, pull up a chair, grab a coffee and a piece of Apfelstrudel, and enjoy the visit.

Finger-lickin' good oven fried chicken pieces, easy and economical, perfect for family night dinners, for company, and even Oktoberfest! It's Brathendl, Oma-style!

My best pound cake recipe (Sandkuchen) is this one. My Oma made it, my Mutti made it, and now I make it! It's so quick and easy to make and tastes SO good!

Make the BEST Bavarian braised cabbage recipe that's perfect for Oktoberfest or anytime you're wanting a traditional German side dish. It's Weisskraut, just like Oma makes it.
*  *  *  *  *
PIN this ...
Make every day a CHEERFUL day!
"A cheerful heart is good medicine, but a broken spirit saps a person's strength."  
Proverbs 17:22 (NLT)