Sylvie's Easy Creamy Hummus Salad Dressing – Hummus-Salatdressing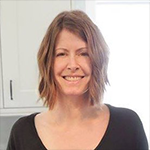 by: Sylvie Fulson  /  Copy Editor, Copywriter, Plant-Based Cook, Wife, Mom
As an Amazon Associate, I earn from qualifying purchases.
If you love hummus, then you'll love this creamy hummus salad dressing recipe! And if you're vegan, you know that hummus is pretty much an essential part of a vegan diet, whether you are German or not. ;)
This dressing is just like the real thing, but in liquid form so you can drizzle it all over your favorite greens for a healthy salad, or even over grains and vegetables or any other food, including some of your favorite German recipes.
This recipe came about one day when we were invited to a corn roast and I was asked to bring, among other things, a salad dressing.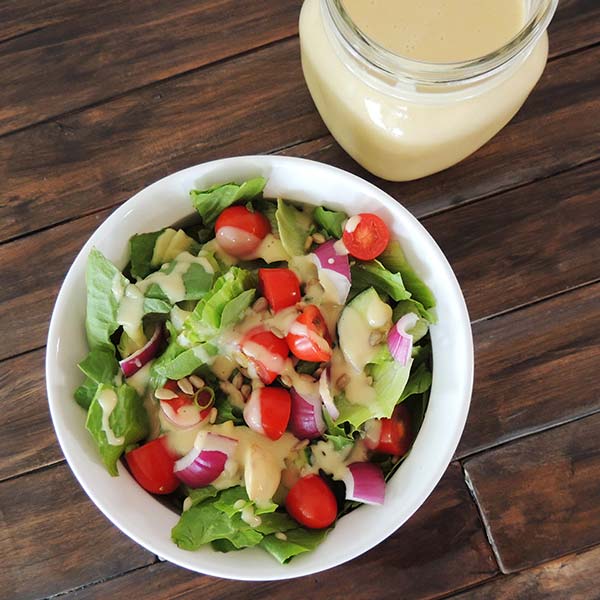 I like to make homemade dressings since most store-bought dressings contain a lot of added oil and/or other ingredients I'm not too keen on. I thought of the recipes I had made in the past and decided I wanted to try something new.
I had been wanting for a while to create a chickpea-based dressing instead of the usual nut-based dressings so popular in vegan cooking. I was also in the mood for hummus. Lightbulb!
What if I take the exact same ingredients I use to make my easy hummus recipe, and modify the amounts to make an easy hummus salad dressing? Yes!!
I went to work right away and I was so pleased with the result. It tasted so good mixed with fresh greens, cherry tomatoes, cucumber slices, red onions, mushrooms, and green onions.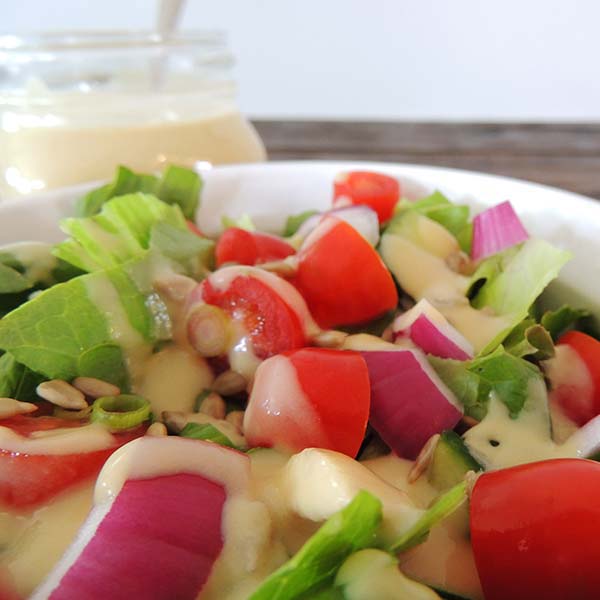 With chickpeas (also known as garbanzo beans) as the main ingredient, this low fat dressing is high in dietary fiber. Perfect for healthy eating! Enjoy it drizzled over your favorite salad recipes, whether it be a kale salad, green salad, greek salad, or even a veggie bowl.
We've enjoyed it drizzled over other foods too, like the brown rice, steamed broccoli, and roasted sweet potatoes we had the other night. If a recipe calls for tahini dressing, this makes a great alternative. There are so many different ways to enjoy this yummy dressing. I just love easy recipes that are so versatile! How wunderbar!!
Make this salad dressing with hummus

If you happen to have leftover or store-bought hummus in the fridge, then there's no need to make this recipe from scratch.
Simply add one cup hummus to a small bowl. Whisk hummus with just enough water to reach the right consistency. If you want your dressing fairly thick and creamy, start with very little water. Add more water for a thinner dressing. Depending on how much water you add, you may need to add a little extra salt or lemon juice, if necessary, to get the taste just right.

You can also make this dressing even if you have something other than plain hummus in the fridge, such as roasted red pepper hummus. I can just imagine what a delicious creamy dressing that would be. Such a great way to use hummus!
You can even transform leftover or store-bought hummus into a hummus vinaigrette by adding extra lemon juice, lemon zest, extra-virgin olive oil, fresh oregano and/or other favorite herbs, salt, and freshly ground black pepper.
Whether you have leftover hummus on hand, or you make this recipe completely from scratch, it is a deliciously nutritious, plant-based, and low-in-fat dressing that you are sure to love.

Give it a German twist

Just like regular hummus, this salad dressing is also easily customizable. You can add a wide variety of dried or fresh herbs, spices, and/or vegetables (cooked or raw), which not only add to its yumminess but make it even more nutritious.
And so why not give it a German twist by adding some of the herbs and spices typically used in German cooking, such as parsley, thyme, celery seeds, dill, paprika, or chives, to name a few? Or add some mustard! And then drizzle it over your favorite German foods.
The zesty combination of this hummus dressing and Dijon mustard would certainly add zing to sausage and sauerkraut on a bun. (Vegan sausage in my case!) 
What to serve with hummus salad dressing?

Here's a list of other German foods that would pair deliciously with this creamy salad dressing:
Oma says:
I LOVE Sylvie's hummus, so I'm looking forward to trying this dressing on that tomato salad. In fact, there are wonderful heritage cherry tomatoes available at the market that are crying out for this dressing
Did you know?

According to vegconomist.com, a study found that Germany has the most vegans, with the number having doubled from 1.3 million in 2016 to 2.6 million in 2020 — a total of 3.2 percent of the population. Denmark and Switzerland were in second and third place, with 2.7 and 2.6 percent of the population identifying as vegan respectively.
Of the top 15 most popular cities for vegans in 2020, four of them are in Germany: Hamburg, Berlin, Leipzig, and Cologne.

In Berlin, there's an annual festival called the Berlin Hummus Festival that celebrates a growing love and appreciation for all things hummus!

That's why with veganism gaining in popularity throughout the world, and especially in Germany, we are working hard to bring more vegan recipes inspired by traditional German food.
Top vegan foods

So if you're looking for more plant-based foods to entice your German taste buds; or if you have vegan friends and family that you want or need to cook for; or if you are looking to incorporate more plant-based foods in your diet; or if you want to cut out or cut down on dairy and/or other animal products, but don't want to give up on German food; or if you're simply curious and are just looking for something new and interesting to try, well look no further.
Here's a list of our top German vegan foods to get you started. Some of these recipes are traditionally German that just happen to be vegan, and some are vegan versions of a German recipe that traditionally contains eggs, dairy, or meat.
Enjoy this hummus dressing over your next salad or meal!

However you choose to incorporate this dressing into your everyday meals, I hope you enjoy it as much as I do. In fact, I have a confession to make. I have, on more than one occasion, poured some into a glass to drink. Sometimes I drink it straight from the jar. Yep. Just as good as eating hummus by the spoonful straight out of the bowl!
Call me crazy, but I LOVE anything hummus!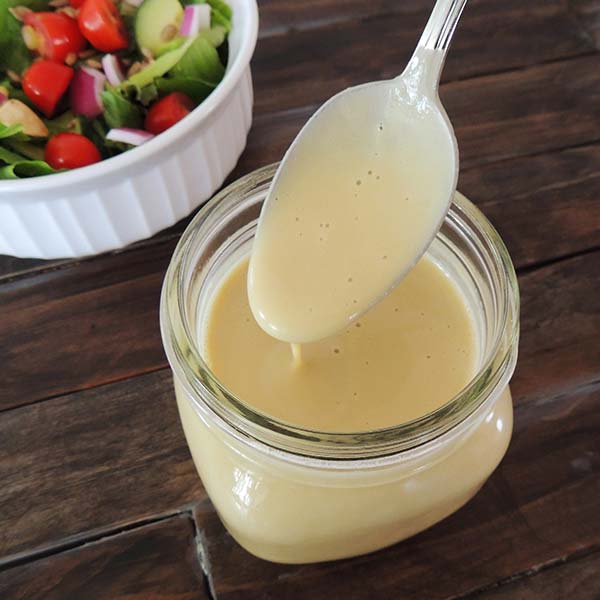 Ready to make this hummus salad dressing?
Is the recipe below locked? Here's why. 
As an Amazon Associate, I earn from qualifying purchases.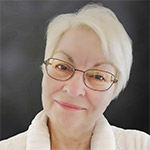 For more German-inspired items that make life easier and yummier, especially in the kitchen and for entertaining, follow my Amazon Storefront.
➙ For groceries,
Try Amazon Fresh
.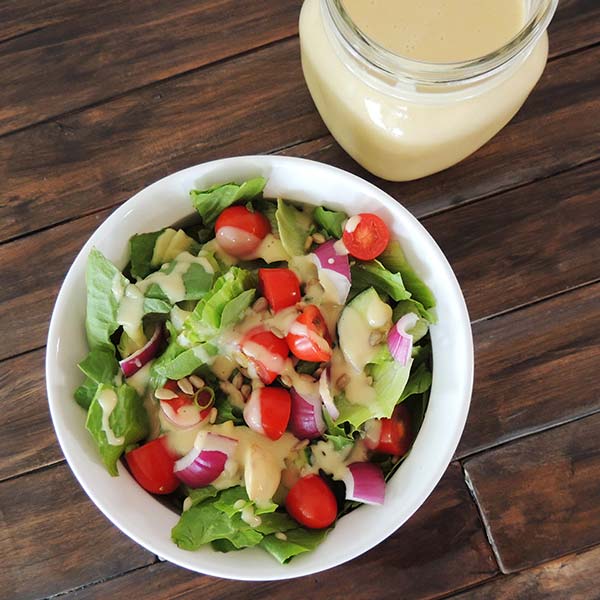 Sylvie's Easy Creamy Hummus Salad Dressing – Hummus-Salatdressing

If you love hummus, then you'll love this creamy hummus salad dressing recipe! It's just like the real deal, but in liquid form so you can drizzle it all over your favorite greens, or grains, or any other food, including some of your favorite German recipes.
Prep Time


10 minutes


Cook Time


none


Total Time

10 minutes

Servings:

Makes 2.5 - 3 cups
Ingredients:
1 cup water
1 14-ounce can chickpeas, undrained
1½ teaspoon tahini
½ small clove garlic
1½ tablespoons fresh lemon juice
1½ tablespoons nutritional yeast
½ teaspoon salt, or to taste
Instructions:
Add all ingredients to a blender. Blend until completely smooth.
Adjust ingredients, to taste, if necessary
Notes/Hints:

Feel free to get creative by adding some of your favorite herbs or spices.
*  *  *  *  *

Unless otherwise noted recipe, images and content © Just like Oma | www.quick-german-recipes.com

Need that "all's good with the world" feeling? Comfort food will do that. Get your copy of Oma's German favorites in her Comfort Foods e-Cookbook.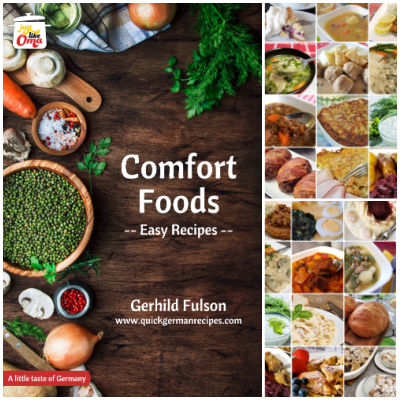 Take a peek at all Oma's eCookbooks. They make sharing your German heritage a delicious adventure!
Leave a comment about this recipe or ask a question?

Pop right over to my private Facebook group, the Kaffeeklatschers. You'll find thousands of German foodies, all eager to help and to talk about all things German, especially these yummy foods. 
Meet with us around Oma's table, pull up a chair, grab a coffee and a piece of Apfelstrudel, and enjoy the visit.

This easy German Apple Strudel recipe is one of those German desserts that brings the traditional strudel taste to your table without all the work. Wunderbar!!

Make the perfect German Spaetzle with Oma's easy recipe! This traditional German egg noodle pairs perfectly with caramelized onions for a delicious meal.

Choose from Oma's cookbooks that are immediately downloadable & start cooking easy classic German foods tonight. Or get her newest paperback cookbook. LECKER!
*  *  *  *  *
PIN to SAVE this recipe to your Pinterest board!
And let's be friends on Pinterest!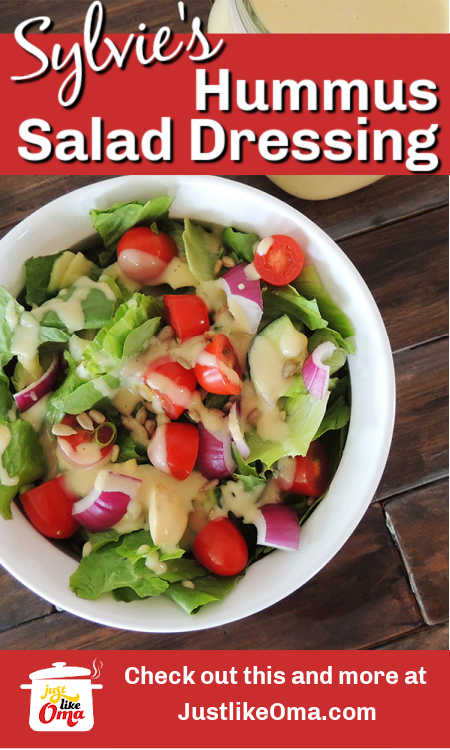 ---
Sylvie's Easy Creamy Hummus Salad Dressing Recipe


By
Sylvie Fulson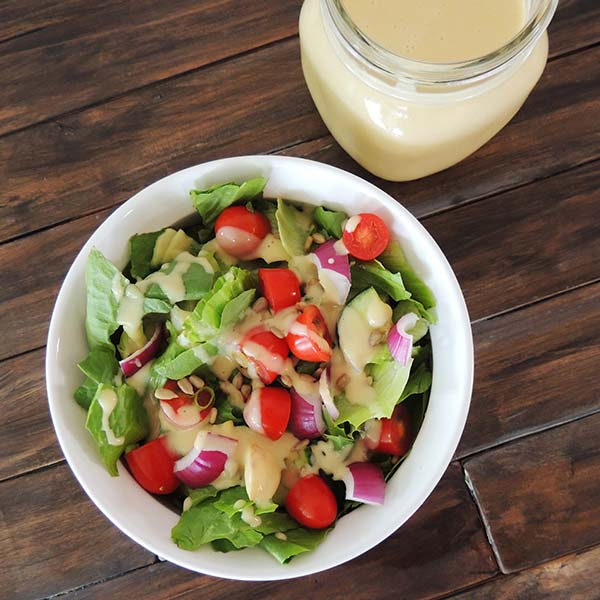 If you love hummus, then you'll love this creamy hummus salad dressing recipe!

Ingredients:
chickpeas,
salt,
garlic,
tahini,
lemon juice,
nutritional yeast,
For the full recipe, scroll up ...
Make every day a JOYOUS day!
"This is the day the LORD has made. We will rejoice and be glad in it."
Psalm 118:24 (NLT)