Sylvie's Creamy Hummus Salad Dressing

➤ by Sylvie Fulson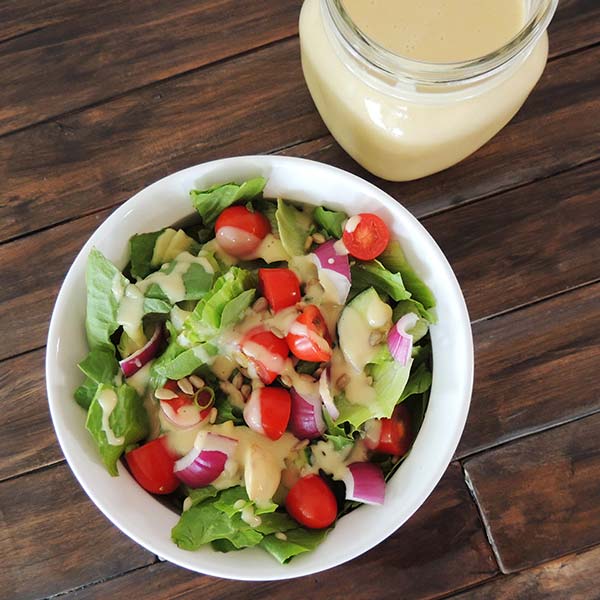 If you love hummus, then you'll love this creamy hummus salad dressing recipe! It's just like the real deal, but in liquid form so you can drizzle it all over your favorite greens, or grains, or any other food, including some of your favorite German recipes.
This recipe came about one day when we were invited to a corn roast and I was asked to bring, among other things, a salad dressing.
I like to make homemade dressings since most store-bought dressings contain a lot of oil and/or other ingredients I'm not too keen on. I thought of the recipes I had made in the past and decided I wanted to try something new.
I had been wanting for a while to create a chickpea-based dressing instead of the usual nut-based dressings so popular in vegan cooking. I was also in the mood for hummus. Lightbulb! What if I take the exact same ingredients I use to make my easy hummus recipe, and modify the amounts to make a deliciously creamy hummus salad dressing? Yes!!
I went to work right away and I was so pleased with the result. It tasted so good mixed with fresh greens, cherry tomatoes, cucumber slices, red onions, mushrooms, and green onions.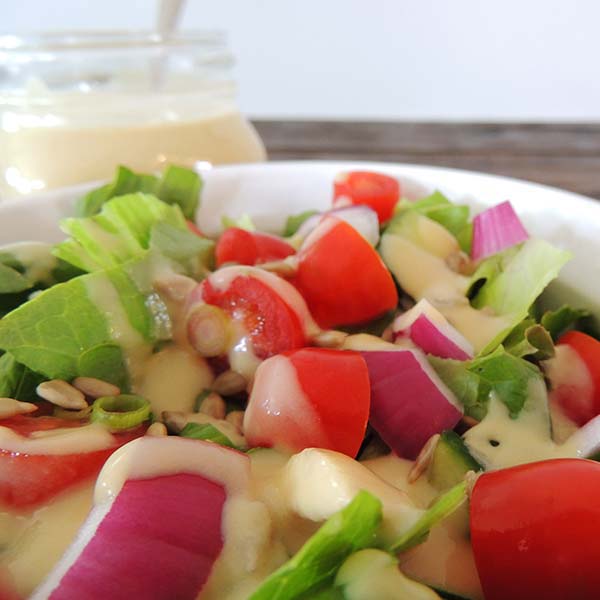 We've enjoyed it drizzled over other foods too, like the brown rice, steamed broccoli, and roasted sweet potatoes we had the other night. Lecker!!

Make this salad dressing with hummus

If you happen to have leftover hummus in the fridge, then there's no need to make this recipe from scratch. Simply make this creamy salad dressing with hummus you already have on hand by adding a bit of water to reach the right consistency, and perhaps adding a little extra salt or lemon juice, if necessary, to get it just right.
This is one of those clever ways to use hummus!
Whether you have leftover hummus on hand, or you make this recipe completely from scratch, it is a deliciously nutritious, plant-based, and low-in-fat dressing that you are sure to love.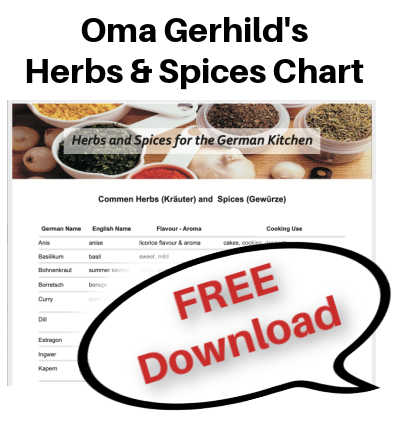 Give it a German twist

Just like regular hummus, this salad dressing is also easily customizable. You can add a wide variety of herbs, spices, and/or vegetables (cooked or raw), which not only add to its yumminess but make it even more nutritious.
And so why not give it a German twist by adding some of the herbs and spices typically used in German cooking, such as parsley, thyme, celery seeds, dill, paprika, or chives, to name a few? Or add some mustard! And then drizzle it over your favorite German foods.
The zesty combination of this hummus dressing and mustard would certainly add zing to sausage and sauerkraut on a bun. (Vegan sausage in my case! ) 

Or perhaps, you would enjoy it as a sauce drizzled over Schnitzel, or Spätzle, or roasted Brussels sprouts. Or use it to replace the salad dressing in Oma Gerhild's Tomato Salad recipe for an interesting twist.
Oma says:
I LOVE Sylvie's hummus, so I'm looking forward to trying this dressing on that tomato salad. In fact, there are wonderful heritage cherry tomatoes available at the market that are crying out for this dressing 
Enjoy!

However you choose to incorporate this dressing into your everyday meals, I hope you enjoy it as much as I do. In fact, I have a confession to make. I have, on more than one occasion, poured some into a glass to drink. Sometimes I drink it straight from the jar. Yep. Just as good as eating hummus by the spoonful straight out of the bowl!
Call me crazy, but I LOVE anything hummus!
Ready to make this hummus salad dressing?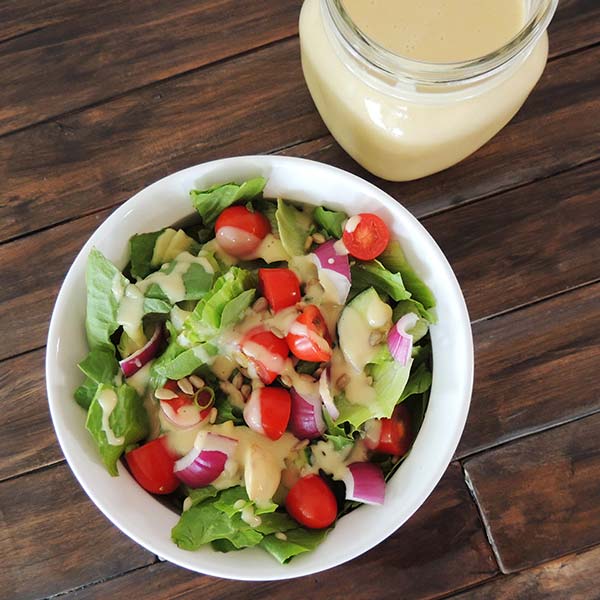 Sylvie's Creamy Hummus Salad Dressing

If you love hummus, then you'll love this creamy hummus salad dressing recipe! It's just like the real deal, but in liquid form so you can drizzle it all over your favorite greens, or grains, or any other food, including some of your favorite German recipes.
Prep Time


10 minutes


Cook Time


none


Total Time

10 minutes

Servings:

Makes 2.5 - 3 cups
Ingredients:
1 cup water
1  14-oz can chickpeas, undrained
1.5 tsp tahini
1/2 small clove garlic
1.5 tbsp lemon juice
1.5 tbsp nutritional yeast
1/2 tsp salt, or to taste
Instructions:
Add all ingredients to a blender. Blend until completely smooth.
Adjust ingredients, to taste, if necessary
Notes/Hints:

Feel free to get creative by adding some of your favorite herbs or spices.
*  *  *  *  *

Unless otherwise noted recipe, images and content © Just like Oma | www.quick-german-recipes.com

Want Nutritional Information?

Copy and paste the above ingredient list and the number of servings into Calorie Count for an approximate calculation.
Need Help Doing Conversions?

Make it easier to convert between cups and grams, etc. Use this site to give you all the different conversions for the different types of ingredients. 
Need that "all's good with the world" feeling? Comfort food will do that. Get your copy of Oma's German favorites in her Comfort Foods e-Cookbook.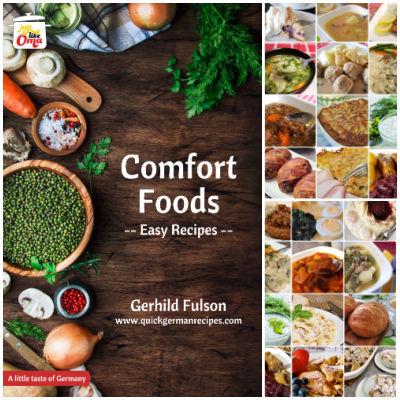 Take a peek at all Oma's eCookbooks. They make sharing your German heritage a delicious adventure!
Leave a comment about this recipe or ask a question?
Pop right over to my private Facebook group, the Kaffeeklatschers. You'll find thousands of German foodies, all eager to help and to talk about all things German, especially these yummy foods. 
I pop in all the time as well, to chat and to answer questions. 
Meet with us around Oma's table, pull up a chair, grab a coffee and a piece of Apfelstrudel, and enjoy the visit.
This recipe for cheesecake is called Käse-Sahne Torte, a baked sponge cake and a no-bake whipped cream/quark or Greek yogurt filling. Add mandarin oranges for a traditional dessert.

Pork hocks and sauerkraut, a favorite of my Opa, is a real traditional German food. This version of Eisbein is a classic in northern Germany, not to be confused with Schweinshaxe from the southern par…

Make this chicken fricassee recipe and you'll think you're back in Oma's kitchen. German comfort food. Originally just a 'leftover' meal, now it graces the best restaurant menus.
*  *  *  *  *
PIN this ...
---
Sylvie's Creamy Hummus Salad Dressing


By
Sylvie Fulson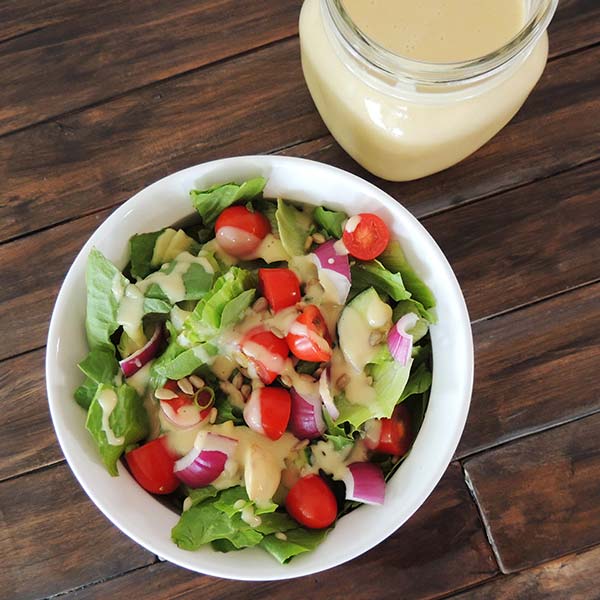 If you love hummus, then you'll love this creamy hummus salad dressing recipe!

Ingredients:
mushrooms,
chickpeas,
garlic,
tahini,
lemon juice,
nutritional yeast,
For the full recipe, scroll up ...
Make every day a JOYOUS day!
"This is the day the LORD has made. We will rejoice and be glad in it."
Psalm 118:24 (NLT)