Oma's Sourdough No Knead Bread Recipe ❤️

➤ by Oma Gerhild Fulson
FTC Disclosure: As an Amazon Associate, I earn from qualifying purchases.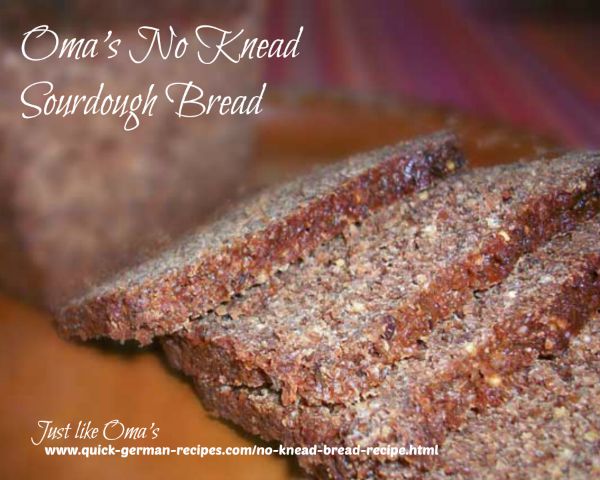 This sourdough, whole grain, no knead bread recipe, aka Sauerteigbrot,  is so delicious and so healthy. Add things like flax seeds, flax meal, oats, sunflower seeds, psyllium, bran, or almost anything you can think of. It's important for you to read ALL the notes before you make this recipe! It's a dough like no other.
Baking healthy bread recipes is the way to go. And, that's what this no knead bread is all about! Healthy deliciousness! You choose what to add and how healthy to make it. 
Read this before making the no knead bread recipe!
To make this sourdough no knead bread recipe, you'll have to do some planning. However, you can always stop the process if needed by just putting things into the fridge which will slow the yeast growth.
I've stopped it at every stage over the years and never had a problem with restarting where I left off, after first allowing the starter, or dough, or unbaked bread to come to room temperature.
You'll see by the recipe that the addition of things like flax seeds, flax meal, oats, sunflower seeds, bran, or almost anything you can think of, will allow you to change up the final result.
Add some of each, none, or more of one or the other. You choose. The final addition of the 2 - 3 cups of whole wheat flour will provide the right consistency.
Now, that consistency -- what can I say?
It's sort of like a thick, wet cement.
Granular from all the seeds and grains, but holding together somewhat. Unfortunately, it's something you'll learn by trial and error.
I've found that if I overdo the dry ingredients, the bread still turns out, just not as moist as usual. Everyone I've given the recipe to over the years quickly figures out the 'right feel'.
This bread is best eaten slightly warm from the oven. Let it cool so that you can cut it, though. We normally eat half the loaf this way. YUMMY! Once it's cold, it literally becomes a different kind of bread. The kind you can cut into good slices and make sandwiches from. It tastes different than when warm, but different in a good way.
The 'potato water' used to make the sourdough starter comes from boiling potatoes for dinner the night before. Keep the drained water BUT make sure you do not add salt to these potatoes. Salt will kill the yeast!
Oma says,
I created this recipe many, many years ago, as our children were growing up. We were really into health foods at that time, as well as trying to save money
Healthy meant freshly ground whole wheat flour from the local feed mill.
I even got blackstrap molasses from the feed mill -- figured if it was good enough for the cattle, it was good enough for us. Had some memorable memories with that!
On the way home one day with a gallon jar sitting on the passenger-side floor, the car hit a bump. The jar tipped. Lid came off. One gallon of molasses slowly poured out. Into the carpet. Under the carpet. Cleaned it up thoroughly, but it got into the metal seams under the carpet.
On warm, sunny days, the car smelt like rum for months after. 
:)
Oma's Sour Dough No Knead Bread Recipe ❤️

Sourdough Starter:

Ingredients:
2 tbsp yeast
1 cup lukewarm 'potato water' (from boiling potatoes - no salt added!)
1 cup whole wheat flour
Instructions:
Dissolve the 2 tbsp yeast in the lukewarm potato water.
Add 1 cup whole wheat flour and stir.
Let stand, covered lightly, at least 6 hours or overnight at room temperature.
Bread:

Ingredients:
4 - 5 cups whole wheat flour
1 cup whole wheat berries if desired
1½ tsp salt
¼ to ½ cup molasses
about 1 cup of each of the following additions (to a total of about 6 cups) (see above comments) flax seeds, flax meal, rolled oats, sunflower seeds, bran, wheat germ, etc.
Instructions:
To the Sourdough Starter (above), add 2 cups lukewarm water and 2 cups whole wheat flour. Let stand, covered at room temperature, about 2 - 4 hours.
If using whole wheat berries to bread, put 1 cup berries into 2 cup measuring cup. Add hot water to cover and let stand till needed.
After the 2 - 4 hour, remove 1 cup dough to use as starter for next time. Cover and refrigerate. If keeping for longer than 1 week, add a bit of flour to keep it healthy and alive.
Using a LARGE bowl, to remaining dough, add the wheat berries with their soaking water.
If wheat berries were added, add an additional 2 cups lukewarm water. If no wheat berries were added, add 3 cups lukewarm water.
Add salt, molasses. Stir.
Add the "additions", stirring well.
Add 2 - 3 cups whole wheat flour at the end, stirring until the right consistency. It'll look like wet cement and it will be difficult to stir in any more flour.
Spoon into 2 greased bread pans. Pans can be filled at least ¾ full.
Cover and let rise about 1 to 1½ hours in a draft-free, warm place.
Bake in a 375°F. preheated oven for about 1 hour.
Remove immediately from pans. Should sound 'hollow' when bottom is tapped.
Let cool on rack.
Hints:
What else have I added over the years to this "No Knead Bread" recipe? Pumpkin seeds, psyllium husks, hemp seeds, spelt flakes, -- almost anything I can find that is healthy. This really is a whole grain bread recipe with that "whole" lot extra!


Leave a comment about this recipe or ask a question?
Pop right over to my private Facebook group, the Kaffeeklatschers. You'll find thousands of German foodies, all eager to help and to talk about all things German, especially these yummy foods. 
I pop in all the time as well, to chat and to answer questions. 
Meet with us around Oma's table, pull up a chair, grab a coffee and a piece of Apfelstrudel, and enjoy the visit.
*  *  *  *  *
Want nutritional information for a recipe?
Copy and paste the ingredient list and the number of servings into Calorie Count. 
It will give you an approximate calculation.

Need help doing conversions
between cups and grams or any such thing?
Use this site to give you all the different conversions for the different types of ingredients. 
---
---
I'm American but lived several years in Germany. I love the German Christmas traditions! For instance celebrating a 1st and 2nd Christmas day and celebrating

These German Christmas Traditions have been around for generations. Some ornamental, some musical and some just simply YUMMY!
---
Words to the Wise
"People ruin their lives by their own foolishness and then are angry at the Lord."
Proverbs 19:3 (NLT)