Oma's German Rye Bread Recipe ❤️

➤ by Oma Gerhild Fulson
FTC Disclosure: Making a purchase via a link on the page? I may earn a small commission on the transaction - at no added cost to you. Thanks!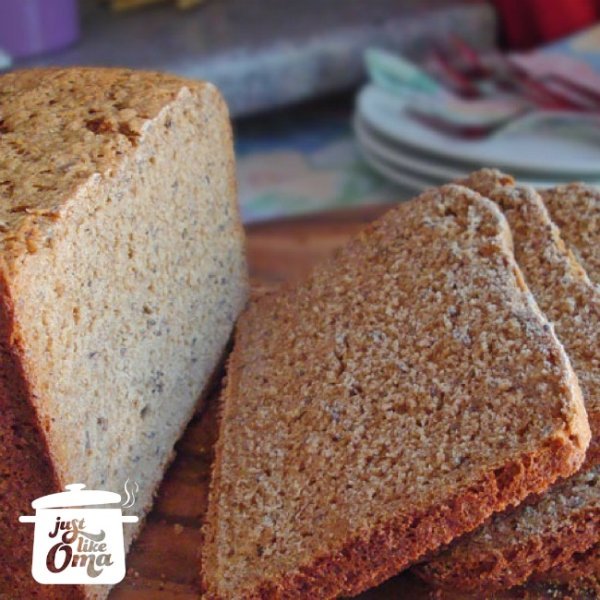 Make this rye bread recipe in your bread machine if you have one. If you don't have a bread machine, I really think you'll want one. Why? It's so quick and easy AND, surprise of surprises, it really does taste like German bread! I've looked a long time to find authentic German recipes for making bread. It's an interesting journey. Finally, yesterday I was able to enjoy this rye bread.

---
Using an easy bread machine method keeps the time in the kitchen to a bare minimum, while at the same time filling the house with such a fragrance!

I've had my Black and Decker All-In-One Breadmaker for years. 
I use it for making breads, of course, but mostly for making dough. It's the easiest way I've found to make yeast doughs for all sorts of baking.
Brötchen and Kuchen. Staples of German baking!
When it's time to replace my current bread machine, I'll be buying another Black and Decker like the one shown here. 
Along with the preprogrammed settings, it's larger, meaning I can make more dough (= more Brötchen!) and larger loaves.
---
The breads and buns are the most difficult to replicate outside of Germany. This rye bread recipe uses a wonderful mix of flours to get just the right taste. And, on top of that, it's super easy!

---
---
Whenever I visit Germany, one of the things I really look forward to are the German baked goods. There's at least one bakery in every town where everything is fresh made that morning. Buns, breads, cakes, tortes, cookies, etc., etc., etc.....
And, being able to make authentic German bread recipes in a bread machine, really is a bonus.
---
Best Sourdough No-Knead Bread ...
There is one type of bread, though, that I created many, many years ago when our boys were young and we were on a 'health food' kick.
It was a most interesting experiment ... and the family survived! In fact, what I created was a no-knead sourdough bread that is absolutely amazing.
It does take a bit of work, or actually, a bit of time ... but the results are a perfect loaf of bread, every time. As well, it's as healthy as you want to make it. 

I normally put in almost anything I can find in the way of seeds and whole grains. It's a different loaf all the time, but each time, it works. Check it out here. 
But now, are you ready to make some rye bread?
Oma's German Rye Bread Recipe ❤️

Ingredients:
1½ cups buttermilk
2½ cups whole wheat flour

½ cup rye flour
½ cup bread flour
¼ cup buckwheat flour
¼ cup wheat germ
1 tsp salt
¼ cup flax seeds (optional)
1 tbsp soft butter or oil
3 tbsp molasses
3 tsp active dry yeast
Instructions:
Put all ingredients into pan depending on the instructions that came with your bread machine. Some machines put the liquid ingredients in first, some the dry.
Use the following settings: Whole Grain, dark crust, 2 lb loaf.
Remove bread when finished and place on wire rack to cool before cutting.
Makes a 2 pound loaf.

Leave a comment about this recipe or ask a question?
Pop right over to my private Facebook group, the Kaffeeklatschers. You'll find thousands of German foodies, all eager to help and to talk about all things German, especially these yummy foods. 
I pop in all the time as well, to chat and to answer questions. 
Meet with us around Oma's table, pull up a chair, grab a coffee and a piece of Apfelstrudel, and enjoy the visit.
*  *  *  *  *
Thinking of starting your own Handmade Business?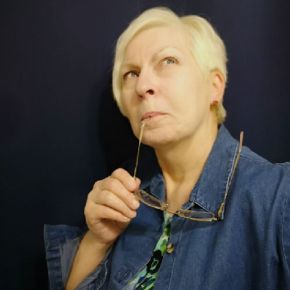 This Oma KNOWS you CAN do it.
How do I know?
Well, if I can do it, anyone can.
I've even figured out how I can help you.
I've teamed up with my own business coach, Renae Christine (yes, do google her!), to bring you this free masterclass. After you watch it, ask me any questions and I'll gladly answer them.
Don't hesitate. I'm not sure how long Renae will keep this free masterclass available.
PS:  Yes, Renae really is as amazing as all the reviews say.
PPS: Yes, the course is for handmade items, but I've used it successfully for my cookbooks. I know others are using her methods for services, direct sales, and even a local ice cream bar & grill that's constantly selling out. You've nothing to lose by taking a look ... and a whole bunch to gain.
*  *  *  *  *
Oma's Cookbooks (downloadable & print)
*  *  *  *  *
Want nutritional information for a recipe?
Copy and paste the ingredient list and the number of servings into Calorie Count. 
It will give you an approximate calculation.

Need help doing conversions
between cups and grams or any such thing?
Use this site to give you all the different conversions for the different types of ingredients. 
---
PIN this ... for quick access to recipe when looking for the perfect reason to pull out your bread machine 
---
Try this slow cooker roast beef and you'll be amazed at how much this tastes like rouladen WITHOUT the work.

Learn how to cook pork hocks, anytime you want something traditionally German and wonderfully delicious! A hearty meal for any time of the year!
---
Words to the Wise:
"The instruction of the wise is like a life-giving fountain; those who accept it avoid the snares of death."
Proverbs 13:14 (NLT)
---
❤️ German Rye Bread Recipe made Just like Oma


By
Oma Gerhild Fulson
Make this rye bread recipe in your bread machine if you have one. It's so quick and easy AND, surprise of surprises, it really does taste like German bread! Quick. Easy. And Delicious! Wunderbar!

Ingredients:
buttermilk,
flour,
butter,
yeast,
For the full recipe, scroll up ...