Tarte Flambée – German Pizza Recipe (Alsatian Flammekueche & bacon)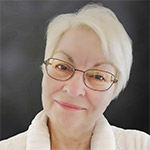 by: Gerhild Fulson  /  Cookbook Author, Blogger, German Oma!
As an Amazon Associate, I earn from qualifying purchases.
Tarte Flambée, aka with its German name Flammkuchen or Flammekueche, is often considered a German pizza or flatbread that actually originates in the Alsace region of eastern France and the adjacent German border regions of Rheinland and Baden-Württemberg.
It's so delectably delicious, so quick and easy to make, and fun to get creative with. Enjoy this Alsatian specialty that's SO traditionally German! The one below is my one of favorites with asparagus, bacon, and caramelized onions.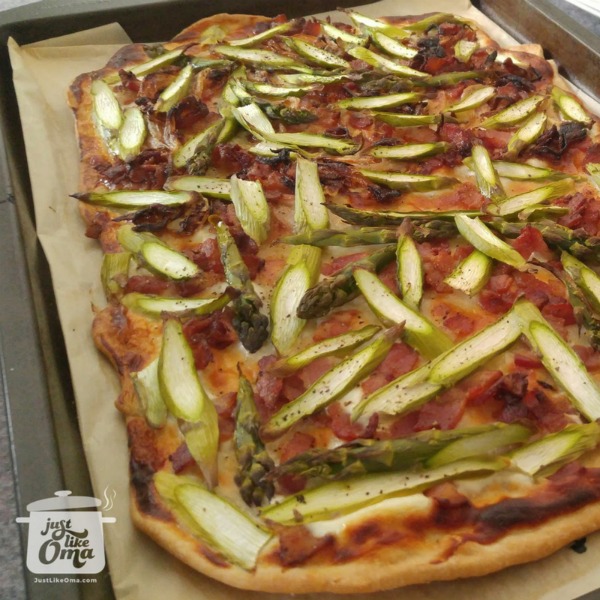 The word, flambèe, means that it is cooked in flames. Originally this was just a thinly rolled out piece of bread dough that was used as a test to see if the wood oven was hot enough and ready to bake bread. Soon toppings were added to enjoy on this piece of crisp-chewy crust.
The traditional Flammkuchen recipe topping is crème fraîche, covered with strips of bacon and thinly sliced raw onions, however I've been in restaurants throughout Germany that have an actual menu card full of variations, from savory to sweet.

Having neither a wood-fired oven or crème fraiche readily available, the following recipe is the one I use. In fact, I use an unleavened dough, making it extra fast.
From start to finish, it can be on the table in just over one hour. There are many versions of tarte flambée recipes, many with yeast or baking powder, some even using puff pastry. Creativity rules in this.
Have a Pizza Stone?
I've not done it this way, but this is what I've been told: If you have a baking stone, you can use it by preheating it in the oven for about half an hour at 500°F near the top of the oven.
Transfer the unbaked Flammkuchen to the stone with a pizza peel, just as you would a pizza. This should bake in about 10 minutes. If needed, turn the broiler on for about 3 minutes to brown the top.
If you do it this way, do let me know how it turns out. :)
Here I'm making Tarte Flambee with sliced asparagus, caramelized onions, and rendered diced bacon. This is going to be SO good!
When the dough has been oiled, it's easy to roll out. It doesn't stick to the rolling pin and doesn't need to be on a floured work surface to roll out. If it's done right on the parchment paper, you can just lift the parchment paper onto the cookie sheet. 
This one is ready for the oven.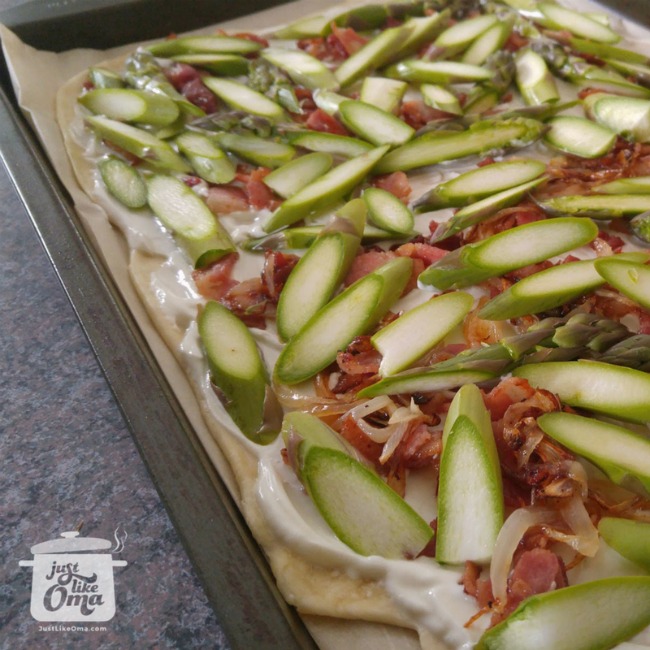 What to put on top of Flammkuchen
There are so many different toppings that are served on the Flammkuchen. Traditionally, it's just the raw onions and thin strips of bacon. However the following additions and combinations are all delicious for a savory tart:
Gruyere cheese (or your favorite type)
olives, ham, spinach, garlic, or tomatoes 
Smoked salmon with spinach
 homemade sauerkraut with sausage
sliced mushrooms with leeks
asparagus with ham
Make this as a dessert by topping the thin dough with sliced apples, cinnamon, and sugar on top of the Greek yogurt. 
Want to know which recipes are Oma's favorites? Grab your copy of her very favorite recipes in Favorite German Recipes eCookbook.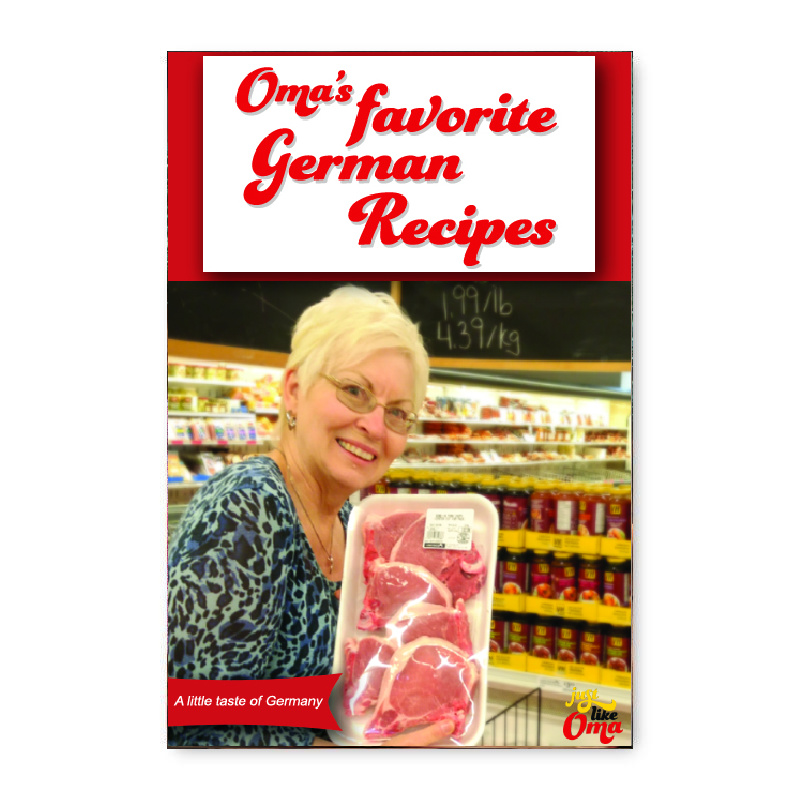 Take a peek at all Oma's eCookbooks. They make sharing your German heritage a delicious adventure!

---
Hummus?
Yep. Hummus. Sylvie, my daughter-in-law, shares that hummus is delicious with this quintessential German dish. Her easy hummus recipe is so quick to make and it's becoming wildly popular in Germany. Try it. I think you'll like it too!
---
Ready to make this Flammkuchen?
Is the recipe below locked? Here's why. 
As an Amazon Associate, I earn from qualifying purchases.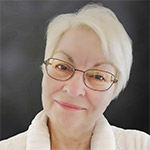 For more German-inspired items that make life easier and yummier, especially in the kitchen and for entertaining, follow my Amazon Storefront.
➙ For groceries,
Try Amazon Fresh
.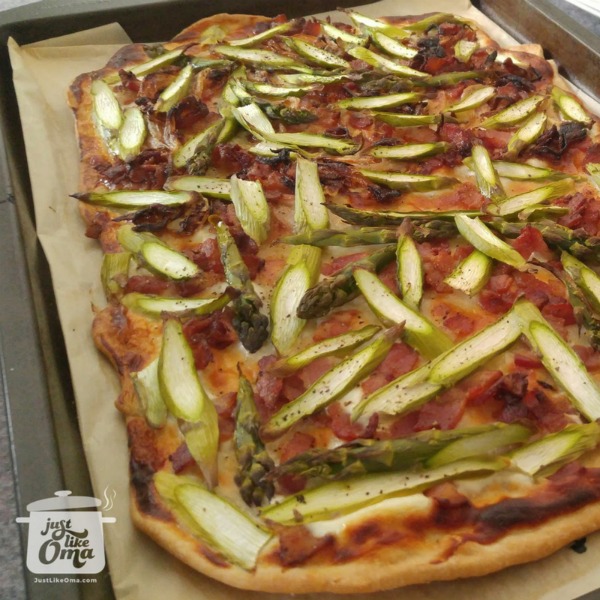 Tarte Flambée – German Pizza Recipe (Alsatian Flammekueche & bacon)

Tarte Flambee, aka Flammkuchen, is German pizza with a twist! So easy to make, quick and easy to get creative with. Enjoy this Alsatian treat that's SO traditionally German! It's so delectably delicious and can be made with many variations.
This one is my favorite with asparagus, bacon, and caramelized onions.
Prep Time


45 minutes


Bake Time


30 minutes


Total Time

75 minutes

Servings:

Makes 2 - 4 servings
Ingredients:
Dough:
2 cups all-purpose flour
¾ teaspoon salt
½ cup warm water
3 tablespoons olive oil
Topping:
½ cup crème fraîche or Greek yogurt
4 ounces lean bacon, diced
1 medium onion
8 stalks green asparagus (optional)
salt and pepper
Instructions:
Mix together flour and salt in a medium-small bowl. Stir in water and olive oil. Mix together with a wooden spoon, until dough is crumbly. Add more water as needed, one tablespoon at a time, until the dough starts to hold together (it usually takes 2 to 3 tablespoons). Knead dough with hands until the dough is smooth and doesn't stick to the sides of the bowl.
Remove dough from bowl, and pour about ½ teaspoon olive oil in bowl to grease it and return ball of dough to the bowl. Roll it around until it has oil all over. Cover bowl with plastic wrap and set put in fridge for about 30 minutes while you prepare the toppings.
Preheat oven to 450°F.
Meanwhile, render the bacon in a frying pan, just until the fat starts to be released (do not let the bacon become crisp.) Remove the bacon to a paper-towel lined plate to drain the bacon fat.
Add the onions to the frying pan and sauté until soft and translucent over high-medium heat, stirring frequently.
Snap off the tough ends of the asparagus. Slice asparagus stalk thinly on the diagonal. Cut the heads, lengthwise, in half.
Line a baking sheet with parchment paper.
Remove dough from fridge. Place on parchment paper and roll out very thin. It should cover the whole baking sheet.
Spoon Greek yogurt over top. Sprinkle with bacon, onion, and asparagus. Sprinkle with salt and freshly ground pepper
Bake in the hot oven, on lowest rack, for about 20 to 30 minutes or until edges are nicely browned and topping is crisp.
Cool, cut, and serve.
Notes/Hints:

Traditionally, the bacon and the onion is added raw on top of the dough and NOT pre-cooked. Personally, though, I like the bacon already rendered and the onions more caramelized than just letting them cook in the oven. Use your preference.
You can divide your dough and top each piece of dough differently.
Sprinkle a little nutmeg over the Greek yogurt
Instead of the creme fraiche or Greek yogurt, you can use fromage blanc, quark, sour cream or equal parts buttermilk and cream cheese. 
*  *  *  *  *

Unless otherwise noted recipe, images and content © Just like Oma | www.quick-german-recipes.com

10.02.2021 revision update
Leave a comment about this recipe or ask a question?

Pop right over to my private Facebook group, the Kaffeeklatschers. You'll find thousands of German foodies, all eager to help and to talk about all things German, especially these yummy foods. 
Meet with us around Oma's table, pull up a chair, grab a coffee and a piece of Apfelstrudel, and enjoy the visit.

Choose from Oma's cookbooks that are immediately downloadable & start cooking easy classic German foods tonight. Or get her newest paperback cookbook. LECKER!

Kaiserschmarrn are among those homemade pancake recipes that will remind you of Oma's kitchen. A traditional Austrian & German light and fluffy shredded pancake.

Discover the ultimate German schnitzel recipe with Oma's quick, easy, and delicious pork version - perfect for any occasion! Taste the authentic flavors of Germany today.
*  *  *  *  *
PIN to SAVE this recipe to your Pinterest board!
And let's be friends on Pinterest!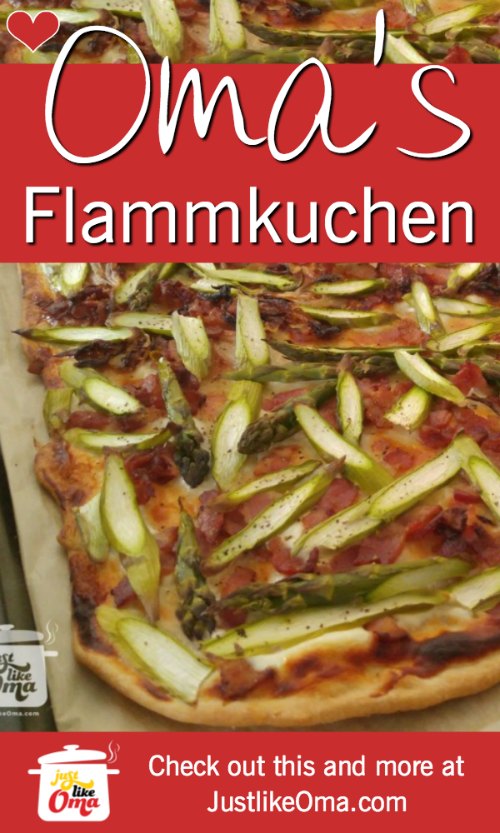 ---
Tarte Flambee ~ Flammkuchen ~ German Pizza made Just like Oma


By
Oma Gerhild Fulson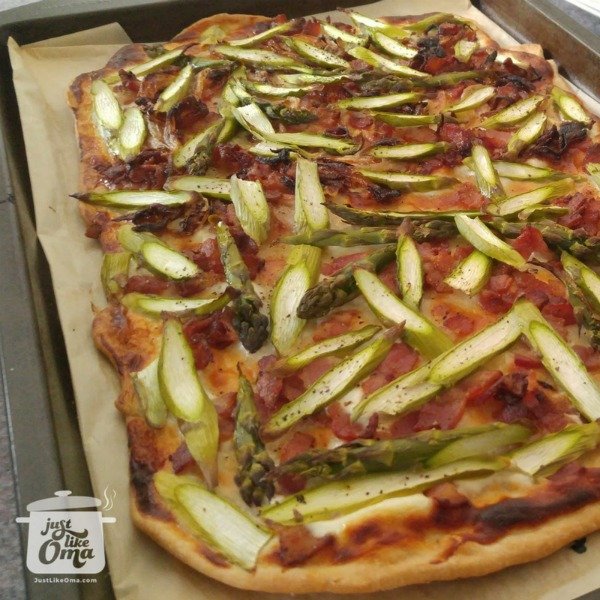 Tarte Flambee, aka Flammkuchen, is often considered a German version of pizza. Really, it's totally different. It's so delectably delicious and can be made with many variations.

Ingredients:
Greek yogurt,
flour,
salt,
olive oil,
bacon,
onion,
asparagus (optional),
pepper,
For the full recipe, scroll up ...
Words to the Wise:
"The instruction of the wise is like a life-giving fountain; those who accept it avoid the snares of death."
Proverbs 13:14 (NLT)