Oma's Tarte Flambée ~ Flammkuchen ❤️

➤ by Oma Gerhild Fulson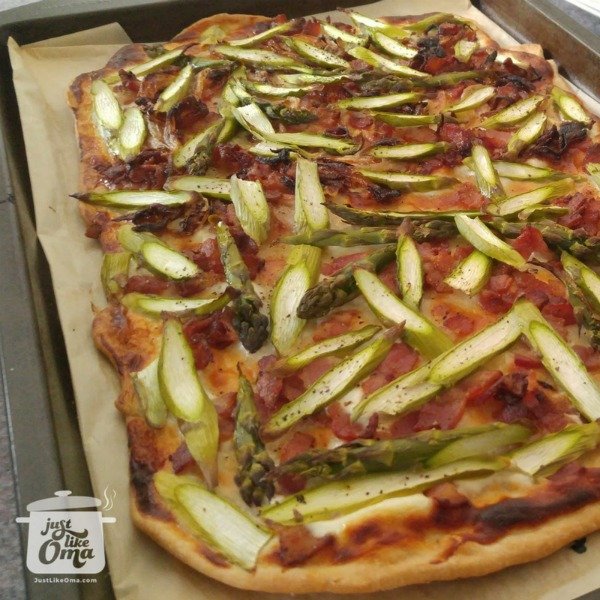 Tarte Flambée, aka Flammkuchen, is often considered a German version of pizza or flatbread. Really, it's so totally different. It's so delectably delicious and can be made with many variations. The one above is my favorite, with asparagus, bacon, and caramelized onions.
 The crust can be made with or without yeast. The traditional topping is crème fraîche that is covered with bacon and thinly sliced onions. The word, flambèe, infers that it's cooked in flames, but ideally, it's baked in a wood-fired oven.
Having neither a wood-fired oven or crème fraîche readily available, the following recipe is the one I use. In fact, this one is made without yeast, so it goes so quickly. From start to finish, it can be on the table in just over one hour. 

Have a Pizza Stone?
I've not done it this way, but this is what I've been told: If you have a pizza stone, you can use it by preheating it in the oven for about half an hour at 500°F near the top of the oven. Transfer the unbaked Flammkuchen to the stone, just as you would a pizza. This should bake in about 10 minutes. If needed, turn the broiler on for about 3 minutes to brown the top.
If you do it this way, do let me know how it turns out. :)
Here I'm making Flammkuchen with sliced asparagus, caramelized onions, and rendered diced bacon. This is going to be SO good!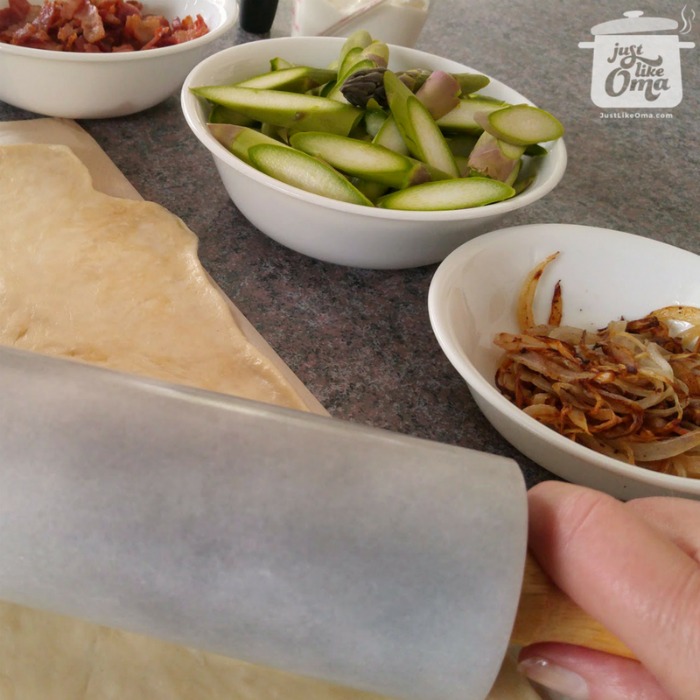 When the dough has been oiled, it's easy to roll out. It doesn't stick to the rolling pin and doesn't need to be floured to roll out. If it's done right on the parchment paper, you can just lift the parchment paper onto the cookie sheet. 
This one is ready for the oven.
Flammkuchen Toppings ...
There are so many different toppings that are served on the Flammkuchen. Traditionally, it's just the onions and bacon. However, cheese (you choose the type), olives, tomatoes and ham, spinach, garlic, and tomatoes.
Make this as a dessert by topping with sliced apples, cinnamon, and sugar on top of the Greek yogurt. 
Want to know which recipes are Oma's favorites? Grab your copy of her very favorite recipes in Favorite German Recipes eCookbook.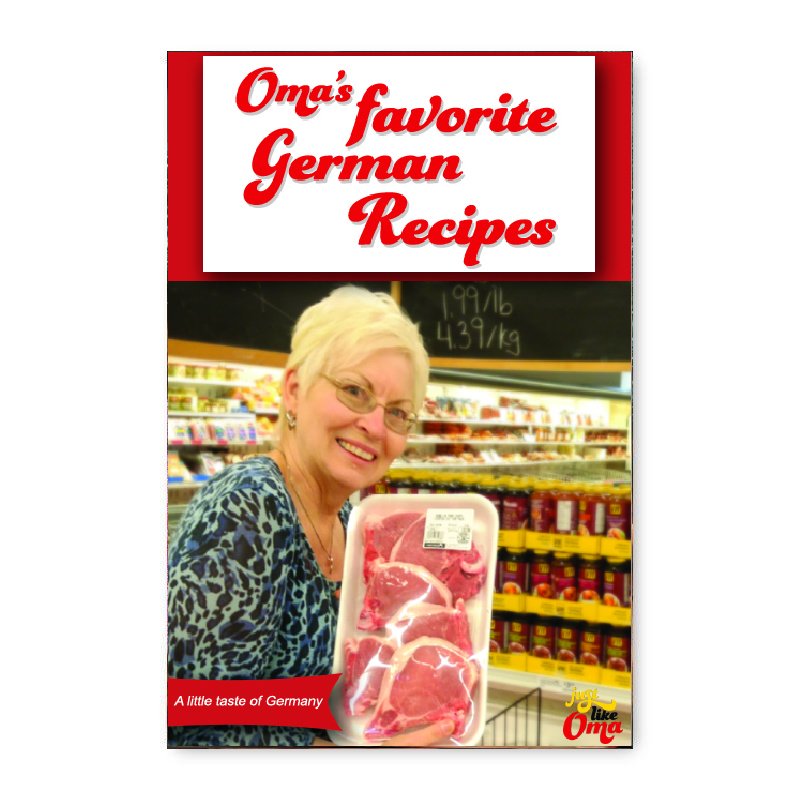 Take a peek at all Oma's eCookbooks. They make sharing your German heritage a delicious adventure!

Ready to make this Flammkuchen?
Oma's Tarte Flambée ~ Flammkuchen

Tarte Flambée, aka Flammkuchen, is often considered a German version of pizza or flatbread. Really, it's so totally different. It's so delectably delicious and can be made with many variations. The one above is my favorite, with asparagus, bacon, and caramelized onions.
Prep Time


45 minutes


Bake Time


30 minutes


Total Time

75 minutes

Servings:

Makes 2 - 4 servings
Ingredients:
Dough:
2 cups all-purpose flour
¾ tsp salt
½ cup warm water
3 tbsp olive oil
Topping:
½ cup crème fraîche or Greek yogurt
4 oz lean bacon, diced
1 medium onion
8 stalks green asparagus (optional)
salt and pepper
Instructions:
Mix together flour and salt. Stir in water and olive oil. Mix together with a wooden spoon, until dough is crumbly. Add more water as needed, one tablespoon at a time, until the dough starts to hold together (it usually takes 2 - 3 tbsp). Knead dough with hands until the dough is smooth and doesn't stick to the sides of the bowl.
Remove dough from bowl, and pour about ½ tsp olive oil in bowl to grease it and return ball of dough to the bowl. Roll it around until it has oil all over. Cover bowl with plastic wrap and set put in fridge for about 30 minutes.
Preheat oven to 450°F.
Meanwhile, render the bacon in a frying pan, just until the grease is released (do not let the bacon become crisp.) Remove the bacon to a paper-towel lined plate.
Add the onions to the frying pan and sauté until soft and translucent, stirring frequently.
Snap tough end off asparagus. Slice asparagus stalk thinly on the diagonal. Cut the heads, lengthwise, in half.
Line a cookie sheet with parchment paper.
Remove dough from fridge. Place on parchment paper and roll out very thin. It should cover the whole cookie sheet.
Spoon Greek yogurt over top. Sprinkle with bacon, onion, and asparagus. Sprinkle with salt and freshly ground pepper
Bake, on lowest rack, for about 20 - 30 minutes or until edges are nicely browned and topping is crisp.
Cool, cut, and serve.
Notes/Hints:

Traditionally, the bacon and the onion is added raw on top of the dough and NOT pre-cooked. Personally, though, I like the bacon already rendered and the onions more caramelized than just letting them cook in the oven. Use your preference.
Instead of the crème fraîche or Greek yogurt, you can use fromage blanc, quark, or equal parts buttermilk and cream cheese. 
*  *  *  *  *

Unless otherwise noted recipe, images and content © Just like Oma | www.quick-german-recipes.com

Want Nutritional Information?

Copy and paste the above ingredient list and the number of servings into Calorie Count for an approximate calculation.
Need Help Doing Conversions?

Make it easier to convert between cups and grams, etc. Use this site to give you all the different conversions for the different types of ingredients. 
Leave a comment about this recipe or ask a question?
Pop right over to my private Facebook group, the Kaffeeklatschers. You'll find thousands of German foodies, all eager to help and to talk about all things German, especially these yummy foods. 
I pop in all the time as well, to chat and to answer questions. 
Meet with us around Oma's table, pull up a chair, grab a coffee and a piece of Apfelstrudel, and enjoy the visit.
These roasted Brussels spouts with balsamic vinegar and maple syrup are so quick and easy to prepare, yet so delicious! This may just be your new favorite go-to recipe for roasted FROZEN Brussels spro…

Love German cabbage rolls? You'll absolutely love Oma's unstuffed cabbage roll casserole. Same great taste, but a LOT less work. No rice or tomatoes here. Just real German goodness.

THE German Krapfen or jelly donut recipe you'll need if you plan to make Berliner Pfannkuchen ~ that traditional treat for New Year's and throughout the year!
*  *  *  *  *
PIN das ...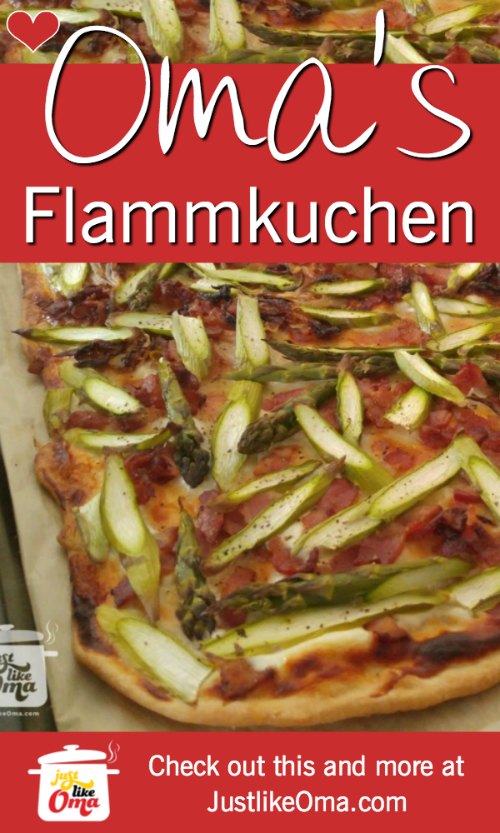 Words to the Wise:
"The instruction of the wise is like a life-giving fountain; those who accept it avoid the snares of death."
Proverbs 13:14 (NLT)