Oma's Asparagus Soup Recipe ~ Spargelsuppe

➤ by Gerhild Fulson
Unrivalled Asparagus Soup recipe! This Spargelsuppe has a secret way to intensify the flavor! The secret? ... Check below!
This soup uses green asparagus. In Germany, white asparagus is much more common. If you want to make this soup with the white variety, check "Oma says" below for extra tips.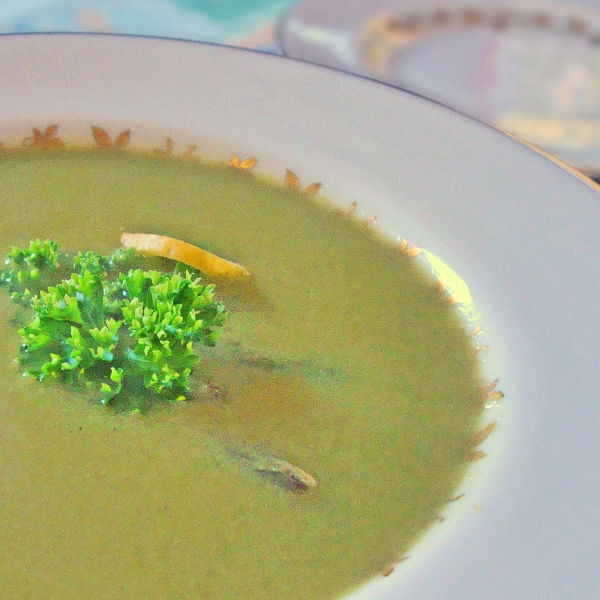 The Secret to this Asparagus Soup ...
To intensify the flavor,
Take all the tough ends of the asparagus, which normally throw away (or compost)
Simmer them 
Drain them, keeping the broth and discarding the ends
The resulting broth ramps up the fresh taste of this wonderful spring veggie.
Grab your copy of Oma's favorite asparagus recipes in A is for Asparagus eCookbook.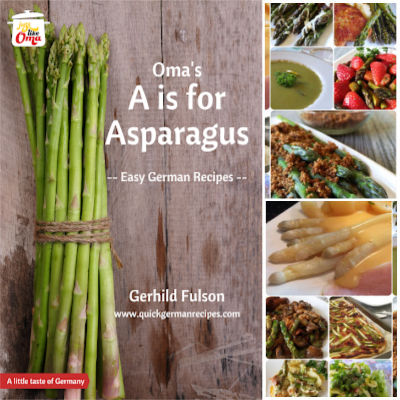 Take a peek at all Oma's eCookbooks. They make sharing your German heritage a delicious adventure!
Green vs White Asparagus
Most recipes using asparagus in Canada and the US assume you are using green asparagus. On the contrary, in Germany, for example, when asparagus is talked about, white asparagus is assumed.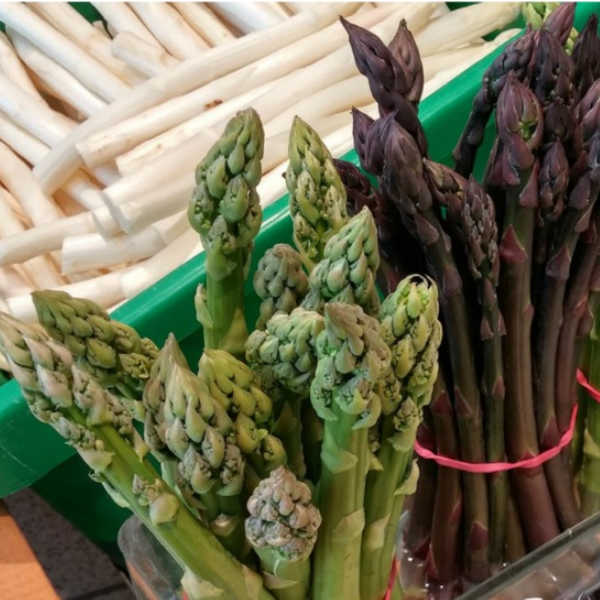 So, when you're looking for asparagus recipes, you'll need to be aware of which country the recipe comes from. 

---
Oma says:
If I happen to be able to buy white asparagus, I use the same asparagus soup recipe as below, except the asparagus needs to be peeled first. 
Then, I take the peelings, together with the tough ends, and cook them. Then, I follow with the rest of the recipe.
I love it when I get to go back to Germany in the springtime. The markets overflow with white asparagus. Even the restaurants have special asparagus menus. 
---
With such easy supper ideas as this asparagus soup, you'll treat your family like royalty. 
Ready to make this asparagus soup?
➤ As an Amazon Associate, I earn from qualifying purchases.
Is the recipe below locked? Here's why. Unlock to see ALL the exclusive recipes on this site. Click here for help.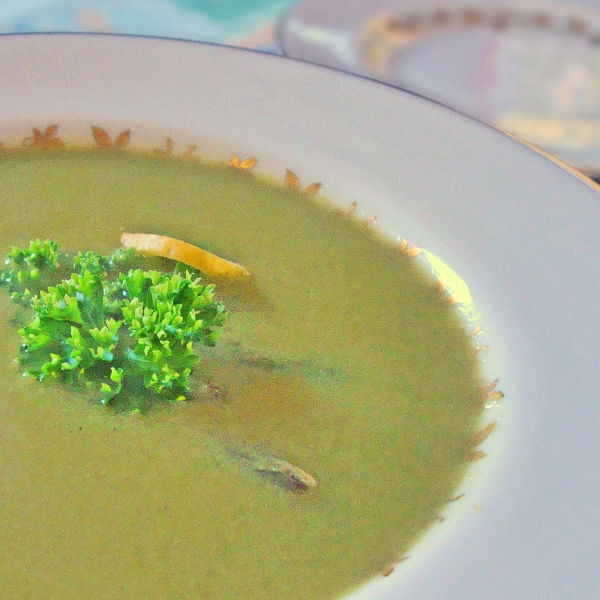 Oma's Asparagus Soup Recipe ~ Spargelsuppe
Unrivalled Asparagus Soup recipe! This Spargelsuppe has  a secret way to intensify the flavor! The secret? Make an asparagus broth out of the 'throw-away' bits to amp up the asparagus flavor.

Prep Time


20 minutes


Cook Time


20 minutes


Total Time

40 minutes

Servings:

Makes 4 - 6 servings
Ingredients:
2 pounds (907 grams) green asparagus (or more)
4 cups (960 milliliters)  water
1 teaspoon salt
½ teaspoon granulated sugar
1 tablespoon lemon juice
3 tablespoons (45 milliliters) cream (10%, 18%, or 35%)
salt and pepper to taste
2 tablespoons fresh chervil (or parsley or chives) to garnish
Instructions:
Remove tough ends by bending asparagus and snapping off bottom ends. Put peelings and tough ends in soup pot with

4

cups water. Add salt and sugar. Bring to boil and simmer for 10 minutes.
Drain, pressing through a sieve, returning the cooking liquid to the pot and discarding asparagus ends.
Cut remaining asparagus spears into 2-inch pieces and add to cooking liquid in pot. Simmer, about 5 minutes, until asparagus is tender.
Remove asparagus. Cut off tips and reserve. Put remaining asparagus into blender with lemon juice. Puree (adding some cooking liquid if needed.)
Pour pureed asparagus through a sieve (to remove fibers) into cooking liquid in pot and bring to simmer. Add cream. Season with salt and pepper. Return asparagus tips to soup.
Serve soup, garnishing with chervil.
Notes/Hints:

If you have white asparagus, use the same recipe as above, except the asparagus needs to be peeled first and cooks for about 5 more minutes to become tender.

Instead of water, you can use chicken broth.
*  *  *  *  *

Unless otherwise noted recipe, images and content © Just like Oma | www.quick-german-recipes.com

03.11.2022 revision update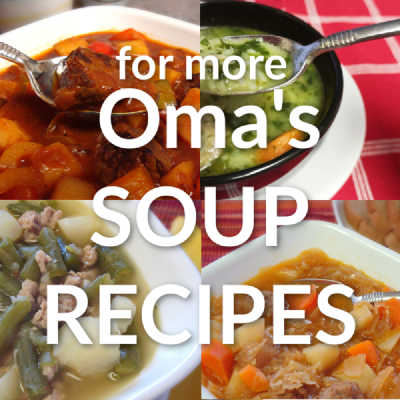 Leave a comment about this recipe or ask a question?

Pop right over to my private Facebook group, the Kaffeeklatschers. You'll find thousands of German foodies, all eager to help and to talk about all things German, especially these yummy foods. 
Meet with us around Oma's table, pull up a chair, grab a coffee and a piece of Apfelstrudel, and enjoy the visit.

Oma's Butterkuchen, aka Zuckerkuchen, is a traditional German Butter Cake (or Sugar Cake) that's often served for afternoon coffee. Loved by all, easy to make and so delicious to eat!

Learn how to make this German cheesecake recipe and this includes an easy recipe for making quark ... at home! Tastes just like you're back in Germany in Oma's kitchen!

Frankfurter Kranz, aka Frankfurt Crown Cake or German Crown Cake, is a ring-shaped, three-layered cake filled with red jam and delicious German buttercream.
*  *  *  *  *
PIN to SAVE this recipe to your Pinterest board!
And let's be friends on Pinterest!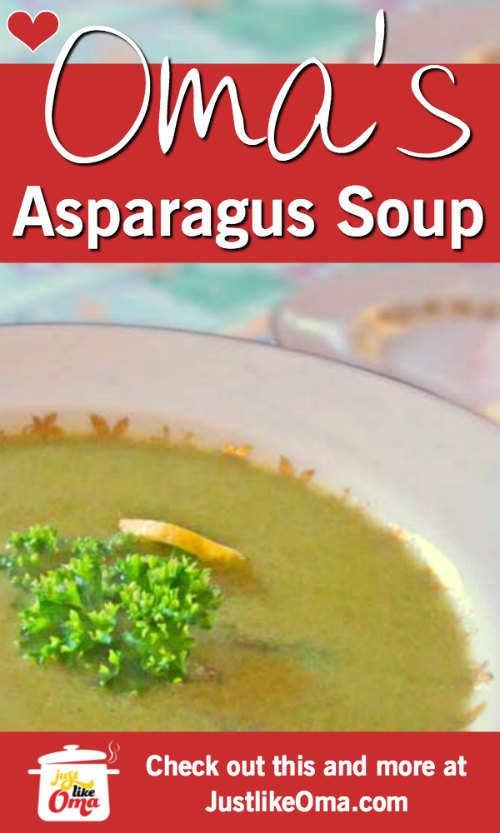 ---
Oma's Asparagus Soup Recipe ~ Spargelsuppe
By
Oma Gerhild Fulson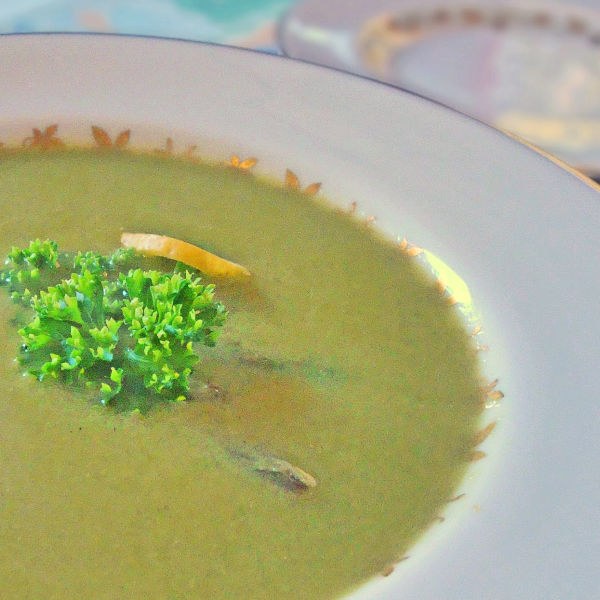 Oma's asparagus soup recipe is a real spring-time treat. Easy to make an delicious to eat, Truly, this is one of the best soup recipes if you're wanting to impress guests. WUNDERBAR!
Ingredients:
asparagus,
salt,
sugar,
lemon juice,
cream,
seasonings,
chervil/parsley,
For the full recipe, scroll up ...
Words to the Wise
"If you search for good, you will find favor; but if you search for evil, it will find you!"
Proverbs 11:27 (NLT)