Oma's Asparagus Soup Recipe ❤️

➤ by Oma Gerhild Fulson
FTC Disclosure: Making a purchase via a link on the page? I may earn a small commission on the transaction - at no added cost to you. Thanks!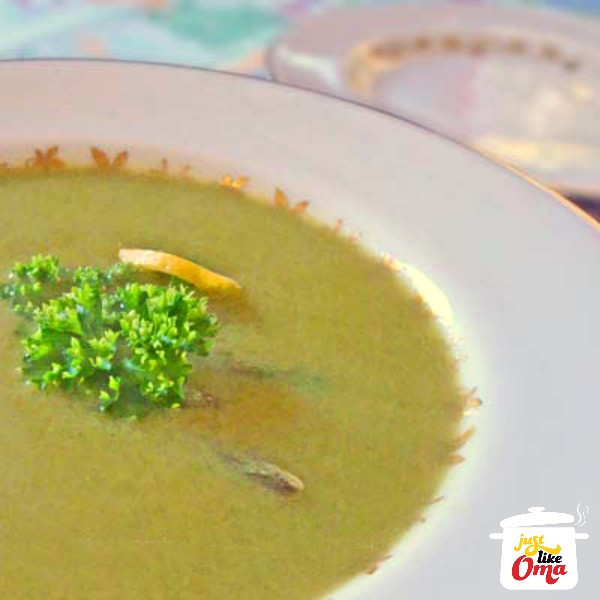 Yum
Unrivaled Asparagus Soup recipe! This Spargelsuppe has  a secret way to intensify the flavor! The secret? ... Check below!
This soup uses green asparagus. In Germany, white asparagus is much more common. If you want to make this soup with the white variety, check "Oma says" below for extra tips.

Oma's Asparagus Soup Recipe ❤️

Ingredients:
2 lbs green asparagus (or more)
1 tsp salt
½ tsp granulated sugar
1 Tbsp lemon juice
3 Tbsp cream (10%, 18%, or 35%)
salt, pepper to taste
2 Tbsp fresh chervil (or parsley or chives) to garnish
Instructions:

Remove tough ends by bending asparagus and snapping off bottom ends. Put peelings and tough ends in soup pot with

4

cups water. Add salt and sugar. Bring to boil and simmer for 10 minutes.
Drain, pressing through a sieve, returning the cooking liquid to the pot and discarding asparagus ends.
Cut remaining asparagus spears into 2-inch pieces and add to cooking liquid in pot. Simmer, about 5 minutes, until asparagus is tender.
Remove asparagus. Cut off tips and reserve. Put remaining asparagus into blender with lemon juice. Puree (adding some cooking liquid if needed.)
Pour pureed asparagus through a sieve (to remove fibers) into cooking liquid in pot and bring to simmer. Add cream. Season with salt and pepper. Return asparagus tips to soup.
Serve soup, garnishing with chervil.
Makes about 4 - 6 servings

---
Like the soup above? You'll love looking at and making more of Oma's soups. All so quick and easy!
What makes these soups so wunderbar? They bring back such wonderful memories of my Mutti's kitchen. So, of course, I had to write my own soup e-cookbook to share with my grandchildren. I know you'll LOVE it, too! There are 84 full-color pages filled with step-by-step instructions and hints. Take a quick peek ...
Sharing these soup recipes from my Mutti and Oma to my own young grandchildren ... that's such a delicious way to pass on our German heritage :)
The Secret to this Asparagus Soup ...
To intensify the flavor,
Take all the tough ends of the asparagus, which normally throw away (or compost)
Simmer them 
Drain them, keeping the broth and discarding the ends
The resulting broth ramps up the fresh taste of this wonderful spring veggie.

Green vs White Asparagus
Most recipes using asparagus in Canada and the US assume you are using green asparagus. On the contrary, in Germany, for example, when asparagus is talked about, white asparagus is assumed. 
So, when you're looking for asparagus recipes, you'll need to be aware of which country the recipe comes from. 
If I happen to be able to buy white asparagus, I use the same asparagus soup recipe as above, except the asparagus needs to be peeled first. 
Then, I take the peelings, together with the tough ends, and cook them. Then, I follow with the rest of the recipe.
I love it when I get to go back to Germany in the springtime. The markets overflow with white asparagus. Even the restaurants have special asparagus menus. 
With such easy supper ideas as this asparagus soup, you'll treat your family like royalty.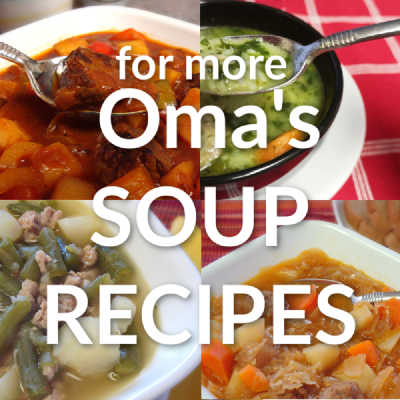 *  *  *  *  *
Thinking of starting your own Handmade Business?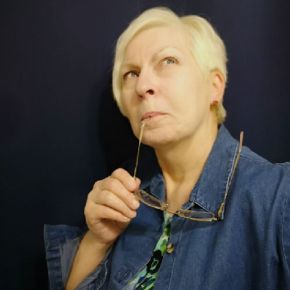 This Oma KNOWS you CAN do it.
How do I know?
Well, if I can do it, anyone can.
I've even figured out how I can help you.
I've teamed up with my own business coach, Renae Christine (yes, do google her!), to bring you this free masterclass. After you watch it, ask me any questions and I'll gladly answer them.
Don't hesitate. I'm not sure how long Renae will keep this free masterclass available.
PS:  Yes, Renae really is as amazing as all the reviews say.
PPS: Yes, the course is for handmade items, but I've used it successfully for my cookbooks. I know others are using her methods for services, direct sales, and even a local ice cream bar & grill that's constantly selling out. You've nothing to lose by taking a look ... and a whole bunch to gain.
*  *  *  *  *
Oma's Cookbooks (downloadable & print)
*  *  *  *  *
Want nutritional information for a recipe?
Copy and paste the ingredient list and the number of servings into Calorie Count. 
It will give you an approximate calculation.

Need help doing conversions
between cups and grams or any such thing?
Use this site to give you all the different conversions for the different types of ingredients. 
---
PIN this ...
---
Words to the Wise
"If you search for good, you will find favor; but if you search for evil, it will find you!"
Proverbs 11:27 (NLT)