How to Cook Asparagus ~ German-style 

➤ by Oma Gerhild Fulson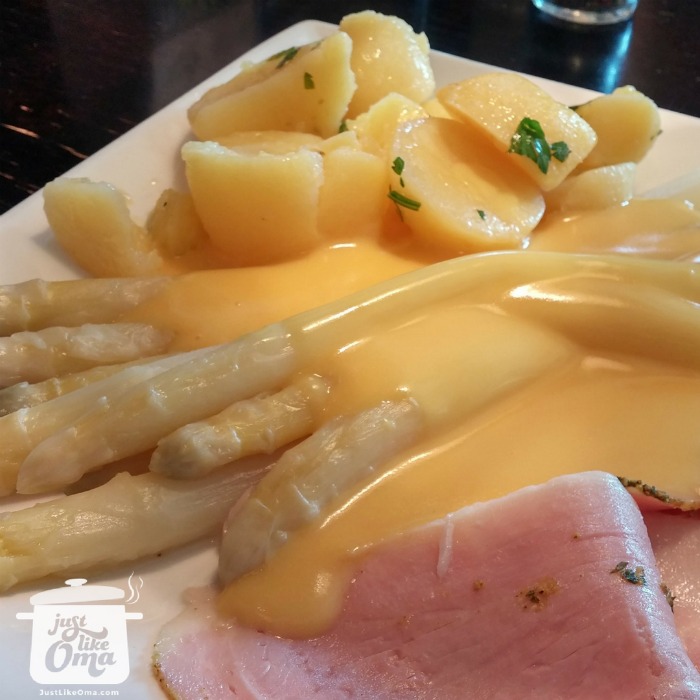 This traditional way how to cook asparagus, aka Spargel, is so popular in Germany. White asparagus is the most common type that's sold. It's different than the normal green asparagus and needs to be treated differently.
Green asparagus must be peeled and cooked longer ... and most Germans will say that it's the best asparagus there is. 
In fact, when it's asparagus season (springtime), most German restaurants have special 'asparagus menus' and the featured dish, is the one shown above.
Serve the cooked asparagus with boiled potatoes, ham, and Hollandaise sauce. You'll also find the recipe for the sauce below. 

Asparagus Season in Germany
When it's asparagus season in Germany, you can find it for sale in every market and roadside stands. It really does come in all shapes and sizes as shown below.
The main type sold is the white one. Green and purple asparagus is available, but most only buy the white, claiming that it's the most flavorful.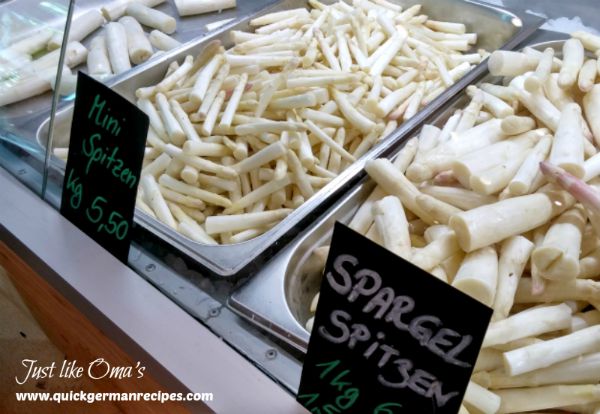 If you can't get the white asparagus, or it's too expensive, then do use the green one for this meal. You only need to break off the tough ends and cook for a bit shorter time. Personally, I really, really like the green asparagus. :)
Grab your copy of Oma's favorite asparagus recipes in A is for Asparagus eCookbook.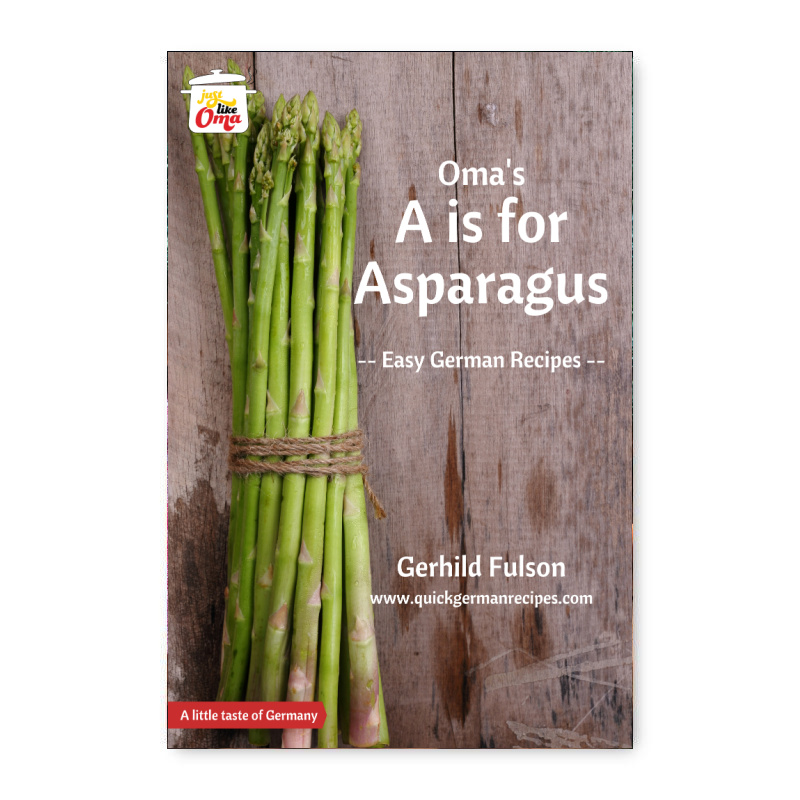 Take a peek at all Oma's eCookbooks. They make sharing your German heritage a delicious adventure!
Oma says,
I KNOW some will say that the "Blender Hollandaise" is not a real Hollandaise! That's OK. You can make it the traditional way if you wish.

Personally, I like quick and when it turns out as wonderful as the recipe below, I've not gone back to making it the traditional way. This way, using the blender, is so much easier! And, I LOVE easy! :)
Ready to make this asparagus & sauce?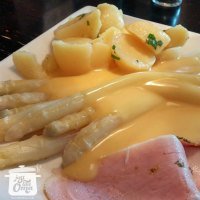 German Asparagus with "Hollandaise" Sauce

If you can't get the white asparagus, or it's too expensive, then do use the green one for this meal. You only need to break off the tough ends and cook for a bit shorter time. Then serve with boiled potatoes and ham. Yum!

Prep Time


10 minutes


Cook Time


10 minutes


Total Time

20 minutes

Servings:

Makes 4 servings
Ingredients:
Asparagus
2 lbs white asparagus
1 tbsp sugar
1 tbsp salt
"Hollandaise" Sauce

2 large egg yolks
1 tbsp warm water
1 tbsp lemon juice
½ cup butter (salted)
salt, cayenne
Instructions:
Cook the Asparagus:
Put an asparagus cooker/steamer or a  large pot of water on high to bring to a boil.
Peel the asparagus, cutting off the woody ends.
Add sugar and salt to boiling water. Gently place asparagus into the water and, once it is boiling again, reduce heat and simmer gently for about 10 minutes, or until tender.
Remove from water and keep warm until sauce is ready.
Make the Sauce:
Into a blender, place the egg yolks, water, and lemon juice. Blend for about 30 seconds or until frothy.
Melt butter (either in microwave or on stove). 
With the blender turned on, slowly add the hot butter to the egg mixture. Blend until sauce is thickened.
Season with salt and a pinch of cayenne, if desired.
Serve over asparagus and alongside some boiled potatoes and sliced ham.
*  *  *  *  *

Unless otherwise noted recipe, images and content © Just like Oma | www.quick-german-recipes.com

Want Nutritional Information?

Copy and paste the above ingredient list and the number of servings into Calorie Count for an approximate calculation.
Need Help Doing Conversions?

Make it easier to convert between cups and grams, etc. Use this site to give you all the different conversions for the different types of ingredients. 
Leave a comment about this recipe or ask a question?
Pop right over to my private Facebook group, the Kaffeeklatschers. You'll find thousands of German foodies, all eager to help and to talk about all things German, especially these yummy foods. 
I pop in all the time as well, to chat and to answer questions. 
Meet with us around Oma's table, pull up a chair, grab a coffee and a piece of Apfelstrudel, and enjoy the visit.
These roasted Brussels spouts with balsamic vinegar and maple syrup are so quick and easy to prepare, yet so delicious! This may just be your new favorite go-to recipe for roasted FROZEN Brussels spro…

Love German cabbage rolls? You'll absolutely love Oma's unstuffed cabbage roll casserole. Same great taste, but a LOT less work. No rice or tomatoes here. Just real German goodness.

THE German Krapfen or jelly donut recipe you'll need if you plan to make Berliner Pfannkuchen ~ that traditional treat for New Year's and throughout the year!
*  *  *  *  *
PIN this ...

---
How to Cook Asparagus ~ German-style made Just like Oma


By
Oma Gerhild Fulson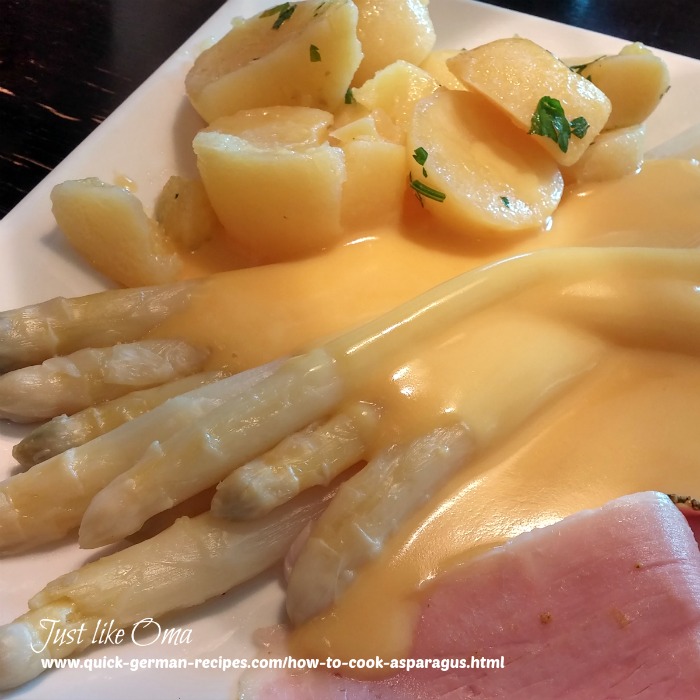 Don't know how to cook asparagus? Check out this traditional way to make it German-style, served with an easy Hollandaise sauce. Wunderbar!

Ingredients:
asparagus,
salt,
sugar,
egg yolks,
lemon juice,
butter,
cayenne,
For the full recipe, scroll up ...
Words to the Wise
"Good planning and hard work lead to prosperity, but hasty shortcuts lead to poverty."
Proverbs 21:5 (NLT)