White Asparagus with Easy Hollandaise Sauce: Oma's Spargel mit Sosse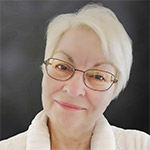 by: Gerhild Fulson  /  Cookbook Author, Blogger, German Oma!

This post may contain affiliate links, which means I'll receive a commission if you purchase through my links, at no extra cost to you. Please read full disclosure for more information.
Are you wanting to learn how to cook asparagus, aka Spargel, the traditional German way? You've come to the right place!
White asparagus, often called white gold, is incredibly popular in Germany. The most traditional way to serve it is with a Hollandaise sauce, boiled potatoes, and ham.
Unfortunately, if you can't get the white variety, there's little that can substitute for its unique flavor. You can use the jarred white asparagus, if you can find it, but nothing's quite the same as fresh.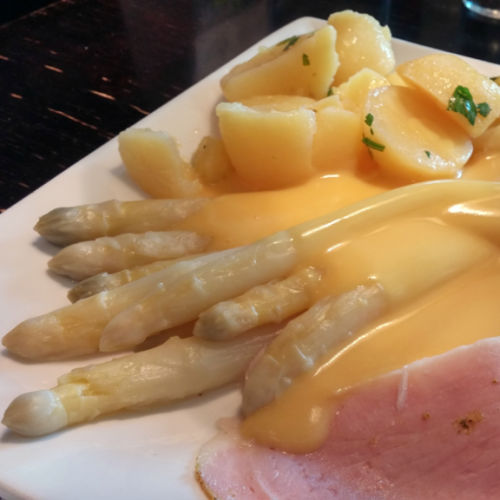 White asparagus is different than the typical green ones we get in North America, but most Germans will say that it's the best asparagus there is. It takes a bit more work to prepare than the green one. It needs to be peeled and cooked longer, but the results are so yummy!
Green, White, and Purple Asparagus

White asparagus is the most popular variety, but green and purple asparagus are also available in Germany.
Green asparagus is the most common in the United States and Canada having the strongest asparagus flavor, sort of grassy. To cook this, snap off only the lower fibrous ends.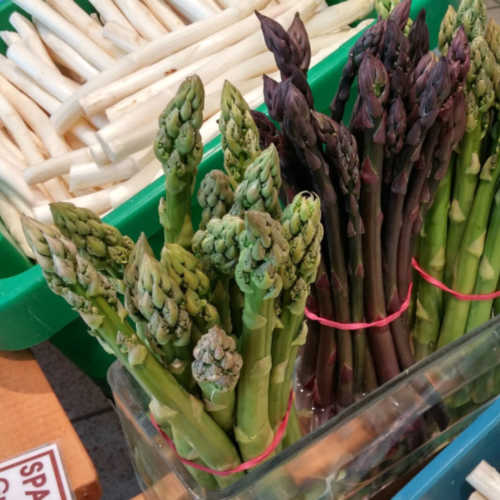 White asparagus is the exact same variety as green asparagus, except that it is grown without the light of day by hilling and covering it. This keeps the chlorophyll from developing and keeps the stalks creamy white. This makes it much more labor intensive to grow and therefore quite expensive. It is the most widely cultivated variety in Germany. It is more tender and has less of a bitter taste than its green counterpart.
Purple asparagus has a bit of a fruity, nutty flavor, has a sweeter taste, and is less stringy than the green variety. This one tastes wonderful raw. When cooked, it will eventually turn green.
Spargelsaison: White Asparagus Season
White asparagus season in Germany runs from mid-April till the end of June, and is something most Germans eagerly wait for with great anticipation.
Whether at the grocery store, farmer's markets, roadside stands, or farm stores, white asparagus is everywhere.
During this time of year, most restaurants will feature special menu inserts that feature Spargel, and only Spargel, in soups and salads, as side dishes, and in main dishes. Everything Spargel!
Traveling throughout Germany in the spring, you'll see fields of covered asparagus rows. I took the above photo near Walsrode in Lower Saxony.
Local farms will have a wide variety of choices. White asparagus is sold, often peeled and sorted. You can buy just the tips, just the stalks, either thick or thin, or the whole stalks.
You choose just what's best for your recipe.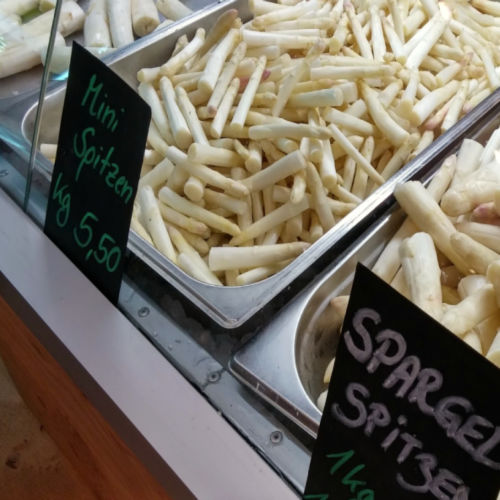 Some farms also sell the green and purple varieties, but they're much less common. White Spargel is the prized preference. Already peeled, it's often displayed as the luxury item it is.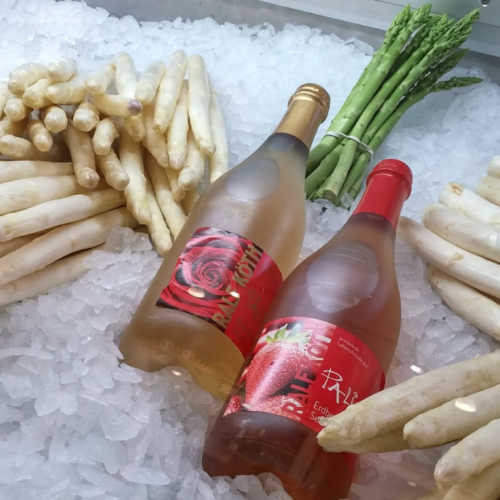 Above, asparagus bundles are shown nestled on ice along with some local bottled wine.
Strolling through the shopping plazas in the big cities, you'll see kiosks selling peeled asparagus. Sometimes they are being peeled, fresh, by hand, right there. More frequently though, they're sold ready to be peeled fresh at home.

How to Peel Asparagus
Peeling presents a challenge. It does take a bit of practice, but the final meal is worth it.
Lay the spear in one hand and using a vegetable or potato peeler, gently peel, starting just below the head.
Keep turning and peeling the spear until it is done. Be careful not to snap the spear.
Cut off the bottom inch.
The stalk is ready to be cooked.
The peels and the bottoms can be saved for use in making veggie broths.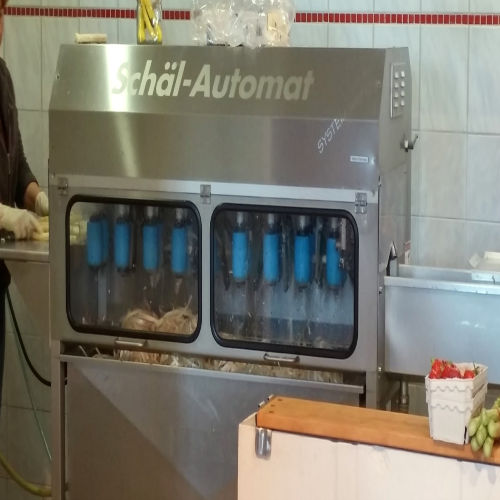 Farms, such as the one we visited just outside of Walsrode, use machines such as this Schäl-Automat above. It makes quick work of this time-consuming job. Wouldn't it be great to have a home version of this?
Grab your copy of Oma's favorite asparagus recipes in A is for Asparagus eCookbook.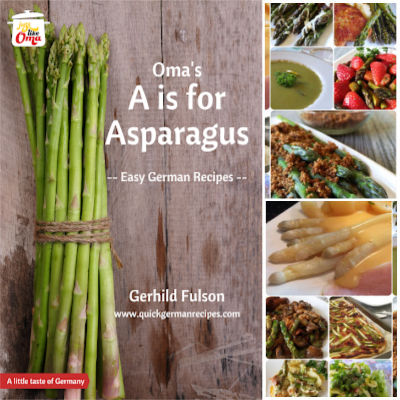 Take a peek at all Oma's eCookbooks. They make sharing your German heritage a delicious adventure!
How to Cook Asparagus
Cooking white asparagus the traditional German way is quite simple, once you've peeled the outer layer of the white spears.
Start by bringing a large saucepan of water to boil over high heat. Meanwhile, peel 2 pounds of asparagus and cut off the ends.
Add 1 tablespoon each of salt and sugar to the boiling water. Place the asparagus into the water and, once it is boiling again, reduce heat and simmer gently for about 10 minutes or until tender.
How to Serve White Asparagus the Traditional Way
There's a one ALL-TIME favorite way of serving the white Spargel. Whether at home or eating out, this meal is a springtime must for most Germans.
The perfectly cooked asparagus is served with a wonderful Hollandaise sauce alongside boiled potatoes and ham.

Germans can make the sauce quickly and easily since the farm stores in Germany sell the sauce ready-made.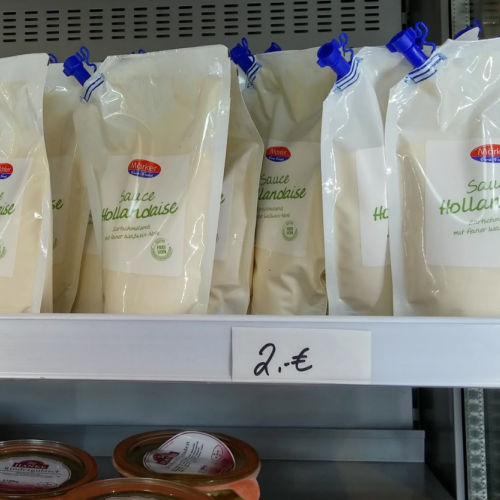 My easy recipe for Hollandaise sauce, found in the recipe card below, is the very easy Oma way to make it at home - in a blender!
It's a simple version of a Hollandaise sauce that my Mutti used to make with white asparagus. Easy German food, just the way I like it!
Oma says,
I KNOW some will say that the "Blender Hollandaise" is not a real Hollandaise! That's OK. You can make it the traditional way if you wish.
Personally, I like quick and when it turns out as wonderful as the recipe below, I've not gone back to making it the traditional way. This way, using the blender, is so much easier! And, I LOVE easy! :)

If you can't get the white asparagus, or it's too expensive, then do use the green one for this meal. You only need to break off the tough ends and cook for a bit shorter time. Personally, I really, really like the green asparagus. :)
More Delicious Asparagus Recipes
Ready to make this delicious recipe?
Is the recipe below locked? Here's why.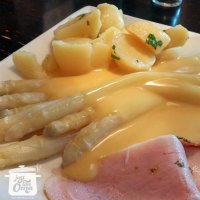 White Asparagus with Easy Hollandaise Sauce: Oma's Spargel mit Sosse

This is the best white asparagus recipe that is traditionally German. If you can't get the white asparagus, or it's too expensive, then do use the green one for this meal. You only need to break off the tough ends and cook for a bit shorter time. Then serve with boiled potatoes and ham. Yum!
Prep Time


10 minutes


Cook Time


10 minutes


Total Time

20 minutes

Servings:

Makes 4 servings
Ingredients:
Asparagus
2 pounds (907 gram) white asparagus spears
1 tablespoon (13 grams) sugar
1 tablespoon (18 grams) salt
"Hollandaise" Sauce

2 large egg yolks
1 tablespoon (15 milliliter) warm water
1 tablespoon (15 milliliter) lemon juice
½ cup (114 grams) salted butter
salt, cayenne
Instructions:
Cook the Asparagus:
Using an asparagus cooker/steamer or a large pot, bring water to a boil over high heat.
Peel the tough outer layer of the asparagus with a vegetable peeler, and cut off the woody ends.
Add sugar and salt to the boiling water. Gently place asparagus into the hot water and, once it is boiling again, reduce heat and simmer gently for about 10 minutes or until tender.
Remove from water and keep warm until sauce is ready.
Make the Sauce:
Into a blender, place the egg yolks, water, and lemon juice. Blend for about 30 seconds or until frothy.
Melt butter (either in microwave or on stove).

With the blender turned on, slowly add the melted butter to the egg mixture. Blend until the sauce is thickened.

Season with salt and a pinch of cayenne, if desired.
Serve over asparagus and alongside some boiled potatoes and sliced ham.
Notes/Hints:
Another delicious way to enjoy this delicate vegetable is roasted. Simply toss the peeled white asparagus (or green) with a bit of olive oil, salt, black pepper, and garlic powder. Place asparagus in a single layer on a baking sheet and roast in a 400°F oven for about 20 minutes.
*  *  *  *  *

Unless otherwise noted recipe, images and content © Just like Oma | www.quick-german-recipes.com

04.09.2022 revision update
Leave a comment about this recipe or ask a question?

Pop right over to my private Facebook group, the Kaffeeklatschers. You'll find thousands of German foodies, all eager to help and to talk about all things German, especially these yummy foods. 
Meet with us around Oma's table, pull up a chair, grab a coffee and a piece of Apfelstrudel, and enjoy the visit.

Cooking just like Oma, making those German meals, is actually quite easy. Let me, Oma Gerhild, help you with my step-by-step methods to re-create those yummy meals you remember from your Oma.

If you're looking for tasty, traditional, and easy German cake recipes (in English) to try, then you've come to the right place! Check out these lecker treats!

Discover the ultimate German schnitzel recipe with Oma's quick and easy method - perfect for any occasion! Taste the authentic flavors of Germany today.
*  *  *  *  *
PIN to SAVE this recipe to your Pinterest board!
And let's be friends on Pinterest!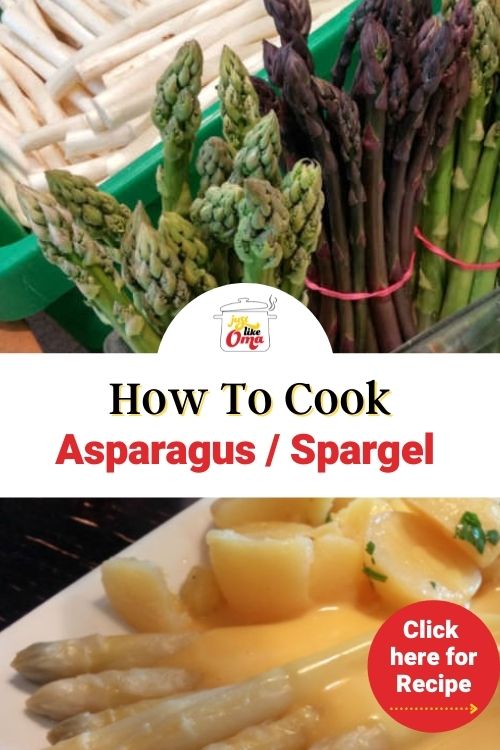 ---
How to Cook Asparagus ~ Oma's Spargel


By
Oma Gerhild Fulson
Don't know how to cook asparagus, aka Spargel? Check out this traditional way to make it German-style, served with an easy Hollandaise sauce. Wunderbar!

Ingredients:
asparagus,
sugar,
egg yolks,
lemon juice,
butter,
seasonings,
For the full recipe, scroll up ...
Words to the Wise
"Good planning and hard work lead to prosperity, but hasty shortcuts lead to poverty."
Proverbs 21:5 (NLT)