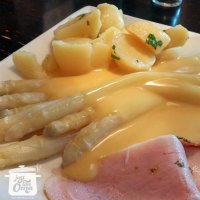 German Asparagus with "Hollandaise" Sauce

If you can't get the white asparagus, or it's too expensive, then do use the green one for this meal. You only need to break off the tough ends and cook for a bit shorter time. Then serve with boiled potatoes and ham. Yum!

Prep Time


10 minutes


Cook Time


10 minutes


Total Time

20 minutes

Servings:

Makes 4 servings
Ingredients:
Asparagus
2 pounds (907 gram) white asparagus
1 tablespoon (13 grams) sugar
1 tablespoon (18 grams) salt
"Hollandaise" Sauce

2 large egg yolks
1 tablespoon (15 milliliter) warm water
1 tablespoon (15 milliliter) lemon juice
½ cup (114 grams) salted butter
salt, cayenne
Instructions:
Cook the Asparagus:
Using an asparagus cooker/steamer or a large pot, bring water to a boil over high heat.
Peel the asparagus, cutting off the woody ends.
Add sugar and salt to boiling water. Gently place asparagus into the water and, once it is boiling again, reduce heat and simmer gently for about 10 minutes or until tender.
Remove from water and keep warm until sauce is ready.
Make the Sauce:
Into a blender, place the egg yolks, water and lemon juice. Blend for about 30 seconds or until frothy.
Melt butter (either in microwave or on stove). 
With the blender turned on, slowly add the hot butter to the egg mixture. Blend until sauce is thickened.
Season with salt and a pinch of cayenne, if desired.
Serve over asparagus and alongside some boiled potatoes and sliced ham.
*  *  *  *  *

Unless otherwise noted recipe, images and content © Just like Oma | www.quick-german-recipes.com

03.06.2021 revision update