Oma's German Asparagus Salad Recipe ~ Spargelsalat

➤ by Oma Gerhild Fulson
This German Asparagus Salad recipe, aka Spargelsalat, is one of those great spring recipes. It makes a great luncheon meal that's both light and tasty. 
For about 6 weeks every spring, asparagus is THE vegetable throughout Germany. Even the finest restaurants have a separate Spargel menu that has various dishes, all starring the tasty white asparagus that grows throughout the region.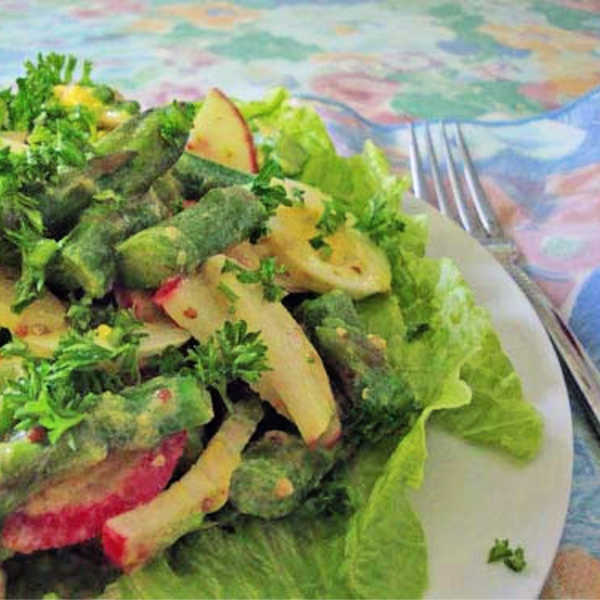 For this recipe you can use either green or white asparagus. The only difference is in the preparation of the asparagus ... the white needs to be peeled and then cooked just a tad longer.
This salad is so delectable with its hard boiled eggs, radishes, and green onions that complement the asparagus.

---
More tips for Spargelsalat ...
Adding the eggs provides protein for this dish, making it an excellent meal all on its own. Or omit the eggs to make it vegan. 
In that case, though, this recipe would make enough for 2 - 3 people. As a side dish, it would serve 4.
---
Grab your copy of Oma's favorite asparagus recipes in A is for Asparagus eCookbook.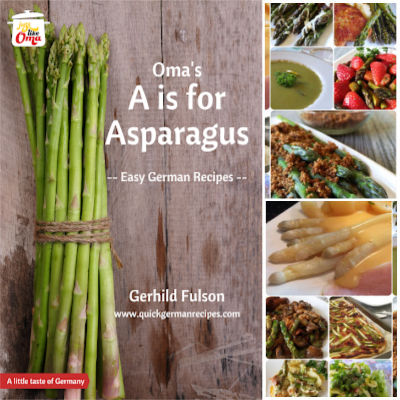 Take a peek at all Oma's eCookbooks. They make sharing your German heritage a delicious adventure!
The most commonly served meal is boiled white asparagus with a white Hollandaise sauce, sliced ham, and boiled potatoes.
Below, though, is one of the delicious alternative recipes for asparagus that use this spring-time treat. Nothing says spring like fresh asparagus. 
If at all possible, try to use white asparagus. Cut off the tough end and then peel the stalk. If you can't get the white variety, which is traditional for this recipe, you can use green asparagus.
It isn't necessary to peel green asparagus, just snap off the tough bottom ends and reduce the cooking time.
Make the Asparagus Salad traditional or vegan!
Below, my 13-year granddaughter, Lydia, makes this as a traditional and vegan version, since for this dinner party we had some vegan guests.
Instead of putting the sliced eggs right into the salad and mixing it, she served them on the side. That way, everyone could enjoy this!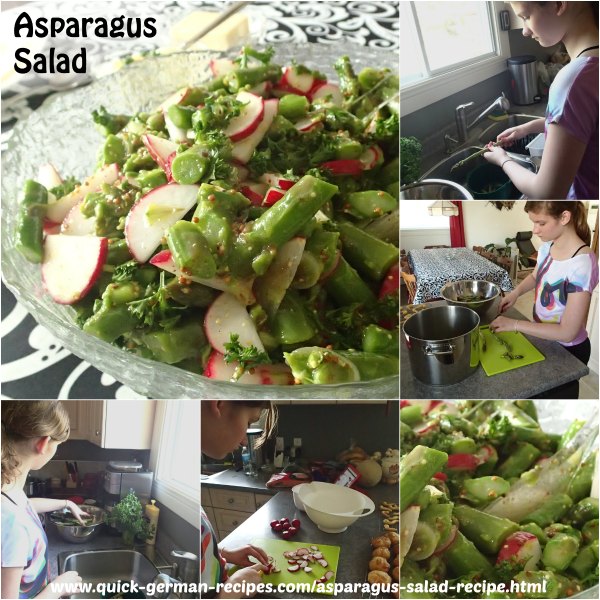 Ready to make this asparagus salad?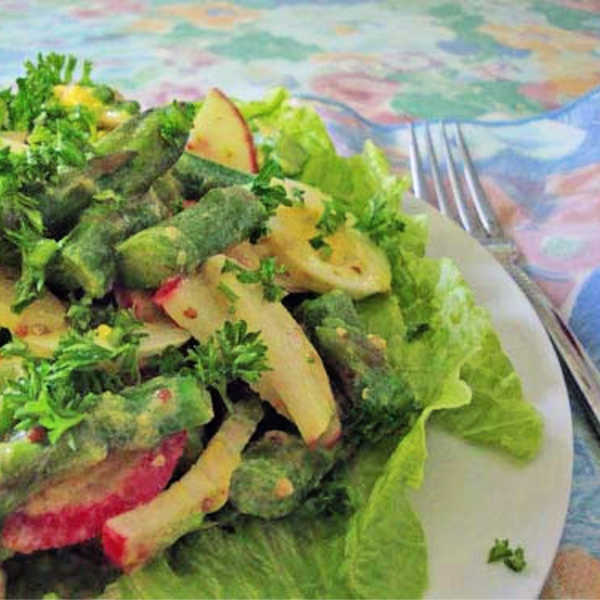 Oma's German Asparagus Salad Recipe ~ Spargelsalat
This German Asparagus Salad recipe, aka Spargelsalat, is one of those great spring recipes. It makes a great luncheon meal that's both light and tasty.
Omit the eggs and this becomes a vegan salad.  Or serve the eggs on the side, and everyone can enjoy this, vegan or not.

Prep Time


10 minutes


Cook Time


5 minutes


Total Time

15 minutes

Servings:

Makes 4 servings
Ingredients:
1½ lb asparagus 
salt, pepper
2 large hard-boiled eggs, peeled and chopped or sliced
4 - 6 radishes, sliced
4 green onions, sliced
2 tbsp white wine vinegar
3 tbsp sunflower oil
1 tbsp mustard (optional)
2 tbsp chopped parsley
Instructions:
For white asparagus, peel, cut off tough ends, and cut into bite-sized pieces. Cook in simmering salted water for about 10 - 15 minutes, until tender. 
For green asparagus, snap off tough ends. Cut into bite-sized pieces and cook in simmering salted water about 5 minutes, until tender.

Drain asparagus and put into bowl.

Add chopped eggs, sliced radishes and onions to bowl.

(Omit the eggs if you're making this vegan.)

In separate bowl, mix vinegar and oil (and mustard, if using).

Pour dressing over asparagus mixture. Mix gently, re-seasoning with salt and pepper. Garnish with parsley to serve.
*  *  *  *  *

Unless otherwise noted recipe, images and content © Just like Oma | www.quick-german-recipes.com

Leave a comment about this recipe or ask a question?

Pop right over to my private Facebook group, the Kaffeeklatschers. You'll find thousands of German foodies, all eager to help and to talk about all things German, especially these yummy foods. 
Meet with us around Oma's table, pull up a chair, grab a coffee and a piece of Apfelstrudel, and enjoy the visit.

Oma's Cream Roll recipe, Biskuitrolle, is the German version of a Swiss roll or jelly roll. Filled with whipped cream and studded with berries, this is an easy-to-make treat anytime of the year.

Make this pan roasted carrot recipe when you're wanting quick and easy carrots just like this German Oma makes them. Similar to oven roasted, just quicker. YUM!

Cooking green beans, German-style, makes a wonderful side dish for almost any meal. Cooking the grüne Bohnen till just tender with a creamy white sauce is so traditional and so lecker!
*  *  *  *  *
PIN this ...
---
Oma's German Asparagus Salad Recipe ~ Spargelsalat
By
Oma Gerhild Fulson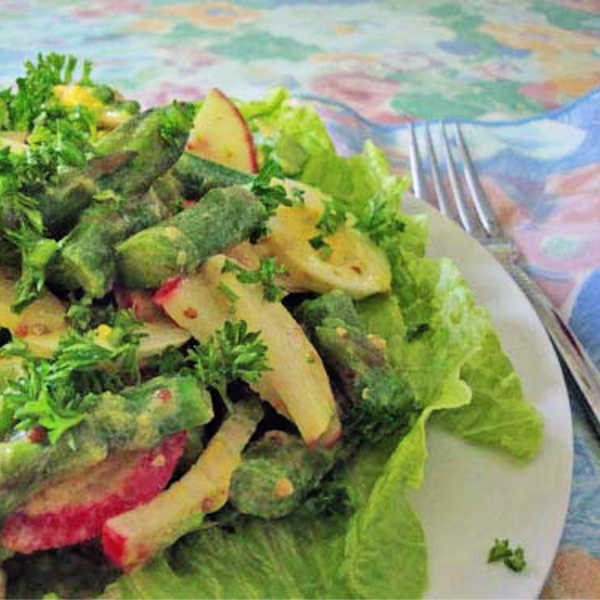 Oma's German asparagus salad recipe is one of those great spring asparagus recipes. It makes a such a great luncheon meal that's light and tasty. Hurry up, Spring! I WANT asparagus!
Ingredients:
asparagus,
seasonings,
eggs,
green onion,
radishes,
white wine vinegar,
oil,
mustard,
parsley,
For the full recipe, scroll up ...
Words to the Wise
"Fathers can give their sons an inheritance of houses and wealth, but only the Lord can give an understanding wife."
Proverbs 19:14 (NLT)