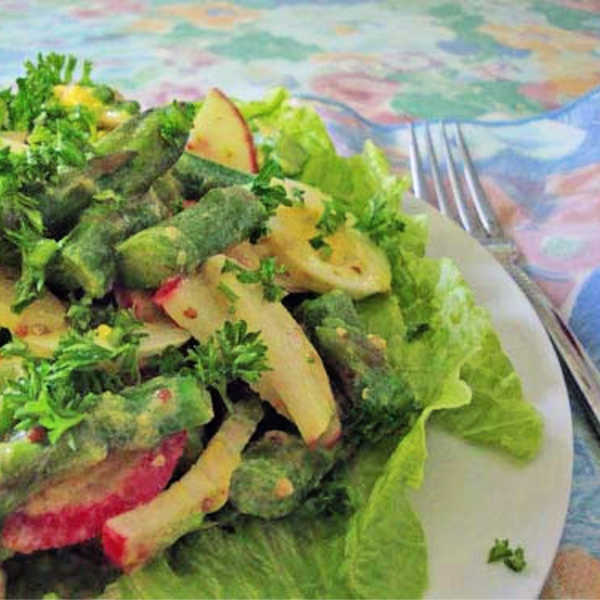 Oma's German Asparagus Salad Recipe ~ Spargelsalat
This German Asparagus Salad recipe, aka Spargelsalat, is one of those great spring recipes. It makes a great luncheon meal that's both light and tasty.
Omit the eggs and this becomes a vegan salad.  Or serve the eggs on the side, and everyone can enjoy this, vegan or not.

Prep Time


10 minutes


Cook Time


5 minutes


Total Time

15 minutes

Servings:

Makes 4 servings
Ingredients:
1½ pounds asparagus 
salt, pepper
2 large hard-boiled eggs, peeled and chopped or sliced
4 - 6 radishes, sliced
4 green onions, sliced
2 tablespoons white wine vinegar
3 tablespoons sunflower oil
1 tablespoon mustard (optional)
2 tablespoons chopped parsley
Instructions:
For white asparagus, peel, cut off tough ends, and cut into bite-sized pieces. Cook in simmering salted water for about 10 to 15 minutes, until tender. 
For green asparagus, snap off tough ends. Cut into bite-sized pieces and cook in simmering salted water about 5 minutes, until tender.

Drain asparagus and put into bowl.

Add chopped eggs, sliced radishes and onions to bowl.

(Omit the eggs if you're making this vegan.)

In separate bowl, mix vinegar and oil (and mustard, if using).

Pour dressing over asparagus mixture. Mix gently, re-seasoning with salt and pepper. Garnish with parsley to serve.
*  *  *  *  *

Unless otherwise noted recipe, images and content © Just like Oma | www.quick-german-recipes.com