Easy German Green Bean Soup Recipe – Oma's Grüne Bohnensuppe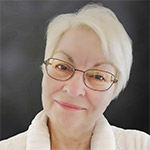 by: Gerhild Fulson  /  Cookbook Author, Blogger, German Oma!
As an Amazon Associate, I earn from qualifying purchases.
This easy German Green Bean Soup, aka Grüne Bohnensuppe, is something I'll make when I'm strapped for time and need something easy and quick, and so delicious. It's one that all the family members love at any time of the year.
It's a traditional German soup that's a complete meal and the start of something amazing, since you can make so many variations on this favorite soup.
This is a great recipe to learn how to cook a delicious soup in the way that Oma does. It's "a bit of this and a bit of that." If you've never cooked that way, try it.
First follow my recipe below the first time and then do some experimenting.
Can you pressure can this green bean soup?
One of our readers, Judy Goeringer, wrote in to let me know that she's pressure canned this soup with great success. I'll add her recipe adjustments right under the recipe card below, so you can make it as well.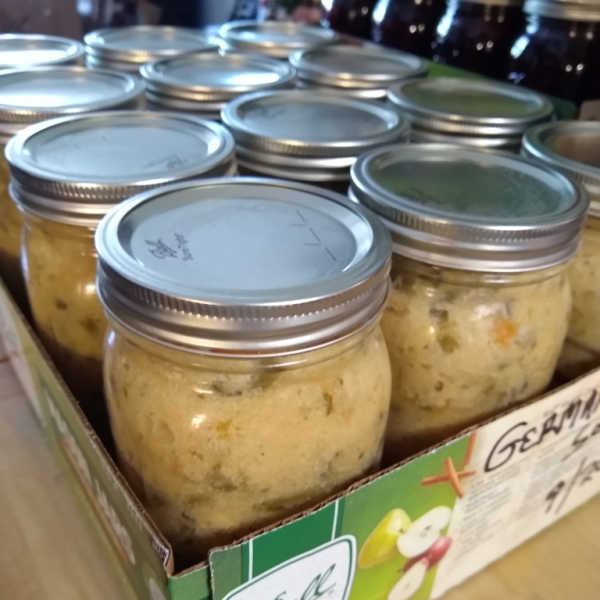 Above are Judy's jars of German green bean soup, ready to be stored away for future use.
What ingredients to use for Oma's green bean soup?

This is the fun part of this recipe. It's where the experimenting happens!
Fresh ingredients are always best. That means fresh green beans in this case. However, fresh beans aren't the only option. I frequently use frozen green beans. In fact, I'll always have a couple of bags of frozen ones in the freezer, just for this soup. Even canned beans work.
For the meat, you can use raw lean ground beef. If you have some ham hocks, smoked sausage, or kielbasa (cut into bite-sized pieces), that works great as well. Or perhaps you have some leftover roast, pork or beef, and maybe some gravy. If you are using cooked meat, omit the oil and add the cut-up meat to the frozen beans. You can also fry bacon and add that, using the grease from that to brown the ground beef.

For the liquid, the easiest is water. Especially if you're using raw beef, you'll end up creating a broth from this. However, using chicken broth, vegetable broth, or beef broth is great. If you don't have any, you can use a bouillon cube or two. If you have leftover gravy, add that as well.
For the potatoes, use raw ones, cut in chunks, or if there are leftover cooked potatoes, use them. Leftover mashed potatoes work great too. Or instant mashed potatoes, or canned potatoes – whatever you have! For quantities of these types of potatoes – it depends on how thick you want the soup. Adding these cooked potatoes once the beans are cooked, will give you a German green bean soup in about 15 minutes.
For the onions, really any kind will do. I usually use just plain cooking onions for most of my cooking. Red will work. Green onions would be interesting to add towards the end.
For the seasonings, Bohnenkraut is essential!!!! It's that ingredient that MAKES this a German food! And what is Bohnenkraut? Summer Savory. I also use Vegeta in my soup. This is a seasoning mix. If you can't get that, just season with salt and pepper. Add Maggi if you like. 
Make this a colorful green bean soup by adding some sliced carrots or canned tomato chunks.
Grab your copy of Oma's favorite soups collection in Quick Fix German Soups e-Cookbook. You'll LOVE it!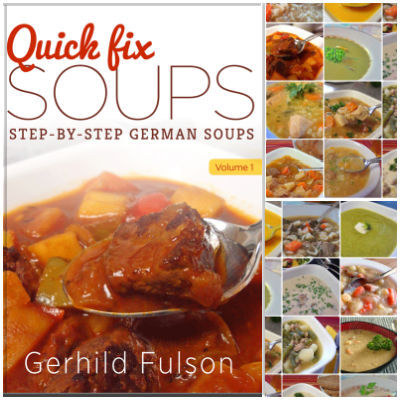 Take a peek at all Oma's eCookbooks. They make sharing your German heritage a delicious adventure!
Here's how to make Oma's Grüne Bohnensuppe:
Get your ingredients ready, peeling those potatoes and dicing the peeled onion.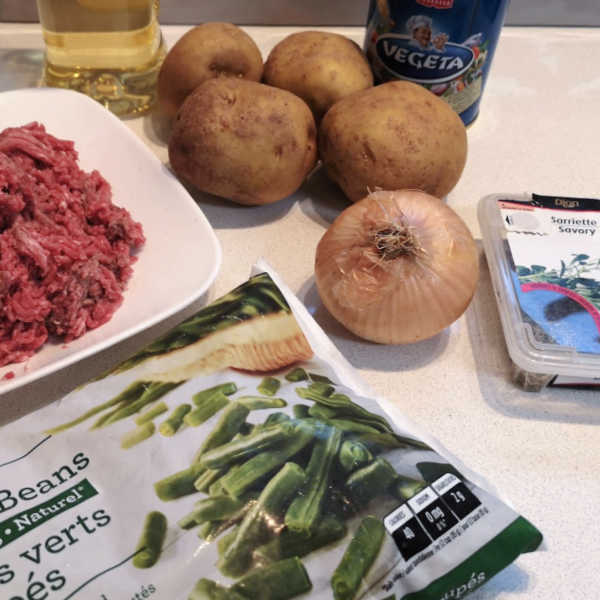 Brown the ground beef and add the onion. Sauté until the onion is translucent. You don't need to get it golden brown, although if that happens, that's fine. It's more flavor.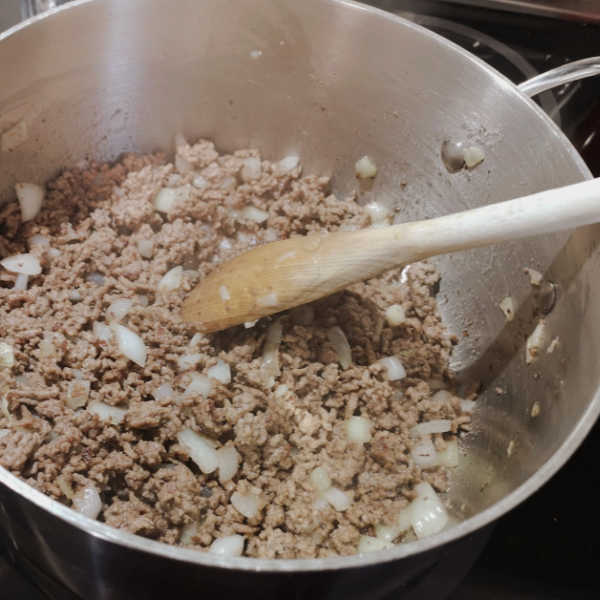 Add the remaining ingredients. When you add the broth, use your wooden spoon to scrape up any browned bits at the bottom of your pot. This is the flavor that will make your soup awesome!

Bring to a boil, reduce the heat, cover, and simmer until those veggies are tender. It will only take about 15 minutes.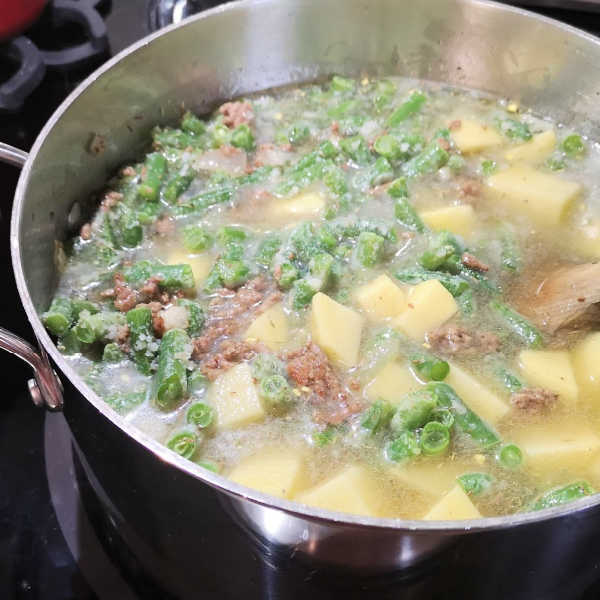 Now you get to choose how you want to serve your soup. Either creamy or with a clear broth. If this is being served as a light lunch, side dish, or an appetizer, then probably keeping it as a clear broth is best.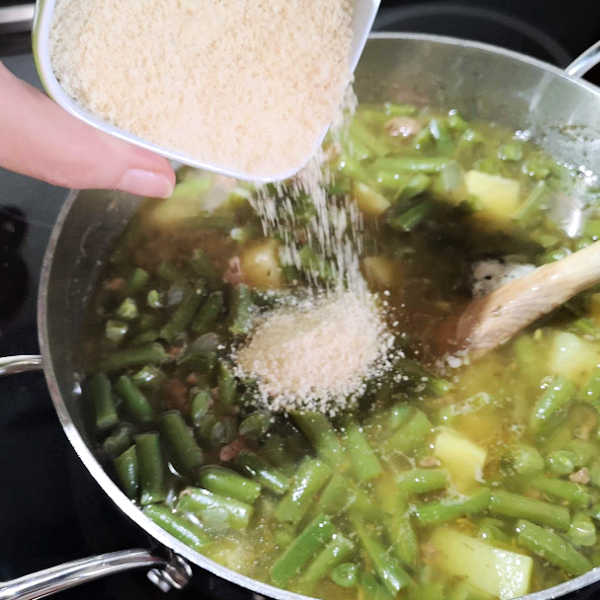 However, if this is going to be your main meal, then adding those instant mashed potato flakes to thicken this hearty soup is a great idea.
Those potato flakes will increase the potato flavor of this soup. Delicious! Using Yukon gold potatoes brings a nice yellow color complement to the green beans. 
Enjoy!
---
Hummus?
Yep. Hummus. Sylvie, my daughter-in-law, shares that hummus is delicious in this to add extra zing.  Her easy hummus recipe is so quick to make and it's becoming wildly popular in Germany. Try it. I think you'll like it too!
---
Oma says,

All you really need for the green bean soup is a bag of frozen green beans, some type of potato, some kind of meat (raw or cooked), some kind of liquid, whether water, chicken stock or such, some seasonings, and about 20 minutes.
This soup is really among my favorite quick and easy soup recipes. It actually shows how to make soup in a really easy way.
Ready to make German Green Bean Soup?
Is the recipe below locked? Here's why. 
As an Amazon Associate, I earn from qualifying purchases.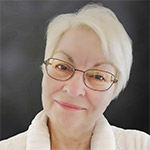 For more German-inspired items that make life easier and yummier, especially in the kitchen and for entertaining, follow my Amazon Storefront.
➙ For groceries,
Try Amazon Fresh
.
Easy German Green Bean Soup Recipe – Oma's Grüne Bohnensuppe
Grandma's green bean soup, aka Oma's Grüne Bohnensuppe, is a great option when you don't have much time to make dinner. It's so easy, so quick, and so delicious. The whole family loves it.
Check the Notes/Hints section below for all the tips you'll need. Serve some homemade artisan bread on the side. Yum!
Prep Time


10 minutes


Cook Time


30 minutes


Total Time

40 minutes

Servings:

Makes 6 - 8 servings
Ingredients:
1 - 2 tablespoons olive oil
1 pound ground lean beef, (see notes below)
1 medium onion, diced
2 pounds bag frozen cut green beans
about 1 teaspoon dried summer savory (Bohnenkraut) 
1 - 1½ tablespoons Vegeta Food Seasoning (see notes below)
5 cups cubed raw potatoes, see below for other ideas
about 6 cups beef broth or water
about ½ cup instant mashed potato flakes (optional)
salt and freshly ground pepper
Instructions:
In large pot or a large saucepan over medium high heat, heat the oil and sauté the ground beef until it starts to brown.
Add onions. Continue to sauté onions until they are translucent.
Add frozen green beans and raw potatoes. (If using cooked potatoes, add once beans are cooked and just reheat.)
Add just enough broth to almost cover veggies. Scrape up any browned bits at the bottom of the pot.
Add savory and Vegeta and stir. 
Bring to boil and lower to a medium-low heat. Cover and simmer for about 15 minutes until vegetables are tender. 
Stir in just enough instant mashed potato flakes to thicken the broth of the soup, if using. Soup will thicken slightly more as it rests after adding the potato flakes.
Season with salt, pepper, and extra summer savory, if desired.
Notes/Hints:

Garnish with fresh parsley or fresh dill with their bright green color.
Add Maggi to taste.
Instead of raw potatoes, add leftover cooked potatoes or mashed potatoes. Add this at the end of the cooking process and simmer until hot.
Instead of ground meat, use ham hocks, smoked sausage or kielbasa. Add it after you brown the onions. Leftover meat can be added at the end instead.
Instead of frozen beans, use fresh beans. First trim them and cut into small pieces.
Add garlic cloves, bay leaves, or a ham bone to the simmering soup.
Vegeta Food Seasoning has salt and dried vegetables in it. If you don't have this, add about 1 teaspoon salt and some pepper to start. Adjust seasonings to taste.
If you like soup with a clear broth, omit the instant mashed potato flakes.
This can be made in the slow cooker by putting all the ingredients (after browning the ground beef and onion) into a slow cooker and setting it to low for about 6 hours.
To make this more of a rich soup, serve it with a dollop of sour cream.
This tastes wonderful the next day.
Serve some homemade bread or rye bread with this to make it a main meal. Perfection!
If you love German cooking, then you'll love another one of my favorites: German Lentil Soup
*  *  *  *  *

Unless otherwise noted recipe, images and content © Just like Oma | www.quick-german-recipes.com

04.18.2023 revision update
Here's Judy's Recipe for Pressure Canning this German Green Bean Soup
It's been years since I've pressure canned, so I'm really glad Judy shared how to do it here. ~ Oma Gerhild 
For 7 quarts, the measurements change to:
Ingredients:
If using ground beef, fry as usual (approx. 1.75 pounds)
1.75 medium onion (approx.)
3.3 pounds green beans
1.75 teaspoons Bohnenkraut (if adding 2x) 3.5 teaspoons
8.3 cups potatoes (I used instant mashed because that's what I had at the time)
10 cups broth, water, or combination
I did not have Vegeta Food Seasoning but added Maggi
salt and pepper to taste
Instructions: 
You do not need to cook everything before putting into pressure canner.
Add all to huge pot (your potatoes will be warm), stir, fill jars, wipe rims, put lids and seals on, put in pressure canner, 25 minutes at 10 pounds, depending on altitude.
If using meat, (potatoes and meat will be warm), add all to huge pot, stir, fill jars, wipe rims, put lids and seals on, put in pressure canner, 90 minutes at 10 pounds (because of the meat).
You will get more jars by adding meat.  After your jars are filled, eat the rest!
You may also simply add meat when ready to open a jar or two!
~ Judy Goeringer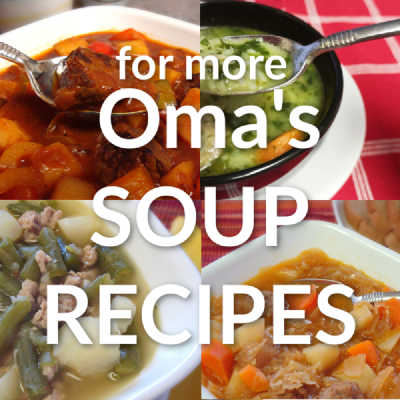 Leave a comment about this recipe or ask a question?

Pop right over to my private Facebook group, the Kaffeeklatschers. You'll find thousands of German foodies, all eager to help and to talk about all things German, especially these yummy foods. 
Meet with us around Oma's table, pull up a chair, grab a coffee and a piece of Apfelstrudel, and enjoy the visit.

Choose from Oma's cookbooks that are immediately downloadable & start cooking easy classic German foods tonight. Or get her newest paperback cookbook. LECKER!

Kaiserschmarrn are among those homemade pancake recipes that will remind you of Oma's kitchen. A traditional Austrian & German light and fluffy shredded pancake.

Discover the ultimate German schnitzel recipe with Oma's quick, easy, and delicious pork version - perfect for any occasion! Taste the authentic flavors of Germany today.
*  *  *  *  *
PIN to SAVE this recipe to your Pinterest board!
And let's be friends on Pinterest!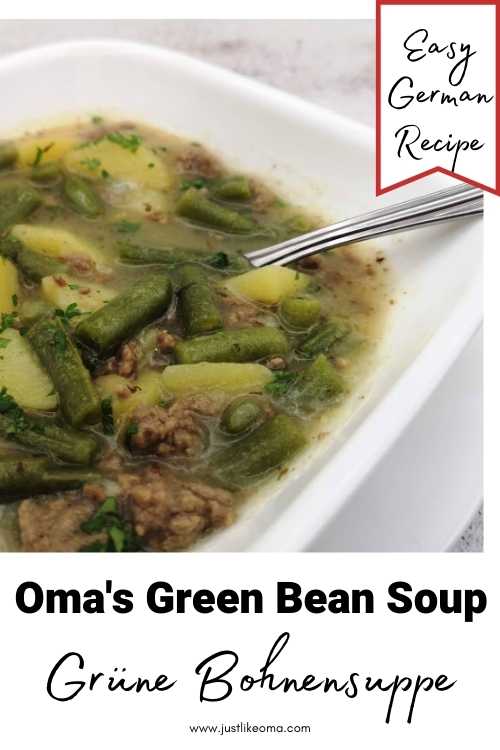 ---
Easy German Green Bean Soup Recipe ~ Oma's Grüne Bohnensuppe
By
Oma Gerhild Fulson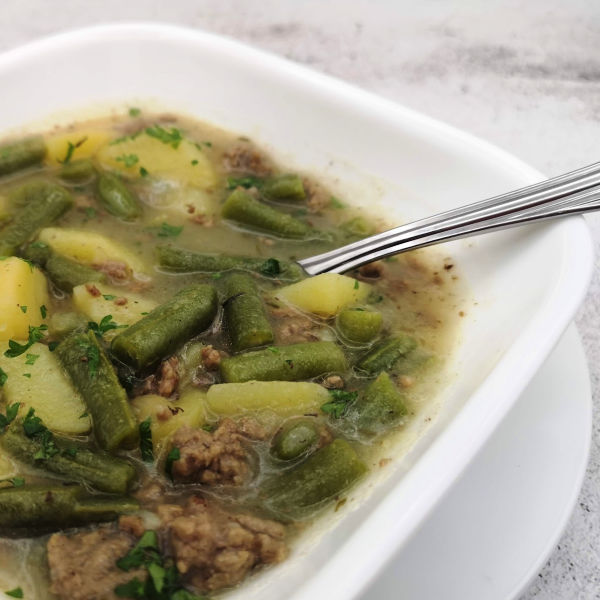 Oma's Green Bean Soup recipe is so easy. A traditional grüne Bohnensuppe that uses a basic method that's the start of so many variations on the original German soup.
Ingredients:
potatoes,
ground beef,
green beans,
onion,
Vegeta or seasonings,
For the full recipe, scroll up ...
Words to the Wise
"Kind words are like honey -- sweet to the soul and healthy for the body."
Proverbs 16:24 (NLT)