Oma's Green Bean Soup
➤ by Oma Gerhild Fulson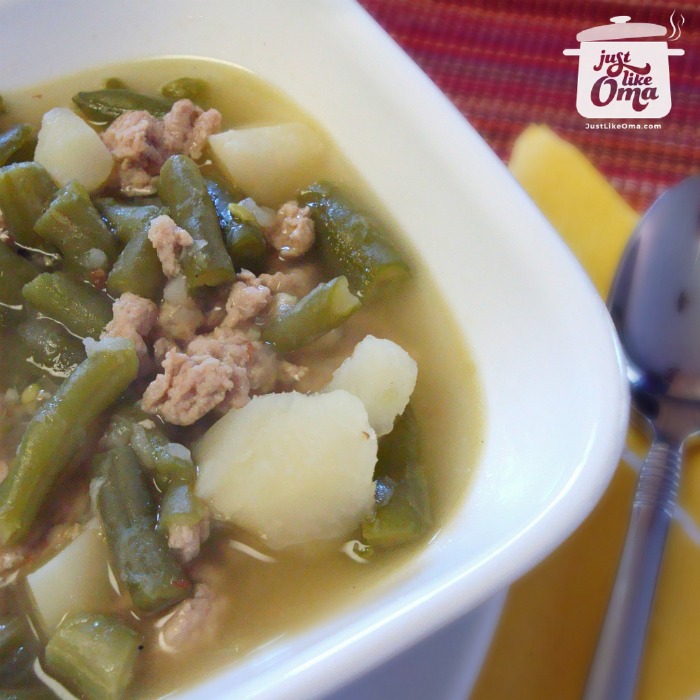 My Green Bean Soup, aka Grüne Bohnensuppe, is an emergency dinner that I often use when I don't have time to make anything else. It's so easy, so quick, and so delicious.
Not only that, but there are so many options making this traditional German soup the start of something amazing. Learn how to make this soup and you'll have so many ideas on creating your own variations.
It comes from the idea of "a bit of this and a bit of that." If you've never cooked that way, try this soup. Follow the instructions and then do some experimenting.

Grab your copy of Oma's favorite soups collection in Quick Fix German Soups e-Cookbook. You'll LOVE it!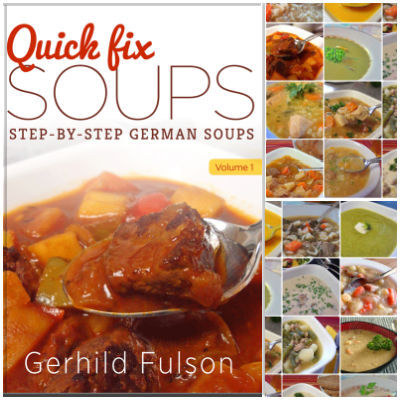 Take a peek at all Oma's eCookbooks. They make sharing your German heritage a delicious adventure!
What kind of meat and potatoes to use ...
For the meat, you can use raw ground beef (lean). If you have some smoked sausage or kielbasa (cut into chunks), that works great as well.
Or perhaps you have some leftover roast, pork or beef, and maybe some gravy. If you are using cooked meat, omit the oil and add the cut-up meat to the frozen beans.
To get a meatier flavor, add some bouillon cubes. If you have leftover gravy, you can add that as well.
For the potatoes, you can use raw ones (peeled or unpeeled), cut in chunks, or if there are leftover cooked potatoes, use them. Leftover mashed potatoes work great too. Or instant mashed potatoes, or canned potatoes - whatever you have!
For quantities of these types of potatoes - it depends how thick you want the soup. Adding these cooked potatoes once the beans are cooked, will give you a German Green Bean Soup in about 15 minutes.
Oma says,

All you need for the Green Bean Soup is a bag of frozen green beans, some type of potato, some kind of meat (raw or cooked), some spices, and about 20 minutes.

This soup is really among my favorite quick and easy soup recipes. It actually shows how to make soup in a really easy way.

Ready to make Green Bean Soup?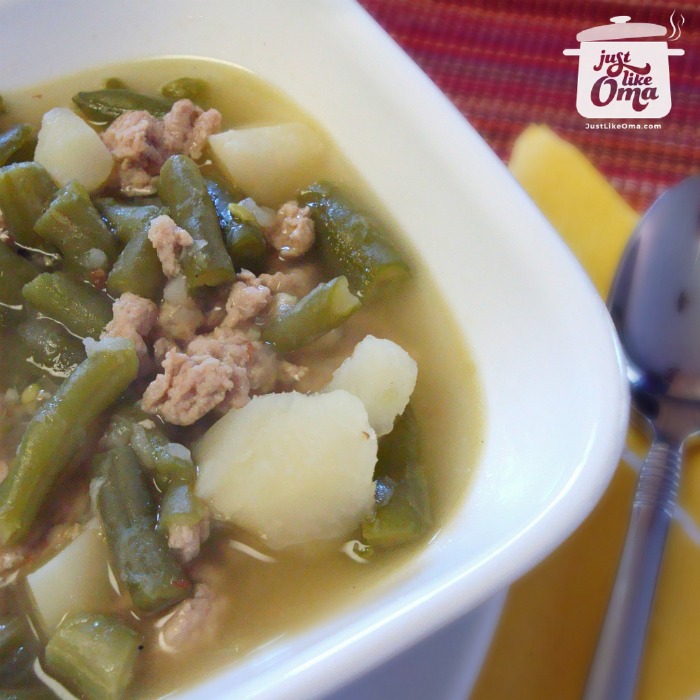 Oma's Green Bean Soup Recipe

My Green Bean Soup, aka Grüne Bohnensuppe, is an emergency dinner that I often use when I don't have time to make anything else. It's so easy, so quick, and so delicious.
Learn how to make this soup and you'll have so many ideas on creating your own variations. Serve some homemade artisan bread on the side. Yum!
Prep Time


10 minutes


Cook Time


30 minutes


Total Time

40 minutes

Servings:

Makes 4 - 6 servings
Ingredients:
1 - 2 tbsp oil
1 lb ground beef, lean, see below for other ideas
1 medium onion, chopped
2 lb bag frozen green beans
about 1 tsp dried summer savory (Bohnenkraut) 
1 - 2 tbsp Vegeta Food Seasoning (see notes below)
5 cups potatoes, cut up, see below for other ideas
salt and pepper
Instructions:
In large pot, heat oil and brown ground beef.
Add chopped onion, cook till translucent or slightly browned.
Add frozen green beans. Add raw potatoes. (If using cooked potatoes, add once beans are cooked and just reheat.)
Add sufficient water to cover.
Add savory and Vegeta. 
Bring to boil. Reduce heat to simmer. Cover and cook for about 20 minutes, until vegetables are soft. Cooking longer will improve the flavor. 
Season with salt, pepper, and extra summer savory, if desired.
Notes/Hints:

Add celery seeds or parsley to taste.
Add Maggi to taste.
Vegeta Food Seasoning has salt and dried vegetables in it. If you don't have this, just add about 1 tsp salt and some pepper to start. Adjust seasonings to taste.
If you like soup "brothy", just leave the way it is. However, my family likes it thicker (creamier). The easy way is to slowly add Instant Mashed Potato flakes, stirring constantly, until the soup is the consistency you like.
Another way to thicken the soup is to grate a raw potato into the soup right at the beginning.
You can also thicken it with 1 - 2 tbsp cornstarch dissolved in a little cold water. Add to finished soup, slowly, until it's the way you like it.
Serve some homemade bread with this. Perfection!
*  *  *  *  *

Unless otherwise noted recipe, images and content © Just like Oma | www.quick-german-recipes.com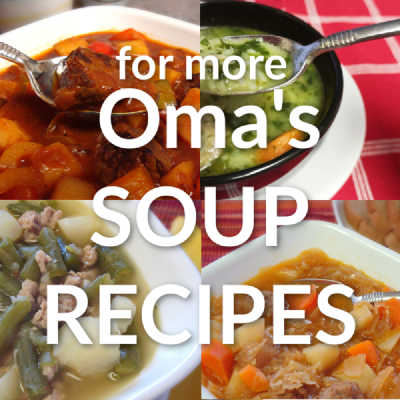 Leave a comment about this recipe or ask a question?

Pop right over to my private Facebook group, the Kaffeeklatschers. You'll find thousands of German foodies, all eager to help and to talk about all things German, especially these yummy foods. 
Meet with us around Oma's table, pull up a chair, grab a coffee and a piece of Apfelstrudel, and enjoy the visit.

Oma's Cream Roll recipe, Biskuitrolle, is the German version of a Swiss roll or jelly roll. Filled with whipped cream and studded with berries, this is an easy-to-make treat anytime of the year.

Make this pan roasted carrot recipe when you're wanting quick and easy carrots just like this German Oma makes them. Similar to oven roasted, just quicker. YUM!

Cooking green beans, German-style, makes a wonderful side dish for almost any meal. Cooking the grüne Bohnen till just tender with a creamy white sauce is so traditional and so lecker!
*  *  *  *  *
PIN this …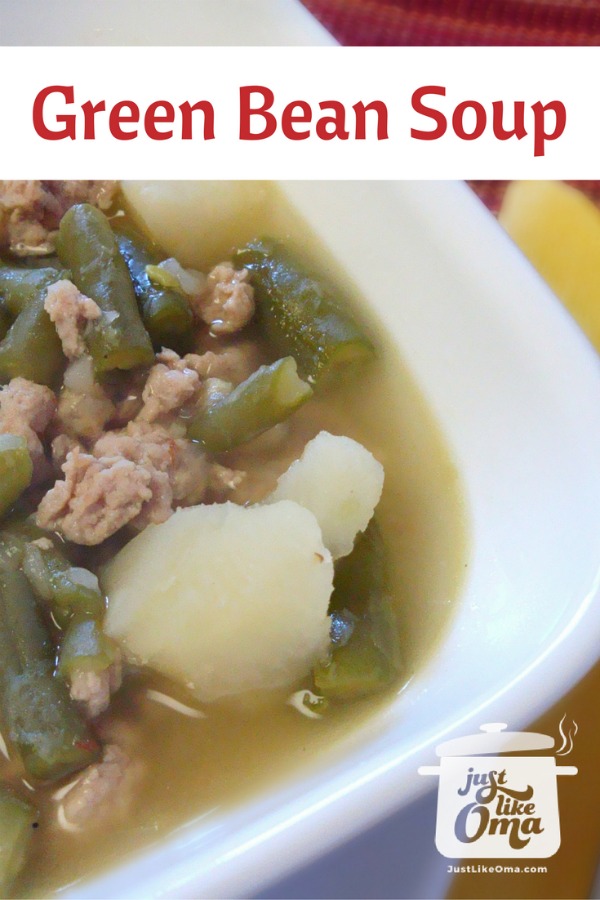 ---
German Green Bean Soup made Just like Oma
By
Oma Gerhild Fulson
Oma's green bean soup is so super easy and quick. A very traditional German soup that uses a basic method to make so many different types of soups.
Ingredients:
potatoes,
ground beef,
green beans,
onion,
Vegeta or spices,
For the full recipe, scroll up ...
Words to the Wise
"Kind words are like honey -- sweet to the soul and healthy for the body."
Proverbs 16:24 (NLT)