Mutti's Quick and Easy Turnip Soup ❤️
➤ by Oma Gerhild Fulson
FTC Disclosure: As an Amazon Associate, I earn from qualifying purchases.
Turnip soup? Yes, really! An unusual soup that tastes unusually good! Try this when you need something that's nourishing and quick.
Easy to make with just frozen turnips, frozen cooked meatballs, and frozen hash brown potatoes. That's it. Easy deliciousness!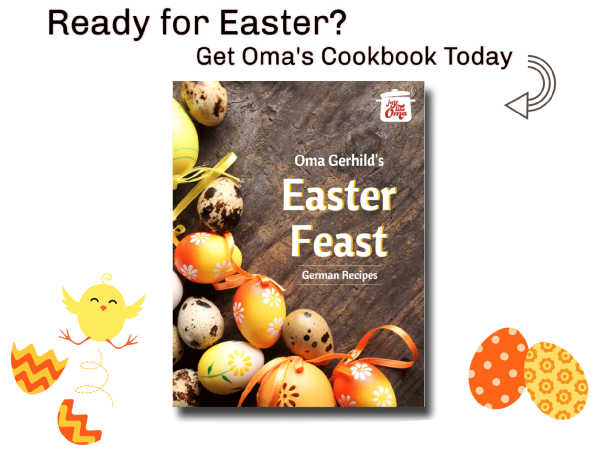 I learned this soup from my Mutti. It's loosely based on a German recipe, only instead of using fresh turnips, it uses frozen ones. If you really want to be cooking turnips from fresh, then you'll need a bit more time to peel and cube them. 
What makes these soups so wunderbar? They bring back such wonderful memories of my Mutti's kitchen. So, of course, I had to write my own soup e-cookbook to share with my grandchildren. I know you'll LOVE it, too!
There are 84 full-color pages filled with step-by-step instructions and hints. Take a quick peek ...
Sharing these soup recipes from my Mutti and Oma to my own young grandchildren ... that's such a delicious way to pass on our German heritage :)
A bit of this and a bit of that ...
> Add celery seeds and parsley to taste.
> For the meat, you could use beef brisket, meaty soup bones, or a small roast. If the meat is raw, you'll need to cook the soup long enough to cook the meat thoroughly. If you want extra flavour, brown any raw meat first in a bit of oil before adding the rest of the ingredients.
> You can use raw potatoes instead of the frozen hash brown potatoes. just wash and chop us some new potatoes (that way you don't need to peel them, since their skins are thin.)
> The Vegeta Food Seasoning has salt and dried vegetables in in. If you don't have this, just add about 1 tsp salt and some pepper to start.
> Like the soup thinner, then leave it the way it is. If you like it thicker and creamier, the easy way to do this is to gradually add just enough instant mashed potato flakes, stirring constantly, until the soup is as thick as you like.
Oma says,
When I start to get ready to make this soup, I put a kettle of water on to boil. 
That way, once I have all the ingredients in the pot, I can add boiling hot water and the soup will come to boil quicker.
Need some turnip recipes? Try this easy way how to cook turnips: SOUP! 

Mutti's Quick and Easy Turnip Soup ❤️
Ingredients:
2 lb bag frozen cubed turnips
1 lb bag frozen hash brown potatoes
1 lb (approx.) frozen cooked meatballs
1 tbsp Vegeta (or 1 tsp salt)
salt and pepper to taste
Instructions:

Into a large pot, put turnips, potatoes, meatballs, and Vegeta (or salt).
Add enough hot water to almost cover.
Bring to boil. Reduce heat to a simmer. Cover and cook for about 15 - 20 minutes. Longer cooking will improve the flavour.
Season with additional salt and freshly ground pepper.
Makes 4 servings

Want nutritional information? Copy and paste the above ingredient list and the number of servings into Calorie Count for an approximate calculation.
Need help doing conversions between cups and grams, etc.? Use this site to give you all the different conversions for the different types of ingredients.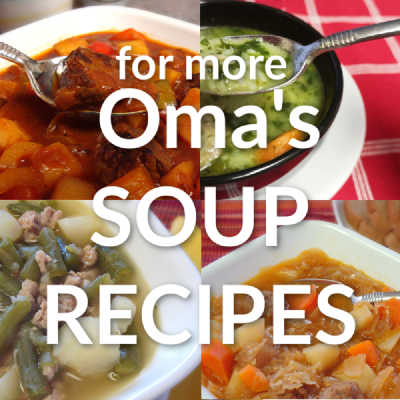 Leave a comment about this recipe or ask a question?
Pop right over to my private Facebook group, the Kaffeeklatschers. You'll find thousands of German foodies, all eager to help and to talk about all things German, especially these yummy foods. 
I pop in all the time as well, to chat and to answer questions. 
Meet with us around Oma's table, pull up a chair, grab a coffee and a piece of Apfelstrudel, and enjoy the visit.
*  *  *  *  *
Want nutritional information for a recipe?
Copy and paste the ingredient list and the number of servings into Calorie Count. 
It will give you an approximate calculation.

Need help doing conversions
between cups and grams or any such thing?
Use this site to give you all the different conversions for the different types of ingredients. 
---
PIN this ...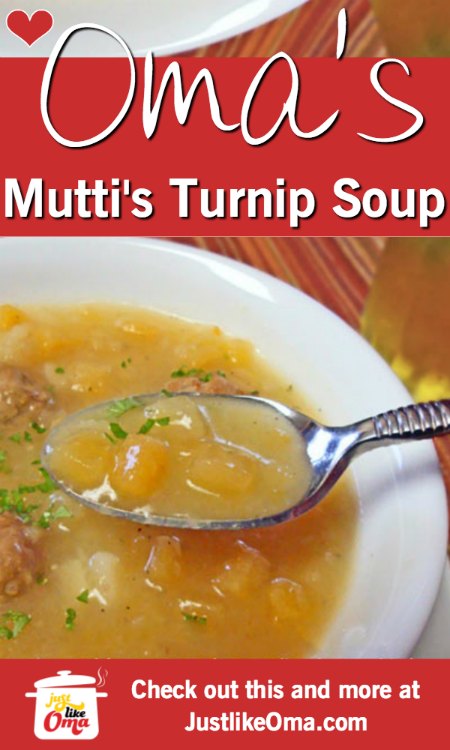 ---
Cheese Spätzle is a traditional German noodle dish. A sort of Germanized version of 'Mac & Cheese', only better!

This Butterkuchen, also called Sugar Cake (Zuckerkuchen), a traditional German cake served for afternoon coffee. Loved by all, easy to make, delicious to eat!
---
Words to the Wise
"Let someone else praise you, not your own mouth — a stranger, not your own lips."
Proverbs 27:2 (NLT)