Cheesy Green Bean Casserole
Lydia's Cheesy Green Bean Casserole Recipe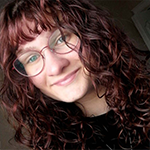 by: Lydia Fulson  /  Writer, Artist, Traveler, Granddaughter & Ever-Learning German Cook
As an Amazon Associate, I earn from qualifying purchases.
This cheesy green bean casserole recipe is a must have to add to your weeknight dinner menu. It's one of those easy side dish recipes that's really filling and can be made quickly! It's one of those recipes that's not all German but is so totally lecker.
It's an unusual one. But it's one that has been a staple in our family for many years. My Mum (Mutti) would make this as a yummy addition to the holiday table for thanksgiving dinner. It's a hearty bean mixture full of cheesy goodness. I must say, it's the best green bean casserole out there!
I tend to add a little extra shredded cheese sprinkled on top in my bowl ... I just LOVE cheese! I use either sharp cheddar or an old cheddar as my cheese of choice. But I can't see why adding a little parmesan cheese on top wouldn't be a great addition to your bean casserole. Or give a few different cheese combos a try. This is one of those recipes where you can get creative!
I've made this recipe for quite a few people, and everyone who's tried it, had never heard of it, but loved it so much that they always leave asking for the recipe. So, I figured, why not put it on here to share with all of you? 
This casserole can be served as a side or a main. If serving as a side, know that it is quite filling. As you can see in the pic above, I kept it nice and simple and served alongside mashed potatoes. A total classic.
What to serve it with
If you're looking to make something closer to a big dinner, more than just mashed potatoes, try serving with things like:
Meats:
Perfect second sides to go alongside:
In Germany, when ordering green beans you can expect them to be served with crispy bacon in them. This is an extremely popular way of eating them.
Fresh or Frozen?
A common question when making anything with fruits or veggies is, 'Do I use fresh or frozen?'
For this easy green bean casserole, the answer is either. But I tend to use frozen, as its easier than trying to find local fresh green beans right when I need them.
Sometimes using frozen produce is more nutrient packed. As it's usually picked fresh at its peak ripeness and frozen immediately, this helps hold its nutrients longer. But all in all, the difference between fresh and frozen, isn't huge at all. In comparison, both are healthy, beneficial for your health, and are downright just delicious!
Making it German with the bean spice
The way my Mum makes this green bean casserole is not all German. When we make this, we use garlic salt as one of the main seasonings alongside the classic salt and black pepper.
Though, garlic powder and garlic salt are not German spices, there is a great alternative to try. Bohnenkraut (summer savory) is very German. Roughly translating literally to 'bean spice', Bohnenkraut is a popular German spice used in many traditional dishes. We've mentioned it before. Oma uses it especially in her famous green beans and white sauce recipe.
How easy is it, really?
Making this green bean recipe has never been so easy. It takes some time to bake, but the process is as easy as 1..2..3..! Quite literally. All it takes is three ingredients plus your seasonings of choice.
Simply add half beans into a large casserole dish
Cover with cream of mushroom soup
Sprinkle half cheese overtop and add seasonings
Repeat, cover, and bake!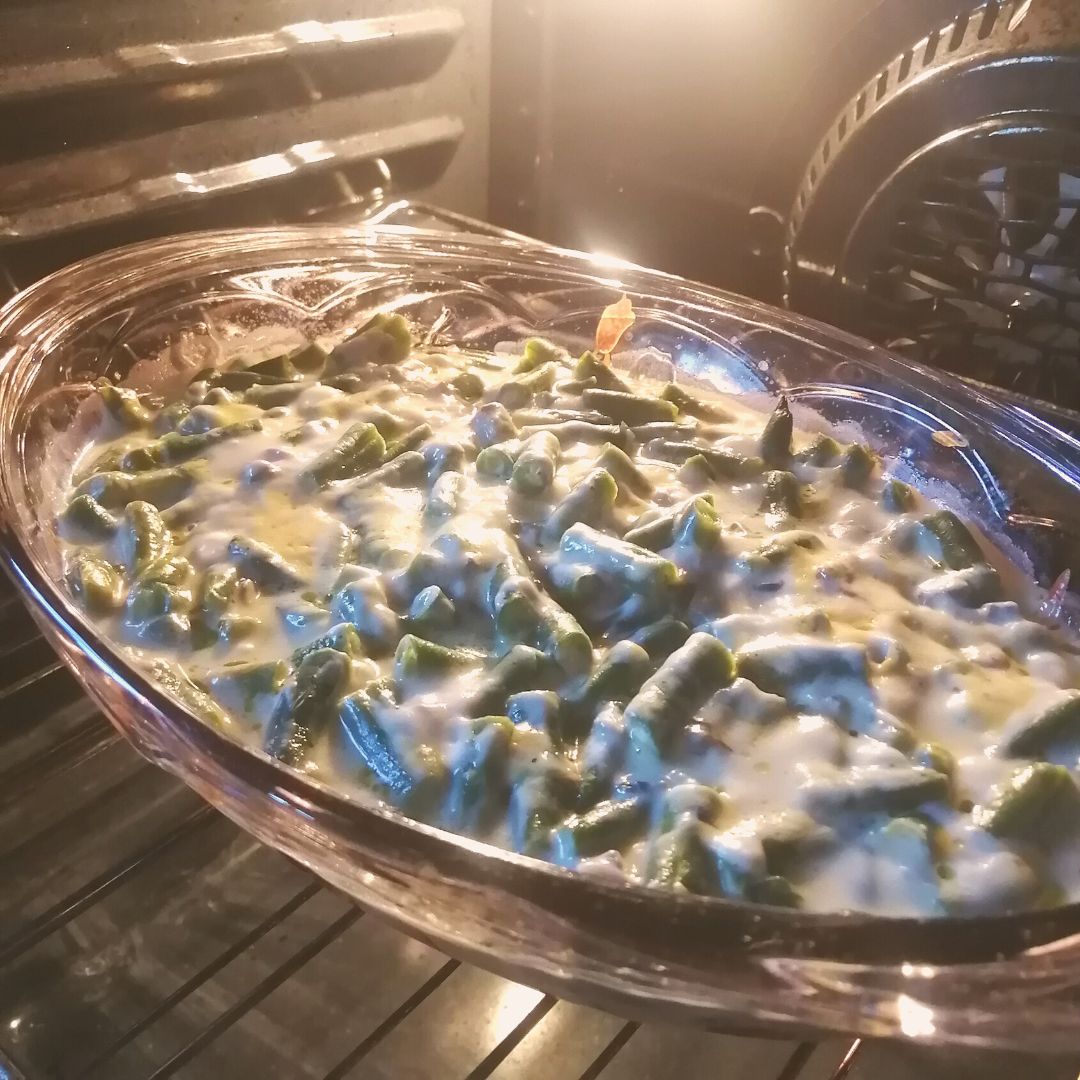 Grab your copy of My Oma's Dumplings & Noodles e-Cookbook and make those traditional German treats for your family today!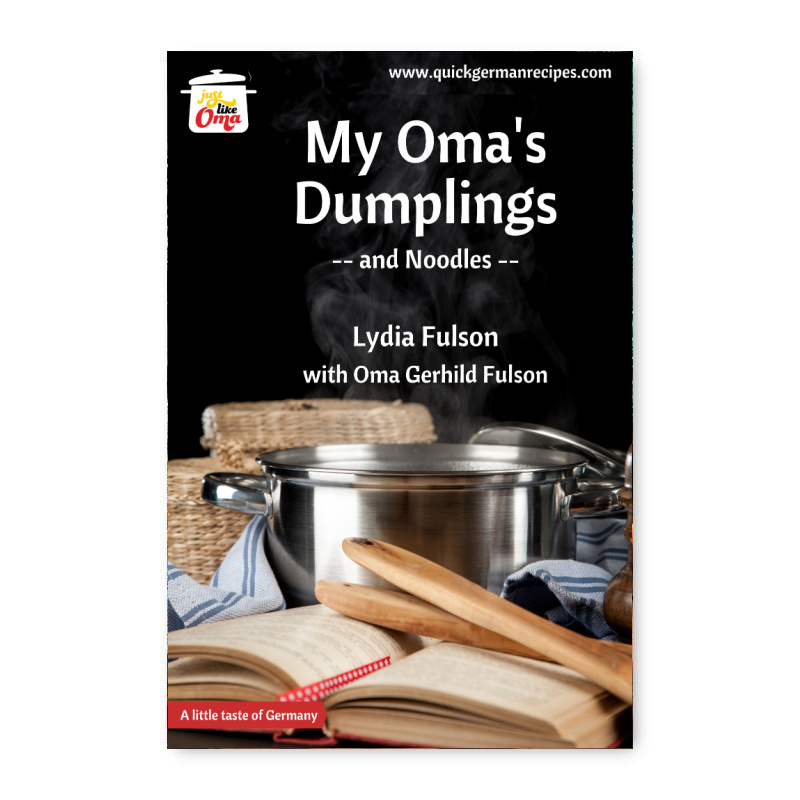 Take a peek at all Oma's eCookbooks. They make sharing your German heritage a delicious adventure!
What is it about green beans that makes them so loved and lecker? Well; they're unbelievably healthy, work as a side, or as a great main, and they are so versatile. What's not to love? This casserole side dish is perfect for the picky eater.
So, with that, let's get cooking! And if you like it enough, add it to your holiday meal plans or your weekly dinner menu as a quick new recipe that everyone will love.
Ready to cook your first green bean casserole??

As an Amazon Associate, I earn from qualifying purchases.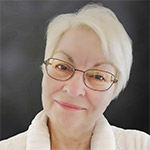 For more German-inspired items that make life easier and yummier, especially in the kitchen and for entertaining, follow my Amazon Storefront.
➙ For groceries,
Try Amazon Fresh
.
Cheesy Green Bean Casserole Recipe

This cheesy green bean casserole recipe is a must have to add to your weeknight dinner menu. It's one of those perfect side dish recipes that's really filling and can be made quickly!

Prep Time


10 minutes


Cook Time


1 ½ hours


Total Time

1 hr 40 mins

Servings:

Makes 4 servings
Ingredients:
1 bag frozen green beans or 4 cups fresh
1 can cream of mushroom soup
1 cup shredded cheddar cheese
1 teaspoon garlic salt
pinch of salt and pepper
Instructions:
Preheat oven to 375°F
In a medium casserole dish, add half of the green beans.
Pour half can of mushroom soup over top and add seasonings.
Cover with ½ cup cheese and layer on the rest of the beans, then cover with the rest of the mushroom soup and cheese.
Bake for 1 ½ hours, removing casserole dish lid for the last 20 minutes.
Notes/Hints:

If the casserole dish is not non-stick, use cooking spray or grease with butter first.

Use a variety of different types of cheese to mix it up! Cheddars melt well and pair best with beans. Try types like orange cheddar, and sharp cheddar cheese. If you really like cheese, shred more to sprinkle on top of your plate. The added cheese gives this classic dish even more flavor.
Store leftovers in an airtight container or simply cover a bowl with saran wrap. The casserole will keep for a couple days, refrigerated. 
*  *  *  *  *

Unless otherwise noted recipe, images and content © Just like Oma | www.quick-german-recipes.com

Leave a comment about this recipe or ask a question?

Pop right over to my private Facebook group, the Kaffeeklatschers. You'll find thousands of German foodies, all eager to help and to talk about all things German, especially these yummy foods. 
Meet with us around Oma's table, pull up a chair, grab a coffee and a piece of Apfelstrudel, and enjoy the visit.

This easy German Apple Strudel recipe is one of those German desserts that brings the traditional strudel taste to your table without all the work. Wunderbar!!

Make the perfect German Spaetzle with Oma's easy recipe! This traditional German egg noodle pairs perfectly with caramelized onions for a delicious meal.

Choose from Oma's cookbooks that are immediately downloadable & start cooking easy classic German foods tonight. Or get her newest paperback cookbook. LECKER!
*  *  *  *  *
PIN to SAVE this recipe to your Pinterest board!
And let's be friends on Pinterest!
Words to the Wise
"The godly are showered with blessings; the words of the wicked conceal violent intentions."
Proverbs 10:6 (NLT)