Heidi's Recipe for Bean Salad

➤ by Oma Gerhild Fulson
FTC Disclosure: Making a purchase via a link on the page? I may earn a small commission on the transaction - at no added cost to you. Thanks!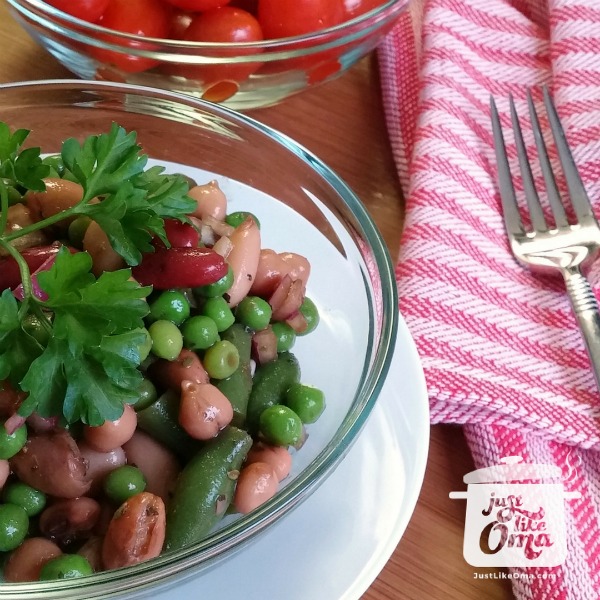 Yum
Need a quick recipe for bean salad? Here's an easy one of the best salad recipes that's sure to please. It's one of my non-German quickie favorites and is great when you need picnic salads and picnic food ideas. Not only that, but it's also great for your vegan friends.
This three bean salad is a variation on a Weight Watchers recipe from my friend, Heidi. Love that it's so easy to make! Although the original recipe called for fresh or frozen and thawed green beans (without being cooked), she cooked them briefly. The end result? Delicious! 
Heidi's Recipe for Bean Salad
Ingredients:
1 cup green beans, briefly cooked
½ cup cooked Lima beans (or canned)
½ cup cooked chickpeas (or canned)
1 cup fresh or frozen and thawed green peas
½ red onion, minced
¼ cup balsamic vinegar
½ tsp dry mustard
½ tsp each dried basil and oregano
1 - 3 tsp olive oil
salt to taste
Instructions:
In a serving bowl, mix the beans, peas, and onions together.
Mix remaining ingredients and pour over bean mixture. Toss together.
Cover and refrigerate for at least 4 hours.

You can vary the amounts to use - add extra beans or peas. Chopped peppers, especially red ones, would be a nice addition. I love to add kidney beans. In fact, the easiest is to use a can of 6 bean mixture. You may find that you want to use extra olive oil for the bean salad dressing. Taste and alter it as you go along.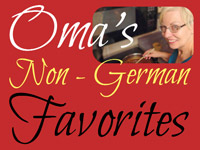 One thing I really love about this Three + Bean Salad recipe is that it is high in fiber. This is really one time that healthy tastes so delicious. I find that making a double portion is best because I like to have this as leftovers available in the fridge for those quick lunches the next day. As well, it always seems to taste better the second day.
Because this salad has no egg or mayonnaise base, it's a very safe salad to take along on a picnic. Refreshing, healthy, and easy -- what can be better?
Oma says,
The best part, according to me, is the addition of the uncooked peas. It makes the whole salad taste so fresh and adds a sweetness to the dish.

More Salad Recipes
*  *  *  *  *
Want nutritional information for a recipe?
Copy and paste the ingredient list and the number of servings into Calorie Count. 
It will give you an approximate calculation.

*  *  *  *  *
Need help doing conversions between cups and grams or any such thing?
Use this site to give you all the different conversions for the different types of ingredients. 
*  *  *  *  *
---
PIN this ...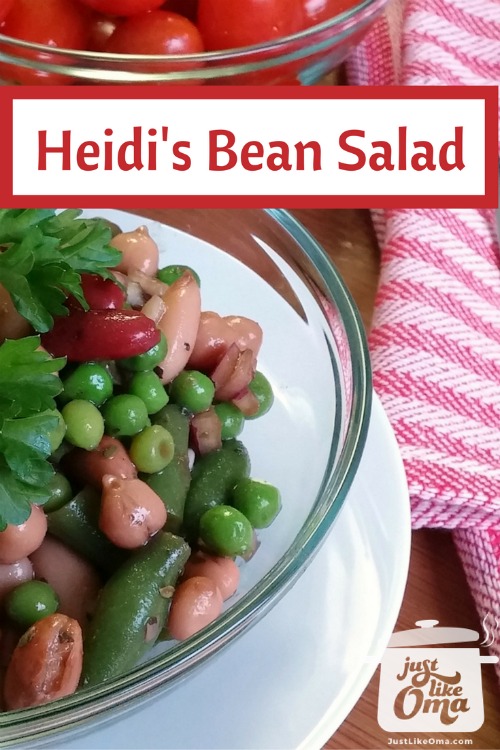 ---
Words to the Wise
"Don't rob the poor just because you can, or exploit the needy in court. For the Lord is their defender. He will ruin anyone who ruins them."
Proverbs 22:22-23 (NLT)