How to make Pretzels, German-style
➤ by Oma Gerhild Fulson
FTC Disclosure: Making a purchase via a link on the page? I may earn a small commission on the transaction - at no added cost to you. Thanks!
Yum
This method of how to make pretzels, aka Brezel, is among the easiest I've found. They are crispy on the outside, yet soft on the inside. Make them either with just white flour, or do as I do, and mix a bit of whole wheat in. Having made this for the first time, and altering the recipe to make it easy, I have to admit, I'm hooked! 
Usually, making pretzels involves dunking into a lye solution. This one's easier. Make these German pretzels by dunking into baking soda solution. Easier. Safer. Just as delicious!
How to make Pretzels, just like Oma

Ingredients:
½ cup lukewarm water
1 tsp sugar
2 tsp active dry yeast
¾ cup milk, lukewarm
4 tsp olive oil
1 tsp salt
1 cup whole wheat flour
2½ cups all-purpose flour
4 Tbsp baking soda
coarse salt to sprinkle
Instructions:
Using a large mixing bowl (mixer with dough hook), dissolve sugar in water. Add yeast. Mix. Let stand about 5 - 10 minutes until bubbly.
Mix together milk and oil and add to bowl.
Mix salt and whole wheat flour together and add to bowl and mix.
Add 2 cups all-purpose flour and mix. Add more flour as needed until ball forms. Let dough hook knead ball for a few minutes.
Let dough rise about 30 - 60 minutes, covered, in a warm, draught-free area, until about double in size.
In the meantime, prepare "soda bath". Put 2 quarts of water in pot and add 4 Tbsp baking soda. Mix. Bring to boil and keep hot until needed.
Preheat oven to 425° F. Cover two baking sheets with parchment paper.
Divide dough in half and then each half into 12 pieces. Roll each piece into a rope about 14 - 16 inches long. Form into pretzel shape by forming into a circle with the ends extending about 2 inches. Twist these ends twice and fold up into circle, pressing the ends to the circle.
Place pretzels onto baking sheets.
Cover and let rise about 10 minutes.
Gently place pretzels into boiling soda water, without crowding. When they rise to the surface, remove with slotted spoon and place back on baking sheets.
Slit with a sharp knife or razor blade.
Sprinkle with coarse salt.
Bake about 15 minutes until golden brown. Remove onto rack to cook.
Enjoy while still warm!

---
Laugen and Bretzeln
The only pretzels I knew over here in Canada are the small little hard, salty things one buys in bags as snack foods.
They're all right, but I always wondered what people saw in them. When I saw them for sale in Germany, large and bread-like, I just never bothered with them.
That is, until my recent trip to Germany. Accidentally, I had a "laugen" roll. It looked very similar to the soft pretzels, only it was a round roll with cuts in the top and sprinkled with coarse salt. After that, I indulged in German pretzels!
Oh my, delicious!
And so, my quest for the perfect German recipe for pretzels. Not available where I live, I need to make them when I get a craving. I so realized that making pretzels, although it takes a bit of patience, really isn't that hard.

Looking for an authentic homemade pretzel recipe using lye?
Here's a recipe sent in by a Bavarian baker's son. Andy continues with his dad's tradition of making these Laugen Brezen with a lye dip. Check it out here.
Oma says,
Among Oktoberfest recipes, this one should be a must.
Dipped in hot German mustard or just plain, right out of the oven, you'll soon be in love with these too.

More German Breads ...
*  *  *  *  *
Thinking of starting your own Handmade Business?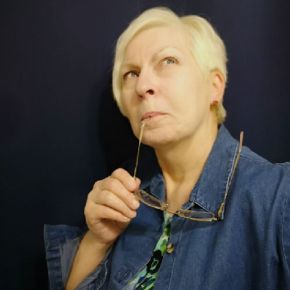 This Oma KNOWS you CAN do it.
How do I know?
Well, if I can do it, anyone can.
I've even figured out how I can help you.
I've teamed up with my own business coach, Renae Christine (yes, do google her!), to bring you this free masterclass. After you watch it, ask me any questions and I'll gladly answer them.
Don't hesitate. I'm not sure how long Renae will keep this free masterclass available.
PS:  Yes, Renae really is as amazing as all the reviews say.
PPS: Yes, the course is for handmade items, but I've used it successfully for my cookbooks. I know others are using her methods for services, direct sales, and even a local ice cream bar & grill that's constantly selling out. You've nothing to lose by taking a look ... and a whole bunch to gain.
*  *  *  *  *
Oma's Cookbooks (downloadable & print)
*  *  *  *  *
Want nutritional information for a recipe?
Copy and paste the ingredient list and the number of servings into Calorie Count. 
It will give you an approximate calculation.

Need help doing conversions
between cups and grams or any such thing?
Use this site to give you all the different conversions for the different types of ingredients. 
---
---
Words to the Wise
"A mocker seeks wisdom and never finds it, but knowledge comes easily to those with understanding."
Proverbs 14:6 (NLT)