Oktoberfest Food and Celebrations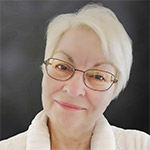 by: Gerhild Fulson  /  Cookbook Author, Blogger, German Oma!
Oktoberfest food! Celebrating with hearty and delicious German food during this major celebration is such a yummy adventure. But, are you ready?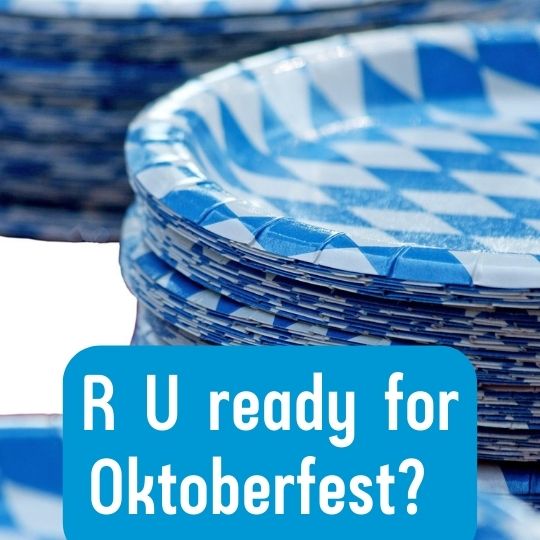 Oktoberfest, one of the most famous, world-known events that happens every fall in Munich, Germany.
But not just in Germany. We have Oktoberfest right here in Kitchener, Ontario, Canada, close to where I live.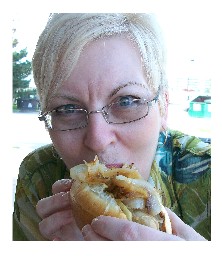 That's me, celebrating with a Weisswurst! YUM!

Since 1969, Oktoberfest has become the largest Bavarian festival in North America, with the greatest Thanksgiving Day Parade in Canada.

Known for its beer tents, delicious Oktoberfest food, and the "oom-pah-pah" bands, it is a celebration that occurs not only in Munich and Kitchener, but around the world. 
If you don't have one close by, then how about having one in your backyard?
What is Oktoberfest?
What started as a marriage celebration for Crown Prince Ludwig (later King Ludwig I) and Princess Therese of Saxe-Hildburghausen on October 18, 1810 in Munich, Germany, is still celebrated almost 200 years later and is known as Oktoberfest.
In 1810, a huge horse race was the central attraction. Years later, it became a carnival.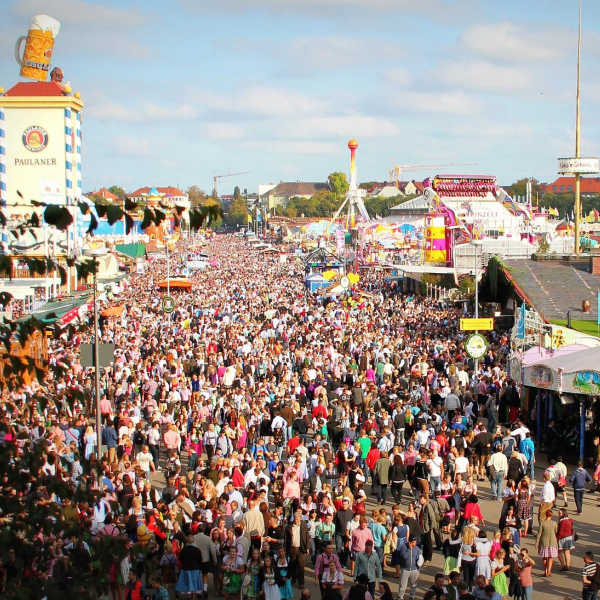 Now, it is a rocking, music-filled, "food and drink" fest that celebrates the Bavarian culture. 

When is Oktoberfest?
Oktoberfest has been held almost every year since 1810. It had only been canceled 26 times due to disease (plagues, including Covid-19) or war. 
The nicer weather in September has brought changes to the dates, so that the celebration starts 17 days before the first Sunday in October, when the party ends.
Oktoberfest Celebrations
Ask almost anyone what Oktoberfest is about, and they will tell you: beer and food. But, there is more than that. 
In 1835, a parade became part of the regular festivities. Now, approximately 8,000 people in traditional Bavarian costumes walk through the center of Munich to the Oktoberfest site.
From 1950 onwards, a 12-gun salute and the tapping of the first beer keg by the Mayor of Munich signals the opening of Oktoberfest.

And yes, beer and food is the main part. Over 6.4 million visitors (2010 stats) to Munich's Oktoberfest feast on traditional Bavarian foods and consumed over 7 million liters of beer.
There are many tents set up (the largest, Hofbräu-Festhalle, holds 10,000 people!) for eating and drinking. To keep these beer tents and the overall Oktoberfest "family friendly", only traditional music is played until 6 pm. After that, the louder pop music is heard.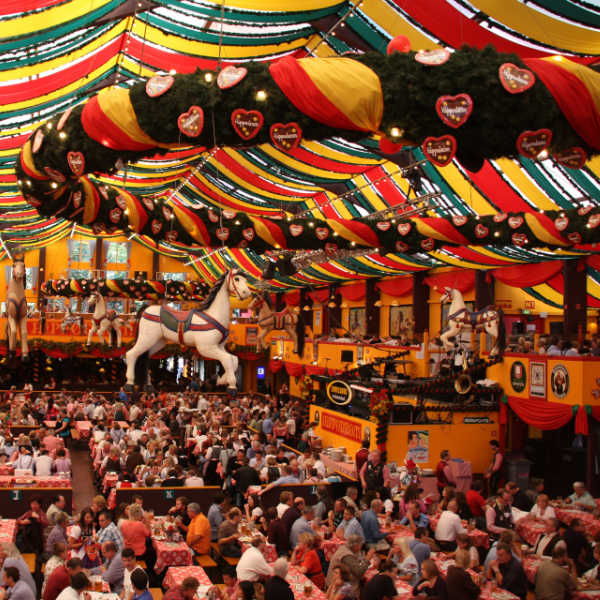 How You Can Celebrate Oktoberfest
Even if you can't go to Munich, or one of the other Oktoberfest sites, you can still enjoy the traditional Bavarian Oktoberfest food.
Below is my collection of my favorite Oktoberfest treats. Download your copy today, and start planning a celebration right in your own house!
Celebrate Oktoberfest right at home with these German recipes found right here in Oma's Oktoberfest e-Cookbook.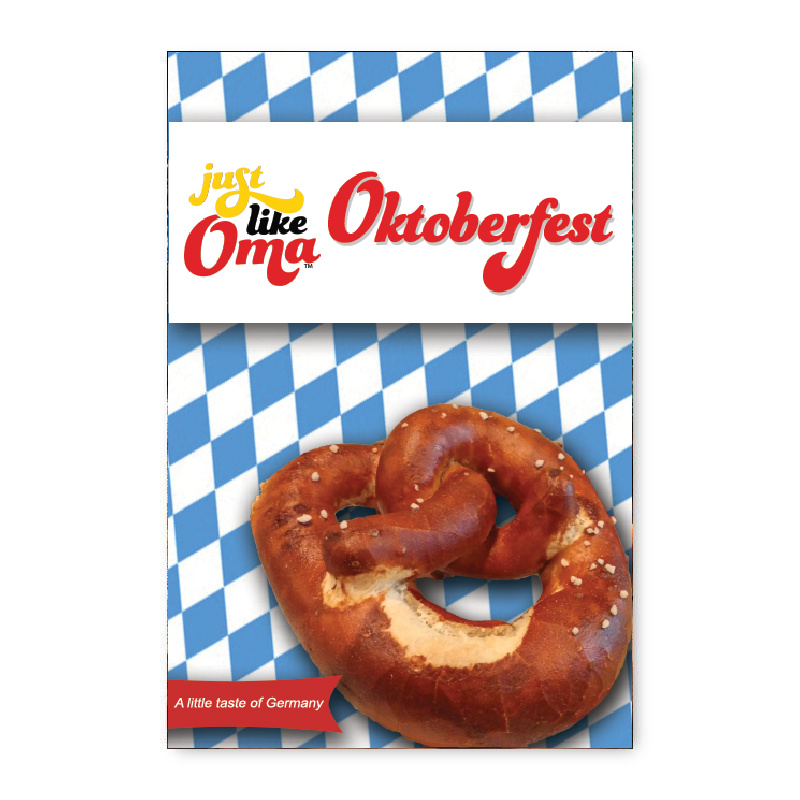 Take a peek at all Oma's eCookbooks. They make sharing your German heritage a delicious adventure!
Serve them up with German music in the background, decorate your table in the official colors of Bavaria, which are cobalt blue and white, and celebrate your very own Oktoberfest.
Get dressed up in your dirndl or lederhosen and be ready to entertain your guests in style! Need some deco and music? Here you go:
Get your Oktoberfest Deco right now!
So now you have food, deco, and music!
It's time to celebrate the most German of parties. 
Prost! = Cheers!
If you're enjoying the traditional beer with this feast, then it's:
Oans, zwoa, drei, g'suffa! = One, two, three… drink!
---
PIN to SAVE this recipe to your Pinterest board!
And let's be friends on Pinterest!
*  *  *  *  *
Words to the Wise
"A fool's proud talk becomes a rod that beats him, but the words of the wise keep them safe."
Proverbs 14:3 (NLT)