Oktoberfest Food & Celebrations
➤ by Oma Gerhild Fulson
FTC Disclosure: Making a purchase via a link on the page? I may earn a small commission on the transaction - at no added cost to you. Thanks!
Oktoberfest food!
Yummy, yummy.
These are such hearty German recipes to celebrate October, which is such a wonderful time of the year!
Fall celebrations abound. Fall fairs and harvest festivals are such wonderful family outings, no matter where in the world you live.
However, one of the most famous, world-known events that occurs at this time of the year is Oktoberfest.

Yes, we enjoy German holiday traditions on this side of the ocean.
Oktoberfest is that one big party that is celebrated right here in Kitchener, Ontario.
 Since 1969, Oktoberfest has become the largest Bavarian festival in North America with the greatest Thanksgiving Day Parade in Canada.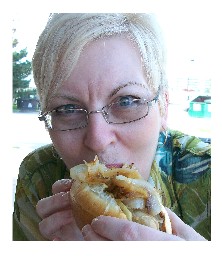 That's me, celebrating with a Weisswurst, right here in Hamilton, Ontario, Canada.
Known for its beer tents, delicious Oktoberfest food, and the "oom-pah-pah" bands, it is a celebration that occurs not only in Munich, Germany, but around the world.
What is Oktoberfest?
What started as a marriage celebration for Crown Prince Ludwig (later King Ludwig I) and Princess Therese of Saxe-Hildburghausen on October 18, 1810 in Munich, Germany, is still celebrated almost 200 years later and is known as Oktoberfest.
In 1810, a huge horse race was the central attraction. Years later, it became a carnival. 
Now, it is a rocking, music-filled, "food and drink" fest that celebrates the Bavarian culture. Similar Oktoberfest activities are held world-wide with Kitchener/Waterloo, Ontario's version well-known.

When is Oktoberfest?
Oktoberfest has been held almost every year since 1810. It has only been canceled 24 times due to disease (plagues) or war.
The nicer weather in September has brought changes to the dates, so that the celebration starts 17 days before the first Sunday in October when the party ends.
Oktoberfest Celebrations
Ask almost anyone what Oktoberfest is about and they will tell you: beer and food. But, there is more than that.
In 1835, a parade became part of the regular festivities. Now, approximately 8,000 people in traditional Bavarian costumes walk through the center of Munich to the Oktoberfest site.
From 1950 onwards, a 12-gun salute and the tapping of the first beer keg by the Mayor of Munich signals the opening of Oktoberfest.
And yes, beer and food is the main part. Over 6.4 million visitors (2010 stats) to Munich's Oktoberfest feast on traditional Bavarian foods and consumed over 7 million litres of beer.
There are many tents set up (the largest, Hofbräu-Festhalle, holds 10,000 people!) for eating and drinking. To keep these beer tents and the overall Oktoberfest "family friendly", only traditional music is played until 6 pm. After that, the louder pop music is heard.
How You Can Celebrate Oktoberfest
Even if you can't go to Munich, or one of the other Oktoberfest sites, you can still enjoy the traditional Bavarian Oktoberfest food.
Serve them up with German music in the background, decorate your table in the traditional German colors of black, red, and yellow or in the official colors of Bavaria which is cobalt blue and white, and celebrate your very own Oktoberfest.
---
*  *  *  *  *
Thinking of starting your own Handmade Business?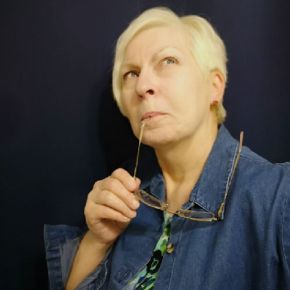 This Oma KNOWS you CAN do it.
How do I know?
Well, if I can do it, anyone can.
I've even figured out how I can help you.
I've teamed up with my own business coach, Renae Christine (yes, do google her!), to bring you this free masterclass. After you watch it, ask me any questions and I'll gladly answer them.
Don't hesitate. I'm not sure how long Renae will keep this free masterclass available.
PS:  Yes, Renae really is as amazing as all the reviews say.
PPS: Yes, the course is for handmade items, but I've used it successfully for my cookbooks. I know others are using her methods for services, direct sales, and even a local ice cream bar & grill that's constantly selling out. You've nothing to lose by taking a look ... and a whole bunch to gain.
*  *  *  *  *
Oma's Cookbooks (downloadable & print)
*  *  *  *  *
Want nutritional information for a recipe?
Copy and paste the ingredient list and the number of servings into Calorie Count. 
It will give you an approximate calculation.

Need help doing conversions
between cups and grams or any such thing?
Use this site to give you all the different conversions for the different types of ingredients. 
---
---
Try this slow cooker roast beef and you'll be amazed at how much this tastes like rouladen WITHOUT the work.

Learn how to cook pork hocks, anytime you want something traditionally German and wonderfully delicious! A hearty meal for any time of the year!
---
PIN this ...
Words to the Wise
"A fool's proud talk becomes a rod that beats him, but the words of the wise keep them safe."
Proverbs 14:3 (NLT)