Oma's German Spätzle Recipe ❤️
➤ by Oma Gerhild Fulson
FTC Disclosure: As an Amazon Associate I earn from qualifying purchases.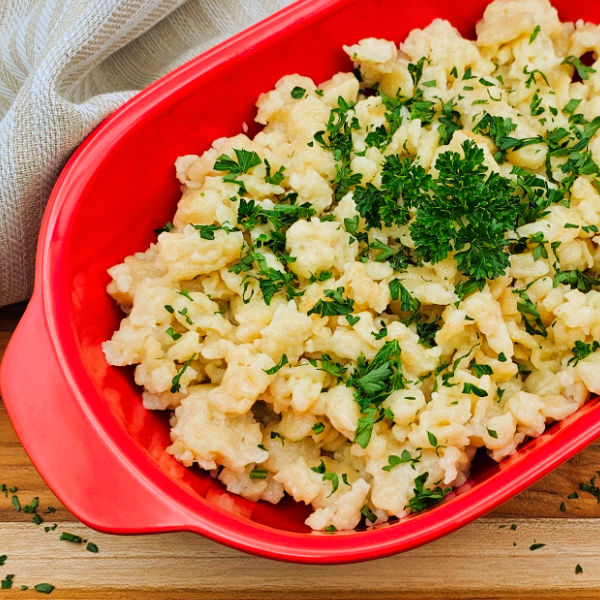 A German Spätzle recipe can be tricky to make. Here's my easy version of this traditional favorite. Spätzle (Spaetzle) are a very traditional dish for Swabians living in the Baden-Württemberg and Bavaria states.
Easy, because I use a stainless steel Lid and Scraper combo that I brought back from Germany. Always works.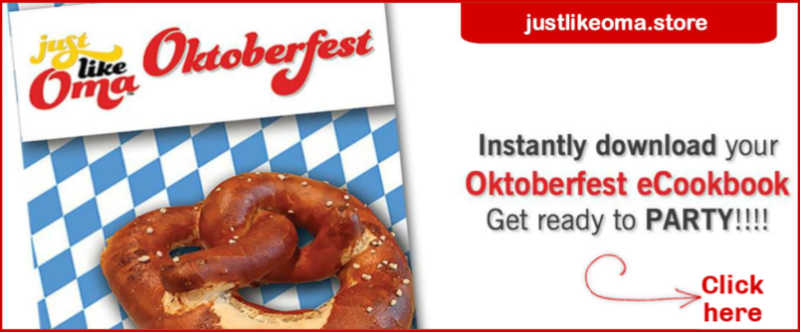 This easy home-made recipe lets you enjoy Spätzle wherever you are in the world even if you don't have access to a German deli.
So, go ahead. Make this German favorite!

Yes, I love my Spätzle lid with the scraper to make these noodles.

You can either book a trip to Germany to buy yours, or else, just order online. Quite a bit cheaper! LOL 

Enjoy! So easy to make these and they taste so much better than the packaged kind.
Click on the image to take a peek ... and see if it's something you need / want as well :)

---
The origin of the word Spätzle comes from Swabian meaning 'little sparrows'
These noodles are traditional in  Germany, especially in Baden-Württemberg and in Austria, Switzerland, and Hungary
This type of soft egg noodle is also called Nokedli in Hungary.

When the noodles are button-shaped, they are called by their Swiss name, Knöpfle, which means "small buttons" 
Traditionally, thin strips of dough were scraped off a wooden chopping board into boiling salted water

Today, there are many devices that can be used ranging from types of colanders, ricers, food mills, or graters
In modern German cookbooks and magazines, whenever recipes call for Spätzle (or Schwabian noodles), they are usually cooked from a package - a convenience food.
However, Spätzle aren't always available to buy pre-made in my part of Canada.
So, if I want to enjoy them, I need to make them from scratch. You can, too. 
Below, I've made Käzespätzle using this Spätzle recipe. I guess this could be called a totally upscale version of the American "macaroni and cheese". Kids love it. And why not? It is so good, so rich, so YUMMY!
German Noodles?
Whenever we had noodles of any kind when I was growing up, I always thought we were eating "Italian-style."
I didn't know that the southern part of Germany has its own type of noodle dishes, traditional noodle dishes that aren't Italian at all, one of my favorites now being Schupfnudeln. 

Spätzle Press

Here's that Spätzle press that found its way into my suitcase on one of my recent trips to Germany. It has made the Spätzle-making process a lot easier.
Don't have one? You can scrape the dough off a wooden board with a long knife ... the traditional way to make these noodles. Just like Oma used to do.
Or, you can buy a Spätzle-press, one of many contraptions that have been developed to make this noodle-making process easier. 
Spätzle, a type of German noodle, are common in the southern part of Germany. This word means "little sparrow". (This type of soft egg noodle is also called "Nokedli" in Hungary.)
Spätzle made just like Oma ❤️
Ingredients:
2¼ cups flour, all-purpose

1 tsp salt

2 large eggs

about ½ - 1 cup water
Instructions:

Mix flour and salt in a bowl.

Add eggs and mix well.

Gradually add just enough water to make a smooth, light, and firm dough. The amount will depend on how 'dry' your flour is.

Let stand for 10 minutes. Meanwhile bring a large pot of salted water to boil.

Push dough through the Spätzle lid with the scraper, directly into the boiling water. 

Noodles will float when they are done (will take a few minutes). Remove with slotted spoon.

These are often served with lightly sautéed diced bacon or fried onions.

Makes 4 servings.

---
Leave a comment about this recipe or ask a question?
Pop right over to my private Facebook group, the Kaffeeklatschers. You'll find thousands of German foodies, all eager to help and to talk about all things German, especially these yummy foods. 
I pop in all the time as well, to chat and to answer questions. 
Meet with us around Oma's table, pull up a chair, grab a coffee and a piece of Apfelstrudel, and enjoy the visit.
*  *  *  *  *
Want nutritional information for a recipe?
Copy and paste the ingredient list and the number of servings into Calorie Count. 
It will give you an approximate calculation.

Need help doing conversions
between cups and grams or any such thing?
Use this site to give you all the different conversions for the different types of ingredients. 
---
PIN this and share the recipe for tips on how to use your Spätzle press and make this popular German dish just like Oma does!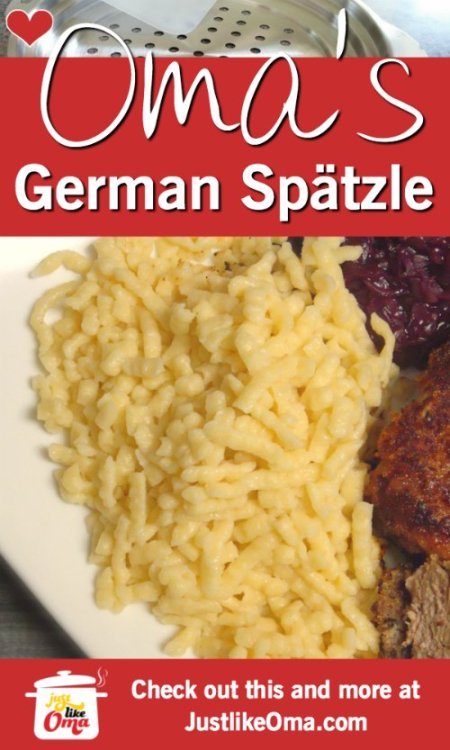 ---
This goulash soup is one of my most traditional German soups. It's one I often make when I have company coming over and need something easy to prepare ahead.

Schwenkbraten recipe that has been a delish hit an alle familien & freunde... Total Approx. Time: Prep: 15 min. + Marinating 8 hrs min. + Grill: 15 min.
---
Words to the Wise
"If you become wise, you will be the one to benefit. If you scorn wisdom, you will be the one to suffer."
Proverbs 9:12 (NLT)
---
Oma's German Spätzle Recipe made Just like Oma


By
Oma Gerhild Fulson
A German Spätzle recipe can be tricky to make. Here's Oma's easy version of this traditional favorite. Tastes delicious when paired with caramelized onions!

Ingredients:
flour,
salt,
eggs,
water,
For the full recipe, scroll up ...