Oma's German Spätzle Recipe ❤️
➤ by Oma Gerhild Fulson
FTC Disclosure: Making a purchase via a link on the page? I may earn a small commission on the transaction - at no added cost to you. Thanks!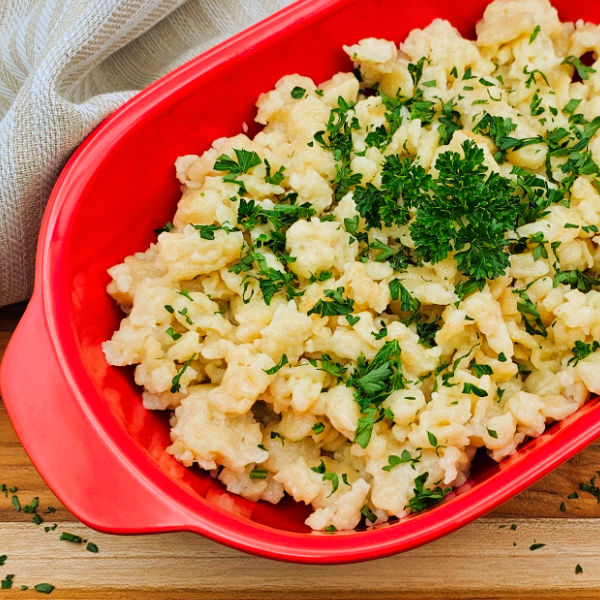 Yum
A German Spätzle recipe can be tricky to make. Here's my easy version of this traditional favorite. Spätzle (Spaetzle) are a very traditional dish for Swabians living in the Baden-Württemberg and Bavaria states.
Easy, because I use a stainless steel Lid and Scraper combo that I bought in Germany on my last trip. Always works.
This easy home-made recipe lets you enjoy Spätzle wherever you are in the world even if you don't have access to a German deli. So, go ahead. Make this German favorite!

Yes, I love my Spätzle lid with the scraper to make these noodles.

You can either book a trip to Germany to buy yours, or else, just order online. Quite a bit cheaper! LOL 

Enjoy! So easy to make these and they taste so much better than the packaged kind.
Click on the image to take a peek ... and see if it's something you need / want as well :)
Spätzle made just like Oma ❤️
Ingredients:
2¼ cups flour, all-purpose

1 tsp salt

2 large eggs

about ½ - 1 cup water
Instructions:

Mix flour and salt in a bowl.

Add eggs and mix well.

Gradually add just enough water to make a smooth, light, and firm dough. The amount will depend on how 'dry' your flour is.

Let stand for 10 minutes. Meanwhile bring a large pot of salted water to boil.

Push dough through the Spätzle lid with the scraper, directly into the boiling water. 

Noodles will float when they are done (will take a few minutes). Remove with slotted spoon.

These are often served with lightly sautéed diced bacon or fried onions.

Makes 4 servings.

---

---
The origin of the word Spätzle comes from Swabian meaning 'little sparrows'
These noodles are traditional in  Germany, especially in Baden-Württemberg and in Austria, Switzerland, and Hungary
When the noodles are button-shaped, they are called by their Swiss name, Knöpfle, which means "small buttons" 
Traditionally, thin strips of dough were scraped off a wooden chopping board into boiling salted water

Today, there are many devices that can be used ranging from types of colanders, ricers , food mills, or graters
Spätzle aren't always available in my part of Canada. So, if I want to enjoy them, I must make them from scratch. You can, too. In modern German cookbooks and magazines, whenever recipes call for Spätzle (or Schwabian noodles), they are usually cooked from a package - a convenience food.
Kids love it. And why not? It is so good, so rich, so YUMMY!

Whenever we had noodles of any kind when I was growing up, I always thought we were eating "Italian-style." I didn't know that the southern part of Germany has its own type of noodle dishes, traditional noodle dishes that aren't Italian at all, such as this "Nudelkasserole".

Spätzle, a type of German noodles, are common in the southern part of Germany. This word means "little sparrow". (This type of soft egg noodle is also called "Nokedli" in Hungary.)
---
More Noodle Recipes ...
*  *  *  *  *
Thinking of starting your own Handmade Business?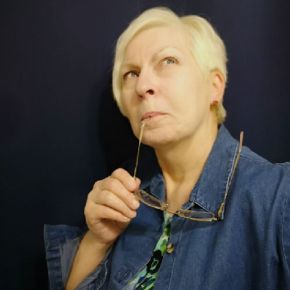 This Oma KNOWS you CAN do it.
How do I know?
Well, if I can do it, anyone can.
I've even figured out how I can help you.
I've teamed up with my own business coach, Renae Christine (yes, do google her!), to bring you this free masterclass. After you watch it, ask me any questions and I'll gladly answer them.
Don't hesitate. I'm not sure how long Renae will keep this free masterclass available.
PS:  Yes, Renae really is as amazing as all the reviews say.
PPS: Yes, the course is for handmade items, but I've used it successfully for my cookbooks. I know others are using her methods for services, direct sales, and even a local ice cream bar & grill that's constantly selling out. You've nothing to lose by taking a look ... and a whole bunch to gain.
*  *  *  *  *
Oma's Cookbooks (downloadable & print)
*  *  *  *  *
Want nutritional information for a recipe?
Copy and paste the ingredient list and the number of servings into Calorie Count. 
It will give you an approximate calculation.

Need help doing conversions
between cups and grams or any such thing?
Use this site to give you all the different conversions for the different types of ingredients. 
---
PIN this and share the recipe for tips on how to use your Spätzle press and make this popular German dish just like Oma does!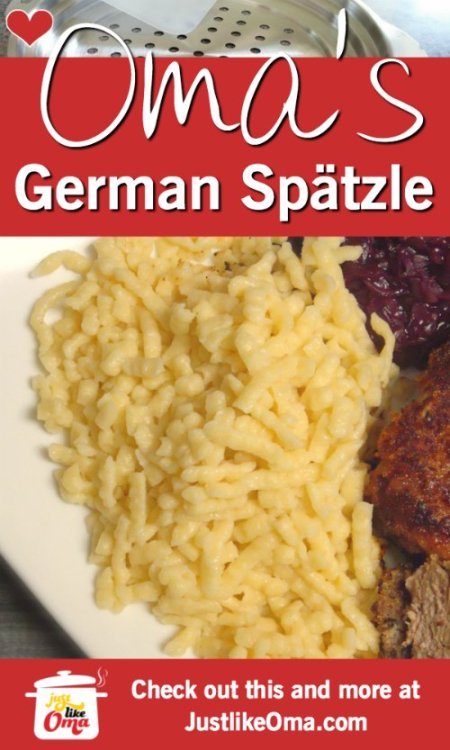 ---
Words to the Wise
"If you become wise, you will be the one to benefit. If you scorn wisdom, you will be the one to suffer."
Proverbs 9:12 (NLT)
---
Oma's German Spätzle Recipe made Just like Oma


By
Oma Gerhild Fulson
A German Spätzle recipe can be tricky to make. Here's Oma's easy version of this traditional favorite. Tastes delicious when paired with caramelized onions!

Ingredients:
flour,
salt,
eggs,
water,
For the full recipe, scroll up ...