Oma's German Spätzle Recipe ❤️
➤ by Oma Gerhild Fulson
FTC Disclosure: Making a purchase via a link on the page? I may earn a small commission on the transaction - at no added cost to you. Thanks!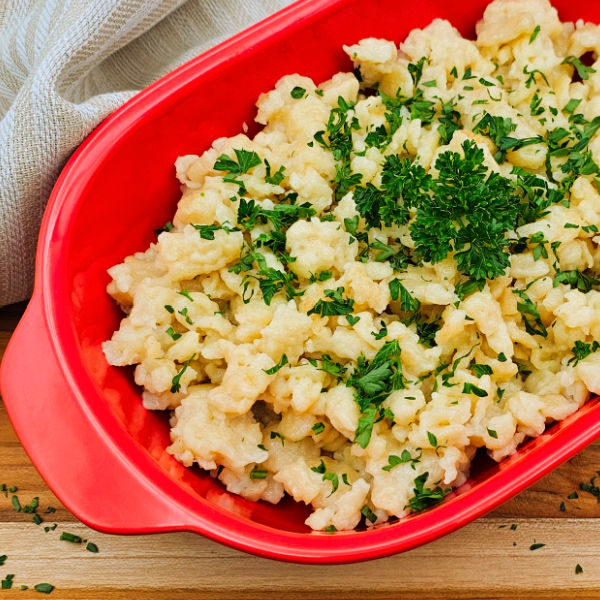 Yum
A German Spätzle recipe can be tricky to make. Here's my easy version of this traditional favorite. Spätzle (Spaetzle) are a very traditional dish for Swabians living in the Baden-Württemberg and Bavaria states.
Easy, because I use a stainless steel Lid and Scraper combo that I bought in Germany on my last trip. Always works.
This easy home-made recipe lets you enjoy Spätzle wherever you are in the world even if you don't have access to a German deli. So, go ahead. Make this German favorite!

Yes, I love my Spätzle lid with the scraper to make these noodles.

You can either book a trip to Germany to buy yours, or else, just order online. Quite a bit cheaper! LOL 

Enjoy! So easy to make these and they taste so much better than the packaged kind.
Click on the image to take a peek ... and see if it's something you need / want as well :)
Spätzle made just like Oma ❤️
Ingredients:
2¼ cups flour, all-purpose

1 tsp salt

2 large eggs

about ½ - 1 cup water

Instructions:
Mix flour and salt in a bowl.

Add eggs and mix well.

Gradually add just enough water to make a smooth, light, and firm dough. The amount will depend on how 'dry' your flour is.

Let stand for 10 minutes. Meanwhile bring a large pot of salted water to boil.

Push dough through the Spätzle lid with the scraper, directly into the boiling water. 

Noodles will float when they are done (will take a few minutes). Remove with slotted spoon.

These are often served with lightly sautéed diced bacon or fried onions.

Makes 4 servings.


---
The origin of the word Spätzle comes from Swabian meaning 'little sparrows'
These noodles are traditional in  Germany, especially in Baden-Württemberg and in Austria, Switzerland, and Hungary
When the noodles are button-shaped, they are called by their Swiss name, Knöpfle, which means "small buttons" 
Traditionally, thin strips of dough were scraped off a wooden chopping board into boiling salted water

Today, there are many devices that can be used ranging from types of colanders, ricers , food mills, or graters
Spätzle aren't always available in my part of Canada. So, if I want to enjoy them, I must make them from scratch. You can, too. In modern German cookbooks and magazines, whenever recipes call for Spätzle (or Schwabian noodles), they are usually cooked from a package - a convenience food.
Kids love it. And why not? It is so good, so rich, so YUMMY!

Whenever we had noodles of any kind when I was growing up, I always thought we were eating "Italian-style." I didn't know that the southern part of Germany has its own type of noodle dishes, traditional noodle dishes that aren't Italian at all, such as this "Nudelkasserole".

Spätzle, a type of German noodles, are common in the southern part of Germany. This word means "little sparrow". (This type of soft egg noodle is also called "Nokedli" in Hungary.)
---
More Noodle Recipes ...
*  *  *  *  *
Want nutritional information for a recipe?
Copy and paste the ingredient list and the number of servings into Calorie Count. 
It will give you an approximate calculation.

*  *  *  *  *
Need help doing conversions between cups and grams or any such thing?
Use this site to give you all the different conversions for the different types of ingredients. 
*  *  *  *  *
---
PIN this ...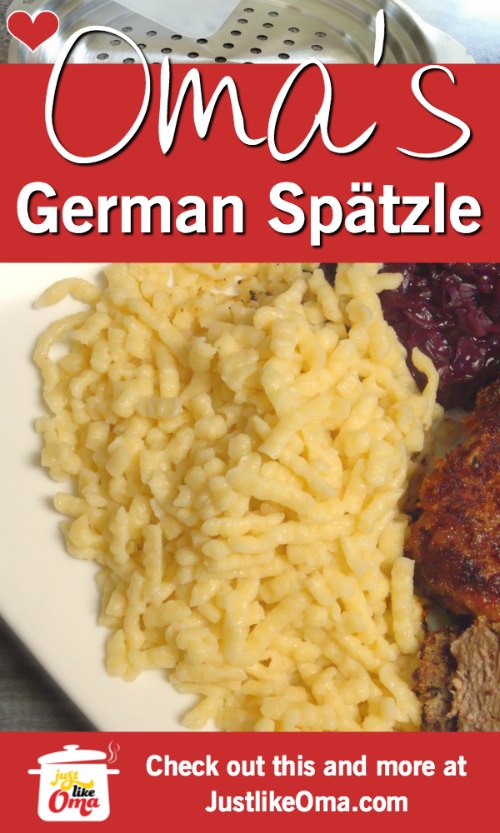 ---
Words to the Wise
"If you become wise, you will be the one to benefit. If you scorn wisdom, you will be the one to suffer."
Proverbs 9:12 (NLT)