Mutti's Recipe for Lamb Stew ❤️

➤ by Oma Gerhild Fulson
FTC Disclosure: As an Amazon Associate, I earn from qualifying purchases.
This recipe for Lamb Stew, aka Hammelfleisch Eintopf, is such an easy dinner recipe idea. It's a traditional German "Eintopf" (one-pot) meal. Taken from my Mutti's hand-written cookbook and translated into English, I hope you'll find this easy lamb recipe one that you'll add to your favorites as well.
Use a lean cut, such as the shoulder or leg of lamb or buy stewing lamb already cut up to make this go quicker. 
Both lamb and mutton are covered with a papery white membrane which should be removed before cooking. This membrane, if left in place, gives a strong gamey flavor.
What to serve with this stew? A loaf of crusty German bread is all that's needed. Enjoy!

Cook the green beans, for how long???
The recipe above is an old one. The veggies were often cooked until they were really quite 'mushy' and after 30 minutes, they really were.
If you want your beans with a bit more 'bite', then omit the green beans until the last 15 - 20 minutes or so. 
Oma says,
I have to admit that I don't remember my Mutti making this. At least, I don't remember her telling us we were eating lamb. I just remember eating a really delicious tasting green bean stew with meat. I wish she were still alive today so I could ask her if she snuck in that lamb?!?

Mutti's Recipe for Lamb Stew with Green Beans

Ingredients:
1 to 1½ lb lean lamb 
1 onion, sliced
1½ lb green beans, trimmed and cut in halves
approx. 3 cups water or beef broth
salt, pepper, summer savory
1 to 1½ lb potatoes, sliced or diced
Instructions:
Cut lamb into cubes, approx. 1 to 1½ inches.
Place the lamb, green beans, and onions in a pot and just barely cover with water or broth. Season with salt, pepper, and summer savory.
Bring to boil, reduce heat, and simmer about 45 minutes.
Add potatoes and continue simmering about 30 minutes.
Stir and re-season if necessary.
Serves 4.

---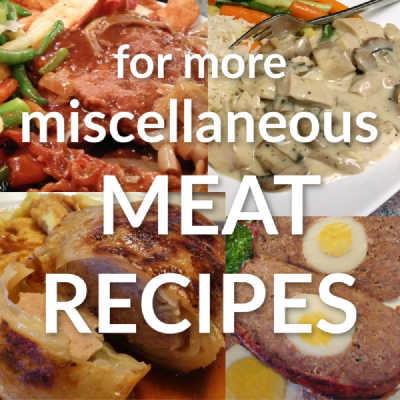 Leave a comment about this recipe or ask a question?
Pop right over to my private Facebook group, the Kaffeeklatschers. You'll find thousands of German foodies, all eager to help and to talk about all things German, especially these yummy foods. 
I pop in all the time as well, to chat and to answer questions. 
Meet with us around Oma's table, pull up a chair, grab a coffee and a piece of Apfelstrudel, and enjoy the visit.
*  *  *  *  *
Want nutritional information for a recipe?
Copy and paste the ingredient list and the number of servings into Calorie Count. 
It will give you an approximate calculation.

Need help doing conversions
between cups and grams or any such thing?
Use this site to give you all the different conversions for the different types of ingredients. 
---
Pin this ...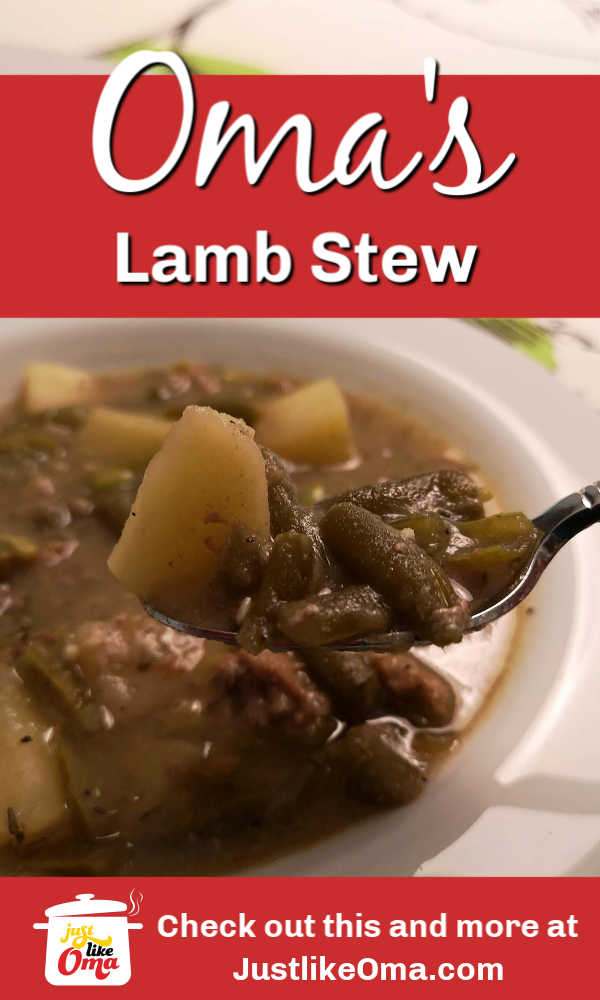 ---
I'm American but lived several years in Germany. I love the German Christmas traditions! For instance celebrating a 1st and 2nd Christmas day and celebrating

These German Christmas Traditions have been around for generations. Some ornamental, some musical and some just simply YUMMY!
---
Words to the Wise
"Interfering in someone else's argument is as foolish as yanking a dog's ears."
Proverbs 26:17 (NLT)