Oma's Baked Sausage ❤️

➤ by Oma Gerhild Fulson
FTC Disclosure: As an Amazon Associate, I earn from qualifying purchases.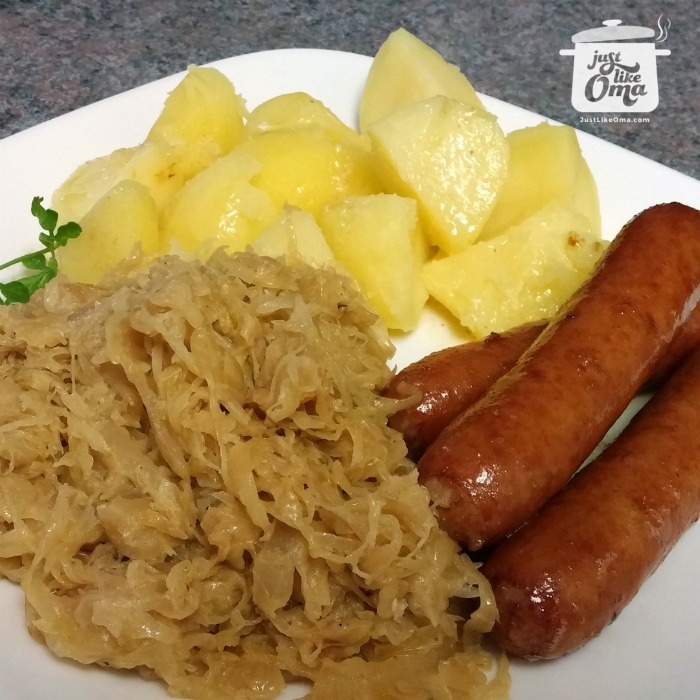 Baked sausage? When I first thought about it, I really wondered if it would work. Why not? I love baked bacon. It's an easy way to make lots of bacon. So, I tried doing sausages the same way. The result? Fantastic! A no-mess easy way to make a lot or a few.
Easy German meat recipes include these sausages baked (roasted) in the oven, simply because they're so simple to make without the mess! 

Easy Sausage Dinner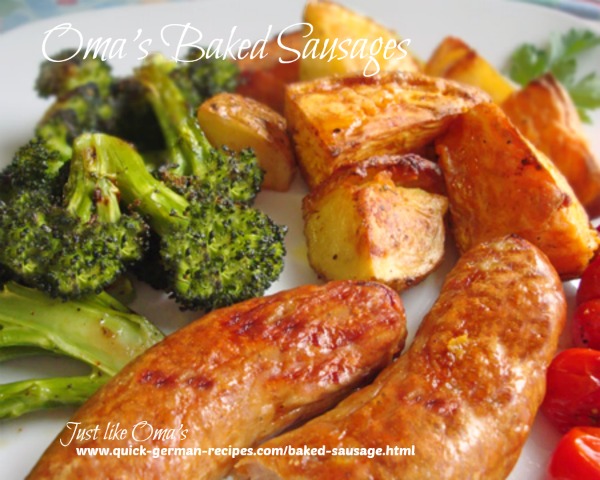 In the picture above, I've served these sausages with oven-roasted broccoli and roast potatoes. You get the picture?
Oven set for 400° F.
Potatoes go in first,
then the sausages go in 15 minutes later,
then the broccoli goes in 10 minutes later.
20 - 30 minutes later, dinner's done. (Check each ... and remove as it's done. Will depend on how big your potato chunks are and how thick your sausage.)
An easy dinner. 
Want other German sausage recipes? Here's one way that uses both the stove and the BBQ.  Make sure you watch my video below.
In Germany, Bratwurst is a generic name for sausages that are either fried or grilled. Well, doing them in the oven produces a similar result with the only real difference being that the grill marks are missing. 
Wurst!
Some of the interesting names are:
"Bierwurst" (beer sausage)
"Blutwurst", (blood sausage)
"Fleischwurst" (meat sausage)
"Blaue Zipfel" (blue tip)
"Teewurst" (tea sausage)
"Speckwurst" (bacon sausage)
Ready to make some? Here you go ...
---
Oma's Baked Sausage ❤️
Ingredients:
4 raw sausages (about 1 lb.)
olive oil 

Instructions:
Preheat oven to 400° F. Line baking sheet with either aluminum foil or parchment paper. Alternately, you could put a rack on the baking sheet as well.
Place sausages on baking sheet (or rack) so that they don't touch each other.
Brush with olive oil (to aid in browning)
Bake for about 20 - 25 minutes or until meat thermometer reads an internal temperature of 160° F. If the sausages are really thick, this may take up to 45 minutes. Turn sausages at least once during baking.
Serve with mustard and

buns,

sauerkraut

or

Easy Potato Salad

.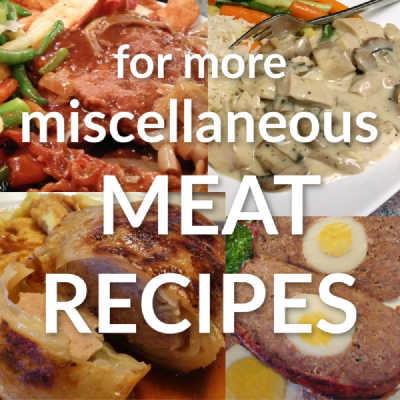 Leave a comment about this recipe or ask a question?
Pop right over to my private Facebook group, the Kaffeeklatschers. You'll find thousands of German foodies, all eager to help and to talk about all things German, especially these yummy foods. 
I pop in all the time as well, to chat and to answer questions. 
Meet with us around Oma's table, pull up a chair, grab a coffee and a piece of Apfelstrudel, and enjoy the visit.
*  *  *  *  *
Want nutritional information for a recipe?
Copy and paste the ingredient list and the number of servings into Calorie Count. 
It will give you an approximate calculation.

Need help doing conversions
between cups and grams or any such thing?
Use this site to give you all the different conversions for the different types of ingredients. 
---
PIN this when looking for the perfect meat to serve with your yummy potato salad!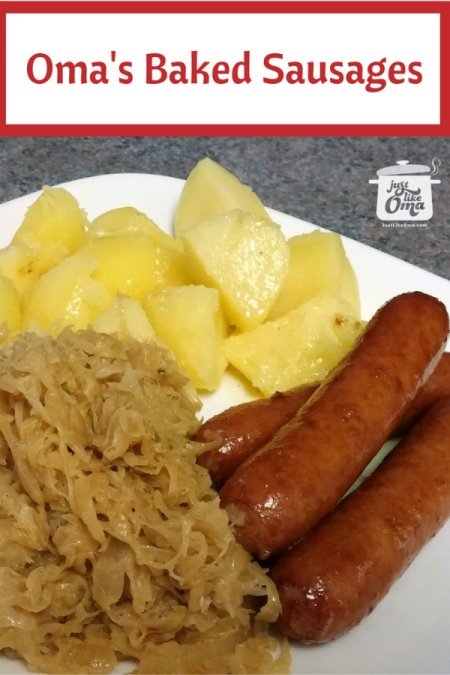 ---
Jagerschnitzel: Rich creamy bacon & mushroom gravy over crispy breaded pork schnitzel (cutlets). HEAVENLY! A traditional German meal that's PERFECT anytime.

My Bienenstich recipe is a quick version of the traditional "German Bee Sting Cake". Sweet, chewy, nutty top with a creamy filling. Yummy!
---
Words to the Wise
"Those too lazy to plow in the right season will have no food at the harvest."
Proverbs 20:4 (NLT)
---
❤️ Baked Sausage made Just like Oma
By
Oma Gerhild Fulson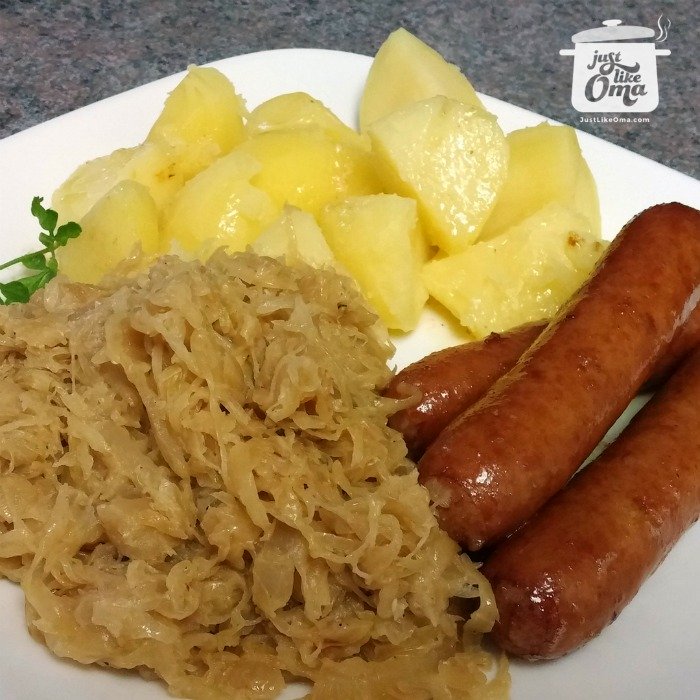 Baked sausage? What an easy way to make lots of sausages without the mess. Roast them along side your other dishes and dinner's ready!
Ingredients:
sausage,
olive oil,
For the full recipe, scroll up ...