How to Roast Cherry Tomatoes
How to Roast Cherry Tomatoes: Oma's geröstete Kirschtomaten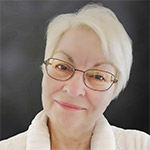 by: Gerhild Fulson  /  Cookbook Author, Blogger, German Oma!

This post may contain affiliate links, which means I'll receive a commission if you purchase through my links, at no extra cost to you. Please read full disclosure for more information.
Learn how to roast cherry tomatoes, geröstete Kirschtomaten, in the oven. You'll discover their natural flavor is concentrated and balanced by a gentle tang of acidity.
It's perfect for 'out-of-season' tomatoes because this method intensifies the natural flavors. However, if you have garden fresh tomatoes, it's a perfect method for them as well when you've a super abundance of them.
It's also a recipe that fantastic if you're entertaining vegans! Use extra-virgin olive oil if possible, drizzle with extra oil if you desire, and you'll make everyone happy.
It is quickly prepared and easy to make with cherry or grape tomatoes -- just pop it in the oven. Smells divine!
You can leave them whole ... that's easiest! But, they will burst and perhaps not look quite so nice.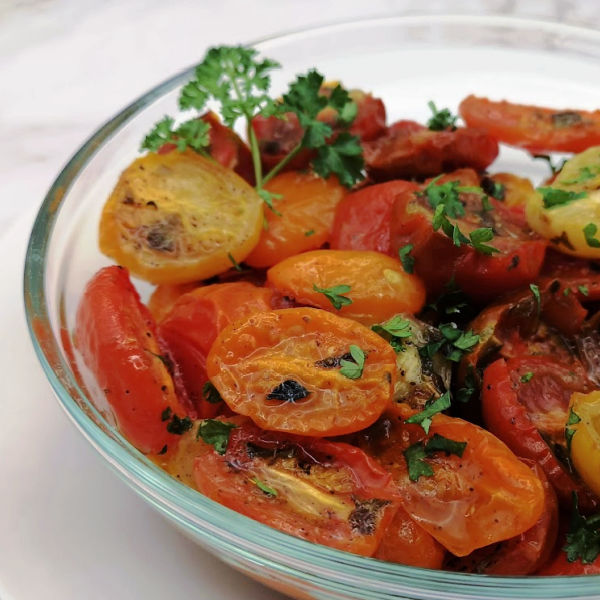 For a prettier presentation, slice them in half first. For an even prettier presentation, use different colored cherry or grape tomatoes. A side dish extra-ordinary! That's what I've done in the photo above

Balsamic vinegar can be drizzled on as well if you like. Let the tomatoes cool for at least 10 minutes. This will allow their sweet flavor to develop.
If you wish, you can add some thinly sliced garlic to the tomatoes before you bake them.
Why roast cherry tomatoes?
The roasting process evaporates some of the natural "watery" juices in the fruit/vegetable. The result is a much more pronounced "tomato-y" flavour.
Tomatoes are such a healthy fruit/vegetable. Full of vitamins and minerals, it's also a great boost for your daily fiber! Make them a regular part of your diet. This recipe makes for a nice change to just serving them fresh.
What else can you do with cherry tomatoes?
When you're making this cherry tomato recipe, keep a few tomatoes, wash and dry then. Then put them into a freezer baggie and freeze.
Whenever you're serving a bowl of "HOT" soup, especially to children, pop in a frozen cherry tomato just as you are serving it. The frozen cherry tomato will help cool the soup and even add a bit of flavor. As a child, I found it fun to eat the soup around the floating frozen cherry tomato.
If you're game for a real flavor treat, then check out the recipe for Butternut Squash with Cherry Tomatoes which has, would you believe it, blue cheese. Not only do the squash and cherry tomatoes get roasted, evaporating some of their juices so it's more flavorful, but the blue cheese makes for an additional punch of flavor. Even non-blue-cheese-lovers love one.

Need that "all's good with the world" feeling? Comfort food will do that. Get your copy of Oma's German favorites in her Comfort Foods e-Cookbook.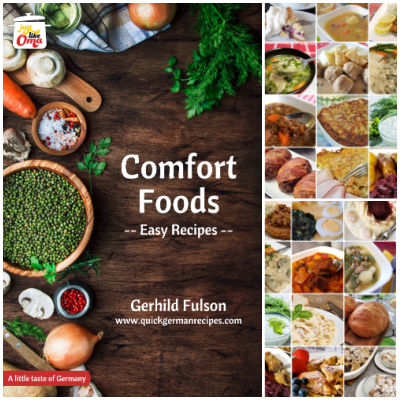 Take a peek at all Oma's eCookbooks. They make sharing your German heritage a delicious adventure!
What herbs to use with tomatoes?
In the photo below, I snipped some fresh oregano over the tomato halves before I roasted them. Afterwards, I sprinkled freshly chopped parsley to give a hint of freshness to the dish.
Below, I placed sprigs of thyme over the tomatoes, here left whole, before I placed them in the oven.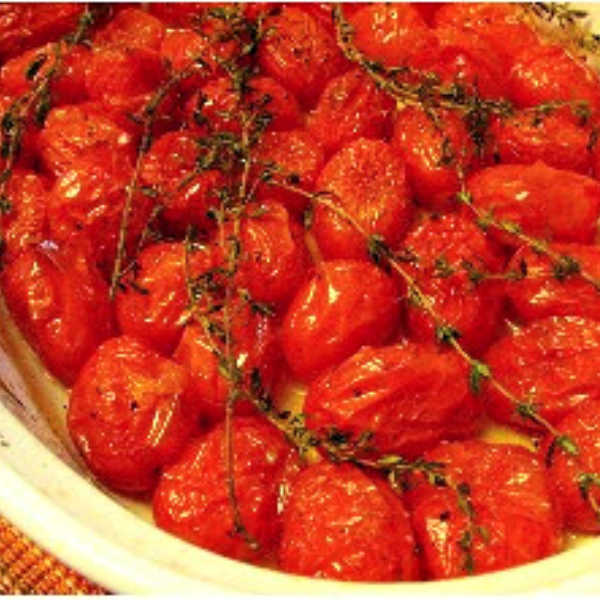 When you roast the herb, fresh or dried, with the tomatoes, it affects the tomatoes' actual flavor. When the herb is sprinkled fresh on top just before serving, the herb flavor is separate but amplifies the taste of the tomatoes. 

Choose when to add and, from the following list of herbs, which one(s). Each one is a wonderful addition. Mix and match them as well (oh my, the list is almost endless).
Here's my list for the top 10 herbs to use with tomatoes:
tarragon
thyme
chives
basil (the old reliable)
oregano
dill
parsley
rosemary
marjoram

savory
How to quickly make roasted cherry tomatoes:
Choose whether to keep them whole or to cut them in half. I've decided to cut them in half because the final dish will look pretty when being served. I've also chosen to use different colored cherry and grape tomatoes.
Mix the tomatoes, either whole or cut, with the olive oil and seasonings. I've added freshly chopped oregano to this batch.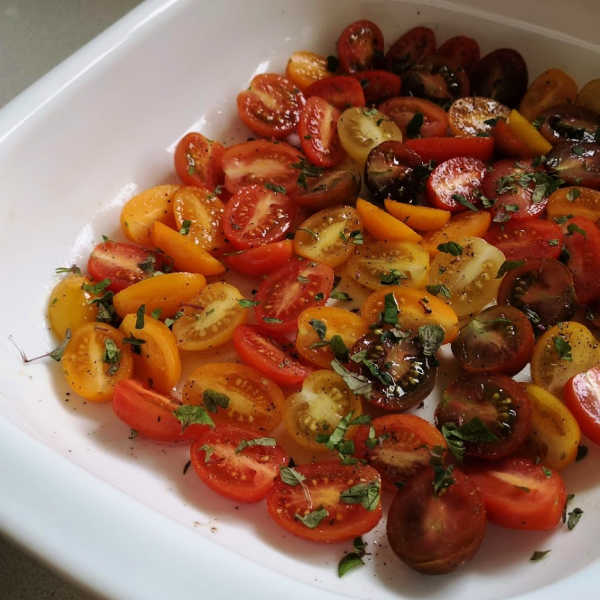 When you place the tomatoes into the baking dish, if they are cut in half, arrange them so that the cut sides are facing up.
Roast the tomatoes until they are done according to your liking. If you like them more caramelized, just leave them in a bit longer.
When they are done, sprinkle with some freshly cut herbs and serve.
These are also delicious served as a cold side dish. 
Ready to make this roasted tomatoes recipe?

Is the recipe below locked? Here's why.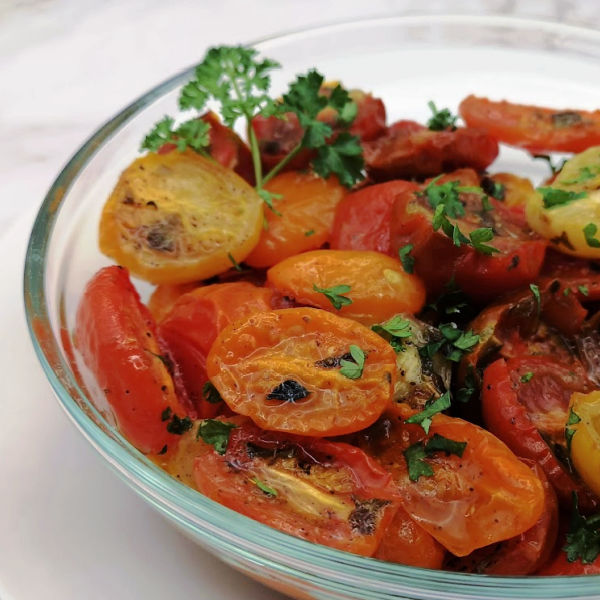 How to Roast Cherry Tomatoes: Oma's geröstete Kirschtomaten
Here's how to roast cherry tomatoes in the oven. You'll discover their natural flavor is concentrated and balanced by a gentle tang of acidity. It's perfect for 'out-of-season' tomatoes!
Use extra-virgin olive oil if possible, and drizzle with extra oil if you desire.

Prep Time


5 minutes


Cook Time


20 minutes


Total Time

25 minutes

Servings:

Makes 4 servings
Ingredients:
2 pints (about 20 ounces) cherry or grape tomatoes, whole or halved

2 tablespoons olive oil

salt and pepper (preferably fresh ground)

6 sprigs fresh thyme or other herb of your choice
fresh parsley to garnish
Instructions:
Preheat oven to 425°F.

Put tomatoes in single layer in a greased rimmed baking dish.

Drizzle with oil and season with salt and some freshly ground pepper.

Scatter thyme sprigs on top.

Bake until tomatoes are softened and slightly caramelized, about 20 to 30 minutes.

Sprinkle with chopped fresh parsley just before serving.
*  *  *  *  *

Unless otherwise noted recipe, images and content © Just like Oma | www.quick-german-recipes.com

05.26.2021 revision update
Leave a comment about this recipe or ask a question?

Pop right over to my private Facebook group, the Kaffeeklatschers. You'll find thousands of German foodies, all eager to help and to talk about all things German, especially these yummy foods. 
Meet with us around Oma's table, pull up a chair, grab a coffee and a piece of Apfelstrudel, and enjoy the visit.

Cooking just like Oma, making those German meals, is actually quite easy. Let me, Oma Gerhild, help you with my step-by-step methods to re-create those yummy meals you remember from your Oma.

If you're looking for tasty, traditional, and easy German cake recipes (in English) to try, then you've come to the right place! Check out these lecker treats!

Discover the ultimate German schnitzel recipe with Oma's quick and easy method - perfect for any occasion! Taste the authentic flavors of Germany today.
*  *  *  *  *
PIN to SAVE this recipe to your Pinterest board!
And let's be friends on Pinterest!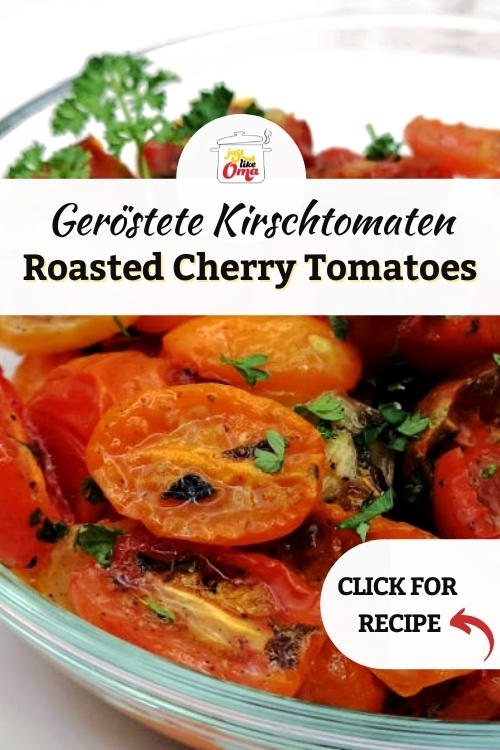 ---
How to Roast Cherry Tomatoes ~ Oma's Geröstete Kirschtomaten
By
Oma Gerhild Fulson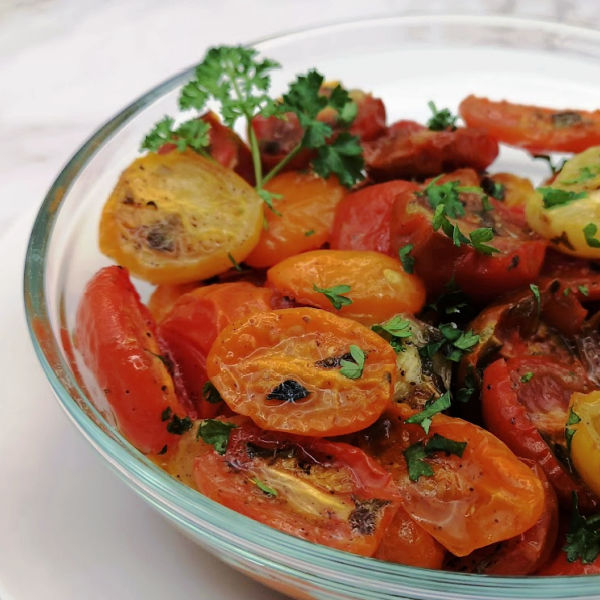 Here's how to roast cherry tomatoes, whether "just picked" or "out-of-season". Discover their natural flavor concentrated and balanced with a gentle tang of acidity.
Ingredients:
cherry tomatoes,
seasonings,
thyme,
oil,
For the full recipe, scroll up ...
Words to the Wise
"A lying tongue hates its victims, and flattering words cause ruin."
Proverbs 26:28 (NLT)