Oma's Tomato Bisque Soup ❤️
➤ by Oma Gerhild Fulson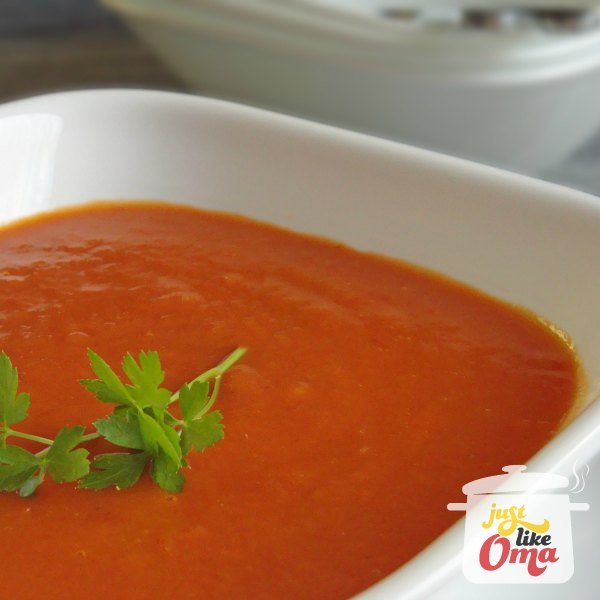 This tomato bisque soup is great for all. Smooth, well-seasoned, and creamy, it's delicious as a light lunch or supper, served with some fresh crusty bread. What's also great is that vegetarians and vegans can enjoy it as well. Check the A bit of this & a bit of that section for additions to make this soup spicier ... the way my hubby like it.
Don't know the difference between a bisque and a regular soup? Check below.

What makes these soups so wunderbar? They bring back such wonderful memories of my Mutti's kitchen. So, of course, I had to write my own soup e-cookbook to share with my grandchildren. I know you'll LOVE it, too!
There are 84 full-color pages filled with step-by-step instructions and hints. Take a quick peek ...
Sharing these soup recipes from my Mutti and Oma to my own young grandchildren ... that's such a delicious way to pass on our German heritage :)
A bit of this and a bit of that ...
Add 1 clove of garlic, crushed, along with the vegetables.
Season with a pinch of chili powder and a dash of Worcestershire sauce.
Use Montreal Steak Spice to give it a bit of kick!
Spoon a bit of cream or swirl it in when serving.
Garnish with chives or parsley.
German Soup?
This recipe reminds me of my Mutti. She'd take whatever she had in the fridge and turn it into a wonderful dinner. The soup recipe above is a perfect example.
All its ingredients are in my fridge and cupboard right now. Even without a recipe, I'd turn it into a soup ... and even though it wouldn't be a traditional German soup recipe, it would taste German. 
Why? Because my taste buds are tuned to German cooking. I'd season it and follow the 'German methods' I learned from my Mutti. Wunderbar! Suppe!
When is a Soup a Bisque?
Bisques are traditionally made with shellfish, such as crab, shrimp, lobster, or crayfish. The stock is then thickened with the pureed shellfish meat.
However, bisques can also be thickened with pureed vegetables. That makes it a perfect method to make it vegan. Hence, in this case, pureed vegetables thicken this well seasoned vegetable stock.
Among vegan soup recipes, this one is really easy. The quantities can be adjusted as needed, with more or less of each vegetable added.
Oma says:
If you're looking for healthy soup recipes, vegetable soups are definitely full of nutrients and vitamins.
Delicious served for lunch or supper, or as a first course of a multi-course dinner. 
Oma's Tomato Bisque Soup ❤️
Ingredients:
1 large carrot, chopped
1 medium onion, chopped
1 stalk celery, chopped
1 large potato, peeled and chopped
2 tbsp oil
2 cups crushed (ground) tomatoes (canned)
1 tbsp tomato paste
1 tsp sugar
2 bay leaves
4 cups vegetable stock
salt, pepper
Instructions:

Heat the oil in a large saucepan. Add carrots, onions, celery and potatoes. Cover and 'sweat' the veggies for about 5 minutes, stirring occasionally.
Add crushed tomatoes, tomato paste, sugar, bay leaves, and stock.

Bring to boil, reduce heat, cover and simmer for about 20 minutes or until vegetables are tender.
Remove bay leaves.
Puree soup either in a blender (Be careful, it's hot!) or use an immersion blender.
Season with salt and pepper.
Makes 4 servings


Want nutritional information? Copy and paste the above ingredient list and the number of servings into Calorie Count for an approximate calculation.
Need help doing conversions between cups and grams, etc.? Use this site to give you all the different conversions for the different types of ingredients.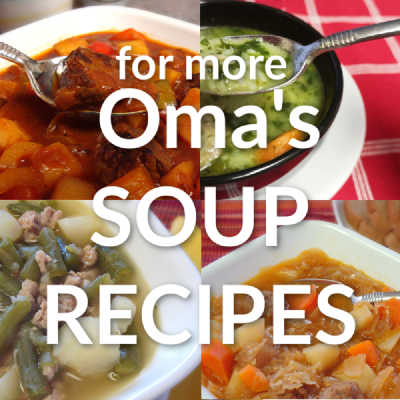 Leave a comment about this recipe or ask a question?
Pop right over to my private Facebook group, the Kaffeeklatschers. You'll find thousands of German foodies, all eager to help and to talk about all things German, especially these yummy foods. 
I pop in all the time as well, to chat and to answer questions. 
Meet with us around Oma's table, pull up a chair, grab a coffee and a piece of Apfelstrudel, and enjoy the visit.
*  *  *  *  *
Want nutritional information for a recipe?
Copy and paste the ingredient list and the number of servings into Calorie Count. 
It will give you an approximate calculation.

Need help doing conversions
between cups and grams or any such thing?
Use this site to give you all the different conversions for the different types of ingredients. 
---
PIN this ...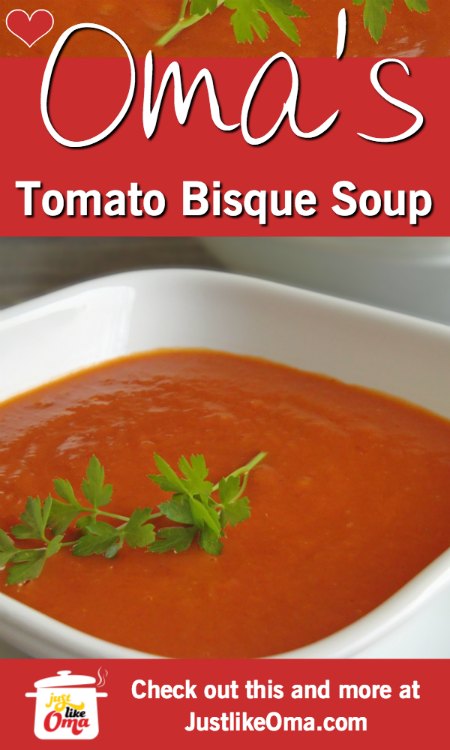 ---
This German sourdough whole grain no knead bread recipe is so delicious and so healthy. Learn this basic method and then alter it to suit your needs. Healthy never tasted this good!

Want a Rhubarb Cake recipe that tastes just like Oma's? Not too sweet, but wunderbar? Try my Rhubarb Streusel Cake that's super quick and easy to make.
---
Make every Day a Kingdom Day!
"For the Kingdom of God is not a matter of what we eat or drink, but of living a life of goodness and peace and joy in the Holy Spirit."
Romans 14:17 (NLT)