Oma's Tomato Bisque Soup
➤ by Gerhild Fulson
This tomato bisque soup, aka Tomaten-Bisque-Suppe, is great for all. Smooth, well-seasoned, and creamy, it's delicious as a light lunch or supper, served with some fresh crusty bread. What's also great is that vegetarians and vegans can enjoy it as well.
Check the A bit of this & a bit of that section for additions to make this soup spicier ... the way my hubby like it.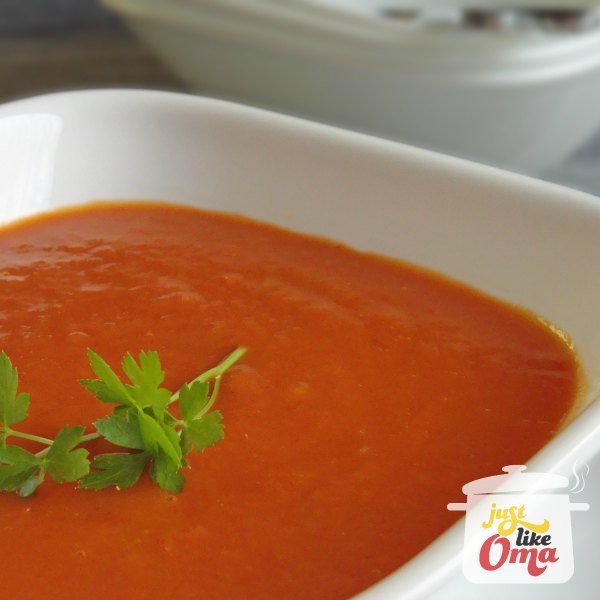 Don't know the difference between a bisque and a regular soup? Check below.

A bit of this and a bit of that ...
Add one clove of garlic, crushed, along with the vegetables.
Season with a pinch of chili powder and a dash of Worcestershire sauce.
Use Montreal Steak Spice to give it a bit of kick!
Spoon a bit of cream or swirl it in when serving.
Garnish with chives or parsley.
Grab your copy of Oma's favorite soups collection in Quick Fix German Soups e-Cookbook. You'll LOVE it!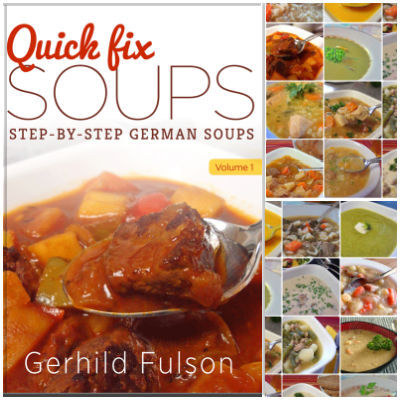 Take a peek at all Oma's eCookbooks. They make sharing your German heritage a delicious adventure!
German Soup?
This recipe reminds me of my Mutti. She'd take whatever she had in the fridge and turn it into a wonderful dinner. The soup recipe above is a perfect example.
All its ingredients are in my fridge and cupboard right now. Even without a recipe, I'd turn it into a soup ... and even though it wouldn't be a traditional German soup recipe, it would taste German. 
Why? Because my taste buds are tuned to German cooking. I'd season it and follow the 'German methods' I learned from my Mutti. Wunderbar! Suppe!
When is a Soup a Bisque?
Bisques are traditionally made with shellfish, such as crab, shrimp, lobster, or crayfish. The stock is then thickened with the pureed shellfish meat.
However, bisques can also be thickened with pureed vegetables. That makes it a perfect method to make it vegan. Hence, in this case, pureed vegetables thicken this well seasoned vegetable stock.
Among vegan soup recipes, this one is really easy. The quantities can be adjusted as needed, with more or less of each vegetable added.
Oma says:
If you're looking for healthy soup recipes, vegetable soups are definitely full of nutrients and vitamins.
Delicious served for lunch or supper, or as a first course of a multi-course dinner. 
Ready to make this tomato soup?
Is the recipe below locked? Here's why. Unlock to see ALL the exclusive recipes on this site. Click here for help.
➤ As an Amazon Associate, I earn from qualifying purchases.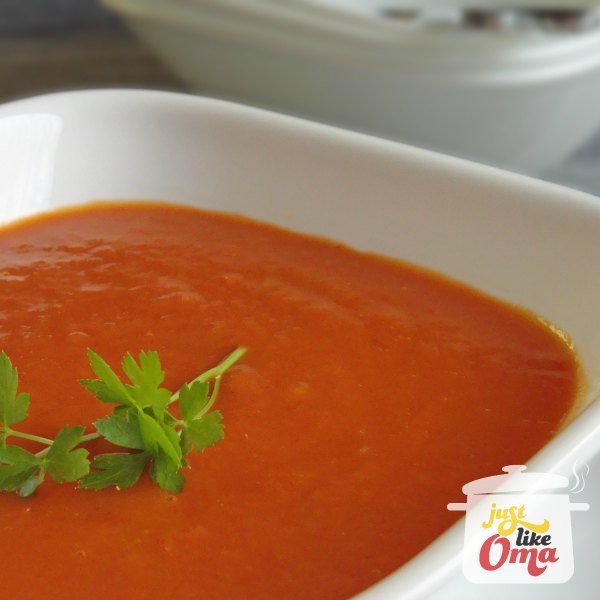 Oma's Tomato Bisque Soup

This tomato bisque soup, aka Tomaten-Bisque-Suppe, is great for all. Smooth, well-seasoned, and creamy, it's delicious as a light lunch or supper, served with some fresh crusty bread.
Prep Time


15 minutes


Cook Time


25 minutes


Total Time

40 minutes

Servings:

Makes 4 servings
Ingredients:
1 large carrot, chopped
1 medium onion, chopped
1 stalk celery, chopped
1 large potato, peeled and chopped
2 tablespoons oil
2 cups crushed (ground) tomatoes (canned)
1 tablespoon tomato paste
1 teaspoon sugar
2 bay leaves
4 cups vegetable stock
salt, pepper
Instructions:
Heat the oil in a large saucepan. Add carrots, onions, celery and potatoes. Cover and 'sweat' the veggies for about 5 minutes, stirring occasionally.
Add crushed tomatoes, tomato paste, sugar, bay leaves, and stock. 
Bring to boil, reduce heat, cover and simmer for about 20 minutes or until vegetables are tender.
Remove bay leaves.
Puree soup either in a blender (Be careful, it's hot!) or use an immersion blender.
Season with salt and pepper.
*  *  *  *  *

Unless otherwise noted recipe, images and content © Just like Oma | www.quick-german-recipes.com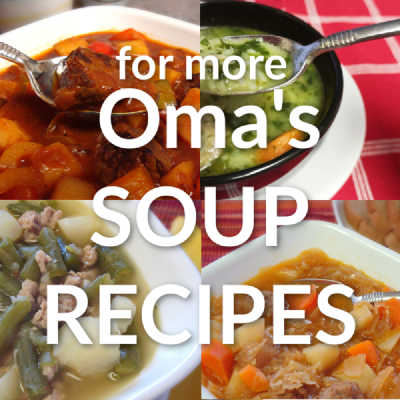 Leave a comment about this recipe or ask a question?

Pop right over to my private Facebook group, the Kaffeeklatschers. You'll find thousands of German foodies, all eager to help and to talk about all things German, especially these yummy foods. 
Meet with us around Oma's table, pull up a chair, grab a coffee and a piece of Apfelstrudel, and enjoy the visit.

Make this easy German Mulled Wine recipe to enjoy as a traditional German Christmas drink. It'll make you think you're back in Germany at the wonderful Christmas markets.

Wurstsalat ... a traditional meat salad from southern Germany. In the north, it's Fleischsalat. Both are wonderfully different and utterly delicious! Perfect party pairing.
*  *  *  *  *
PIN to SAVE this recipe to your Pinterest board!
And let's be friends on Pinterest!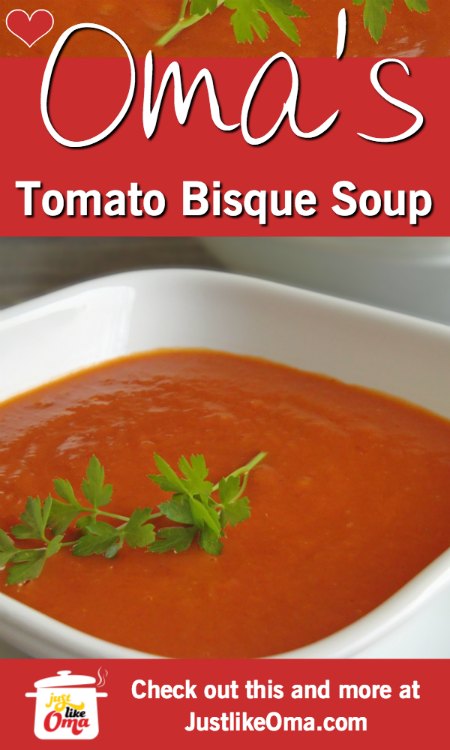 ---
Oma's Tomato Bisque Soup (Vegan) made Just like Oma


By
Oma Gerhild Fulson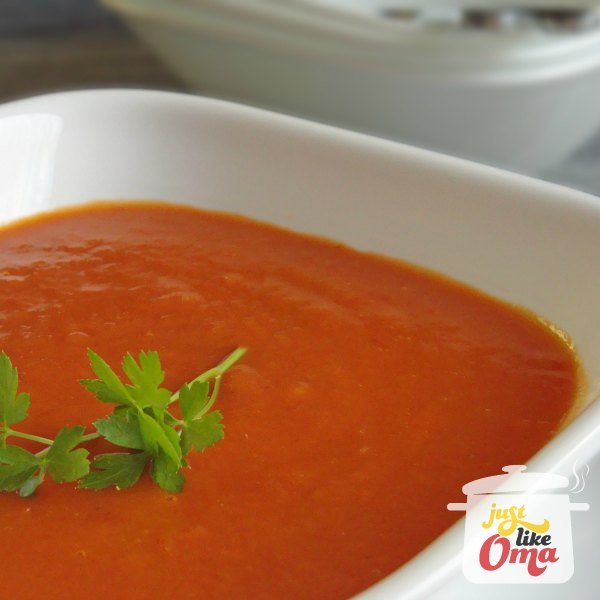 This tomato bisque soup is great for all. Smooth, well-seasoned, creamy. Delicious as a light lunch or supper, served with some fresh bread. Even your vegan friends will love this!

Ingredients:
tomato paste,
carrots,
celery,
onion,
potato,
sugar,
spices,
vegetable stock,
crushed tomatoes,
For the full recipe, scroll up ...
Make every Day a Kingdom Day!
"For the Kingdom of God is not a matter of what we eat or drink, but of living a life of goodness and peace and joy in the Holy Spirit."
Romans 14:17 (NLT)