Oma's Quick Italian Meatball Soup ❤️
➤ by Oma Gerhild Fulson
FTC Disclosure: Making a purchase via a link on the page? I may earn a small commission on the transaction - at no added cost to you. Thanks!
Yum
My Italian meatball soup is so good! You can make it as spicy as you like. And, one of the best things is that you empty your fridge, crisper, and/or freezer. Did you know minestrone is really just a thick soup made with vegetables that often has pasta or rice.
Often meat is added, but not necessary. This soup is called Italian MEATBALL soup. It HAS meat! That makes hubby happy!

Oma's Quick Italian Meatball Soup 
Ingredients:
3 cups beef broth
1 can (14.5 oz) diced tomatoes
10 oz frozen small precooked meatballs
about 2 oz uncooked pasta (1/2 cup)
½ tsp Italian seasoning
1 cup frozen peas and carrots (or your favorite veggies)
salt and pepper to taste
Instructions:
Into a large saucepan, put the broth, undrained tomatoes, meatballs, pasta, Italian seasoning and veggies.
Bring to boil and reduce heat to a simmer.
Cover and simmer for about 10 minutes or until the pasta is cooked and the meatballs are hot.
Season with additional salt and pepper, if needed.
Serve.
Makes 4 servings
Like the soup above? You'll love looking at and making more of Oma's soups. All so quick and easy!
What makes these soups so wunderbar? They bring back such wonderful memories of my Mutti's kitchen. So, of course, I had to write my own soup e-cookbook to share with my grandchildren. I know you'll LOVE it, too! There are 84 full-color pages filled with step-by-step instructions and hints. Take a quick peek ...
Sharing these soup recipes from my Mutti and Oma to my own young grandchildren ... that's such a delicious way to pass on our German heritage :)
A bit of this and a bit of that ...
Don't have any beef broth. Use bouillon cubes, following package instructions for the quantity to use for 2 cups.
Add any leftover veggies you have in your fridge. If you want to use up veggies from your crisper, you may need to cook the soup a bit longer to get them tender.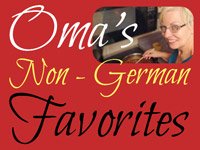 Tradition says that it was used originally to use up leftovers.

So, what's often in the crisper? Onions, celery, tomatoes, and carrots. So, these are often included.
Well, the soup below rivals any that you get in an Italian restaurant.
And you'll feel utterly Italian doing so! In fact, it will be among your favorite Italian soup recipes! I guarantee it!
You'll easily feed 9 - 10 people with this potful. You could cut back on the quantities, but I find it's always great to have leftovers for the next day. Since this soup has pasta in it, it will have a tendency to become thicker as it stands. You may need to add extra liquid when reheating. 
Oma says,
There is not such thing as the minestrone soup recipe that all others try to mimic.

Personally, I like a bit of spice in my soups. That's why I add the Montreal Steak Spice. You can change that and add whatever you fancy. A salt-free seasoning spice blend works. Basil is nice. Garlic or garlic powder works. Thyme is great. 
Looking for other meatball soup recipes? Try a Mexican Albondigas Soup ... delicious!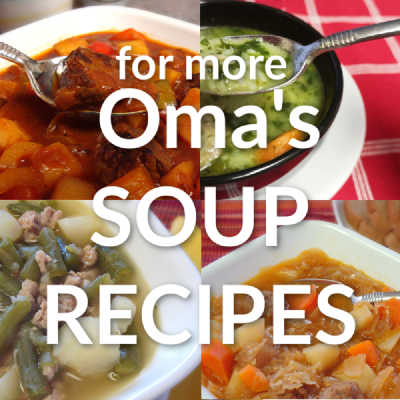 *  *  *  *  *
Thinking of starting your own Handmade Business?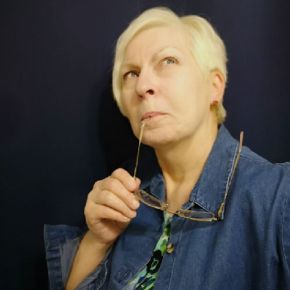 This Oma KNOWS you CAN do it.
How do I know?
Well, if I can do it, anyone can.
I've even figured out how I can help you.
I've teamed up with my own business coach, Renae Christine (yes, do google her!), to bring you this free masterclass. After you watch it, ask me any questions and I'll gladly answer them.
Don't hesitate. I'm not sure how long Renae will keep this free masterclass available.
PS:  Yes, Renae really is as amazing as all the reviews say.
PPS: Yes, the course is for handmade items, but I've used it successfully for my cookbooks. I know others are using her methods for services, direct sales, and even a local ice cream bar & grill that's constantly selling out. You've nothing to lose by taking a look ... and a whole bunch to gain.
*  *  *  *  *
Oma's Cookbooks (downloadable & print)
*  *  *  *  *
Want nutritional information for a recipe?
Copy and paste the ingredient list and the number of servings into Calorie Count. 
It will give you an approximate calculation.

Need help doing conversions
between cups and grams or any such thing?
Use this site to give you all the different conversions for the different types of ingredients. 
---
PIN this ...
---
Words to the Wise
"Joyful is the person who finds wisdom, the one who gains understanding. For wisdom is more profitable than silver, and her wages are better than gold."
Proverbs 3:13-14