Oma's Quick Italian Meatball Soup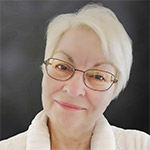 by: Gerhild Fulson  /  Cookbook Author, Blogger, German Oma!
As an Amazon Associate, I earn from qualifying purchases.
My Italian meatball soup is so good! You can make it as spicy as you like. And, one of the best things is that you empty your fridge, crisper, and/or freezer.
Did you know minestrone is really just a thick soup made with vegetables that often has pasta or rice.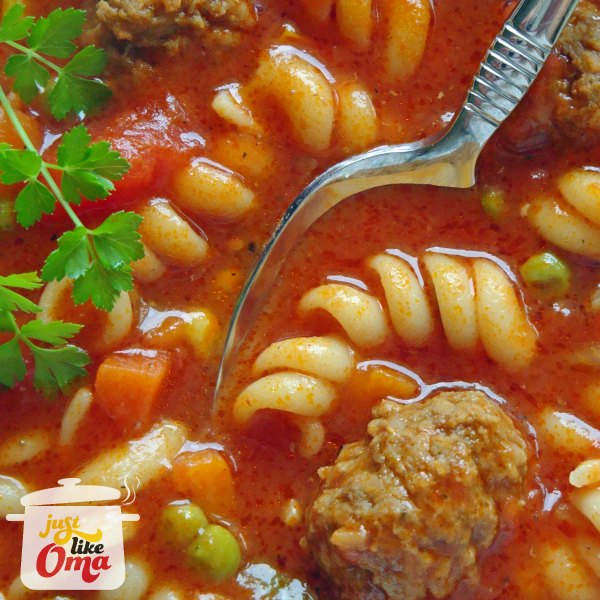 Often meat is added, but not necessary. This soup is called Italian MEATBALL soup. It HAS meat! That makes hubby happy!

A bit of this and a bit of that ...
Don't have any beef broth. Use bouillon cubes, following package instructions for the quantity to use for 2 cups.
Add any leftover veggies you have in your fridge. If you want to use up veggies from your crisper, you may need to cook the soup a bit longer to get them tender.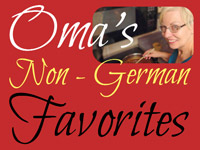 Yes, you're right. This is a German recipe website, and this soup definitely is not German. But, it's one of my non-German favorites.
Now, if you omit the Italian Seasoning and replace it with some of your own favorites and include some Maggi, you've just turned this into a German soup ;)
Tradition says that this Italian Meatball Soup was used originally to use up leftovers. That makes total sense. Every regional cuisine has its own ways of using leftovers in delicious ways.

So, what's often in the crisper? Onions, celery, tomatoes, and carrots. So, these are often included.
Well, the soup below rivals any that you get in an Italian restaurant. And you'll feel utterly Italian doing so! In fact, it will be among your favorite Italian soup recipes! I guarantee it!
You'll easily feed 9 to 10 people with this potful. You could cut back on the quantities, but I find it's always great to have leftovers for the next day. Since this soup has pasta in it, it will have a tendency to become thicker as it stands. You may need to add extra liquid when reheating. 
Grab your copy of Oma's favorite soups collection in Quick Fix German Soups e-Cookbook. You'll LOVE it!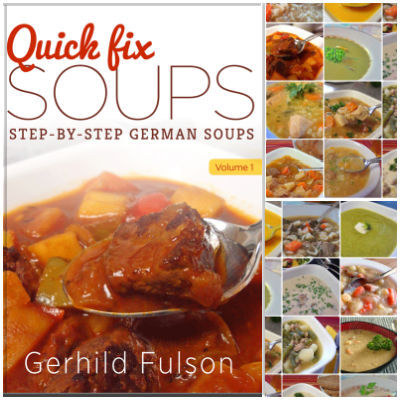 Take a peek at all Oma's eCookbooks. They make sharing your German heritage a delicious adventure!
---
Oma Says:

Personally, I like a bit of spice in my soups. That's why I add often add Montreal Steak Spice. You can change that and add whatever you fancy.
A salt-free seasoning spice blend works. Basil is nice. Garlic or garlic powder works. Thyme is great. 

Looking for other meatball soup recipes? Try a Mexican Albondigas Soup ... delicious!
---
Ready to make this Italian Meatball Soup?
Is the recipe below locked? Here's why. 
As an Amazon Associate, I earn from qualifying purchases.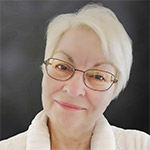 For more German-inspired items that make life easier and yummier, especially in the kitchen and for entertaining, follow my Amazon Storefront.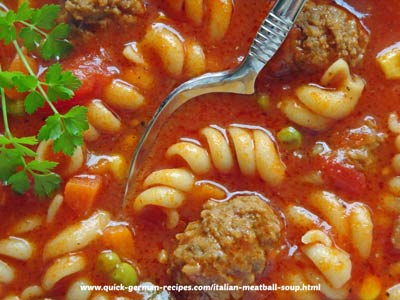 Oma's Quick Italian Meatball Soup

My Italian meatball soup is so good! You can make it as spicy as you like. And, one of the best things is that you empty your fridge, crisper, and/or freezer.

Prep Time


5 minutes


Cook Time


10 minutes


Total Time

15 minutes

Servings:

Makes 4 servings
Ingredients:
3 cups beef broth
1 can (14.5-ounce) diced tomatoes
10 ounces frozen small precooked meatballs
about 2 ounces uncooked pasta (½ cup)
½ teaspoon Italian seasoning
1 cup frozen peas and carrots (or your favorite veggies)
salt and pepper to taste
Instructions:
Into a large saucepan, put the broth, undrained tomatoes, meatballs, pasta, Italian seasoning and veggies.
Bring to boil and reduce heat to a simmer.
Cover and simmer for about 10 minutes or until the pasta is cooked and the meatballs are hot.
Season with additional salt and pepper, if needed.
Serve.
*  *  *  *  *

Unless otherwise noted recipe, images and content © Just like Oma | www.quick-german-recipes.com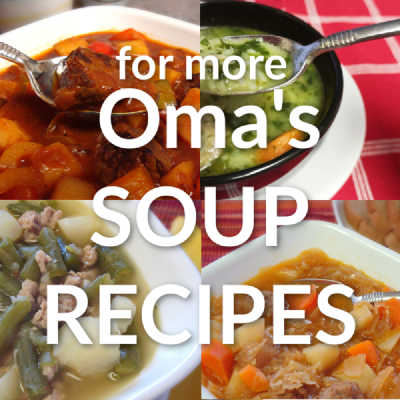 Leave a comment about this recipe or ask a question?

Pop right over to my private Facebook group, the Kaffeeklatschers. You'll find thousands of German foodies, all eager to help and to talk about all things German, especially these yummy foods. 
Meet with us around Oma's table, pull up a chair, grab a coffee and a piece of Apfelstrudel, and enjoy the visit.

Make these Fächerkartoffeln aka Hasselback Potatoes with either regular or sweet potatoes. Make them extra crispy with cheese and breadcrumbs and you have a treat that's amazing!

Discover Oma's secret recipe for making crispy-skinned Bavarian Schweinshaxe (roasted pork knuckles). Authentic taste of Germany's traditional dish. Perfectly wunderbar.

German potato dumplings, aka Kartoffelklöße and Kartoffelknödel, invoke great memories of my Mutti's Sunday dinners. Using cooked potatoes, she created these scrumptious traditional dumplings!
*  *  *  *  *
PIN to SAVE this recipe to your Pinterest board!
And let's be friends on Pinterest!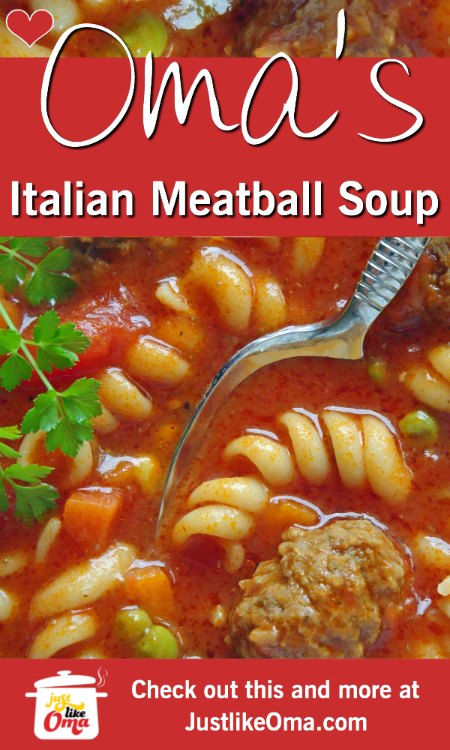 ---
Italian Meatball Soup made Just like Oma


By
Oma Gerhild Fulson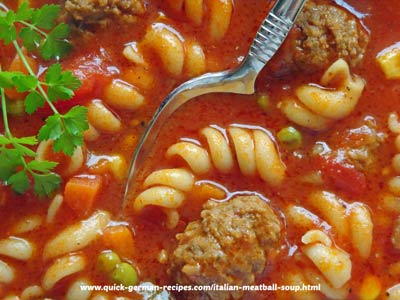 This Italian meatball soup is such an easy soup to make for a crowd. You can make it as spicy as you like. One of the best things is that you empty your fridge/freezer. What's not to like?

Ingredients:
beef broth,
pasta,
meatballs,
diced tomatoes,
frozen peas and carrots,
seasonings,
For the full recipe, scroll up ...
Words to the Wise
"Joyful is the person who finds wisdom, the one who gains understanding. For wisdom is more profitable than silver, and her wages are better than gold."
Proverbs 3:13-14