Albondigas Soup (Mexican Meatball) ❤️
➤ by Oma Gerhild Fulson
FTC Disclosure: As an Amazon Associate, I earn from qualifying purchases.
An easy Albondigas Soup? Yes, you'll find that here. What an easy recipe this is. So good ... so VERY good! Quick. Easy. Delicioso!
With just the right hint of spiciness and wonderful taste. And for those who don't know what this is, it's a famous Mexican meatball soup recipe.  
'Albondigas' translated is 'meatballs' and this soup is very traditional. And why is it on my German recipe website? Check below!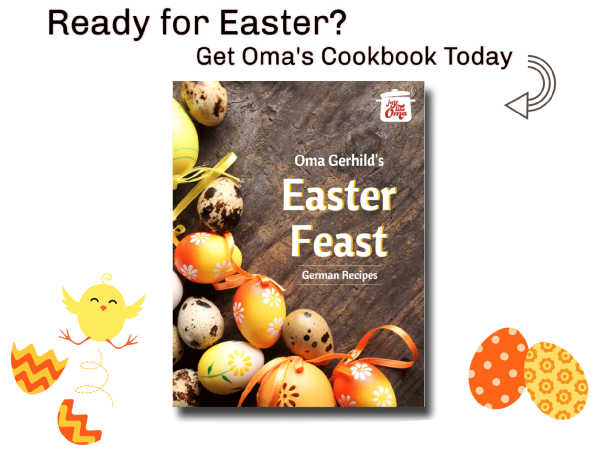 My only changes to this very traditional soup are to make it quick and, perhaps, healthier. If you are using bouillon cubes, put the kettle on to boil when you first start making the soup.
That way, when it's time to add the water, you can add boiling hot water. Makes it faster for the resulting soup to come to simmering point. 
---
What makes these soups so wunderbar? They bring back such wonderful memories of my Mutti's kitchen. So, of course, I had to write my own soup e-cookbook to share with my grandchildren. I know you'll LOVE it, too!
There are 84 full-color pages filled with step-by-step instructions and hints. Take a quick peek ...
Sharing these soup recipes from my Mutti and Oma to my own young grandchildren ... that's such a delicious way to pass on our German heritage :)
A bit of this and a bit of that ...
The traditional recipe uses white rice. I prefer using brown since it is healthier. If you use white rice, the cooking time is shortened to about 25 minutes.
Use bouillon cubes and water to make beef stock if needed.
Using frozen meatballs (either cooked or uncooked) makes this a quick recipe. You can make your own meatballs using fresh beef and/or sausage.
A German Soup???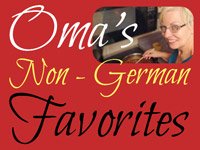 I was looking for a different type of beef soup recipe.
Didn't find what I wanted in my German cookbooks. I came across this Mexican recipe that I just had to try. Made some changes ... made it easier ... perhaps it's not the original recipe, but it sure is delicious!
German. Nope. So, it's among my Non German favorites!
If you're looking for German soups, then Oma's book, above, is what you're looking for.
---
Albondigas Soup ~ Mexican Meatball 
Ingredients:
2 tbsp oil
2 cups chopped onions
2 carrots, sliced
2 stalks celery chopped
1 cup brown rice (see below)
9 cups beef stock (see below)
2 bay leaves
1 28-oz can diced tomatoes
½ cup hot chunky salsa
1½ lb frozen meatballs (see below)
½ cup cilantro, chopped 
salt and pepper
Instructions:
Heat oil in large soup pot. Sauté onions until translucent, about 5 minutes. Add carrots, celery, and rice. Stir and continue cooking for about 2 - 3 minutes.
Add remaining ingredients.
Bring to simmer, cover, and simmer for about 45 minutes or until the rice is tender.
Remove bay leaves and season with salt and pepper if needed.
Makes 8 servings

Want nutritional information? Copy and paste the above ingredient list and the number of servings into Calorie Count for an approximate calculation.
Need help doing conversions between cups and grams, etc.? Use this site to give you all the different conversions for the different types of ingredients.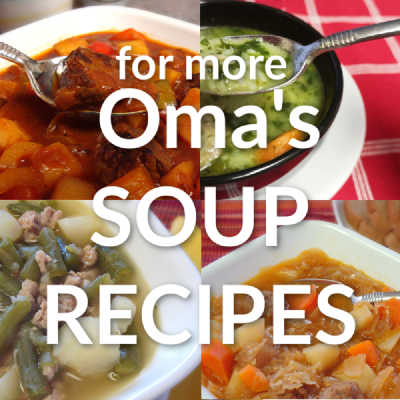 Leave a comment about this recipe or ask a question?
Pop right over to my private Facebook group, the Kaffeeklatschers. You'll find thousands of German foodies, all eager to help and to talk about all things German, especially these yummy foods. 
I pop in all the time as well, to chat and to answer questions. 
Meet with us around Oma's table, pull up a chair, grab a coffee and a piece of Apfelstrudel, and enjoy the visit.
*  *  *  *  *
Want nutritional information for a recipe?
Copy and paste the ingredient list and the number of servings into Calorie Count. 
It will give you an approximate calculation.

Need help doing conversions
between cups and grams or any such thing?
Use this site to give you all the different conversions for the different types of ingredients. 
---
PIN this ...
---
German Crumb Cake recipes (Streuselkuchen) are easy, delicious, quick, very traditional, and great for family and friends. Use any variety of fruit. I love using apples, & top with whipped cream!

Here's an easy Cherry Tart recipe with peaches that is covered in delicious butter streusel - a traditional German cake that's so easy to make.
---
Words to the Wise
"Evil people don't understand justice, but those who follow the Lord understand completely."
Proverbs 28:5 (NLT)