How to Make Meatballs, German-style ❤️

➤ by Oma Gerhild Fulson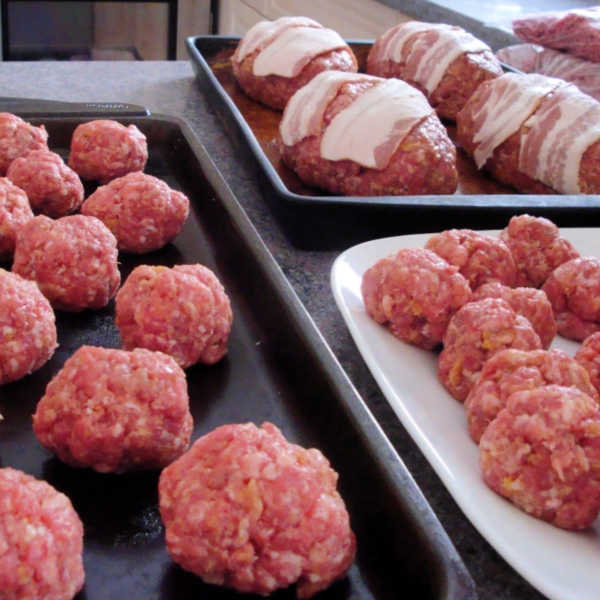 Ever wonder how to make meatballs, aka Fleischklöße or Klopse? Here's a versatile recipe that's very German. It's been in our family for generations, passed on from Mutti's Mutti to me. 
Sometimes I get creative when I made these. Out will come the Montreal Steak Spice. Perhaps I'll add ½ cup of ketchup or BBQ sauce.
Cracker crumbs work well which is a great way to use up stale crackers. If there's time, I'll fry up the onions before adding to the meat mixture. 
German meatballs shown above are braised and turn into this delicious dinner: Königsberger Klopse mit Sosse. Below, here's how to make the meatballs ...

Another way I like to use them is to fry these Klopse and serve either with a brown sauce or even tomato sauce. I also bake them and then freeze them for later use.
Here, I'm using this meatball recipe to make lots of different meals.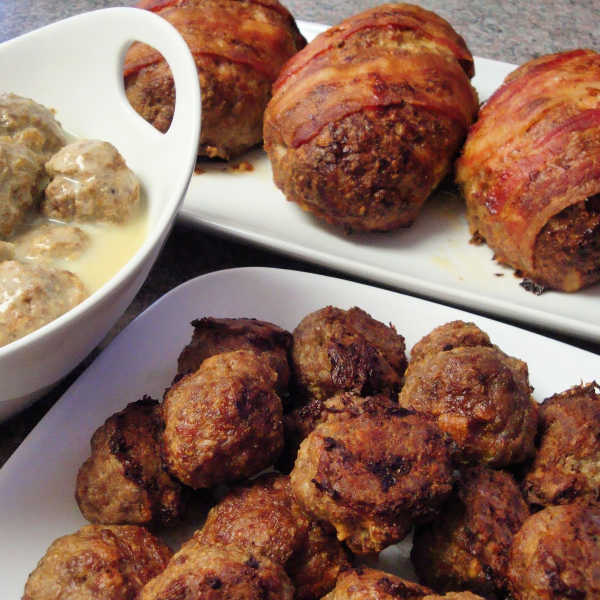 ---
There's something absolutely mouth-watering about having a German meat-and-potato dinner. Get Oma's revised collection of her favorites in German Meat Dishes.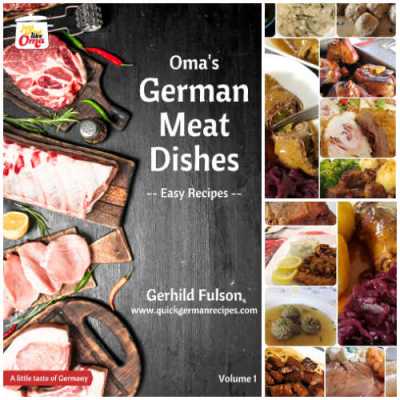 Take a peek at all Oma's eCookbooks. They make sharing your German heritage a delicious adventure!
Oma Says:

If you've used my Quick Meatloaf recipe, you'll realize this is almost the same recipe, because it is. Once you do this one a few times, you'll soon recognize the "feel" of a good mixture.
And you'll be adding stuff - a bit of this and a bit of that - and making your own version.
---
Ready to make these German Meatballs?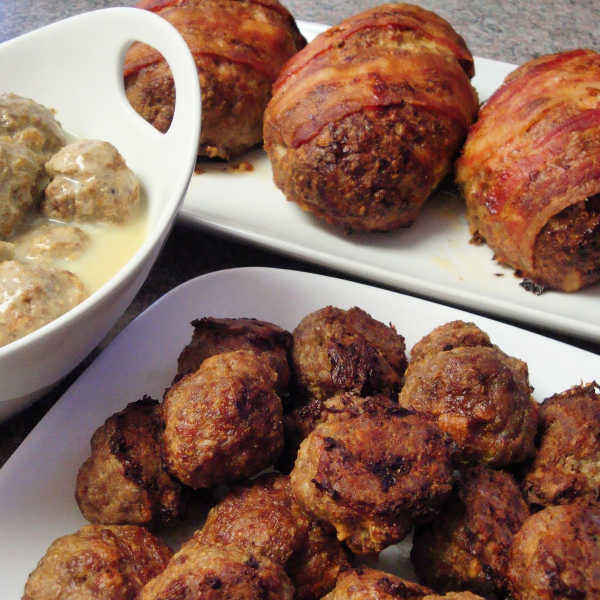 How to make Meatballs, German-style

Ever wonder how to make meatballs, aka Fleischklöße or Klopse? Here's a versatile recipe that's very German. It's been in our family for generations, passed on from Mutti's Mutti to me.

Prep Time


10 minutes


Cook Time


20-30 minutes


Total Time

30-40 minutes

Servings:

Makes 6 servings
Ingredients:
2 lbs lean beef
2 eggs
1 small onion, finely chopped
½ cup bread crumbs or 2 Kaiser rolls (see hints below)
1½ tsp salt
½ tsp pepper
Instructions:
In a large bowl, gently mix all ingredients.
Shape into meatballs.
To fry: Over medium heat, fry meatballs in a sauté pan in a bit of olive oil. Shake pan occasionally to loosen them. Turn each to brown on all sides. Continue frying until nicely browned on all sides. Cut into one to make sure that they are cooked through. Serve as is or place into a brown sauce or a tomato sauce.
To braise: Bring liquid (broth) to boil, lower heat, and add meatballs. Simmer until cooked, about 15 - 20 minutes, depending on size of meatballs. (Check recipe for Königsberger Klopse mit Hollandische Sosse..)
To bake: Place on baking sheets and bake at 375°F. for about 20 - 30 minutes until done.
To freeze: Bake meatballs, cool, freeze individually on baking sheet and then put into freezer bags for later use.
Notes/Hints:

Traditionally, stale buns were used instead of bread crumbs. Easiest is to use a Kaiser roll, and soak it in some warm milk or water for about 10 minutes. Drain it, squeeze out the liquid, and crumble the roll and add to the meat instead of the breadcrumbs.
*  *  *  *  *

Unless otherwise noted recipe, images and content © Just like Oma | www.quick-german-recipes.com

Want Nutritional Information?

Copy and paste the above ingredient list and the number of servings into Calorie Count for an approximate calculation.
Need Help Doing Conversions?

Make it easier to convert between cups and grams, etc. Use this site to give you all the different conversions for the different types of ingredients.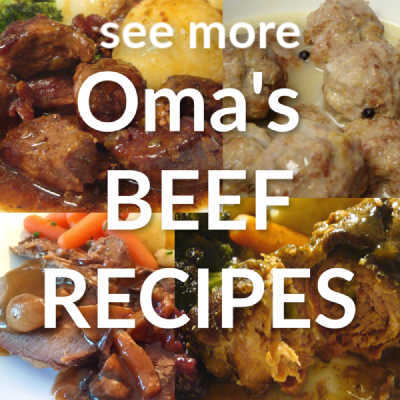 Leave a comment about this recipe or ask a question?
Pop right over to my private Facebook group, the Kaffeeklatschers. You'll find thousands of German foodies, all eager to help and to talk about all things German, especially these yummy foods. 
I pop in all the time as well, to chat and to answer questions. 
Meet with us around Oma's table, pull up a chair, grab a coffee and a piece of Apfelstrudel, and enjoy the visit.
These roasted Brussels spouts with balsamic vinegar and maple syrup are so quick and easy to prepare, yet so delicious! This may just be your new favorite go-to recipe for roasted FROZEN Brussels spro…

Love German cabbage rolls? You'll absolutely love Oma's unstuffed cabbage roll casserole. Same great taste, but a LOT less work. No rice or tomatoes here. Just real German goodness.

THE German Krapfen or jelly donut recipe you'll need if you plan to make Berliner Pfannkuchen ~ that traditional treat for New Year's and throughout the year!
*  *  *  *  *
PIN this ...
Words to the Wise
"Commit yourself to instruction; listen carefully to words of knowledge."
Proverbs 23:12 (NLT)