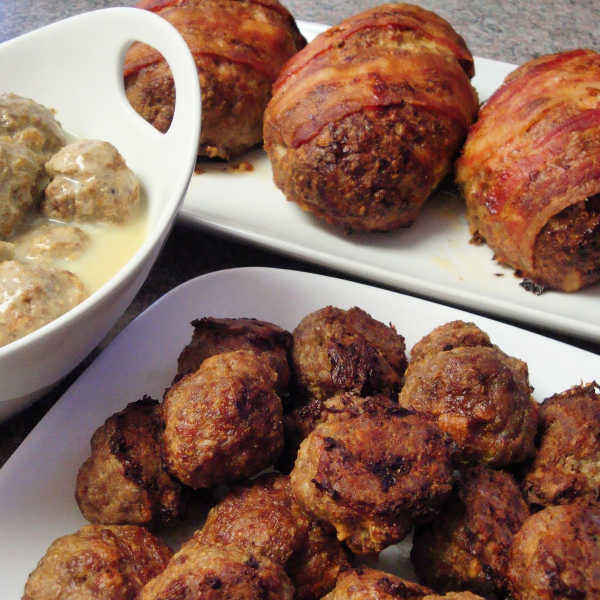 How to make Meatballs, German-style

Ever wonder how to make meatballs, aka Fleischklöße or Klopse? Here's a versatile recipe that's very German. It's been in our family for generations, passed on from Mutti's Mutti to me.

Prep Time


10 minutes


Cook Time


20-30 minutes


Total Time

30-40 minutes

Servings:

Makes 6 servings
Ingredients:
2 lbs lean beef
2 eggs
1 small onion, finely chopped
½ cup bread crumbs or 2 Kaiser rolls (see hints below)
1½ tsp salt
½ tsp pepper
Instructions:
In a large bowl, gently mix all ingredients.
Shape into meatballs.
To fry: Over medium heat, fry meatballs in a sauté pan in a bit of olive oil. Shake pan occasionally to loosen them. Turn each to brown on all sides. Continue frying until nicely browned on all sides. Cut into one to make sure that they are cooked through. Serve as is or place into a brown sauce or a tomato sauce.
To braise: Bring liquid (broth) to boil, lower heat, and add meatballs. Simmer until cooked, about 15 - 20 minutes, depending on size of meatballs. (Check recipe for Königsberger Klopse mit Hollandische Sosse..)
To bake: Place on baking sheets and bake at 375°F. for about 20 - 30 minutes until done.
To freeze: Bake meatballs, cool, freeze individually on baking sheet and then put into freezer bags for later use.
Notes/Hints:

Traditionally, stale buns were used instead of bread crumbs. Easiest is to use a Kaiser roll, and soak it in some warm milk or water for about 10 minutes. Drain it, squeeze out the liquid, and crumble the roll and add to the meat instead of the breadcrumbs.
*  *  *  *  *

Unless otherwise noted recipe, images and content © Just like Oma | www.quick-german-recipes.com