Oma's German Meatballs

~ Königsberger Klopse

❤️

➤ by Oma Gerhild Fulson
FTC Disclosure: Making a purchase via a link on the page? I may earn a small commission on the transaction - at no added cost to you. Thanks!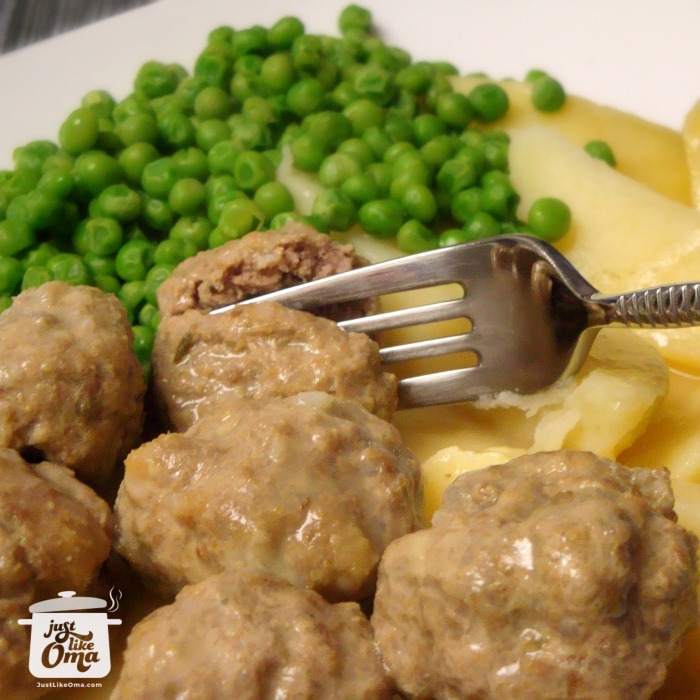 Yum
Mutti's German meatballs, aka Königsberger Klopse mit Sosse, were just a bit different! Even though this is a very, very traditional German comfort food, and very, very easy to make, Mutti's version spoiled me. That's why it's the only way I'll make them as well. Well, I did play around with it a bit to make it more traditional, but it's still so similar.
I'll give you both versions. Mutti's is first and then mine. Mutti's is a real quick German recipe!


---
The Prussian city of Königsberg (now Kaliningrad)are the namesake for these meatballs, also known as Soßklopse (sauced meatballs)
They were renamed Kochklopse (boiled meatballs) after WW II and are still known as such

The meatballs are usually made from minced veal, although beef or pork is often used
The broth is usually thickened with a roux, cream, and egg yolk or just a roux or just egg yolk.
Capers are an essential ingredient ... but can be omitted if desired
Traditionally,  Königsberg Klopse are served with beetroots and boiled potatoes

1. Mutti's German Meatballs❤️
"Königsberger Klopse mit Sosse"
Ingredients:
about 1 - 1½ lbs cooked, frozen meatballs (see below for meatballs from scratch)
2 cups water
1 tsp Vegeta Seasoning or ½ tsp salt
freshly ground pepper
1 bay leaf
3 tbsp butter
2 tbsp flour
1 tsp prepared mustard
1 egg yolk
3 tbsp capers (optional)
Instructions:
Put frozen meatballs into pot, add water, Vegeta, freshly ground pepper, and bay leaf.
Bring to boil, lower heat, cover, and simmer for about 15 - 20 minutes. Meatballs should be hot inside.
Drain meatballs, reserving liquid. Cover meatballs to keep hot.
Melt butter in fry pan. Add flour and stir well. (Do not brown flour)
Add reserved liquid, stirring well. Cook, stirring constantly, until thickened.
Remove from heat. Add some of the sauce into the egg yolk (in a small bowl). Stir and return to sauce in fry pan. Simmer about 2 minutes, adding a bit of water if necessary if too thick.
Add capers and mustard. Season with salt and pepper.
Return meatballs to sauce, stir.
Serve with boiled potatoes and salad.
Hints:
For a richer sauce, when adding reserved liquid to butter/flour mixture, only add 1 cup of liquid. Also add 1 cup of either 10% or 18% cream. If finished sauce is too thick, use remaining reserved liquid to thin rather than water.
2. My German Meatballs❤️
"Königsberger Klopse mit Sosse"
Ingredients for Meatballs:
1 lb lean ground beef
1 lb lean ground pork
2 eggs
1 small onion, finely diced
½ cup breadcrumbs or I Kaiser roll (see hints below)
1½ tsp salt
½ tsp pepper
Instructions for Meatballs:
In a large bowl, gently mix all ingredients.
Shape into golf-ball sized meatballs. Makes about 24.
Ingredients for "Königsberger Klopse mit Sosse":
2 lbs uncooked meatballs
6 cups chicken stock (or use water and bouillon cubes)
1 bay leaf
½ tsp black peppercorns
4 tbsp flour
3 tbsp cider vinegar
1 tbsp lemon juice
2 tbsp capers (optional)
1 cup sour cream (optional)
salt and pepper
Instructions:
Bring stock to boil. Add bay leaf and peppercorns.
Gently add uncooked meatballs and lower heat to a simmer. Gently simmer for about 15 minutes or until meatballs are cooked through.
Remove meatballs to a bowl and cover to keep warm.
Discard bay leaf from stock.
Return sauce (stock) to simmer. Mix flour with a bit of cold water to make a slurry and add to sauce, stirring until thickened (about 5 minutes.)
Stir in cider vinegar and lemon juice.
Add capers. 
Remove from heat and add sour cream (if using) and season with salt and pepper.
Return meatballs to sauce and return to heat if needed (do not bring to boil if you added sour cream.)
Serves 4.
Hints:
Traditionally, stale buns were used instead of bread crumbs. Easiest is to use a Kaiser roll, and soak it in some warm milk or water for about 10 minutes. Drain it, squeeze out the liquid, and crumble the roll and add to the meat instead of the breadcrumbs.

---
The classic recipe ...
Königsberger Klopse mit Sosse is a real classic German dish. 
Normally this recipe uses equal parts beef, pork, and veal.
Anchovy paste or sardines is also included in the meat mixture. Mutti and I both omit this. In fact, I have trouble imagining that in here, but some people always include it.
Königsberger Klopse mit Holländische Sosse?
My Mutti always called this Königsberger Klopse mit Holländische Sosse. Not sure why she called this a Hollandaise Sauce, but she did and that's what I always thought this was. However, since I've started researching cookbooks, I've found out otherwise. However, again, I'll probably keep calling it the way my Mutti did. Memories!
Mutti also didn't include the capers in the sauce, so I rarely put them in. Since I like quick, I usually use my own cooked frozen meatballs (check out my recipe on "how to make meatballs") or I buy them already cooked and frozen.
Oma says,
Along with my very non-German spaghetti and meatballs, I think this is one of my best meatball recipes.
I do like to use my own frozen meatballs when making this, as it makes this dish go so fast. Served over boiled potatoes, it brings back wonderful memories of Mutti's kitchen :)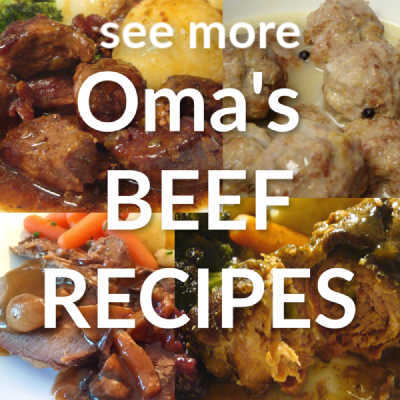 *  *  *  *  *
Thinking of starting your own Handmade Business?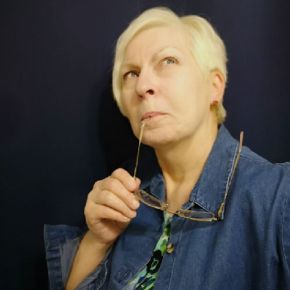 This Oma KNOWS you CAN do it.
How do I know?
Well, if I can do it, anyone can.
I've even figured out how I can help you.
I've teamed up with my own business coach, Renae Christine (yes, do google her!), to bring you this free masterclass. After you watch it, ask me any questions and I'll gladly answer them.
Don't hesitate. I'm not sure how long Renae will keep this free masterclass available.
PS:  Yes, Renae really is as amazing as all the reviews say.
PPS: Yes, the course is for handmade items, but I've used it successfully for my cookbooks. I know others are using her methods for services, direct sales, and even a local ice cream bar & grill that's constantly selling out. You've nothing to lose by taking a look ... and a whole bunch to gain.
*  *  *  *  *
Oma's Cookbooks (downloadable & print)
*  *  *  *  *
Want nutritional information for a recipe?
Copy and paste the ingredient list and the number of servings into Calorie Count. 
It will give you an approximate calculation.

Need help doing conversions
between cups and grams or any such thing?
Use this site to give you all the different conversions for the different types of ingredients. 
---
PIN this ... for quick recipe access as you prepare your ground beef and other ingredients


---
Words to the Wise
"How much better to get wisdom than gold, and good judgment than silver."
Proverbs 16:16 (NLT)
---
❤️ German Meatballs aka Königsberger Klopse made Just like Oma


By
Oma Gerhild Fulson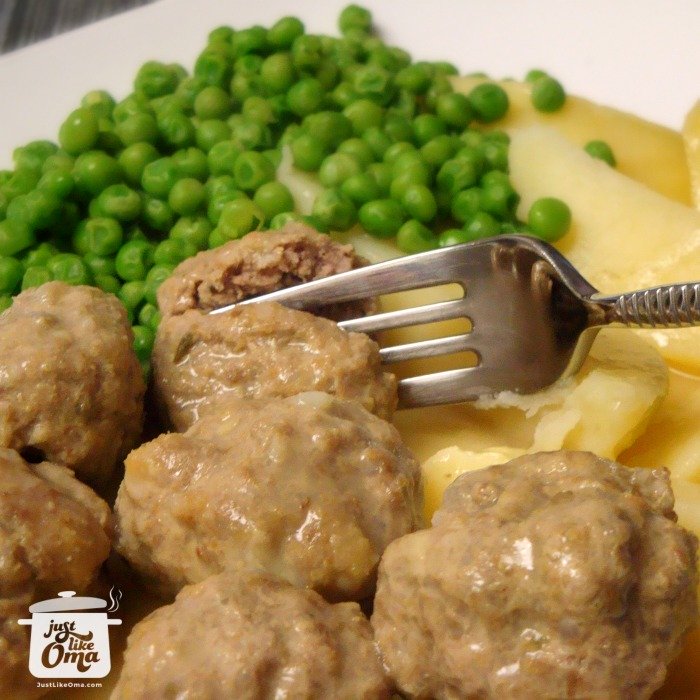 Mutti's German meatballs are a real classic. Called Königsberger Klopse mit Sosse, it's an easy comfort food to make. But, Mutti's are just a bit different! And mine, even more so.

Ingredients:
ground beef,
onion,
egg,
mustard,
For the full recipe, scroll up ...