Oma's German Meatballs

~ Königsberger Klopse



➤ by Gerhild Fulson
Mutti's German meatballs, aka Königsberger Klopse mit Sosse, were just a bit different! Even though this is a very, very traditional German comfort food, and very, very easy to make, Mutti's version spoiled me.
Well, I did play around with her recipe a bit to make it quicker and this new version* is my favorite. It cooks the meatballs right in the sauce instead of making them separately.
There are several "traditional" versions of this recipe stemming from the fact that this is now considered to be one of the most popular regional dishes throughout all of Germany. Of course, I like mine the best! It's German food at its best!
For the full list of ingredients & detailed instructions, see the recipe card at the end of this post. But before you scroll, there's important & interesting stuff to know right below.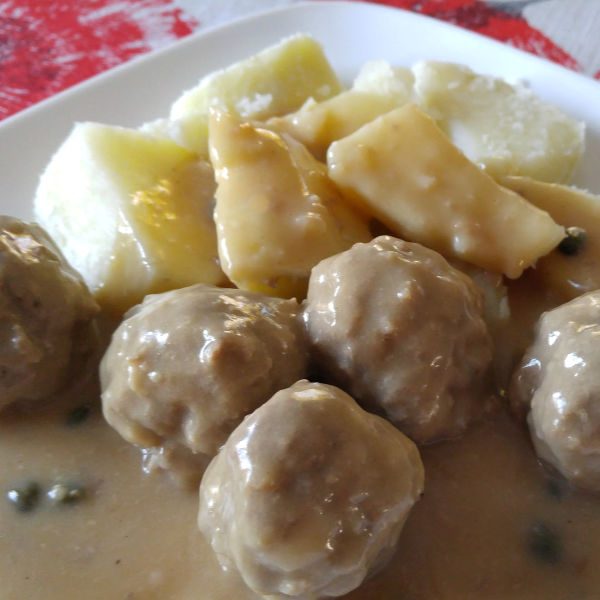 Königsberger Klopse mit Sosse
The classic recipe ...
Königsberger Klopse mit Sosse is a real classic German dish. 
Normally this recipe uses equal parts beef, pork, and veal.
Anchovies or sardines are also included in the meat mixture. Mutti and I both omit this. In fact, I have trouble imagining that in here, but some people always include it.
---

The Prussian city of Königsberg (now Kaliningrad)are the namesake for these meatballs, also known as Soßklopse (sauced meatballs) 
They were renamed Kochklopse (boiled meatballs) after WWII and are still known as such
The meatballs are usually made from minced veal, although beef or pork is often used
The broth is usually thickened with a roux, cream, and egg yolk or just a roux or just egg yolk.
Capers are an essential ingredient ... but can be omitted if desired
Traditionally, Königsberg Klopse are served with beetroots and boiled potatoes
---
Königsberger Klopse mit Holländische Sosse?
My Mutti always called this Königsberger Klopse mit Holländische Sosse. Not sure why she called this a Hollandaise Sauce, but she did and that's what I always thought this was.
However, since I've started researching cookbooks, I've found out otherwise. However, again, I'll probably keep calling it the way my Mutti did. Memories!
Mutti also didn't often include the capers in the sauce, so I rarely put them in. Since I like quick, I usually use my own cooked frozen meatballs (check out my recipe on how to make meatballs) or I buy them already cooked and frozen. However, for this recipe, I'm using 'from scratch' meatballs that have that special Königsberger taste!
There's something absolutely mouth-watering about having a German meat-and-potato dinner. Get Oma's revised collection of her favorites in German Meat Dishes.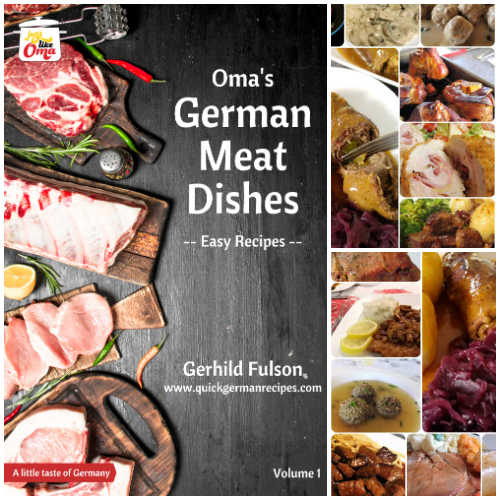 Take a peek at all Oma's eCookbooks. They make sharing your German heritage a delicious adventure!
How to form meatballs?
If you have a large cookie scoop that will form 1½ inch portions, that's a perfect way to assure equal sized meatballs. 
Also, wet your hands when you are shaping them. This will keep them from sticking to your hands as well, just like cookie making!

Do meatballs get more tender the longer they cook?
It is important to keep an eye on your meatballs and take them off of the simmer when you're supposed to. The longer they cook, the mushier they will become.
With time they will soak up the moisture and become soggy and fall apart. They can become a sponge-like consistency and do just what a sponge does. You want to keep your meatballs as tender and together as possible to achieve that perfect German dinner! No soggy meatballs in Oma's kitchen :) Though, sometimes we all make mistakes. That's how we learn!
---
How many is too many eggs?
Eggs are very interesting to work with in the kitchen. They play such a crucial role in cooking and baking! 
When adding eggs to your meatballs, there IS such a thing as too many. By over-adding eggs, it can result in super absorbent meatballs! This is never what you want with your meatballs because it will cause them to become very thick and heavy.
Always read your recipe beforehand and make sure there won't be an over-use of eggs. The rule with eggs and meatballs (a good one to remember) is that it will take only 1 to 2 eggs per pound of meat used. 
---
Oma Says:
If I'm in a real hurry, I will use my own frozen meatballs for this, as it makes this dish go so fast. Just add the frozen meatballs to the sauce. They will thaw and heat in the same time that it would take to cook the uncooked meatballs.
Served over boiled potatoes, it brings back wonderful memories of Mutti's kitchen :)

---
Ready to make these meatballs?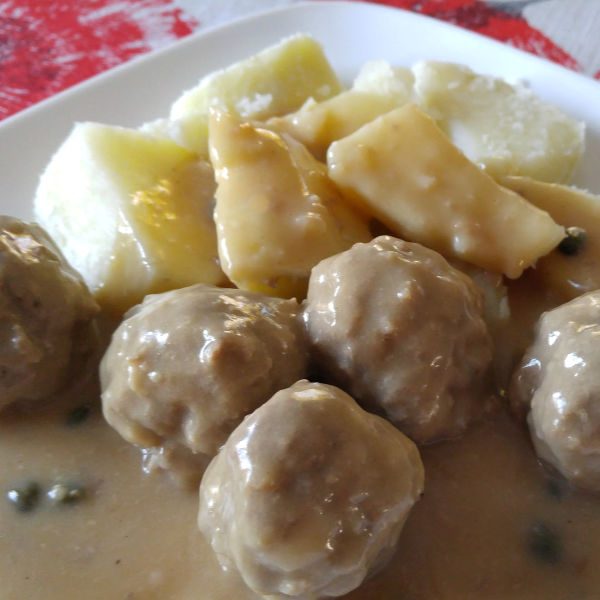 Oma's German Meatballs aka Königsberger Klopse mit Sosse
Mutti's German meatballs, aka Königsberger Klopse mit Sosse, were just a bit different! Even though this is a very, very traditional German comfort food, and very, very easy to make, Mutti's version spoiled me.
Well, I did play around with her recipe a bit to make it quicker and this new version* is my favorite. It cooks the meatballs right in the sauce instead of making them separately.

Prep Time


20 minutes


Cook Time


25 minutes


Total Time

45 minutes

Servings:

Makes 4 - 6 servings
Make the Meatballs:
 Ingredients:
1 stale kaiser roll, sliced (see notes/hints below) 
1 cup (240 milliliter) lukewarm water 
1 tablespoon (14 grams) butter

1 cup (150 grams) finely diced onion
2 tablespoons (5 grams) chopped fresh parsley
1 pound (454 grams) lean ground beef
1 pound (454 grams) lean ground pork
2 large eggs
1½ tablespoons (23 grams) German mustard (or your favorite)

3 - 4 finely diced anchovies, optional
1½ teaspoons salt
½ teaspoon freshly ground pepper
Instructions:

Place the kaiser roll in a small bowl and add water. Let soak for about 10 minutes. 
In a small frypan, saute onions in butter until softened, about 2 minutes. Add parsley and saute for 1 minute. Set aside to cool.
 Squeeze kaiser roll in your hands to remove water and crumble it into a large bowl. Add remaining ingredients, including the onion mixture, and mix well, but gently, with your hands. 
Shape into 1½-inch meatballs. Makes about 24.
Make the Königsberger Klopse mit Sosse:
Ingredients:
2 pounds uncooked meatballs (see above)
6 tablespoons (84 grams) butter
6 tablespoons (48 grams) all-purpose flour
6 cups (1.4 liters) hot chicken stock (or water and bouillon cubes)
1 bay leaf
salt and pepper to taste
2 - 3 tablespoons (30 - 45 milliliters) lemon juice
¾ cup (180 grams) sour cream
3 tablespoons (25 grams) capers, optional
pinch sugar
freshly ground nutmeg
Instructions:

Melt butter in a medium saucepan over medium heat. Whisk in flour until smooth, but do not let brown. Gradually whisk in hot broth, stirring until the sauce is smooth. Add the bay leaf and simmer for about 5 minutes. Season with salt and pepper.
Gently add meatballs to sauce and bring to a boil. Reduce heat to simmer, cover and simmer gently for 15 minutes, stirring occasionally so that nothing sticks to the bottom. 
Remove the meatballs with a slotted spoon to a bowl and cover to keep warm. 
Remove the bay leaf from the sauce and stir in the 2 tablespoons lemon juice, sour cream and capers, if using. Season with sugar and nutmeg and additional salt, pepper and lemon juice, as needed. 
Pour the sauce over the meatballs and serve.
Notes/Hints:

Instead of using the soaked kaiser roll, use ½ cup breadcrumbs.
Replace onion with 3 finely diced shallots.
Traditional sides are boiled potatoes and pickled beets. The perfect meal when you are needing some good old-fashioned German comfort food.
*  *  *  *  *

Unless otherwise noted recipe, images and content © Just like Oma | www.quick-german-recipes.com

*02.18.2021 revision update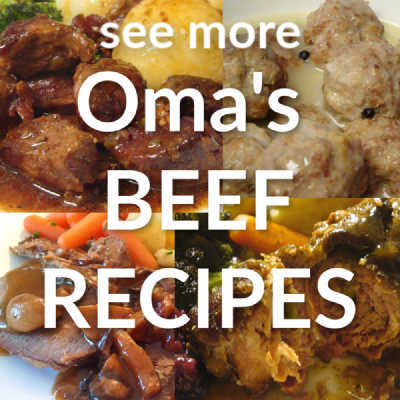 Leave a comment about this recipe or ask a question?

Pop right over to my private Facebook group, the Kaffeeklatschers. You'll find thousands of German foodies, all eager to help and to talk about all things German, especially these yummy foods. 
Meet with us around Oma's table, pull up a chair, grab a coffee and a piece of Apfelstrudel, and enjoy the visit.

This sour cherry cake recipe is just the one you've been searching for! It's totally German, and it's a picture perfect dessert that's certain to please. Don't wait! Try it now!

German potato dumplings, aka Kartoffelklöße and Kartoffelknödel, invoke great memories of my Mutti's Sunday dinners. Using cooked potatoes, she created these scrumptious traditional dumplings!

Oma's German schnitzel recipe (Schweineschnitzel) is great if you need something delicious that's quick to make as well. So traditionally German and so WUNDERBAR!
*  *  *  *  *
PIN to SAVE this recipe to your Pinterest board!
And let's be friends on Pinterest!
---
Oma's German Meatballs, Königsberger Klopse
By
Oma Gerhild Fulson
Mutti's German meatballs are a real classic. Called Königsberger Klopse mit Sosse, it's an easy comfort food to make. But, Mutti's are just a bit different! And mine, even more so.
Ingredients:
ground beef,
ground pork,
eggs,
onion,
breadcrumbs,
seasonings,
chicken stock,
flour,
cider vinegar,
lemon juice,
capers (optional),
sour cream,
For the full recipe, scroll up ...
Words to the Wise
"How much better to get wisdom than gold, and good judgment than silver."
Proverbs 16:16 (NLT)