Oma's Ground Beef Casserole with Veggies
➤ by Oma Gerhild Fulson
Looking for a ground beef casserole, aka Hackauflauf, that's just that extra bit special? Here's a yummy one that I make and that's why it's in my quick and easy dinner recipes collection.
Ground beef, cheese, and veggies. Yum!
What makes this so German? Well, at first I used to think that using curry was NOT AT ALL German. Boy, was I wrong.
Just because my Mutti never used it, didn't mean that Germans didn't use it. It just meant that it was a flavor I came to enjoy once I got to know my German friend, Heidi. 
You'll find Heidi's recipes sprinkled throughout this website. AND, surprisingly, often with curry added.

There's something absolutely mouth-watering about having a German meat-and-potato dinner. Get Oma's revised collection of her favorites in German Meat Dishes.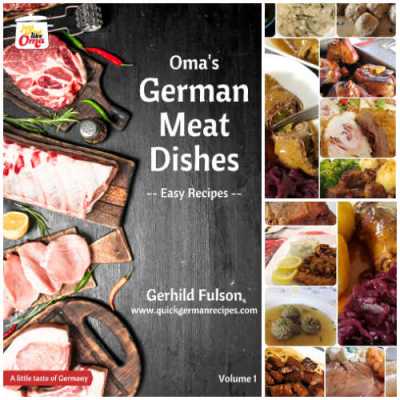 Take a peek at all Oma's eCookbooks. They make sharing your German heritage a delicious adventure!
Curry in Germany?
It wasn't until I visited Germany after an absence of over 50 years that I realized how much curry was being used. Especially popular are the currywurst -- the traditional street food in Germany!
Well, this recipe uses curry as well as German Emmental cheese. This cheese is from the Allgäu region of southern Germany and is often called Bavarian Swiss cheese.
I suppose you could use any other nice melting cheese in the sauce, but, personally, I think Emmental is best!
However, if I don't have Emmental in the house, I use a good old cheddar. 
---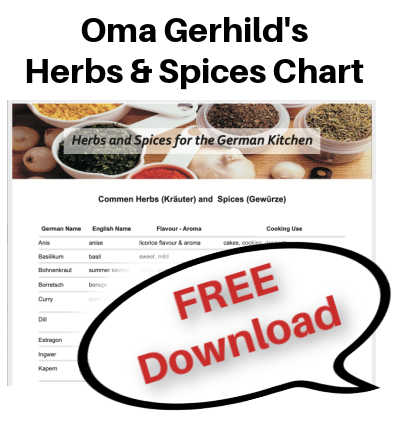 Ready for this ground beef casserole?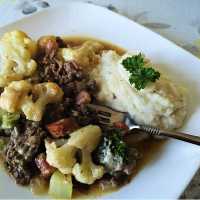 Oma's Ground Beef Casserole with Veggies

Looking for a ground beef casserole, aka Hackauflauf, that's just that extra bit special? Here's a yummy one that I make and that's why it's in my quick and easy dinner recipes collection.
Ground beef, cheese, and veggies. Yum!
Prep Time


10 minutes


Cook/Bake Time


50 minutes


Total Time

60 minutes

Servings:

Makes 4 servings
Ingredients:
1 small cauliflower, into bite-size pieces
½ lb broccoli, into bite-size pieces
1 medium onion, chopped
1 clove garlic, chopped
1 tbsp butter
1 lb lean ground beef
salt, pepper
1 tsp each curry powder, dried thyme, paprika
¼ lb lean bacon, cubed
1 tbsp oil
1 tbsp flour
1 cup milk
½ cup broth
¼ lb Emmentaler, grated (or more to taste!)
Instructions:
Preheat oven to 400°F.
Cook cauliflower and broccoli pieces in boiling salted water for about 5 minutes. Drain.
In frying pan, brown chopped onion in butter. Add garlic. Add ground beef and continue browning, while stirring, until meat is nicely browned, crumbly, and cooked through.
Season with curry, thyme, paprika, salt, and pepper.
Place meat mixture into greased casserole dish.
Add cauliflower and broccoli over the meat.
In frying pan, brown bacon in oil. Sprinkle flour over and stir. Add milk and broth and continue cooking and stirring until sauce is creamy.
Add cheese to sauce and stir.
Pour sauce over meat/veggie mixture.
Bake, uncovered, for about 30 minutes, until top is nicely golden brown.
Hints:
*  *  *  *  *

Unless otherwise noted recipe, images and content © Just like Oma | www.quick-german-recipes.com

Want Nutritional Information?

Copy and paste the above ingredient list and the number of servings into Calorie Count for an approximate calculation.
Need Help Doing Conversions?

Make it easier to convert between cups and grams, etc. Use this site to give you all the different conversions for the different types of ingredients.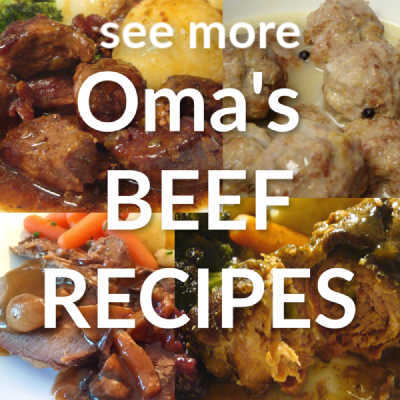 Leave a comment about this recipe or ask a question?
Pop right over to my private Facebook group, the Kaffeeklatschers. You'll find thousands of German foodies, all eager to help and to talk about all things German, especially these yummy foods. 
I pop in all the time as well, to chat and to answer questions. 
Meet with us around Oma's table, pull up a chair, grab a coffee and a piece of Apfelstrudel, and enjoy the visit.
Pork hocks and sauerkraut, a favorite of my Opa, is a real traditional German food. This version of Eisbein is a classic in northern Germany, not to be confused with Schweinshaxe from the southern par…

Make this chicken fricassee recipe and you'll think you're back in Oma's kitchen. German comfort food. Originally just a 'leftover' meal, now it graces the best restaurant menus.

Oma's TOP 10 German foods that will have you thinking you're back in your Omas kitchen in Germany. Cooking and baking together, but best of all, making memories!
*  *  *  *  *
Pin this ...
Words to the Wise
"It is poor judgment to guarantee another person's debt, or put up security for a friend."
Proverbs 17:18 (NLT)
---
Ground Beef Casserole with Vegetables Just like Oma


By
Oma Gerhild Fulson
You'll love this ground beef casserole, filled with veggies and covered in cheese. With a German twist, this dinner dish is quick and easy to make.

Ingredients:
cauliflower,
onion,
broccoli,
garlic,
butter,
ground beef,
spices,
bacon,
oil,
flour,
milk,
beef broth,
cheese,
For the full recipe, scroll up ...