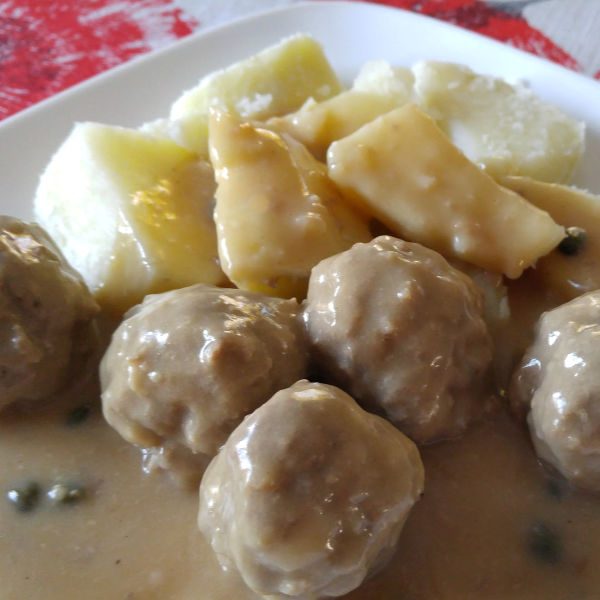 Oma's German Meatballs aka Königsberger Klopse mit Sosse
Mutti's German meatballs, aka Königsberger Klopse mit Sosse, were just a bit different! Even though this is a very, very traditional German comfort food, and very, very easy to make, Mutti's version spoiled me.
Well, I did play around with her recipe a bit to make it quicker and this new version* is my favorite. It cooks the meatballs right in the sauce instead of making them separately.

Prep Time


20 minutes


Cook Time


25 minutes


Total Time

45 minutes

Servings:

Makes 4 - 6 servings
Make the Meatballs:
 Ingredients:
1 stale kaiser roll, sliced (see notes/hints below) 
1 cup (240 milliliter) lukewarm water 
1 tablespoon (14 grams) butter

1 cup (150 grams) finely diced onion
2 tablespoons (5 grams) chopped fresh parsley
1 pound (454 grams) lean ground beef
1 pound (454 grams) lean ground pork
2 large eggs
1½ tablespoons (23 grams) German mustard (or your favorite)

3 - 4 finely diced anchovies, optional
1½ teaspoons salt
½ teaspoon freshly ground pepper
Instructions:

Place the kaiser roll in a small bowl and add water. Let soak for about 10 minutes. 
In a small frypan, saute onions in butter until softened, about 2 minutes. Add parsley and saute for 1 minute. Set aside to cool.
 Squeeze kaiser roll in your hands to remove water and crumble it into a large bowl. Add remaining ingredients, including the onion mixture, and mix well, but gently, with your hands. 
Shape into 1½-inch meatballs. Makes about 24.
Make the Königsberger Klopse mit Sosse:
Ingredients:
2 pounds uncooked meatballs (see above)
6 tablespoons (84 grams) butter
6 tablespoons (48 grams) all-purpose flour
6 cups (1.4 liters) hot chicken stock (or water and bouillon cubes)
1 bay leaf
salt and pepper to taste
2 - 3 tablespoons (30 - 45 milliliters) lemon juice
¾ cup (180 grams) sour cream
3 tablespoons (25 grams) capers, optional
pinch sugar
freshly ground nutmeg
Instructions:

Melt butter in a medium saucepan over medium heat. Whisk in flour until smooth, but do not let brown. Gradually whisk in hot broth, stirring until the sauce is smooth. Add the bay leaf and simmer for about 5 minutes. Season with salt and pepper.
Gently add meatballs to sauce and bring to a boil. Reduce heat to simmer, cover and simmer gently for 15 minutes, stirring occasionally so that nothing sticks to the bottom. 
Remove the meatballs with a slotted spoon to a bowl and cover to keep warm. 
Remove the bay leaf from the sauce and stir in the 2 tablespoons lemon juice, sour cream and capers, if using. Season with sugar and nutmeg and additional salt, pepper and lemon juice, as needed. 
Pour the sauce over the meatballs and serve.
Notes/Hints:

Instead of using the soaked kaiser roll, use ½ cup breadcrumbs.
Replace onion with 3 finely diced shallots.
Traditional sides are boiled potatoes and pickled beets. The perfect meal when you are needing some good old-fashioned German comfort food.
*  *  *  *  *

Unless otherwise noted recipe, images and content © Just like Oma | www.quick-german-recipes.com

*02.18.2021 revision update