How to Bake Bacon Just like Oma ❤️

➤ by Oma Gerhild Fulson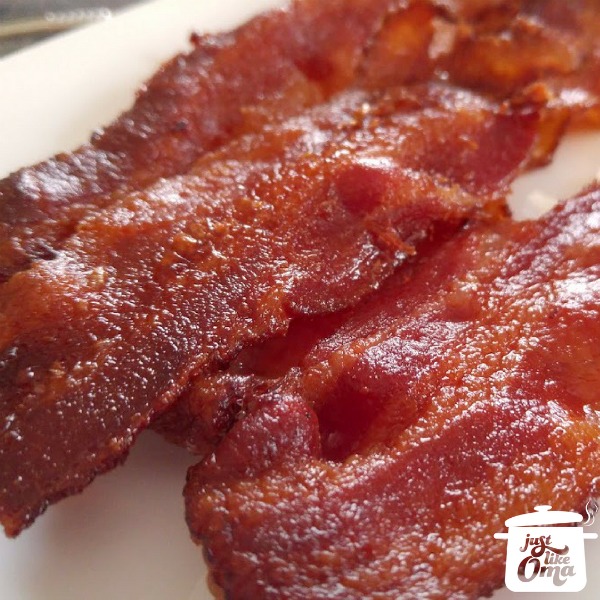 Here's how to bake bacon, aka Gebackener Speck,  - the easy way to make lots of bacon without the mess! It's the easiest way I know how to cook bacon, especially without the splatter.
As much as I love bacon, I didn't like the mess it made when I fried. It took longer to clean the stove and surrounding areas than it did to cook it.
That was, until I learned that bacon can be baked in the oven. But even there, it splattered a bit. However, once I started to use a stoneware baking dish, all that changed.
Now, I use a large stoneware cookie sheet. Line the bacon out, close together, without overlapping. Into the oven it goes. 20 minutes later - nice, crispy bacon. AND the oven stays clean. No splattering. No mess.
I like my bacon really crisp. If you don't, just remove it from the oven when it's done to your liking. So good!

What's even better? I can usually get about a pound of bacon to a cookie sheet - especially if it is thick-cut slices - the best kind for oven baking.
So, you wanted to know how to cook bacon? You bake it. That's the only way. It's also so convenient because you can use the stove top to make the eggs or pancakes. In the meantime, the bacon is baking.
Don't have a stoneware cookie sheet? Then use a regular cookie sheet, lined with foil for easy clean up. Still a lot better than frying.
So, that's my secret. Baking bacon. Who would have thought?
---
Oma says,
So, what's so German about bacon. Well, not only do we enjoy the bacon, but the bacon drippings are saved and used. Add the drippings to kale or when cooking green beans.
Use the drippings to brown the meat for Flatladen or for any other meat. Yep, delicious!
Ready to bake bacon?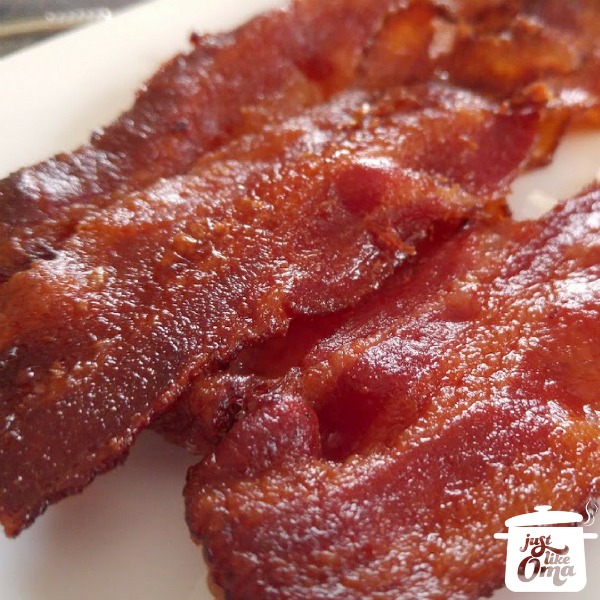 How to Bake Bacon Just like Oma

Here's how to bake bacon, aka gebackener Speck,  - the easy way to make lots of bacon without the mess! It's the easiest way I know how to cook bacon, especially without the splatter.

Prep Time


10 minutes


Cook Time


20 minutes


Total Time

30 minutes

Servings:

Makes 1 pound "fried" bacon
Ingredients:
1 pound bacon, preferably thick-sliced
Instructions:
Preheat oven to 400°F.
Using stoneware cookie sheet (or foil-lined metal sheet) with edges, lay bacon in non-overlapping rows.
Bake for about 20 minutes or until done. If using thin-sliced bacon, check around 15 minutes.
Remove bacon to paper-towel lined plate to drain fat.
ENJOY!
Notes/Hints:

Pour the accumulated fat from the baking sheet into a container and keep in the fridge. Perfect for frying meat, eggs, or to add a bacon flavor to other dishes.
*  *  *  *  *

Unless otherwise noted recipe, images and content © Just like Oma | www.quick-german-recipes.com

Want Nutritional Information?

Copy and paste the above ingredient list and the number of servings into Calorie Count for an approximate calculation.
Need Help Doing Conversions?

Make it easier to convert between cups and grams, etc. Use this site to give you all the different conversions for the different types of ingredients. 
Grab my own German Meat e-Cookbook in English to bring back wonderful memories of Oma's kitchen.
Sharing traditional German meals, made using easily available ingredients, ... that's such a delicious way to pass on our heritage.
Leave a comment about this recipe or ask a question?
Pop right over to my private Facebook group, the Kaffeeklatschers. You'll find thousands of German foodies, all eager to help and to talk about all things German, especially these yummy foods. 
I pop in all the time as well, to chat and to answer questions. 
Meet with us around Oma's table, pull up a chair, grab a coffee and a piece of Apfelstrudel, and enjoy the visit.
*  *  *  *  *
---
PIN this ...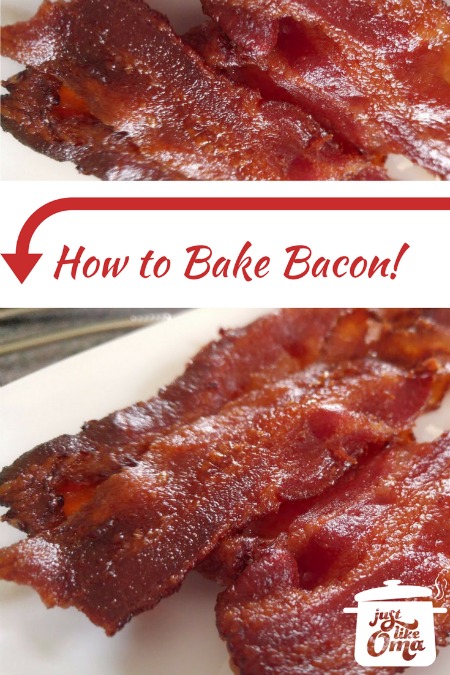 ---
If you love hummus, then you'll love this creamy hummus salad dressing recipe! It's just like the real deal, but in liquid form so you can drizzle it all over your favorite greens ...

This recipe for creamy vegan mushroom soup is inspired in part by Oma's German recipe for cream of mushroom soup. It brings me back to my childhood eating this classic comfort food.
---
---
How to Bake Bacon


By
Oma Gerhild Fulson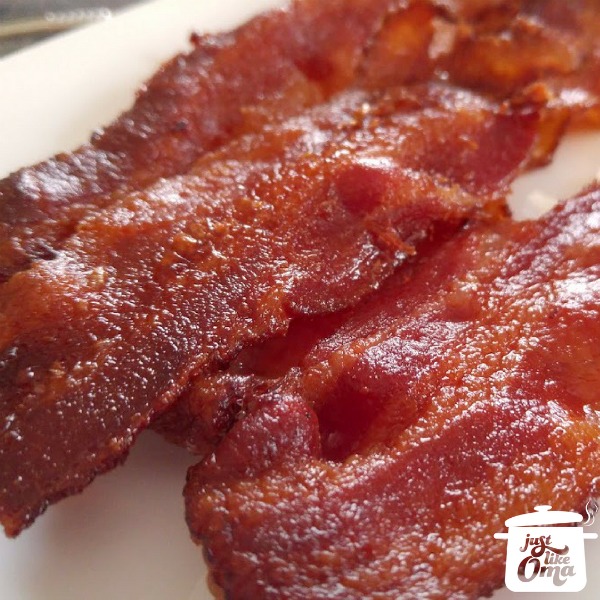 Here's how to bake bacon - no frying, no splattering, no mess! It's the easiest way to cook lots of bacon!


Prep Time: 5 minutes

Cook time: 20 minutes

Yield:
4 - 6 servings

Ingredients:
1 lb bacon,
For the full recipe, scroll up ...
Words to the Wise
"Singing cheerful songs to a person with a heavy heart is like taking someone's coat in cold weather or pouring vinegar in a wound."
Proverbs 25:20 (NLT)