German Cheese Omelette Recipe 

➤ by Gerhild Fulson
This German cheese omelette recipe makes a great weekend breakfast, a super brunch, or even a light supper.
This is among one of my favorite German breakfast recipes and very traditional.
It is called Käseomelette nach Bäuerinnenart in German and literally translated as Farmer's Wife's Cheese Omelet.
Planning on this for breakfast, I will always cook extra potatoes for dinner the night before.
Check out how to boil potatoes if you need help in doing so. You could just as quickly cook some potatoes in the microwave in the morning, just to make this omelet.
Served with a salad and some fresh bread, this makes a delicious light supper as well.
A similar dish to this is called Hoppel Poppel. It's a dish from Berlin that uses leftovers. It's one my Mutti often served us for lunch. Check it out below.

In actuality, this is a great way to use up leftover potatoes. Finding them in the fridge is always a great reason to throw together this dish.
Got Leftovers? You could also make this ...
Here's a version of the above omelette, called Hoppel Poppel, that uses leftovers. In fact, in planning on making this, I'll purposely cook in order to have leftovers, just for this.
---
Ready to make the omelette?
Is the recipe below locked? Here's why. Unlock to see ALL the exclusive recipes on this site. Click here for help.
➤ As an Amazon Associate, I earn from qualifying purchases.

German Cheese Omelette Recipe

This German cheese omelette recipe makes a great weekend breakfast, a super brunch, or even a light supper.
It is called Käseomelette nach Bäuerinnenart in German and literally translated as "Farmer's Wife's Cheese Omelet".

Prep Time


10 minutes


Cook Time


10 minutes


Total Time

20 minutes

Servings:

Makes 3 - 4 servings
Ingredients:
4 slices bacon, diced
3 tablespoons butter
2 potatoes, cooked, diced
1 tablespoons onion, chopped
¼ pound mushrooms, fresh or canned
6 large eggs
1 cup cheese, grated (see hints below)
salt 
Instructions:
Fry bacon in saucepan. 
Add butter and potatoes, onions, and sliced mushrooms. If using canned mushrooms, drain well. 
Sauté over medium-high heat for 2 - 3 minutes. 
In small bowl, beat eggs, cheese, and salt. Pour over potato mixture in pan.
Reduce heat and cook until set. Serve immediately.
Notes/Hints:

Use Emmental or Cheddar cheese, or your favorite
Instead of using bacon, add about 4 tablespoons of real bacon bits. You may need to use extra butter.
Instead of using onion, add about 1 teaspoon dried chopped onion.
When beating the eggs, cheese, and salt, try to beat in as much air as possible.
If you wish, you can omit the potatoes and/or mushrooms.
*  *  *  *  *

Unless otherwise noted recipe, images and content © Just like Oma | www.quick-german-recipes.com

Need that "all's good with the world" feeling? Comfort food will do that. Get your copy of Oma's German favorites in her Comfort Foods e-Cookbook.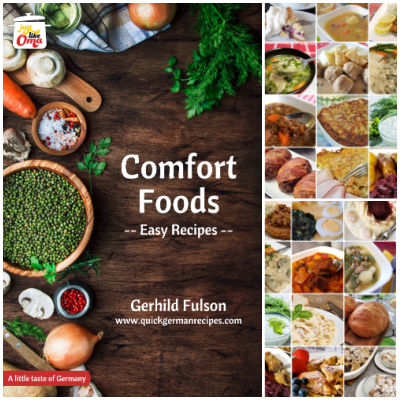 Take a peek at all Oma's eCookbooks. They make sharing your German heritage a delicious adventure!
Leave a comment about this recipe or ask a question?

Pop right over to my private Facebook group, the Kaffeeklatschers. You'll find thousands of German foodies, all eager to help and to talk about all things German, especially these yummy foods. 
Meet with us around Oma's table, pull up a chair, grab a coffee and a piece of Apfelstrudel, and enjoy the visit.

Discover the history behind the German Apple Pancake recipe, aka Apfelpfannkuchen. Quick, very easy, and wunderbar! Get Oma's delicious recipe here.

I loved to wander thru Trier in the winter evenings when all was quiet. Usually, on Friday nights around Christmas, there would be a small band playing
*  *  *  *  *
PIN to SAVE this recipe to your Pinterest board!
And let's be friends on Pinterest!
---
Cheese Omelette Recipe made Just like Oma


By
Oma Gerhild Fulson
This Cheese Omelette recipe is a tasty treat for breakfast, brunch, and even supper. Adding mushrooms, potatoes, and bacon makes this one a real meal!

Ingredients:
bacon,
butter,
potatoes,
onion,
mushrooms,
eggs,
cheese,
salt,
For the full recipe, scroll up ...
Words to the Wise
"A stone is heavy and sand is weighty, but the resentment caused by a fool is even heavier."
Proverbs 27:3 (NLT)