Easy German Schnitzel Recipe (Pork): The Authentic Schweineschnitzel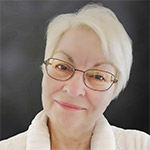 by: Gerhild Fulson  /  Cookbook Author, Blogger, German Oma!
As an Amazon Associate, I earn from qualifying purchases.
My easy and authentic German schnitzel recipe is a perfect addition to your German food recipe collection. In fact, it's the easiest way to make the perfect pork Schnitzel!
Schnitzel are really just thin cutlets and can be made with just about any kind of meat. You can have pork Schnitzel (which is most common), veal Schnitzel (also known as Wiener Schnitzel) chicken Schnitzel, and turkey Schnitzel, among many others. The meat is pounded thin with a meat tenderizer, then breaded, and fried.
It doesn't get much easier than that, especially if you can buy your Schnitzel already tenderized.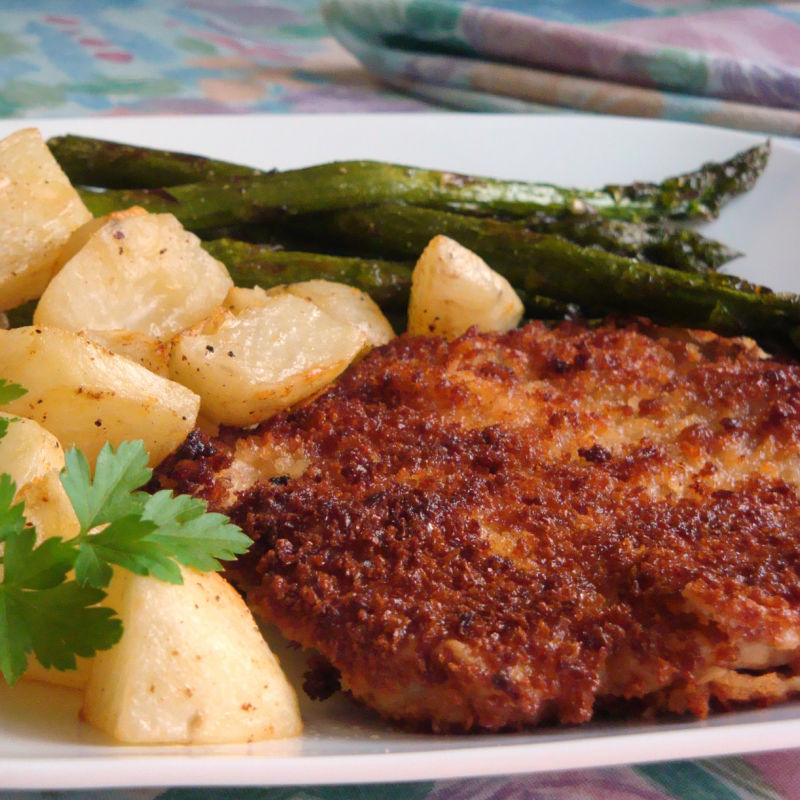 One of the most popular traditional recipes is Jägerschnitzel (Hunter's Schnitzel). This is Schnitzel served with a most wonderful mushroom sauce.
Jägerschnitzel is sometimes made with un-breaded meat, making it a quicker and easier version than the breaded one.

You choose your fave. Mine? Definitely the breaded version. It's German food at its best!

Top 10 Schnitzel Variations in Germany

Jägerschnitzel (Hunter's) is topped with a rich mushroom gravy
Käseschnitzel has cheese melted on top
Münchner Schnitzel is covered with horseradish and/or mustard before coating in flour, egg, and bread crumbs
Naturschnitzel is un-breaded, served plain or with a simple pan sauce
Paprikaschnitzel has a tomato sauce with paprika and red peppers
Rahmschnitzel is topped with a cream sauce, often containing some mushrooms
Schnitzel Holstein is served with onions, capers, and a fried egg on top
Vegetarisches Schnitzel is meatless and made from soy or tofu
Weiner Schnitzel or Kalbsschnitzel is the traditional breaded veal Schnitzel
Balkanschnitzel (

originally called

Zigeunerschnitzel) has a sauce containing tomato, bell peppers, and onion slices
What is Schnitzel?
The definition of Schnitzel: a thin slice of meat, usually tenderized by pounding, coated in flour, eggs, and breadcrumbs, and then pan-fried until perfectly crispy with a deep golden brown crispy breading that covers the tender, juicy meat.
The history of Schnitzel spans over 2,000 years and involves the Romans, the Italians, the Austrians, and the Germans. 
What is the difference between Schnitzel and Wiener Schnitzel?

The original Wiener Schnitzel is thought to come from Vienna, Austria in the 1600s. It has to be made from veal and is controlled by law.
In Germany, if it's not made with veal cutlet, it must be labelled as coming from pork or chicken, etc. That means, you'll have Schweineschnitzel (pork cutlets) or Putenschnitzel (turkey cutlets) on the menu in restaurants. 

Me? I love the pork Schnitzel!
Above, I've topped the breaded pork Schnitzel with mushrooms that I've fried with bacon and onions. A yummy topping!
Turn Pork Chops into Schnitzel

Don't have any Schnitzel at your butcher's? Is there an alternative?
Absolutely! I take some nice thick boneless pork chops and butterfly them. Then I gently pound them to an even thinness. Especially when these are on sale, Hubby and I will make an assembly line:

Cut. 
Pound. 
Package. 
Freeze. 
Perfect when I need a quick meal. Since they're so thin, they thaw real quick. Wunderbar!
There's something absolutely mouth-watering about having a German meat-and-potato dinner. Get Oma's revised collection of her favorites in German Meat Dishes.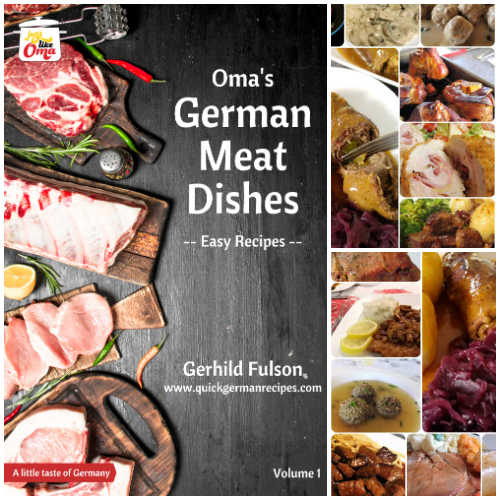 Take a peek at all Oma's eCookbooks. They make sharing your German heritage a delicious adventure!
How to Make Your Own Schnitzel From Pork Chops for this German Pork Schnitzel Recipe

I prefer to use thick boneless pork chops and turn them into Schnitzel. This method also works well with chicken breasts. First, I trim off the fat that's usually around the outer edge. Make sure you take off any silver skin that may also be along the edge. 
If this fat isn't removed, it will cause the Schnitzel to curl when it is frying.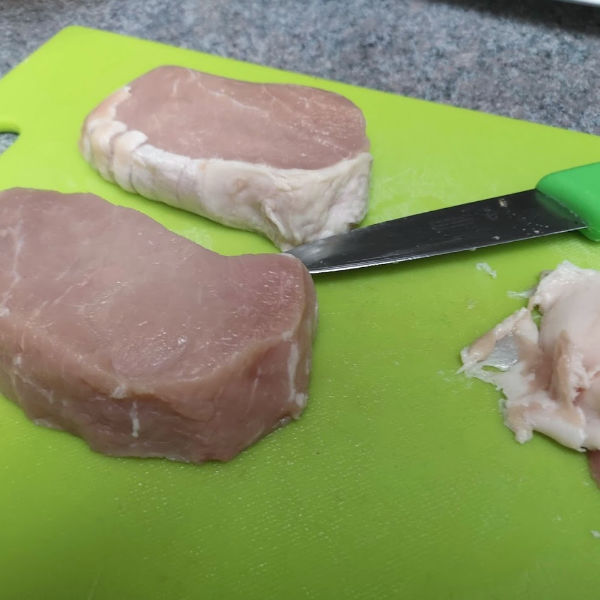 Butterfly the pork chop: use a very sharp knife and cut the pork chop in half, almost all the way through.
If you cut starting on the rounded side edge, you'll have the longer straight edge as the butterfly back. 
When you are almost all the way through, open the pork chop (like a book). You should be able to lie it flat. The middle part should be as thick as the rest of the pork chop.
If the middle is much thicker, cut it just a bit more. Flatten the meat.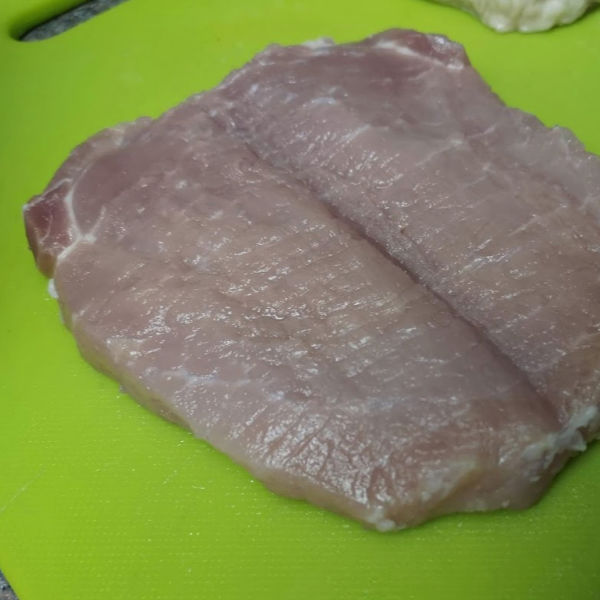 Cover the meat with some plastic wrap, and using the flat side of a meat mallet, pound the pork chop sort of gently. You do not want the meat to tear.
You want the Schnitzel to be no more than ¼-inch thick.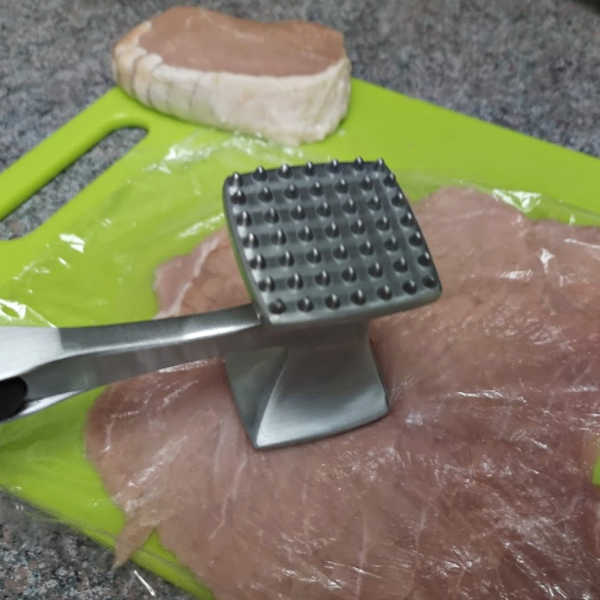 Set up three shallow dishes. The first has about half a cup flour, the second an egg/water mix, and the third has about 1 cup bread crumbs.
Season Schnitzel with salt and lemon juice, then dredge it into the flour, then the egg, and lastly in the bread crumbs. Repeat this whole process with all the Schnitzel.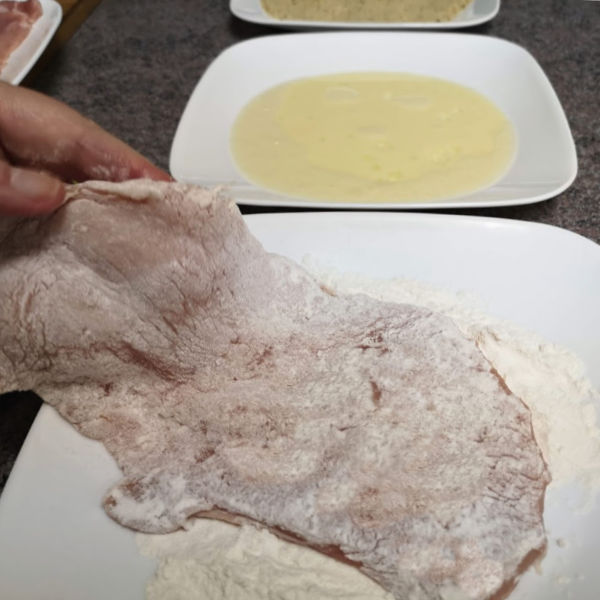 In a large frying pan, fry the tender cutlets in 3 tablespoons of butter and 3 tablespoons of cooking oil. Each side only takes a few minutes. Remove to a paper-towel lined plate and then keep warm in the oven until the rest have been fried.
Be careful not to crowd them in the pan. You may only be able to fry one at a time, depending on how big your Schnitzels are. Mine below is quite big!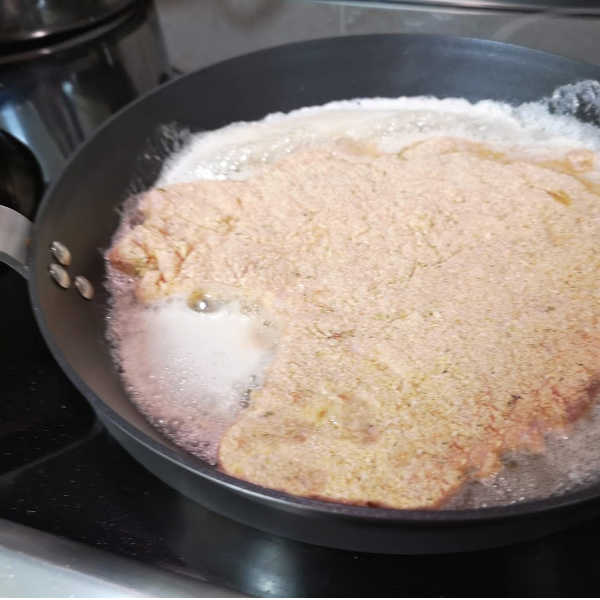 Even though Schnitzels aren't deep fried, they pretty well swim in the fat. The trick to getting a puffy batter is to splash some of the hot fat onto the sides and top of the Schnitzel as it is frying. Don't submerge though. Just a few splashes.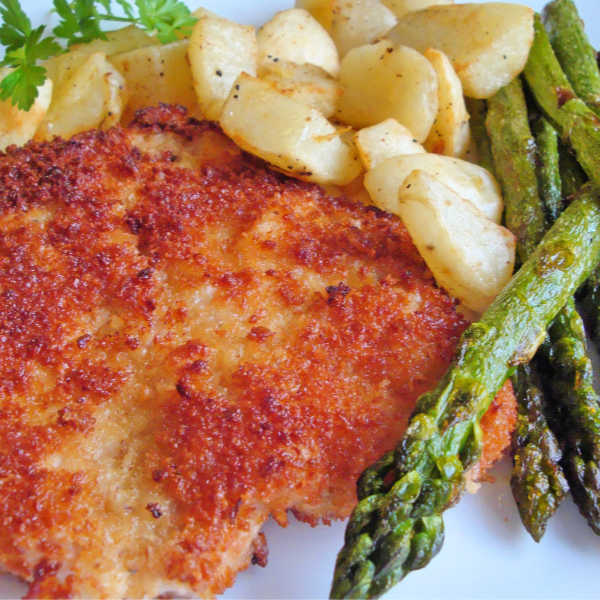 Served! With fried potatoes and roasted asparagus on the side, so delicious!
Can You Make German Pork Schnitzel recipe in an Air Fryer?
Yes, you can. My granddaughter, Lydia, made these in an Instant Pot Vortex Plus Air Fryer using her easy recipe. 
Served together with slices of fresh lemon and her favorite red cabbage as a side dish, this crispy German pork schnitzel recipe would also make a great sandwich on a German bun. So traditionally German.
Planning on Making Jägerschnitzel?
For a totally traditional German meal, serve Schnitzel with the most amazing and awesomely creamy mushroom sauce ever! Be sure to make the Jäger sauce first and then fry up the Schnitzel. This is German comfort food at its best!
The traditional Austrian schnitzel when served with sauce means that the schnitzel is not breaded. That's right. 
However, in Germany, it's more common to bread the schnitzel. You choose your favorite. There is no right or wrong way to do this. Both are delicious.
What Else Do You Serve With Schnitzel?
There are SO many ways to serve Schnitzel! If you're wanting a traditional German Schnitzel dinner, there are several side dishes that are a MUST! Of course, there are other ones that also pair perfectly with Schnitzel. Here are some faves:
Schnitzel, served any which way is just plain WUNDERBAR!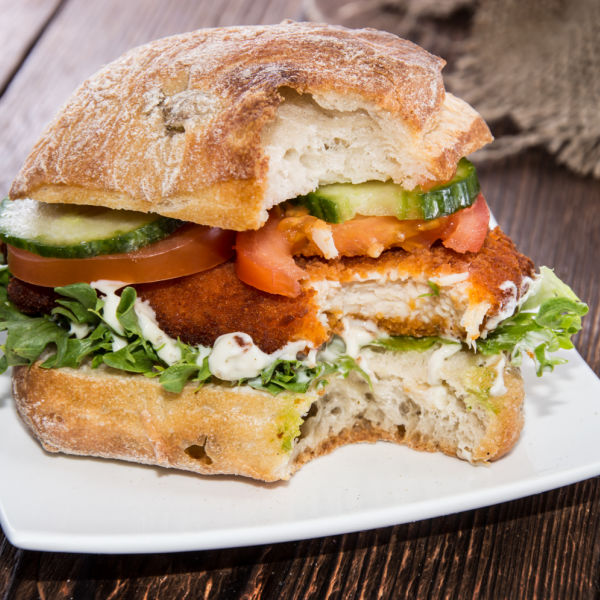 A quick and easy meal: a breaded schnitzel served on a German Brötchen with all the dressings
---
Hummus?
Yep. Hummus. Sylvie, my daughter-in-law, shares that hummus is delicious with this quintessential German dish. Her easy hummus recipe is so quick to make and it's becoming wildly popular in Germany. Try it. I think you'll like it too!
---
Ready to Make This German Pork Schnitzel Recipe?

Is the recipe below locked? Here's why. 
As an Amazon Associate, I earn from qualifying purchases.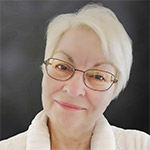 For more German-inspired items that make life easier and yummier, especially in the kitchen and for entertaining, follow my Amazon Storefront.
➙ For groceries,
Try Amazon Fresh
.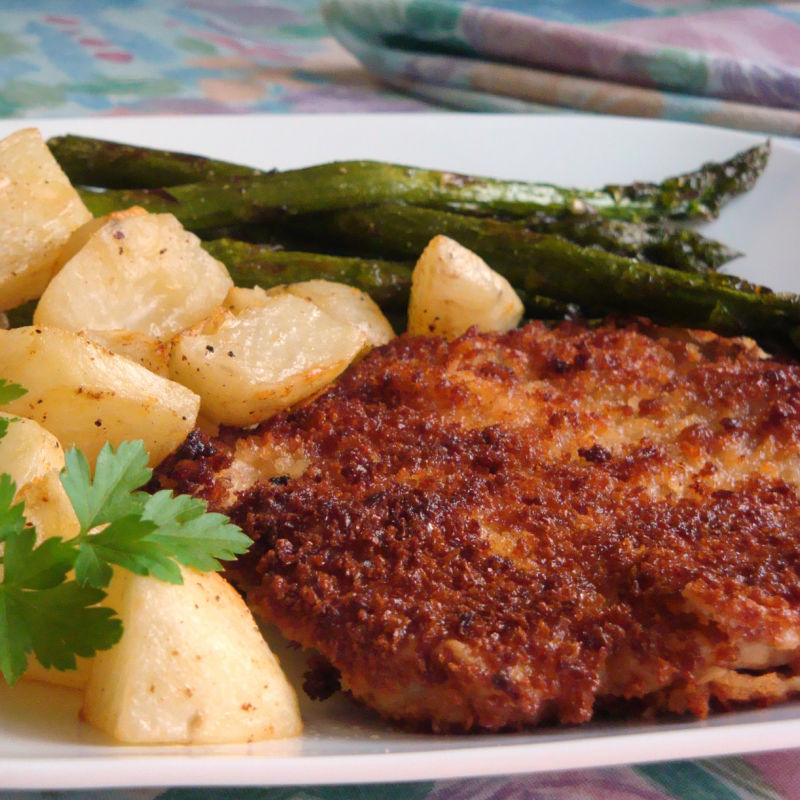 Easy German Pork Schnitzel Recipe: The Authentic Schweineschnitzel

Oma's easy German Schnitzel recipe is a family favorite. Serve this with mushroomy Jägersosse (Hunter's sauce) and you'll have the makings of a totally traditional German meal.
Schnitzel are thin cutlets and can be made from any type of meat, such as veal, pork, chicken, and turkey. Here, I use pork which is one of the easiest to buy and use. And, so delicious!
Prep Time


15 minutes


Cook Time


12 minutes 


Total Time

27 minutes

Servings:

This makes 4 servings.

Ingredients:
4 Schnitzel, about ¼-inch thick or less
1 tablespoon (15 milliliter) lemon juice
½ teaspoon (3 grams) salt
about ½ cup (65 grams) all-purpose flour
3 tablespoons (45 milliliter) water
1 large egg
about 1 cup (224 grams) breadcrumbs
3 tablespoons (42 grams) butter
3 tablespoons (45 milliliters) peanut or vegetable oil
1 lemon, sliced
Instructions:
Preheat the oven to 160°F (70°C). Line a baking sheet with parchment paper. Put several sheets of paper towels onto a large plate. Set these aside.
Sprinkle the Schnitzel with lemon juice and salt.
Place 3 shallow bowls onto the counter. In the first one, put flour. In the second one, mix the egg and water. In the third one, put the breadcrumbs.
Dredge a Schnitzel, first into the flour, then into the egg mixture, and then into the breadcrumbs. Place the breaded Schnitzel onto a large plate and repeat with the remaining Schnitzel.
Heat butter and oil over medium heat in a large skillet.
Fry the Schnitzel in the hot oil and butter mixture until golden brown, about 3 minutes per side. Do not crowd the Schnitzel. Depending on the size, you may only be able to fry 1 or 2 at a time.
Remove the cooked Schnitzel to the paper towel-lined plate to drain any fat and then place it on the baking sheet into the oven to keep warm.
Fry the remaining Schnitzel.
Serve immediately, garnished with lemon slices or lemon wedges. 
Notes/Hints:

If you are serving this as Jagerschnitzel, you'll want to make the mushroom sauce first and then fry the Schnitzel.
If you want to make this non-breaded, then just dredge in the flour and omit the egg/milk and breadcrumbs. 
My favorite side with this? Bratkartoffeln!
*  *  *  *  *

Unless otherwise noted recipe, images and content © Just like Oma | www.quick-german-recipes.com

09.09.2023 revision update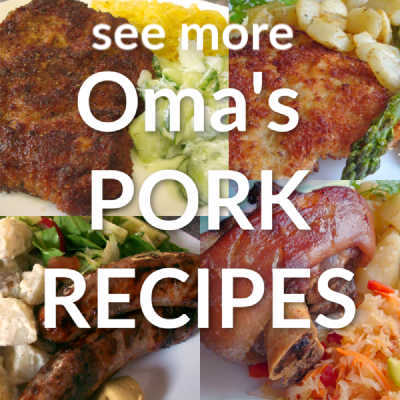 Leave a comment about this recipe or ask a question?

Pop right over to my private Facebook group, the Kaffeeklatschers. You'll find thousands of German foodies, all eager to help and to talk about all things German, especially these yummy foods. 
Meet with us around Oma's table, pull up a chair, grab a coffee and a piece of Apfelstrudel, and enjoy the visit.

This easy German Apple Strudel recipe is one of those German desserts that brings the traditional strudel taste to your table without all the work. Wunderbar!!

Make the perfect German Spaetzle with Oma's easy recipe! This traditional German egg noodle pairs perfectly with caramelized onions for a delicious meal.

Choose from Oma's cookbooks that are immediately downloadable & start cooking easy classic German foods tonight. Or get her newest paperback cookbook. LECKER!
*  *  *  *  *
PIN to SAVE this recipe to your Pinterest board!
And let's be friends on Pinterest!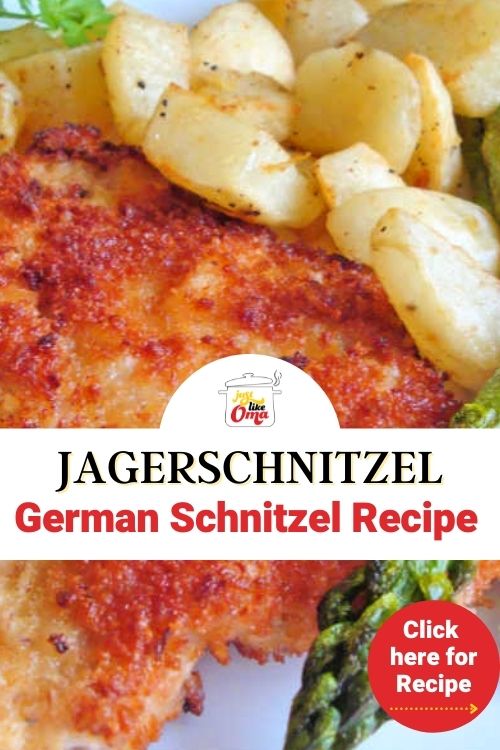 Easy German Pork Schnitzel Recipe: The Authentic Schweineschnitzel



By

Oma Gerhild Fulson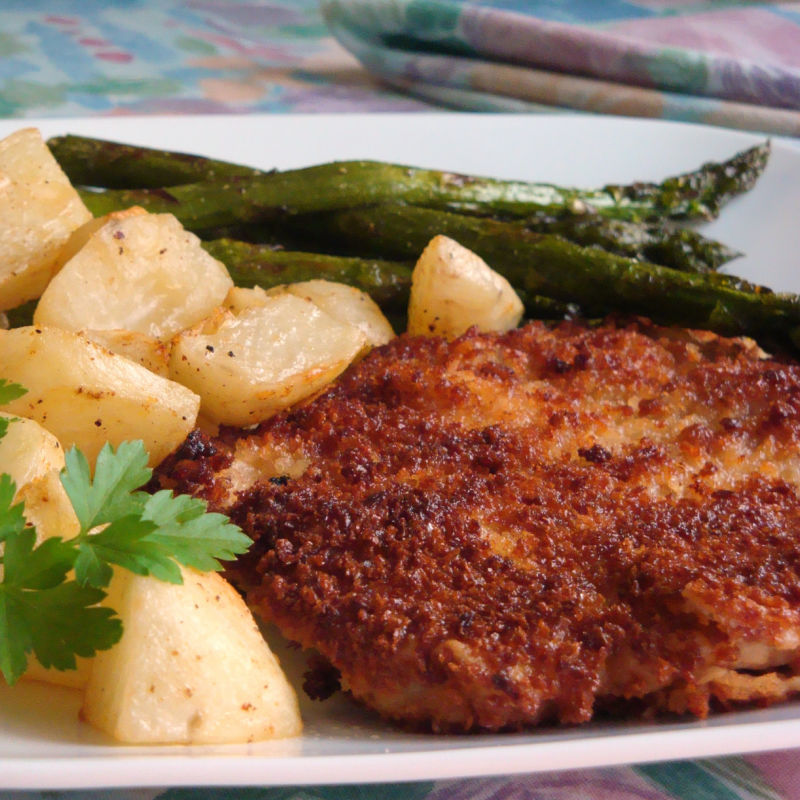 Discover the ultimate German Schnitzel recipe with Oma's quick, easy, and delicious version - perfect for any occasion! Taste the authentic flavors of Germany today.




Cook time: 30 minutes total time

Yield:

4 servings



Ingredients:

schnitzel,

lemon,

flour,

breadcrumbs,

butter,

egg,

oil,

seasonings,
For the full recipe, scroll up ...
Words to the Wise
"The words of the godly are a life-giving fountain; the words of the wicked conceal violent intentions."
Proverbs 10:11 (NLT)