Oma's German Schnitzel Recipe
with Jäger-Schnitzel Sauce❤️
➤ by Oma Gerhild Fulson
FTC Disclosure: As an Amazon Associate I earn from qualifying purchases.
Oma's easy German Schnitzel recipe is a perfect addition to your German recipe collection.
Schnitzel are really just thin cutlets and can be made from veal, pork, chicken, turkey ... just about any kind of meat. Pounded thin with a meat hammer to tenderize, then breaded, and fried.
It doesn't get much easier than that. How to make schnitzel really isn't rocket science!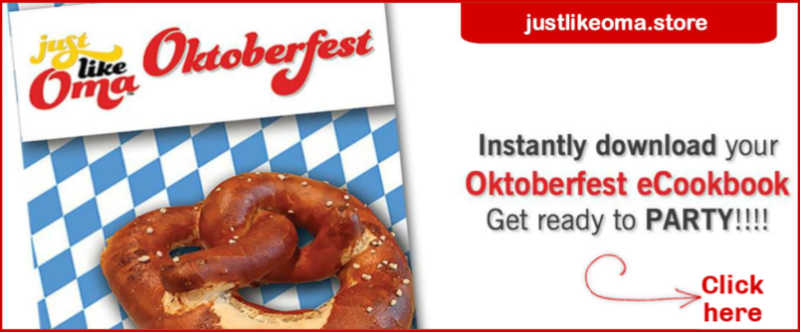 One of the most popular traditional recipes is for Jäger-Schnitzel (Hunter's Schnitzel). This is served with a most wonderful mushroom sauce. You'll find the recipe for that below.
For this type of schnitzel, it's normally a breaded one that is made. However, sometimes its served with un-breaded meat, making it a quicker and easier version than the breaded one.
You choose your fav. Mine? The breaded one that I've given below.
There are SO many ways to serve Schnitzel!
Served plain with red cabbage and warm potato salad on the side. Wunderbar!
Serve with Bratkartoffeln (fried potatoes) or pomme frites! Wunderbar!
Serve in a Brötchen (bun). Wunderbar!
Schnitzel, served any which way is just plain WUNDERBAR!

---
Jägerschnitzel (hunter's) is topped with mushroom sauce
Käseschnitzel has cheese melted on top

Münchner Schnitzel is covered with horseradish and/or mustard before coating in flour, egg and bread crumbs
Naturschnitzel is un-breaded, served plain or with a simple pan sauce
Paprikaschnitzel has a tomato sauce with paprika and red peppers
Rahmschnitzel is topped with a cream sauce, often containing some mushrooms
Schnitzel Holstein is served with onions, capers, and a fried egg on top

Vegetarisches Schnitzel is a meatless and made from soy or tofu
Wiener Schnitzel or Kalbsschnitzel is the traditional breaded veal schnitzel
Zigeunerschnitzel (gypsy) has a sauce containing tomato, bell peppers, and onion slices
Schnitzel History
The original Wiener Schnitzel is thought to come from Vienna, Austria in the 1600's.This has to be made from veal and is controlled by law. If it's not made with veal, it must be labelled as coming from pork or chicken, etc.
Me? I love the pork schnitzel!
Looking for more history about this wonderful dish? Check out this article.
Oma's Tips:
Don't have any schnitzel at your butcher's? Is there an alternative?

Absolutely! I take some nice thick boneless pork chops and butterflying them. Then I gently pound them to an even thinness. Especially when these are on sale, Hubby and I will make an assembly line:
Cut. 
Pound. 
Package. 
Freeze. 
Perfect when I need a quick meal. Since they're so thin, they thaw real quick.
Wunderbar!
Oma's German Schnitzel Recipe❤️
Ingredients:
4 veal cutlets, pounded lightly (use pork for Schweineschnitzel)
1 tbsp lemon juice
½ tsp salt
about ½ cup flour
3 tbsp water
1 egg
about 1 cup bread crumbs
3 Tbsp butter
3 tbsp peanut or vegetable oil
1 lemon, sliced
Instructions:
Trim fat from meat and clip edges to stop edges from curling during cooking.
Sprinkle cutlets with lemon juice and salt.
Place 3 shallow bowl on counter. In first one, put flour. In second one, mix egg and water. In third one, put breadcrumbs.
Coat schnitzel, first with flour, then egg, and then breadcrumbs.
Heat butter and oil over medium heat in skillet.
Fry cutlets until golden brown, about 3 minutes per side.
Serve immediately, garnished with lemon slices.
Hints:
If schnitzel are too big to all fit in the pan, just fry 2 at a time. Once done, put finished schnitzel on a paper towel lined pan and place, uncovered, in the oven to keep warm while frying remaining schnitzel.
This German schnitzel is often served garnished with anchovy fillets if desired.
Oma's Jägerschnitzel Sauce
Ingredients:
1 tbsp butter
3 slices bacon, diced
1 onion, diced
1 lb mushrooms, sliced
2 tbsp tomato paste
1 cup water
1 cup white wine
2 tbsp paprika
thyme, salt, pepper
2 tbsp parsley, chopped
¼ cup sour cream
Instructions:
In a skillet, brown bacon and onion in butter.
Add mushrooms and fry until tender.
Add tomato paste, water, and white wine.
Add paprika. Season with thyme, salt and pepper.
Bring to boil, reduce heat and simmer for 5 minutes until sauce thickens slightly.
Add parsley and sour cream. Stir. Serve over Schnitzel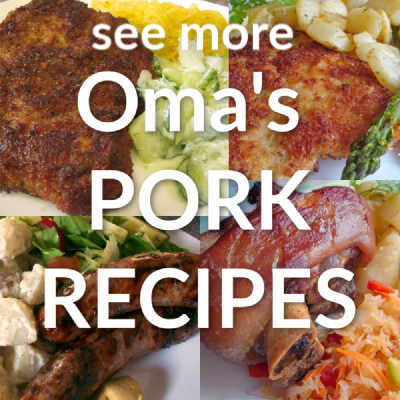 Leave a comment about this recipe or ask a question?
Pop right over to my private Facebook group, the Kaffeeklatschers. You'll find thousands of German foodies, all eager to help and to talk about all things German, especially these yummy foods. 
I pop in all the time as well, to chat and to answer questions. 
Meet with us around Oma's table, pull up a chair, grab a coffee and a piece of Apfelstrudel, and enjoy the visit.
*  *  *  *  *
Want nutritional information for a recipe?
Copy and paste the ingredient list and the number of servings into Calorie Count. 
It will give you an approximate calculation.

Need help doing conversions
between cups and grams or any such thing?
Use this site to give you all the different conversions for the different types of ingredients. 
---
Pin the following post so you can quickly find your German Schnitzel recipe whether you're using your cast iron frying pan or your newest stainless steel one ...

---
Schwenkbraten recipe that has been a delish hit an alle familien & freunde... Total Approx. Time: Prep: 15 min. + Marinating 8 hrs min. + Grill: 15 min.

My Oma made this cake every Christmas. She iced it with a white frosting that ran down the sides. She decorated it with little silver balls (candy). It
---
Words to the Wise
"The words of the godly are a life-giving fountain; the words of the wicked conceal violent intentions."
Proverbs 10:11 (NLT)
---
Oma's German Schnitzel Recipe


By
Oma Gerhild Fulson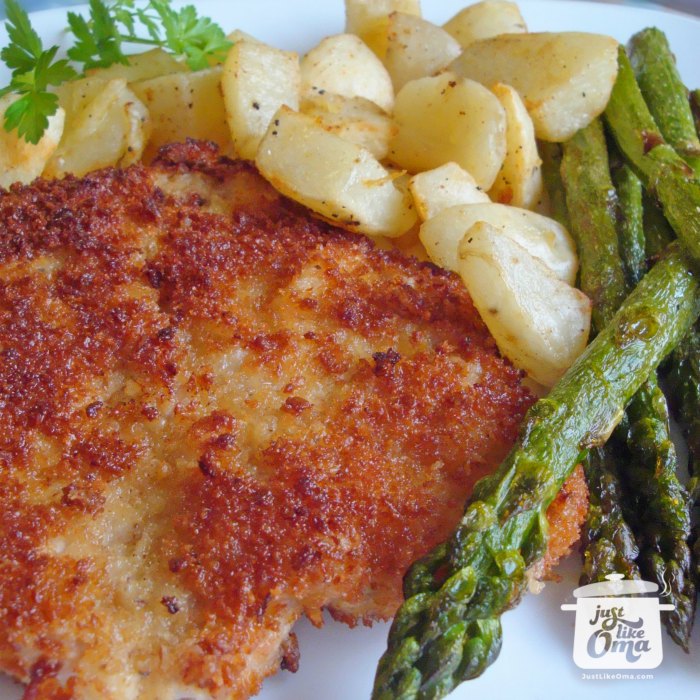 Oma's German schnitzel recipe (Jäger-Schnitzel) is great if you need something delicious that's quick as well. So traditionally German and so WUNDERBAR!

Cook time: 30 minutes total time

Yield:
4 servings

Ingredients:
4 veal cutlets,
1 lemon,
1/2 cup flour,
1 cup bread crumbs,
3 tbsp butter,
For the full recipe, scroll up ...