Oma's Mushroom Gravy Recipe❤️

➤ by Oma Gerhild Fulson
FTC Disclosure: As an Amazon Associate, I earn from qualifying purchases.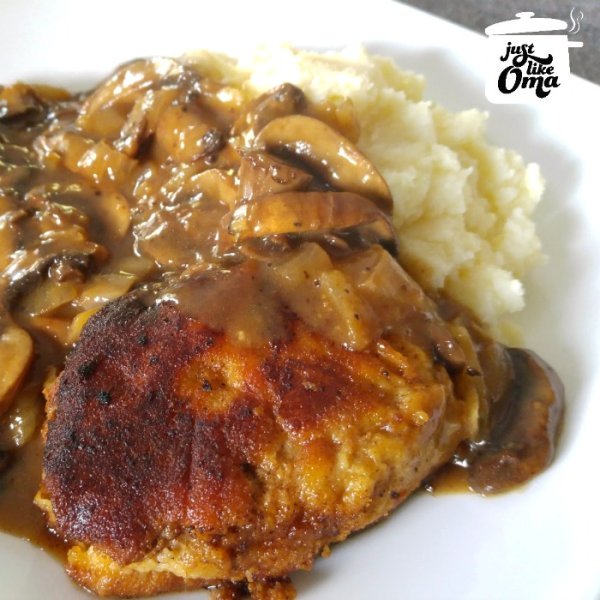 Make this mushroom gravy recipe, aka Champignons mit Sahnesosse, when you're wanting to elevate your dinner to something extra-ordinary. Perfect with pork and beef ... and mashed potatoes! When you're cooking your mushrooms, it will look like you have LOTS, but as thy cook they shrink down by half as their moisture is released.
Loosing moisture during cooking is OK. It means that the flavor is concentrated! Add an onion for deeper flavor ... check below for how to do that.

... add some onions to this ...
Want a darker gravy with an absolutely wonderful taste?
Use the above recipe, but first, peel and slice a LARGE onion (or several smaller ones) and slowly caramelize in butter/oil. This can take about 5 - 10 minutes. Remove from pan and continue with the recipe. Return the onions to the pan just before you add the cream. You may need (or want) to add more cream to the sauce. Season and enjoy!
Preparing Mushrooms ...
Be careful when you are cleaning the mushrooms. Do not let them soak in water. They are like sponges! They'll absorb the water. If you absolutely must use water, then do so in a colander with running water. The best way to clean the mushrooms is to use a brush. You can buy a special mushroom brush to make this easier.
As with many traditional German vegetable dishes, cream is used to make the sauce. You can omit this if you really want to, but it's such a treat to include it.
Oma says,
In the above photo, I'm serving the mushroom sauce with breaded pork chops and mashed potatoes. A meal fit for royalty, is what my hubby says!
Oma's Mushroom Gravy Recipe❤️
Ingredients:
2 lb mushrooms, cleaned
about 2 tbsp butter/oil
⅓ cup cream
salt, pepper, fresh parsley
Instructions:
Cut mushrooms either in quarters or slice them.
Melt butter over medium heat in frying pan. Add mushrooms and fry gently for about 10 minutes, until tender.
Add cream, increase heat, and cook until reduced to a creamy sauce.
Season with salt and pepper.
Sprinkle with chopped parsley.
Serves 4.

Leave a comment about this recipe or ask a question?
Pop right over to my private Facebook group, the Kaffeeklatschers. You'll find thousands of German foodies, all eager to help and to talk about all things German, especially these yummy foods. 
I pop in all the time as well, to chat and to answer questions. 
Meet with us around Oma's table, pull up a chair, grab a coffee and a piece of Apfelstrudel, and enjoy the visit.
*  *  *  *  *
Want nutritional information for a recipe?
Copy and paste the ingredient list and the number of servings into Calorie Count. 
It will give you an approximate calculation.

Need help doing conversions
between cups and grams or any such thing?
Use this site to give you all the different conversions for the different types of ingredients. 
---
PIN this ...

---
I'm American but lived several years in Germany. I love the German Christmas traditions! For instance celebrating a 1st and 2nd Christmas day and celebrating

These German Christmas Traditions have been around for generations. Some ornamental, some musical and some just simply YUMMY!
---
Words to the Wise
"A proverb in the mouth of a fool is like a thorny branch brandished by a drunk."
Proverbs 26:9 (NLT)
---
Oma's Mushroom Gravy Recipe❤️


By
Oma Gerhild Fulson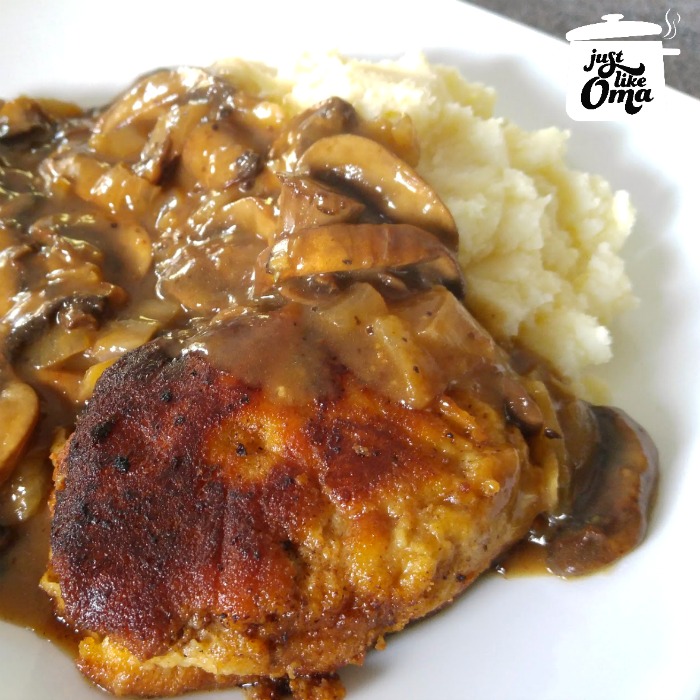 Make this mushroom gravy recipe when you're wanting to elevate your dinner to something extra-ordinary. Perfect with pork and beef ... and mashed potatoes!

Yield:
4 servings

Ingredients:
2 lb mushrooms,
2 Tbsp butter,
⅓ cup cream,
For the full recipe, scroll up ...