The Best Jagerschnitzel (Jägerschnitzel) made Just like Oma
➤ by Oma Gerhild Fulson
Whether you write this Jagerschnitzel or the proper German way, Jägerschnitzel or Jaegerschnitzel, it's that heavenly combination of a rich creamy bacon & mushroom gravy over crispy breaded pork schnitzel (cutlets).
Then again, traditional and authentic in a German sense means that there are all sorts of variations. Some love to serve this amazing mushroom sauce over plain schnitzel, meaning that they haven't been breaded. 
For the full list of ingredients & detailed instructions, see the recipe card at the end of this post. But before you scroll, there's important & interesting stuff to know right below.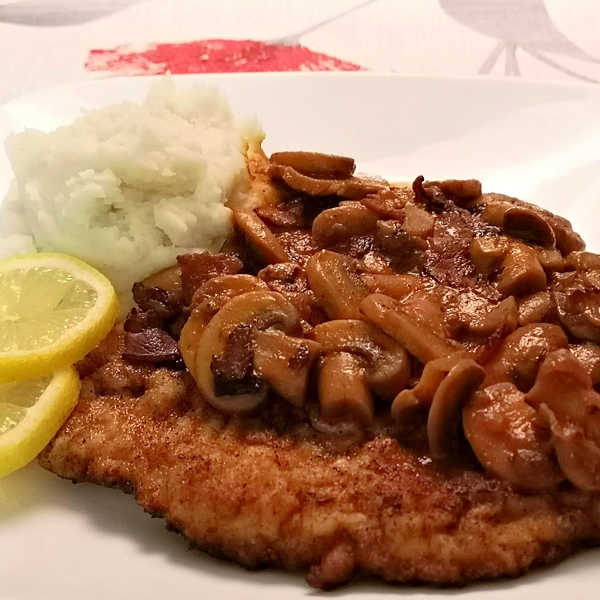 Some insist that the traditional Jäger gravy (Hunter's sauce) has to be made with wine. Some insist on red wine. Others only use white wine.
Others absolutely don't want the bacon. Some insist on Pfifferlinge or Chanterelles for the mushrooms. Others use a mixture of different mushrooms or just plain button ones.
Even with all these variations, this is German food at its finest. A traditional German meal that's PERFECT anytime.
Oma's traditional & authentic Jägerschnitzel:
The way I make mine is the way my Mutti made it. Traditional in our family.
Her recipe included breaded pork cutlets, pounded thin, and covered in an amazing sauce that had a bit of a spicy taste, a touch of paprika and bacon. So wunderbar!
Definition of TRADITION:
Handed down from age to age
Something that is in keeping with long-standing tradition, style or custom 
meaning just the way my (your) Mutti and my (your) Oma did it.
---
Literally, that means that there are so many traditional recipes for Jagerschnitzel, all that are authentic German recipes, you can choose just the one that matches your taste buds.
What to serve with Jagerschnitzel?
There are traditional accompaniments such as 
Schnitzel, served any which way is just plain WUNDERBAR!
What's the Difference Between Schnitzel and Wiener Schnitzel?
The original Wiener Schnitzel is thought to come from Vienna, Austria in the 1600's. By law, this needs to be made from veal. If it's not made with veal, it must be labelled as coming from pork or chicken, etc.
In Germany, most Schnitzel are made from pork, so when it's advertised in restaurants and at the butchers, it's labelled as Schweineschnitzel. 
Schnitzel is actually a method of cooking. Cutting meat thin and pounding it tender. This is used throughout Germany, not just for pork, but also veal, chicken, turkey, and game. 
And when it's covered in this heavenly creamy mushroom sauce, it is pure delight for the taste buds.
There's something absolutely mouth-watering about having a German meat-and-potato dinner. Get Oma's revised collection of her favorites in German Meat Dishes.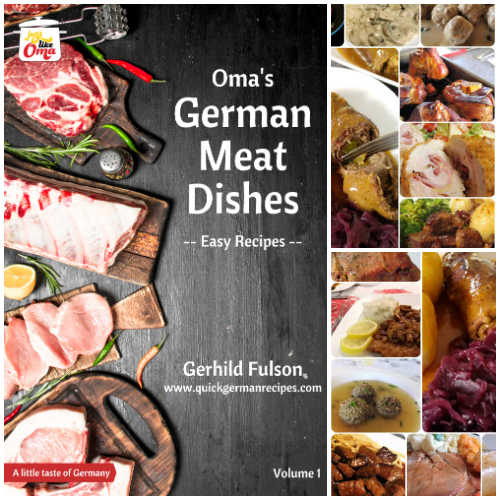 Take a peek at all Oma's eCookbooks. They make sharing your German heritage a delicious adventure!
How to make the Schnitzel
Since it can be difficult to find schnitzel ready to cook, I usually take thick boneless pork chops, such as these, and butterfly them. Then I follow this recipe for breading and frying them.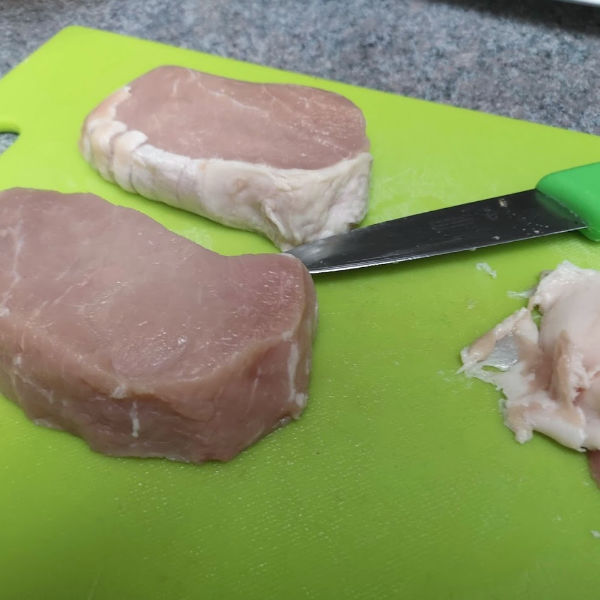 But, before you bread and fry the schnitzel, do make the Jager gravy, (recipe below). It can sit, once it's done, covered to keep it warm. If you need to, you can quickly reheat it just before serving.
Make the Jäger Sauce first ...

Gather your ingredients and get all the chopping and measuring done. Decide what liquid you're going to use. Broth works wonderfully. Wine is great too. Choose your favorite.
For the bacon, if you have access to a really good German bacon, please do use it. If not, just the regular breakfast bacon works as well. That's what I've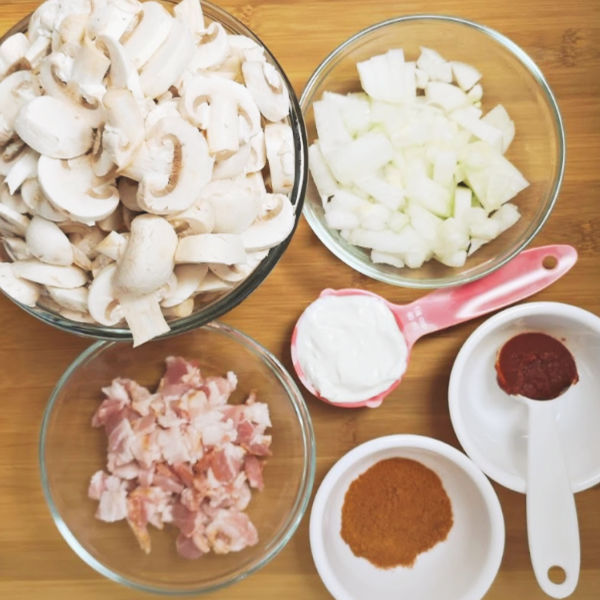 When you are frying the onion and bacon, do this over a medium heat. You want to render the fat from the bacon and you want the onions to be translucent.
My onions got a touch golden and that's OK.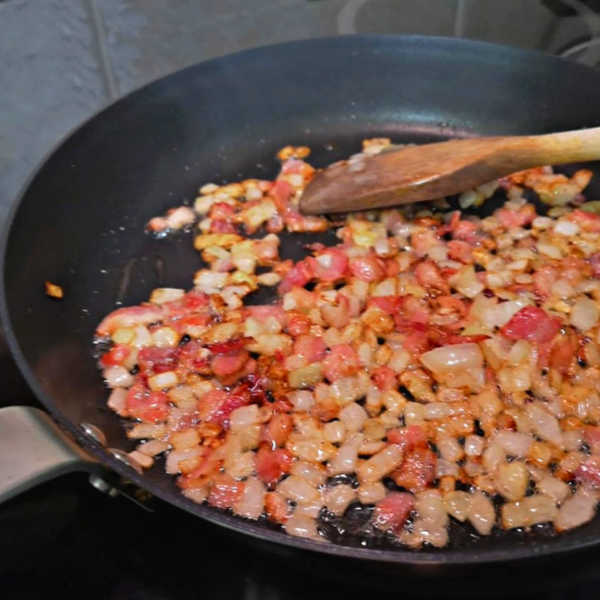 Stir in your sliced mushrooms. I've used button mushrooms, but you can choose your favorite variety.
I stir this continually, since I don't want those onions remaining at the bottom of the pan to get to dark. 
The mushrooms will give off liquid as they cook, they will shrink in size, and they will get nice and tender. Keep cooking until they look like this: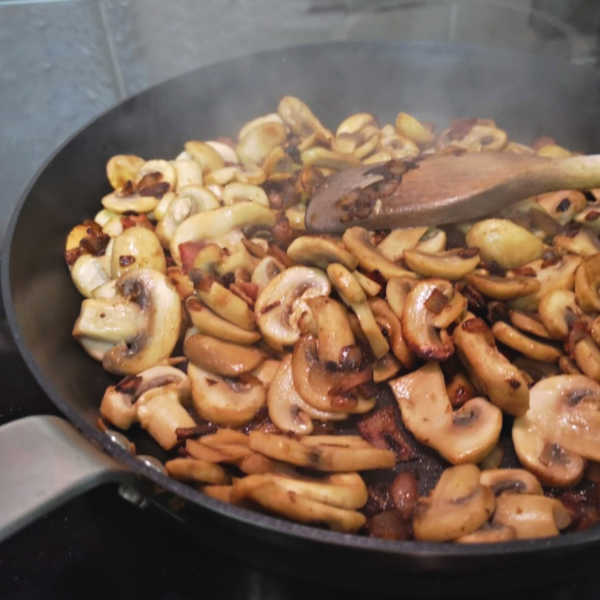 Once the mushrooms are like this, add the tomato paste, your liquid, paprika and salt and pepper to taste. The amount of seasonings to add will depend on your liquid.
If the broth is already seasoned, you'll need to add just a touch. Stir to mix and let it come to a simmer.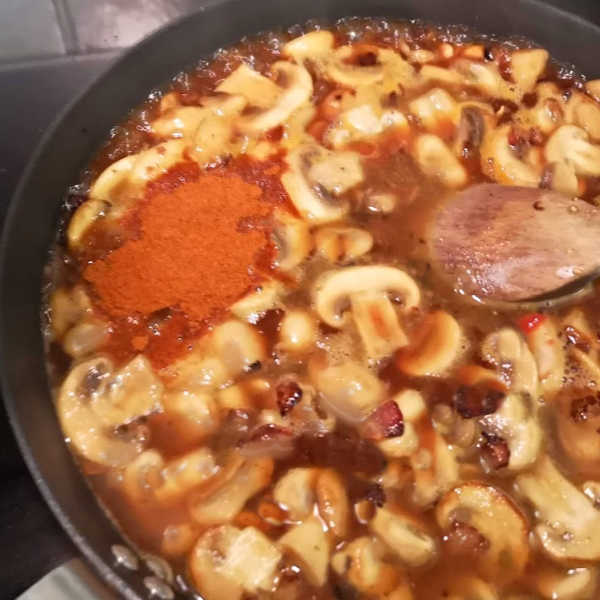 Once the simmering has reduced the gravy and it's actually a bit creamy, add your sour cream, stir, and re-season. If the gravy is still too liquid, you can thicken it with a bit of a cornstarch slurry.
Done! If you need to keep this warm, while you wait to fry up your schnitzel, just cover and let it sit on the lowest setting on your stove, as long as it doesn't actually come to a simmer.
If your stove doesn't have a low enough setting, just let it sit on the turned off burner. When you are ready to serve, let it come to simmer briefly to re-heat.
Above, I've served the mushroom sauce over breaded pork schnitzel with a side of mashed potatoes. Nothing else needed. Heaven!
Ready to make the BEST creamy brown mushroom sauce ever?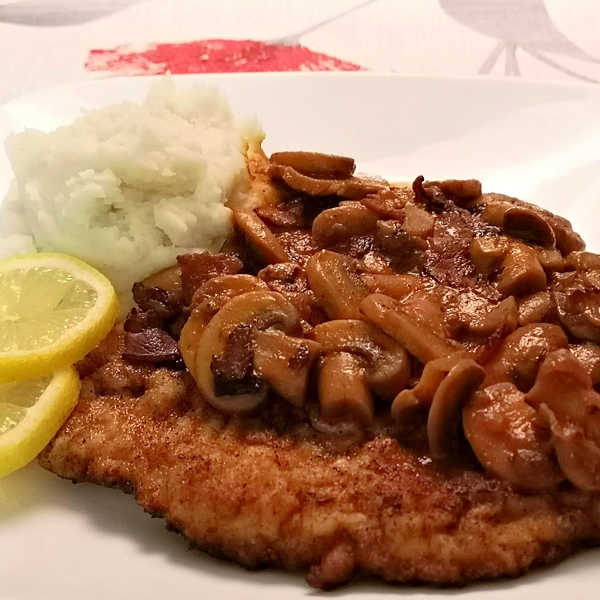 Oma's Best Jägerschnitzel Sauce
Whether you write this Jagerschnitzel sauce or the proper German way, Jägerschnitzelsosse, it's that heavenly combination of a rich creamy bacon & mushroom gravy often served over crispy breaded pork schnitzel.
Some insist that the traditional Jäger gravy (Hunter's sauce) has to be made with wine. Some insist on red wine. Others only use white wine. Others use broth. You choose.

Prep Time


5 minutes


Cook Time


15 minutes


Total Time

20 minutes

Servings:

Makes 4 servings
Ingredients:
2 tablespoons butter
3 slices bacon, diced
1 onion, diced
1 pound mushrooms, sliced
1 tablespoon tomato paste
2 cups beef broth
1 tablespoon paprika
salt, pepper
2 tablespoons parsley, chopped
2 tablespoons cornstarch in 2 tablespoons cold water (if needed)

¼ cup sour cream or Greek yogurt
Instructions:
In a skillet over medium-high heat, fry the bacon and onion in butter until the onions are translucent and the bacon has rendered its fat.
Add mushrooms and fry until tender, about 5 minutes, stirring constantly.
Add tomato paste and the broth.
Stir in the paprika. Season with the salt and pepper.
Bring to boil, reduce heat and simmer gently for about 5 minutes until sauce thickens slightly. If the sauce is too liquid, slowly add just enough of the cornstarch/water mixture until it is the thickness you wish.
Stir in the parsley and the sour cream. Re-season with salt and pepper, if necessary.
Notes/Hints:

Instead of 2 cups of beef broth, use 1 cup water and 1 cup white wine
Season with thyme
Serve this over breaded Schnitzel to turn them into Jägerschnitzel. You can also serve this amazing sauce with almost anything!
*  *  *  *  *

Unless otherwise noted recipe, images and content © Just like Oma | www.quick-german-recipes.com

05.31.2021 revision update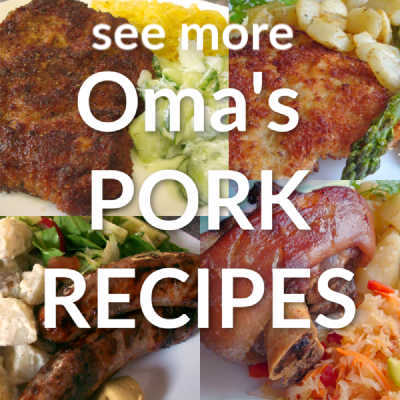 Leave a comment about this recipe or ask a question?

Pop right over to my private Facebook group, the Kaffeeklatschers. You'll find thousands of German foodies, all eager to help and to talk about all things German, especially these yummy foods. 
Meet with us around Oma's table, pull up a chair, grab a coffee and a piece of Apfelstrudel, and enjoy the visit.

Make this slow cooker roast beef and be amazed how much this tastes like rouladen WITHOUT the work. Same wonderful gravy, tender meat, and perfect for family and guests.

This German streusel fruit tart, Obstkuchen mit Streusel, uses either fresh or canned fruit, such as apricots, peaches, cherries. A delicious treat, just like Oma bakes.

German sauerkraut salad is so easy, delicious, and goes with almost anything. It's super healthy when made with your homemade sauerkraut that's so easy to make, as well.
*  *  *  *  *
PIN to SAVE this recipe to your Pinterest board!
And let's be friends on Pinterest!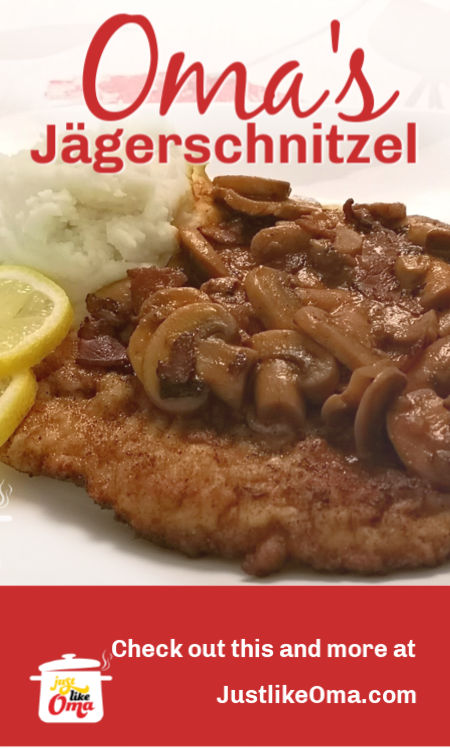 ---
---
The Best Jagerschnitzel sauce (Jägerschnitzelsosse) made Just like Oma
By
Oma Gerhild Fulson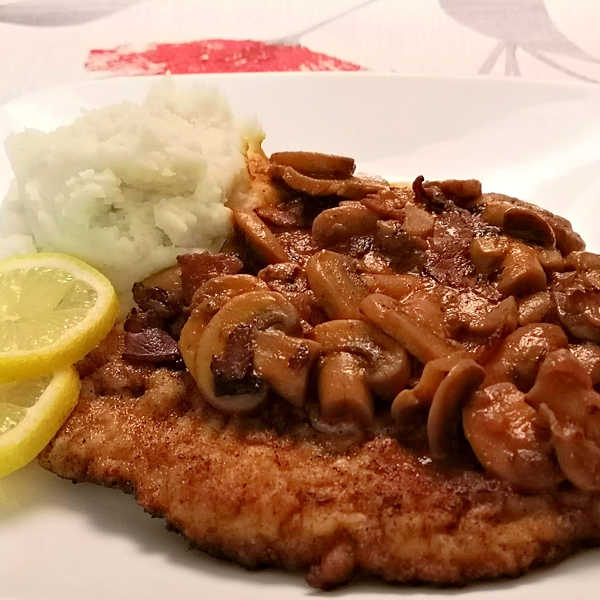 Jagerschnitzel: Rich creamy bacon & mushroom gravy over crispy breaded pork schnitzel (cutlets). HEAVENLY! A traditional German meal that's PERFECT anytime.
Ingredients:
butter,
bacon,
onion,
mushrooms,
tomato paste,
beef broth,
seasonings,
parsley,
cornstarch,
sour cream,
For the full recipe, scroll up ...
Words to the Wise
"The words of the godly are a life-giving fountain; the words of the wicked conceal violent intentions."
Proverbs 10:11 (NLT)