Oma's Pork Chop Dinner Recipe

➤ by Oma Gerhild Fulson
FTC Disclosure: Making a purchase via a link on the page? I may earn a small commission on the transaction - at no added cost to you. Thanks!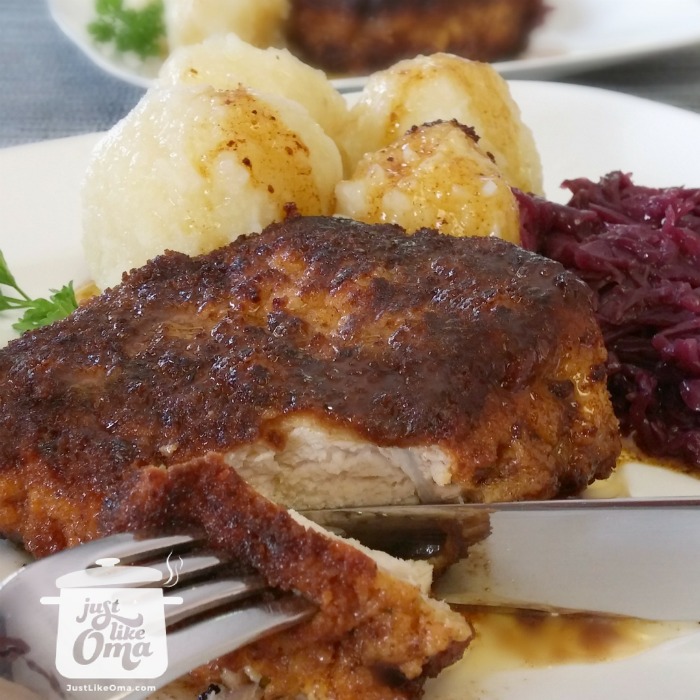 Yum
This traditional German pork chop dinner recipe, aka Panierte Schnitzel,  is a favorite "30-minute meal recipes" at our house. Why? First, because it tastes so-o-o good. Second, because the breaded pork chop recipe I use for this is similar to Schnitzel. And, Germans LOVE Schnitzel!
"This 30 minute meal is one of my favourites to prepare when I need something special and don't have much time!"

Make this Pork Chop Dinner Recipe:
1. Start with the Breaded Pork Chops ...
Start with the breaded pork chops (clicking opens new window). When choosing the pork chops (one per person), try to get chops that are less than 1-inch. That way, they'll be sure to cook in under 20 minutes.
I try to use seasoned bread crumbs. That saves another step in the process.
Also, fill a kettle with water and bring to boil. This will be used for the potatoes.
2. Start with the Potatoes ...
Once the chops are browning, it's time to start the potatoes. Use new potatoes so that you don't need to peel them. Use one medium-sized potato per person.
Scrub the potatoes thoroughly. Cut into chunks, put into a medium-sized pot, and cover with the boiling water. (Refill kettle with water and bring to boil. This is for the vegetables.)

Add about ½ tsp salt to the potatoes. Bring to boil, cover, and simmer gently for about 15 - 20 minutes, until they test tender when pierced with a knife.
Drain.

3. Start with the Vegetables ...
While the potatoes are cooking, remember to check the pork chops and turn them over to brown.

It's time to prepare the vegetables. You can use canned or jarred red cabbage. Check out the Hints section of this recipe (opens new window).
Or you can use frozen vegetables. Check the package for the amounts to use. Put them into a medium-sized pot, barely cover with boiling water.

Add salt as per package instructions. Cover and gently simmer until tender. Most vegetables take about 4 - 6 minutes. (Check instructions on bag.)

Drain when done.

Your German dinner is ready to serve ...
Serve each person one pork chop, some potatoes, and some vegetables.
Pour about 1 Tbsp of the oil/butter mixture that is left in the pan from the chops, over the potatoes if desired.
Sprinkle with parsley.


That's it! A delicious 30 minutes dinner recipe. Enjoy!

30 Minute Meal Recipes made Just like Oma

*  *  *  *  *
Want nutritional information for a recipe?
Copy and paste the ingredient list and the number of servings into Calorie Count. 
It will give you an approximate calculation.

*  *  *  *  *
Need help doing conversions between cups and grams or any such thing?
Use this site to give you all the different conversions for the different types of ingredients. 
*  *  *  *  *
---
PIN this ...
---
Words to the Wise
"Putting confidence in an unreliable person in times of trouble is like chewing with a broken tooth or walking on a lame foot."
Proverbs 25:19 (NLT)