German Pork Chop Dinner Recipe: Oma's panierte Schweinekoteletts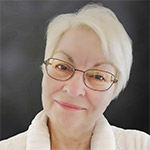 by: Gerhild Fulson  /  Cookbook Author, Blogger, German Oma!
This traditional German pork chop dinner recipe, aka panierte Schweinekoteletts, is a favorite "30-minute meal recipes" at our house. 
Why?
First, because it tastes so-o-o good. Second, because the breaded pork chop recipe I use for this is similar to schnitzel. And, Germans LOVE schnitzel!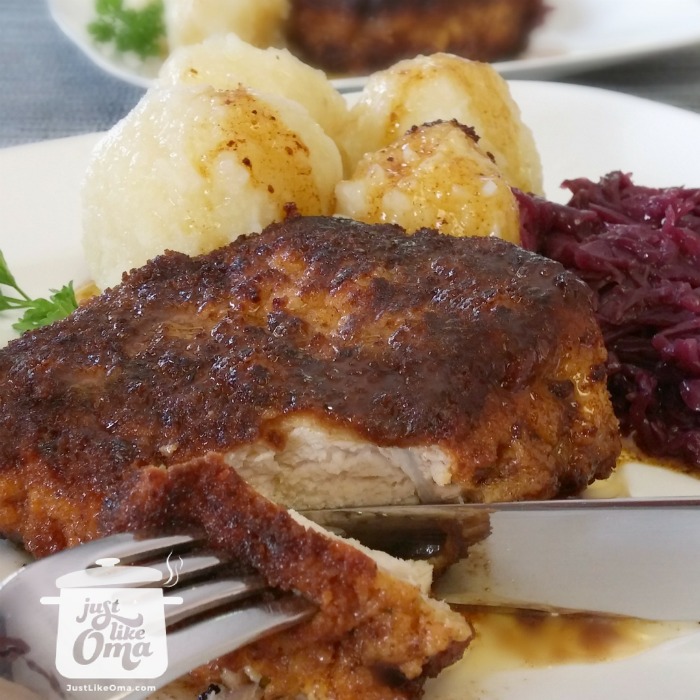 "This 30 minute meal is one of my favourites to prepare when I need something special and don't have much time!"

Make this Pork Chop Dinner Recipe:
1. Start with the Breaded Pork Chops ...
Start with the breaded pork chops (clicking opens new window). When choosing the pork chops (one per person), try to get chops that are less than 1-inch. That way, they'll be sure to cook in under 20 minutes.
I try to use seasoned bread crumbs. That saves another step in the process.
Also, fill a kettle with water and bring to boil. This will be used for the potatoes.
2. Start with the Potatoes ...
Once the chops are browning, it's time to start the potatoes. Use new potatoes so that you don't need to peel them. Use one medium-sized potato per person.
Scrub the potatoes thoroughly. Cut into chunks, put into a medium-sized pot, and cover with the boiling water. (Refill kettle with water and bring to boil. This is for the vegetables.)

Add about ½ teaspoon salt to the potatoes. Bring to boil, cover, and simmer gently for about 15 to 20 minutes, until they test tender when pierced with a knife.
Drain.

3. Start with the Vegetables ...
While the potatoes are cooking, remember to check the pork chops and turn them over to brown.
It's time to prepare the vegetables. You can use canned or jarred red cabbage. Check out the Hints section of this recipe (opens new window).
Or you can use frozen vegetables. Check the package for the amounts to use. Put them into a medium-sized pot, barely cover with boiling water.
Add salt as per package instructions. Cover and gently simmer until tender. Most vegetables take about 4 to 6 minutes. (Check instructions on bag.)
Drain when done.

Your German dinner is ready to serve ...
Serve each person one pork chop, some potatoes, and some vegetables.
Pour about 1 tablespoon of the oil/butter mixture that is left in the pan from the chops, over the potatoes if desired.
Sprinkle with parsley.

That's it! A delicious 30 minutes dinner recipe. Enjoy!

There's something absolutely mouth-watering about having a German meat-and-potato dinner. Get Oma's revised collection of her favorites in German Meat Dishes.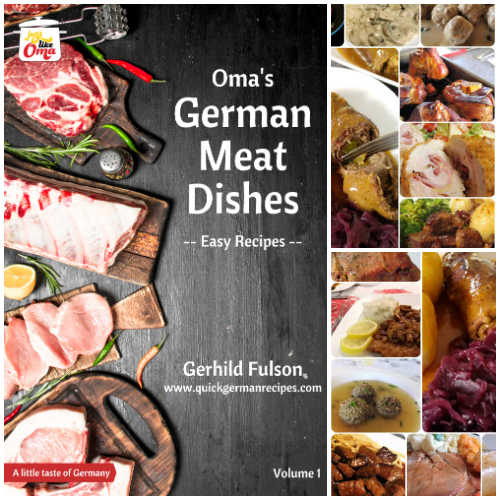 Take a peek at all Oma's eCookbooks. They make sharing your German heritage a delicious adventure!
Leave a comment about this recipe or ask a question?

Pop right over to my private Facebook group, the Kaffeeklatschers. You'll find thousands of German foodies, all eager to help and to talk about all things German, especially these yummy foods. 
Meet with us around Oma's table, pull up a chair, grab a coffee and a piece of Apfelstrudel, and enjoy the visit.

This easy German Apple Strudel recipe is one of those German desserts that brings the traditional strudel taste to your table without all the work. Wunderbar!!

Make the perfect German Spaetzle with Oma's easy recipe! This traditional German egg noodle pairs perfectly with caramelized onions for a delicious meal.

Choose from Oma's cookbooks that are immediately downloadable & start cooking easy classic German foods tonight. Or get her newest paperback cookbook. LECKER!
*  *  *  *  *
PIN to SAVE this recipe to your Pinterest board!
And let's be friends on Pinterest!
---
Pork Chop Dinner Recipe made Just like Oma


By
Oma Gerhild Fulson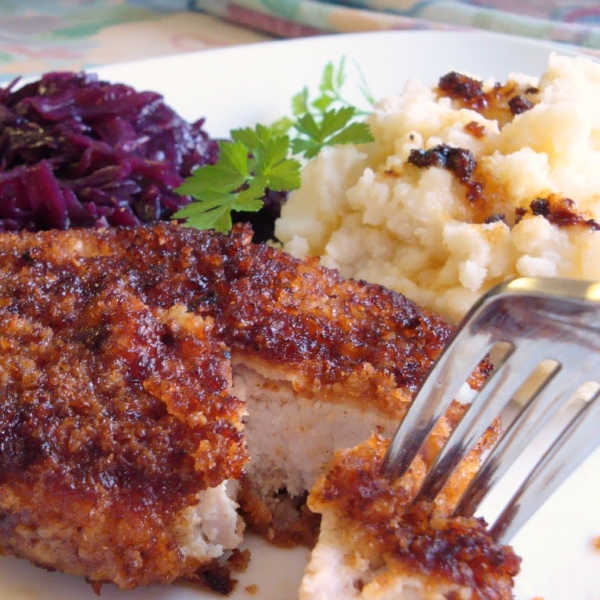 This pork chop dinner recipe is quick and easy. From start to finish in 30 minutes. One of our traditional German dinners that the whole family enjoys.

Ingredients:
pork chops,
potatoes,
vegetables,
butter,
For the full recipe, scroll up ...
Words to the Wise
"Putting confidence in an unreliable person in times of trouble is like chewing with a broken tooth or walking on a lame foot."
Proverbs 25:19 (NLT)