Oma's Pork and Sauerkraut Recipes ❤️
FTC Disclosure: Making a purchase via a link on the page? I may earn a small commission on the transaction - at no added cost to you. Thanks!
Yum
Put potatoes, pork chops, and sauerkraut together into a slow cooker, and what do you get?
A super easy, and super tasty dinner. That's what!
This one is ultra easy to put together in the morning and have ready when you come home for dinner. 
I love using my new Cuisinart Slow Cooker!    (I gave away my old one!)
Not only is it a slow cooker, but it's a Multicooker!
That means it can be used to quickly brown or sauté the meat  (up to 400 °F) before setting it to slow cook (at various temps) ...
and there's a 'steam' option as well!
With a 24-hour timer and an automatic Keep Warm feature, I LOVE this! Click on the photo for more information!!!!! You'll love using this, just like I do!

1.  Potatoes, Pork Chops and Sauerkraut Recipe❤️ (slow cooker meal)

Ingredients:
2 tbsp oil or clarified butter
4 thick boneless pork chops (about 1½ lb total)

1 large onion, sliced
4 potatoes, peeled and quartered, preferably Yukon Gold

2 large apples, peeled and quartered
salt and pepper
28 oz can sauerkraut, drained

1 cup apple juice, broth, or water
1 - 2 tbsp cornstarch

Instructions:
If you have a multi-cooker (as shown above) set to saute and heat oil. Brown the chops in the hot oil, about 2 minutes each side. Remove and add onions. Saute the onions until translucent and lightly browned, about 5 minutes. If your cooker doesn't have this function, do this in a skillet. Once the onions are done, add them, along with any oil, to the slow cooker.
Add the potatoes and apples to the onions. Stir. Sprinkle salt and pepper over the top. Add half the sauerkraut. Lay the pork chops on top. Sprinkle the meat with salt and pepper. Cover with the remaining sauerkraut and pour the liquid over the top.
Cover and set on low for 8 - 10 hours
Remove potatoes, apples, chops, and sauerkraut to a serving dish. Keep warm.
Set the multicooker to saute or pour the cooking liquid into saucepan, bring to boil, and thicken with 1 - 2 tbsp cornstarch dissolved in some cold water. Season with salt and pepper if needed. Pour the sauce over the potatoes, apples chops, and sauerkraut and serve.
Serves 4.

2. Potatoes, Smoked Pork, and Sauerkraut ❤️ (slow cooker meal)
Here's my recipe for 'false' Kassler which uses a smoked pork loin recipe (or peameal bacon recipe). It tastes so similar to Kasseler, you'll use it as an alternative inexpensive meal. My hubby says it even tastes better.
Ingredients:
1½ lb peameal bacon roast or a smoked pork loin roast

4 potatoes, preferably Yukon Gold 

28 oz can sauerkraut, drained

1 cup apple juice, orange juice, or water
Instructions:
Put peameal bacon roast and sauerkraut in slow cooker (crock pot).
Add peeled potato quarters to the slow cooker, making sure the potatoes are pushed well to the bottom. Potatoes need to be in liquid to cook properly. Even though there is not enough liquid in the cooker to start, there will be once it cooks for a few hours.
Pour in about 1 cup of apple juice, orange juice, or water.
Cook, covered on low to medium, for about 6 hours. Check your slow cooker instructions for approx. times.
Remove potatoes, meat, and sauerkraut. Keep warm.
Put cooking liquid into saucepan, bring to boil, and thicken with 1 - 2 Tbsp cornstarch dissolved in some cold water. Use as sauce for the meal.
Serves 4.

Perhaps you like Kasseler, but it's so difficult to find outside of Germany. Unless you're blessed with a German deli close by, you'll need to use an alternative. Above is my favorite one.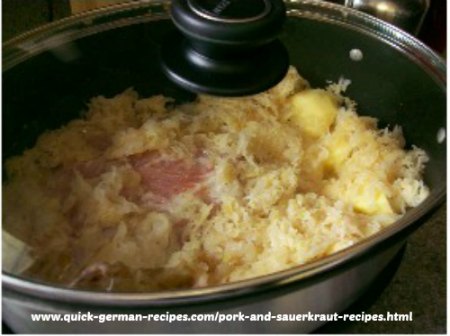 The above recipe is so nice because it uses a slow cooker.
This is one of my most loved kitchen appliances. 
It makes for quick and easy preparation of absolutely delicious meals.
Here, the potatoes, peameal bacon roast and sauerkraut as simmering and will be enjoyed in a couple of hours!
What I find amazing is that this almost tastes like Kasseler.
That's why it's my "false Kasseler" dinner. Hubby finds it so delicious as well.
More German Pork Recipes
*  *  *  *  *
Want nutritional information for a recipe?
Copy and paste the ingredient list and the number of servings into Calorie Count. 
It will give you an approximate calculation.

*  *  *  *  *
Need help doing conversions between cups and grams or any such thing?
Use this site to give you all the different conversions for the different types of ingredients. 
*  *  *  *  *
---
PIN this ...
---
Words to the Wise
"An offended friend is harder to win back than a fortified city. Arguments separate friends like a gate locked with bars."
Proverbs 18:19 (NLT)