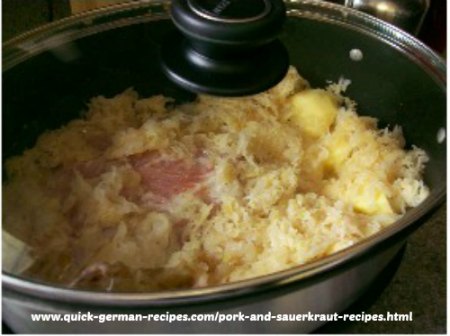 2. Potatoes, Smoked Pork, and Sauerkraut (slow cooker meal)

Here, the potatoes, peameal bacon roast and sauerkraut are simmering and will be enjoyed in a couple of hours! What I find amazing is that this almost tastes like Kasseler.

Prep Time


15 minutes


Slow Cook Time


6 hours

Total Time

6.25 hours

Servings:

Makes 4 servings
Ingredients:
1½ pounds peameal bacon roast or a smoked pork loin roast
4 potatoes, preferably Yukon Gold 
28-ounce can sauerkraut, drained
1 cup apple juice, orange juice, or water
Instructions:
Put the peameal bacon roast and sauerkraut in slow cooker (crock pot).
Add peeled potato quarters to the slow cooker, making sure the potatoes are pushed well to the bottom. Potatoes need to be in liquid to cook properly. Even though there is not enough liquid in the cooker to start, there will be once it cooks for a few hours.
Pour in about 1 cup of apple juice, orange juice, or water.
Cook, covered on low to medium, for about 6 hours. Check your slow cooker instructions for approx. times.
Remove potatoes, meat, and sauerkraut. Keep warm.
Put cooking liquid into saucepan, bring to boil, and thicken with 1 to 2 tablespoons cornstarch dissolved in some cold water. Use as a sauce for the meal.
*  *  *  *  *

Unless otherwise noted recipe, images and content © Just like Oma | www.quick-german-recipes.com