How to Cook Pork Hocks Just like Oma ❤️
➤ by Oma Gerhild Fulson
FTC Disclosure: Making a purchase via a link on the page? I may earn a small commission on the transaction - at no added cost to you. Thanks!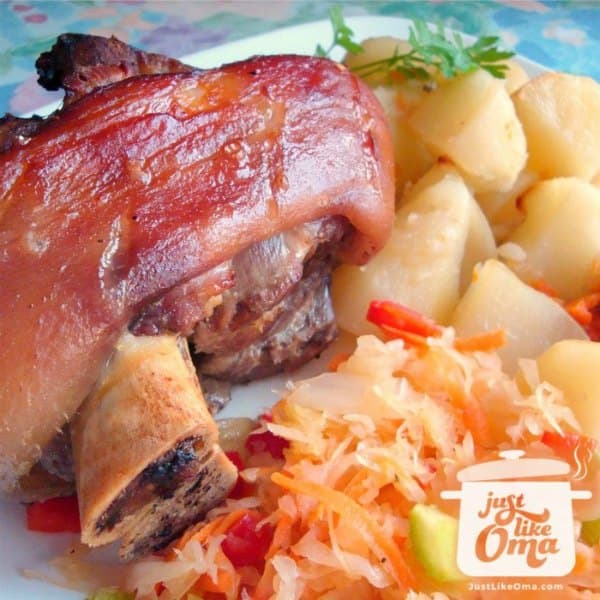 Yum
Learn how to cook Pork Hocks, not just for Oktoberfest, but anytime you want something traditionally German and wonderfully delicious! There are two main methods for cooking pork hocks. This one uses both cooking on the stove and finishing off in the oven. May sound like extra work. It really isn't and the results are worth it! This is REAL German food, Oktoberfest style!
Called Eisbein in northern Germany and Schweinshaxe in the southern part, it is cooked from fresh ham hocks rather than smoked hocks. German recipes don't get much better than this! 

---
Schweinshaxe (as it's called in southern Germany) is a roasted ham hock or pork knuckle

Eisbein (as it's called in northern Germany) is usually pickled first and then boiled
 Originally this was considered food for the poor people, aka Armeleuteessen, since it was made with inexpensive cuts of meat  

Since this is a tough piece of meat, full of connective tissue, ligaments, and muscle, it needs to be cooked low and slow, to turn it into delicious fork-tender meat

Traditionally this is served with potato dumplings and red cabbage or with sauerkraut and potatoes
How to Cook Pork Hocks 

❤️

Ingredients:
1 leek, well cleaned, diced

1 stalk celery, diced

1 carrot, diced

1 onion, diced

1 - 2 meaty pork hocks

salt, peppercorns, cumin (if desired)
Instructions:

Put vegetables, 1 tsp salt, 1 tsp peppercorns, and pork hocks in pot.

Add water to cover, bring to boil, reduce heat to simmer, and cook until hocks are just tender - about 2 - 3 hours. Do not overcook.

Drain, keeping vegetables and cooking liquid.

Preheat oven to 425°F.

To baking dish (if cast-iron pot is use, add 2 Tbsp of oil), add drained pork hocks, drained cooked vegetables, and a small amount of the cooking liquid. Score the fat layer.

Bake 30 minutes, occasionally basting meat with cooking liquid.

Serve meat with potatoes and sauerkraut. If desired, serve the cooking liquid (thicken with corn starch if desired). Add a bit of cumin to liquid if desired.
Hints:
Keep the extra drained liquid from cooking the pork hocks. Use what's needed for the roasting process. Let the rest cool and refrigerate. Skim off the congealed fat and use the broth for soups or stews.


The other way to make this is just to roast it. Both are traditional and have their own followers, each claiming their pork hocks are the best.
---
Tips on Pork Hocks ...
When you buy the fresh pork hocks, try to find the meatiest ones you can.
Depending on the size of the hocks, one to two meaty hocks will feed about three to four people. Served with boiled potatoes and sauerkraut, you've a traditional Oktoberfest meal. 
Check the fresh pork hocks to see if there are any hairs on the hocks before you cook them. If there are, the easiest way to get rid of them is to singe them off. Light a candle and hold the "hairy" hock over the flame, and the hair will "melt away".
Smoked hocks or fresh?
Smoked pork hocks are great, however they will make this dish taste like ham. If you want the traditional "pork hock" dinner, the type you get at Oktoberfest, then buy fresh pork hocks.
Learning how to cook pork hocks so that they'll remind you of Oktoberfest, really is easy. Here, the fresh pork hocks have already been boiled.  The fat layer has been scored, the veggies added to the pan, and this is ready to go into the oven.
Depending on the oven, you may need to keep the hocks in for a bit longer than the 30 minutes in order to get the amount of 'browning' and 'crispiness' that you wish. 
Make sure that the base of the meat is in the liquid. To get a really crispy skin, do not baste the fat layer. It needs to be dry in order for the real browning to occur.
---
More Pork Recipes ...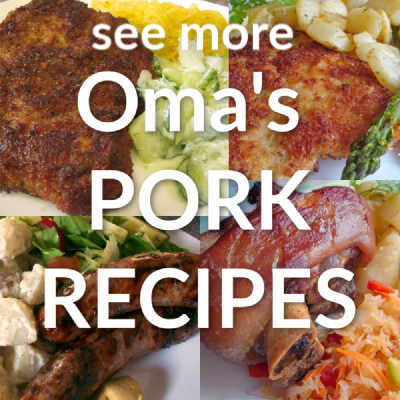 *  *  *  *  *
Thinking of starting your own Handmade Business?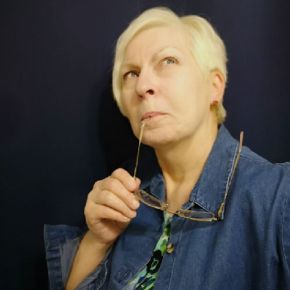 This Oma KNOWS you CAN do it.
How do I know?
Well, if I can do it, anyone can.
I've even figured out how I can help you.
I've teamed up with my own business coach, Renae Christine (yes, do google her!), to bring you this free masterclass. After you watch it, ask me any questions and I'll gladly answer them.
Don't hesitate. I'm not sure how long Renae will keep this free masterclass available.
PS:  Yes, Renae really is as amazing as all the reviews say.
PPS: Yes, the course is for handmade items, but I've used it successfully for my cookbooks. I know others are using her methods for services, direct sales, and even a local ice cream bar & grill that's constantly selling out. You've nothing to lose by taking a look ... and a whole bunch to gain.
*  *  *  *  *
Oma's Cookbooks (downloadable & print)
*  *  *  *  *
Want nutritional information for a recipe?
Copy and paste the ingredient list and the number of servings into Calorie Count. 
It will give you an approximate calculation.

Need help doing conversions
between cups and grams or any such thing?
Use this site to give you all the different conversions for the different types of ingredients. 
---
PIN the following post so you'll be ready when you're pulling out your cast iron dutch oven or your big baking dish to make Oma's Pork Hocks recipe for your Oktoberfest party ... and want to share it with others!
---
Words to the Wise
"For the Lord sees clearly what a man does, examining every path he takes."
Proverbs 5:21 (NLT)
---
How to Cook Pork Hocks Just like Oma ❤️


By
Oma Gerhild Fulson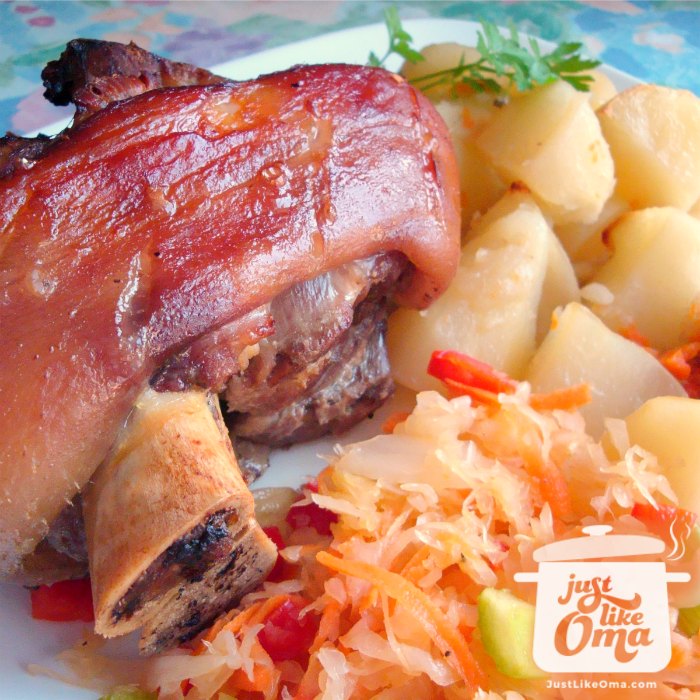 Learn how to cook pork hocks, not just for Oktoberfest, but anytime you want something traditionally German and wonderfully delicious! A hearty meal any time of the year!

Yield:
1 hock per person

Ingredients:
pork hock,
carrots,
celery,
onion,
For the full recipe, scroll up ...