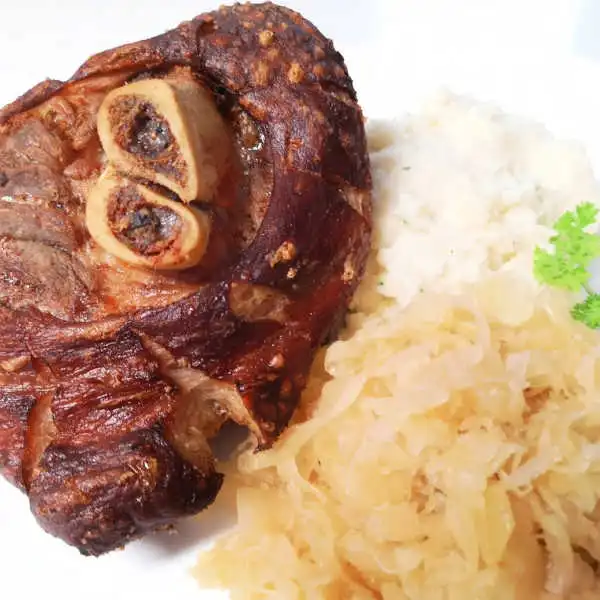 Oma's Roasted Pork Hocks ~ Schweinshaxe 

Roasted pork hocks are not just for Oktoberfest, but anytime you want something traditionally German and wonderfully delicious! There are two main ways to cook pork hocks: one, Eisbein, is common in southern Germany and the other, in northern Germany. 
The southern one, Schweinshaxe, is a roasted pork hock, with a crispy-skinned crackling, that is popular in Bavaria. So good.
Prep Time


15 minutes


Cook Time


3.5 hours


Total Time

3.75 hours

Servings:

Makes 2 servings
Ingredients:
1 leek, well cleaned, diced
1 stalk celery, diced
1 carrot, diced
1 onion, diced
2 meaty fresh pork hocks (or more)
salt, peppercorns, cumin (if desired)
Instructions:
Put vegetables, 1 tsp salt, 1 tsp peppercorns, and pork hocks in pot.
Add water to cover, bring to boil, reduce heat to simmer, and cook until hocks are just tender - about 2 - 3 hours. Do not overcook.
Drain, keeping vegetables and cooking liquid.
Preheat oven to 425°F.
To baking dish, add drained pork hocks, drained cooked vegetables, and a small amount of the cooking liquid. Score the fat layer.
Bake 30 minutes, occasionally basting only the meat, not the fat layer, with cooking liquid. If the fat layer isn't brown and crispy, turn on the broiler and continue browning. Keep watch that it doesn't burn. This could take 5 - 10 minutes.
Serve the hocks with potatoes and sauerkraut. If desired, serve the cooking liquid (thicken with corn starch if desired). Add a bit of cumin to liquid if desired.
Notes/Hints:

Keep the extra drained liquid from cooking the pork hocks. Use what's needed for the roasting process. Let the rest cool and refrigerate. Skim off the congealed fat and use the broth for soups or stews.
Serve bread dumplings with this for a real southern German treat.
*  *  *  *  *

Unless otherwise noted recipe, images and content © Just like Oma | www.quick-german-recipes.com