German Bread Dumplings Recipe – Oma's Semmelknödel Rezept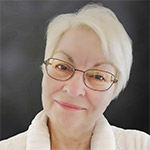 by: Gerhild Fulson  /  Cookbook Author, Blogger, German Oma!
These traditional German bread dumplings, aka Semmelknödel, are great when you've got delicious gravy to soak up. Traditional for the Bavarian region, that is! I had never heard of these before I was asked if I had a recipe.
A recipe for dumplings, yes. But made out of bread? You see, my Mutti came from Berlin. That's where German potato dumplings rule! And, those are the ones I grew up with.

This post may contain affiliate links, which means I'll receive a commission if you purchase through my links, at no extra cost to you. Please read full disclosure for more information.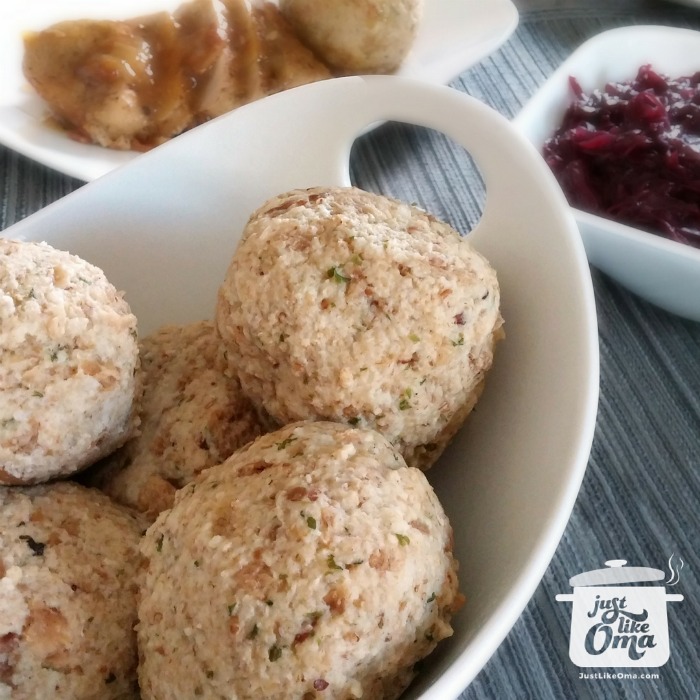 What are German Knödel or dumplings usually made of?

Our dumplings were always made with potatoes and were stuffed with bread croutons. But then, I came from the northern part of Germany where potatoes are king.
But, I like challenges, and these bread dumplings are the delicious results! As well, they are a great way to use up leftover bread. These are the dumplings that are so popular in Southern Germany.
But, there are so many other types of dumplings that are popular in Germany. From ones made from liver (YES, I said liver) known as Leberknödel to others made with a yeast dough, Dampfnudeln or Cream of Wheat. 
Hints:
How German bread dumplings are made...

Literally, one takes leftover German rolls or good stale bread and reconstitutes them with some warm milk. Add some extra ingredients and then create the dough. Simmered in water and then served… OH, SO GOOD!
See that lonely little dumpling swimming in the water? That's my test dumpling in the bottom left photo of this collage.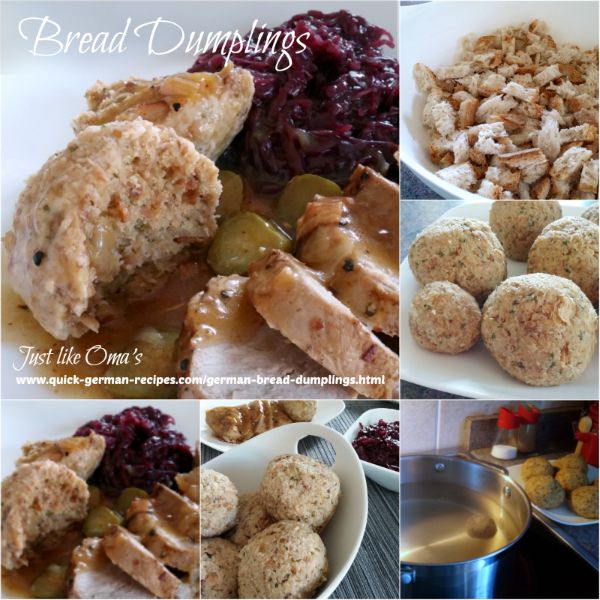 Leftover bread dumplings?
A further bit of experimentation and the recipe above is the result. If perchance, you end up with leftovers – GREAT! Slice them and fry them in a bit of butter.
Serve with fried eggs for breakfast or a light lunch. Actually, you'll want to make extra dumplings just for the leftovers! Many times, this leftover meal tastes better than the fresh meal made the day before.
Grab your copy of My Oma's Dumplings & Noodles e-Cookbook and make those traditional German treats for your family today!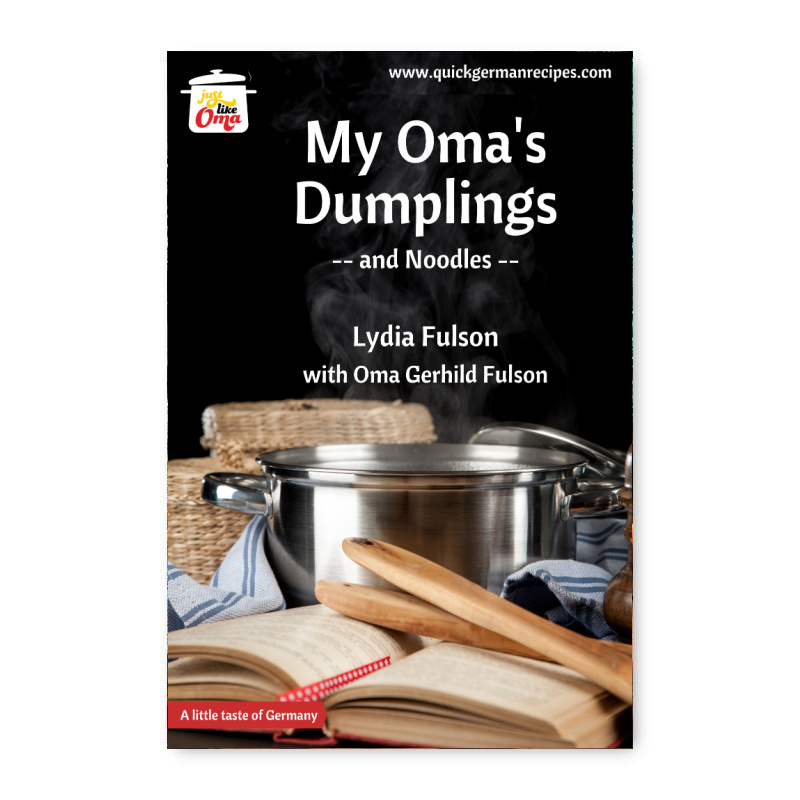 Take a peek at all Oma's eCookbooks. They make sharing your German heritage a delicious adventure!
Dumpling hints ...
After the first few times you make these, you'll get the feel of the right consistency of the batter. Then, you probably don't need to make a test dumpling if you're in a hurry. 
I usually play it safe and always make one. Takes just a few more minutes, but you'll be assured your dumplings will hold together. It's also a perfect snack to nibble on while the rest of the dumplings cook.
The color of your dumplings will reflect the type of bread you use. Darker for a whole wheat bread, lighter for a white bread. Here are some made with white bread.
You'll soon be a pro at making these great gravy soaker-uppers! Try them next time you make a sauerbraten or pork roast. With a side of red cabbage, this is German cuisine at its best!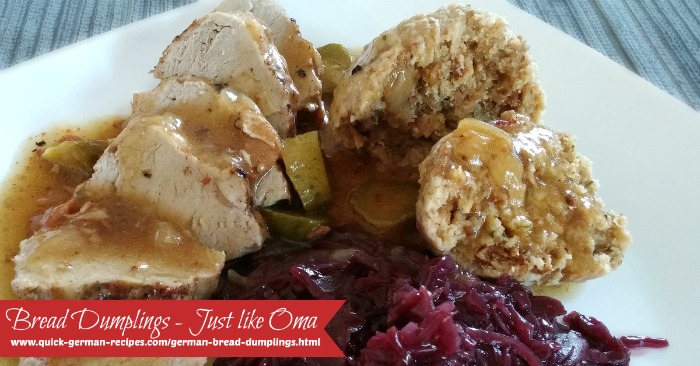 Oma says,
The first hard lesson I learned: do NOT use regular packaged squishy sliced sandwich bread that you can buy in Canada or the States.
Use a good quality German, French, or Italian bread. Or make your own German bread rolls and let them harden overnight.
These Bavarian bread dumplings are absolutely wonderful paired with so many German dishes. Basically, any meat dishes served with gravy. Here are some of my favorites:
Ready to make some delicious bread dumplings?

Is the recipe below locked? Here's why.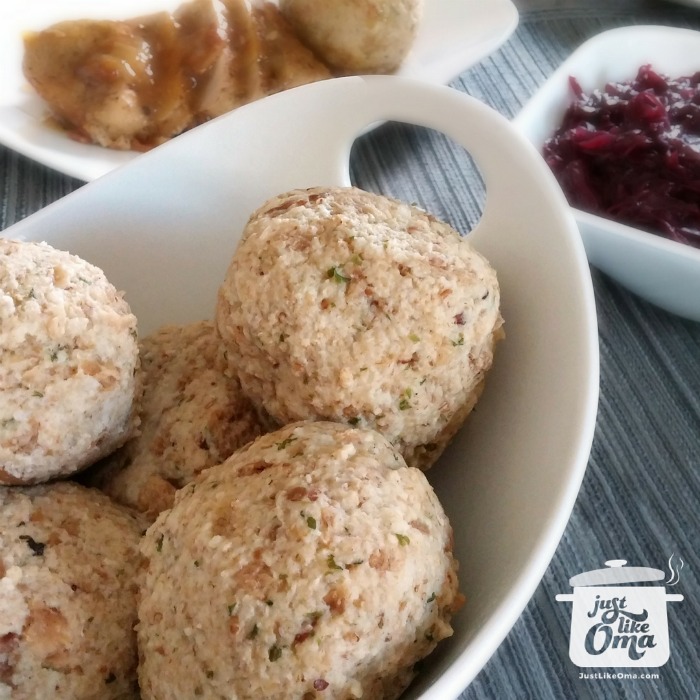 German Bread Dumplings Recipe – Oma's Semmelknödel Rezept

Oma's German bread dumplings are great when there's gravy to soak up. These traditional Semmelknödel are from Bavaria and are the perfect side dish for your German meal. Traditional for the Bavarian region that is! However, they are so good and easy to make, they're popular elsewhere now.
Prep Time


15 minutes + soak time


Cook Time


20 minutes


Total Time

35 minutes + soak time

Servings:

makes 6 servings
Ingredients:
10 -12 slices stale bread or 8 rolls (about 1 pound) 
1½ cups hot milk
1 tablespoon salt, plus more as needed
2 tablespoons butter
3 slices bacon, diced
1 small onion, diced
2 tablespoons fresh parsley, finely chopped
2 large eggs, lightly beaten
freshly ground black pepper
about ¼ cup bread crumbs, as needed
Instructions:
Cut bread or rolls, with crusts, into small pieces and put in a large bowl.
Add milk. Let soak for about 30 to 60 minutes.
Pour off excess milk.
Fill a large pot (about 5 quart) with water to within 2-inches from the top. Add salt and bring to a boil. Cover and reduce to a slow simmer.
Melt butter in a frying pan. Fry bacon and onion until bacon is crisp and onion is translucent. Add chopped parsley.
Add bacon mixture to bread mixture. Stir with a wooden spoon. Taste the mixture and season with salt and pepper, if needed.
Add eggs and mix in thoroughly.
If the dumpling dough is too soft to form into dumplings, add breadcrumbs – just a tablespoon at a time – until mixture can be formed into dumplings.
Form a small test dumpling and drop into gently simmering salted water and simmer. If it falls apart, the bread dumpling mixture is too dry. Add a bit more milk to the remaining dough.
If it still holds together after 10 minutes, continue making the rest of the dumplings (about the size of a tennis ball, 2-inch or 5 cm) using wet hands or two wet tablespoons. Or wait until cooked for a total of 20 minutes. Taste test dumpling and adjust seasoning for remaining dough if needed before making the rest. 
The dumplings need to simmer about 20 minutes.
Remove with a slotted spoon or spider and drain briefly on paper towels before serving.
Notes/Hints:

Use a good quality German, French, Italian, or homemade bread or hard rolls – something with a bit of a bite, not that packaged sandwich bread.
Add 1 teaspoon dried marjoram or a pinch of nutmeg, if desired.
For a vegetarian option, omit the bacon.
Leftover dumplings are wonderful the next day when sliced and fried in butter until golden brown.
Extra leftover bread? Make Kirschenmichel for dessert.
*  *  *  *  *

Unless otherwise noted recipe, images and content © Just like Oma | www.quick-german-recipes.com

09.17.2022 revision update
Leave a comment about this recipe or ask a question?

Pop right over to my private Facebook group, the Kaffeeklatschers. You'll find thousands of German foodies, all eager to help and to talk about all things German, especially these yummy foods. 
Meet with us around Oma's table, pull up a chair, grab a coffee and a piece of Apfelstrudel, and enjoy the visit.

Cooking just like Oma, making those German meals, is actually quite easy. Let me, Oma Gerhild, help you with my step-by-step methods to re-create those yummy meals you remember from your Oma.

If you're looking for tasty, traditional, and easy German cake recipes (in English) to try, then you've come to the right place! Check out these lecker treats!

Discover the ultimate German schnitzel recipe with Oma's quick and easy method - perfect for any occasion! Taste the authentic flavors of Germany today.
*  *  *  *  *
PIN to SAVE this recipe to your Pinterest board!
And let's be friends on Pinterest!
PIN to SAVE this recipe to your Pinterest board!
And let's be friends on Pinterest!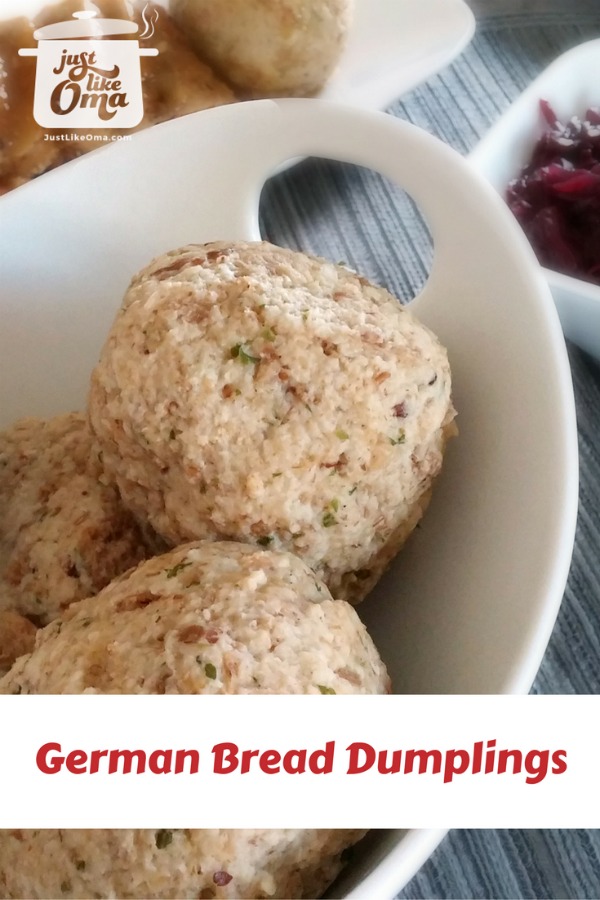 ---
German Bread Dumplings ~ Oma's Semmelknödel
By
Oma Gerhild Fulson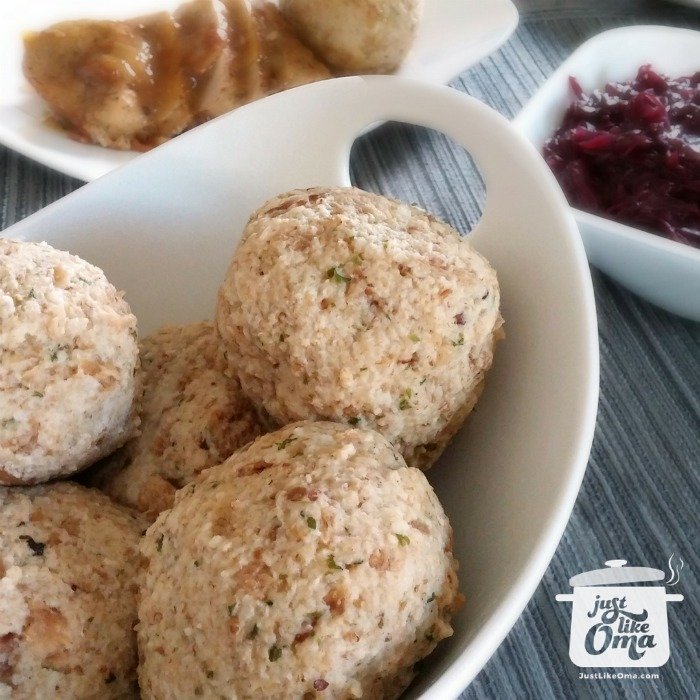 Oma's German bread dumplings are great when there's gravy to soak up. These Semmelknödel are from Bavaria and are an easy way traditional side dish for your German meal.
Ingredients:
stale bread,
milk,
salt,
bacon,
onions,
butter,
parsley,
eggs,
breadcrumbs,
For the full recipe, scroll up ...
Words to the Wise
"Gray hair is a crown of glory; it is gained by living a godly life."
Proverbs 16:31 (NLT)