German Bread Dumplings

➤ by Oma Gerhild Fulson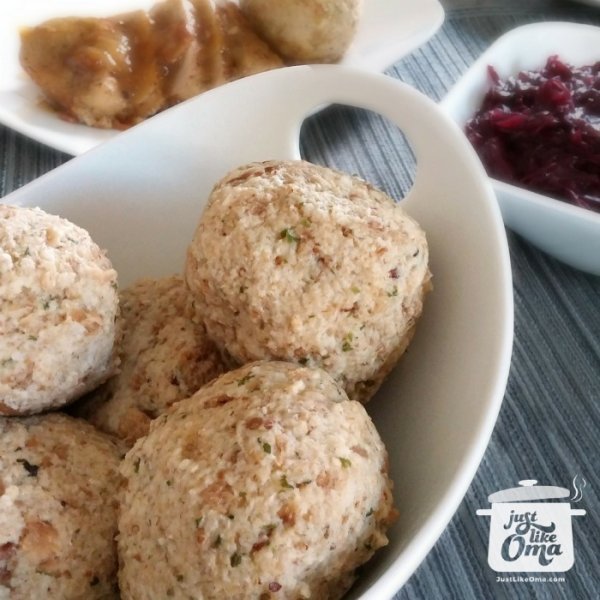 These traditional German bread dumplings, aka Semmelknödel, are great when you've got delicious gravy to soak up. Traditional for the Bavarian region that is! I had never heard of these before I was asked if I had a recipe.
A recipe for dumplings, yes. But made out of bread? You see, my Mutti came from Berlin.
What are German Knödel or dumplings usually made of?

Our dumplings were always made with potatoes and were stuffed with bread croutons. But then, I came from the northern part of Germany where potatoes are king.
But, I like challenges, and these bread dumplings are the delicious results! As well, they are a great way to use up leftover bread. These are the dumplings that are so popular in southern Germany.
But, there are so many other types of dumplings that are popular in Germany. From ones made from liver (YES, I said liver) known as Leberknödel to others made with a yeast dough, Dampfnudeln or Cream of Wheat.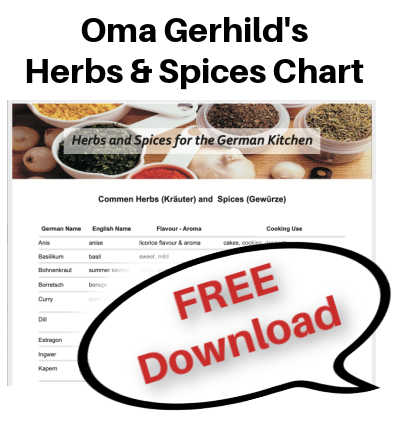 Hints:
Don't use a knife when cutting these dumplings apart - pull apart with two forks -- that's the Bavarian tradition!
How Bread Dumplings are made ...
Literally, one takes leftover German rolls or good stale bread and  reconstitutes them with some warm milk. Add some extra ingredients and then create the dough. Simmered in water and then served ... OH SO GOOD!
See that lonely little dumpling swimming in the water ... that's my test dumpling in the bottom left photo of this collage.

Leftover Bread Dumplings?
A further bit of experimentation and the recipe above is the result. If, perchance, you end up with leftovers -- GREAT! Slice them and fry them in a bit of butter.
Serve with fried eggs for breakfast or a light lunch. Actually, you'll want to make extra dumplings just for the leftovers! Many times, this 'leftover' meal tastes better than the fresh meal made the day before.
Grab your copy of My Oma's Dumplings & Noodles e-Cookbook and make those traditional German treats for your family today!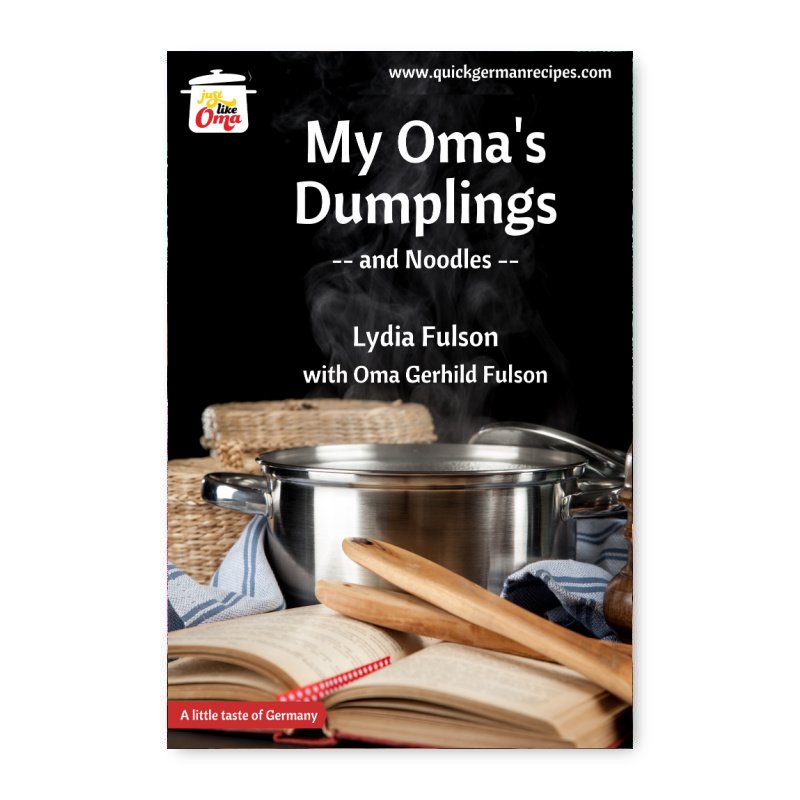 Take a peek at all Oma's eCookbooks. They make sharing your German heritage a delicious adventure!
Dumpling Hints ...
After the first few times you make these, you'll get the feel of the right consistency of the batter. Then, you probably don't need to make a "test dumpling" if you're in a hurry. 
I usually play it safe and always make one. Takes just a few more minutes, but you'll be assured your dumplings will hold together.
The color of your dumplings will reflect the type of bread you use. Darker for a whole wheat bread, lighter for a white bread. Here are some made with white bread.
You'll soon be a pro at making these great gravy soaker-uppers! Try them next time you make a sauerbraten or pork roast. 
Oma says,
The first hard lesson I learned: do NOT use regular packaged sliced sandwich bread that you can buy in Canada or the States. 

Use a good quality German, French, or Italian or homemade bread or hard rolls -- something with a bit of a bite!
Ready to make some bread dumplings?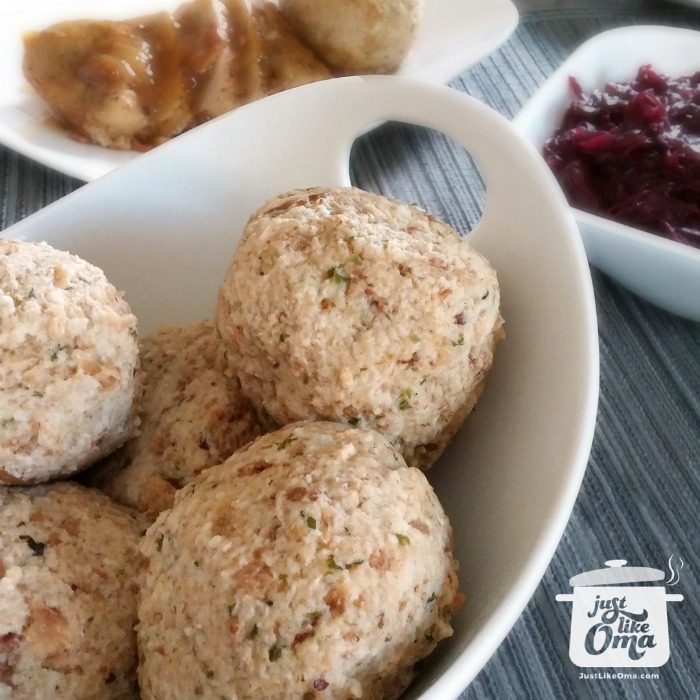 German Bread Dumplings ~ Bavarian

These traditional German bread dumplings, aka Semmelknödel, are great when you've got delicious gravy to soak up. Traditional for the Bavarian region that is! However, they are so good and easy to make, they're popular elsewhere now.

Prep Time


15 minutes + soak time


Cook Time


20 minutes


Total Time

35 minutes + soak time

Ingredients:
10 -12 slices stale bread (about 8 rolls) 
1½ cups milk, lukewarm
1 tsp salt
3 slices bacon, chopped
1 small onion, chopped
1 tbsp fresh parsley, chopped
2 eggs
breadcrumbs as needed
Instructions:
Cut bread or rolls, with crusts, into small pieces and put in bowl.
Add milk and salt. Let soak for about 30 - 60 minutes.
Pour off excess milk.
Fry bacon and onion until bacon is crisp and onion is translucent. Add parsley.
Add bacon mixture to bread mixture. Stir.
Add eggs and mix in thoroughly.
If mixture is too soft to form into dumplings, add breadcrumbs - just a tablespoon at a time - until mixture can be formed into dumplings using moistened hands or two wet tablespoons.
Form a test dumpling and drop into boiling salted water and simmer. If it still holds together after 10 minutes, continue making the rest of the dumplings.
The dumplings need to simmer about 20 minutes.
Notes/Hints:

Use a good quality German, French, Italian or homemade bread or hard rolls -- something with a bit of a bite, not that packaged "sandwich" bread.
*  *  *  *  *

Unless otherwise noted recipe, images and content © Just like Oma | www.quick-german-recipes.com

Want Nutritional Information?

Copy and paste the above ingredient list and the number of servings into Calorie Count for an approximate calculation.
Need Help Doing Conversions?

Make it easier to convert between cups and grams, etc. Use this site to give you all the different conversions for the different types of ingredients. 
Leave a comment about this recipe or ask a question?
Pop right over to my private Facebook group, the Kaffeeklatschers. You'll find thousands of German foodies, all eager to help and to talk about all things German, especially these yummy foods. 
I pop in all the time as well, to chat and to answer questions. 
Meet with us around Oma's table, pull up a chair, grab a coffee and a piece of Apfelstrudel, and enjoy the visit.
This recipe for cheesecake is called Käse-Sahne Torte, a baked sponge cake and a no-bake whipped cream/quark or Greek yogurt filling. Add mandarin oranges for a traditional dessert.

Pork hocks and sauerkraut, a favorite of my Opa, is a real traditional German food. This version of Eisbein is a classic in northern Germany, not to be confused with Schweinshaxe from the southern par…

Make this chicken fricassee recipe and you'll think you're back in Oma's kitchen. German comfort food. Originally just a 'leftover' meal, now it graces the best restaurant menus.
*  *  *  *  *
PIN this ...
---
German Bread Dumplings made Just like Oma
By
Oma Gerhild Fulson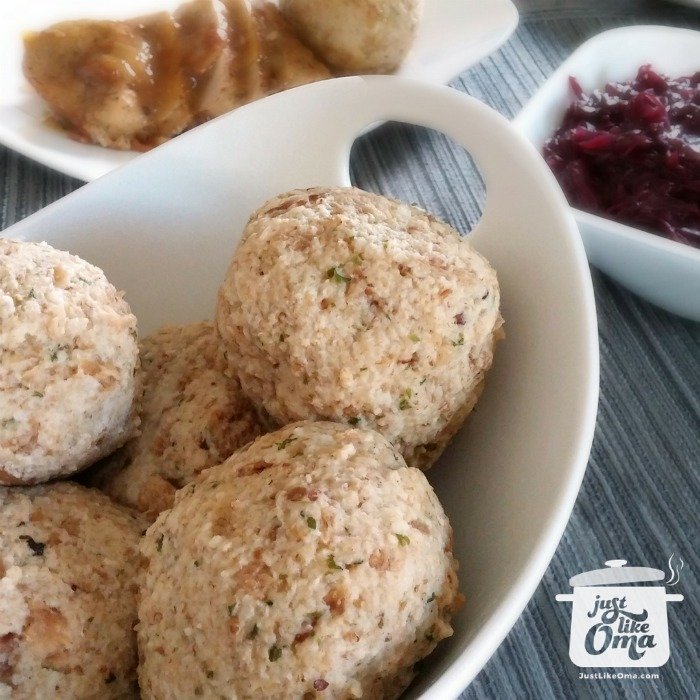 Oma's German bread dumplings are great when there's gravy to soak up. These Semmelknoedel are from Bavaria and are a great way to learn how to make dumplings.
Ingredients:
stale bread,
milk,
salt,
bacon,
onions,
parslet,
eggs,
breadcrumbs,
For the full recipe, scroll up ...
Words to the Wise
"Gray hair is a crown of glory; it is gained by living a godly life."
Proverbs 16:31 (NLT)